Axios Generate
September 15, 2020
Welcome back. Today's Smart Brevity count: 1,292 words, < 5 minutes.
🎵 At this moment in 1974, Stevie Wonder was atop Billboard's album charts with "Fulfillingness' First Finale," which provides today's virtuoso intro tune...
1 big thing: Wildfires ignite Trump vs. Biden climate battle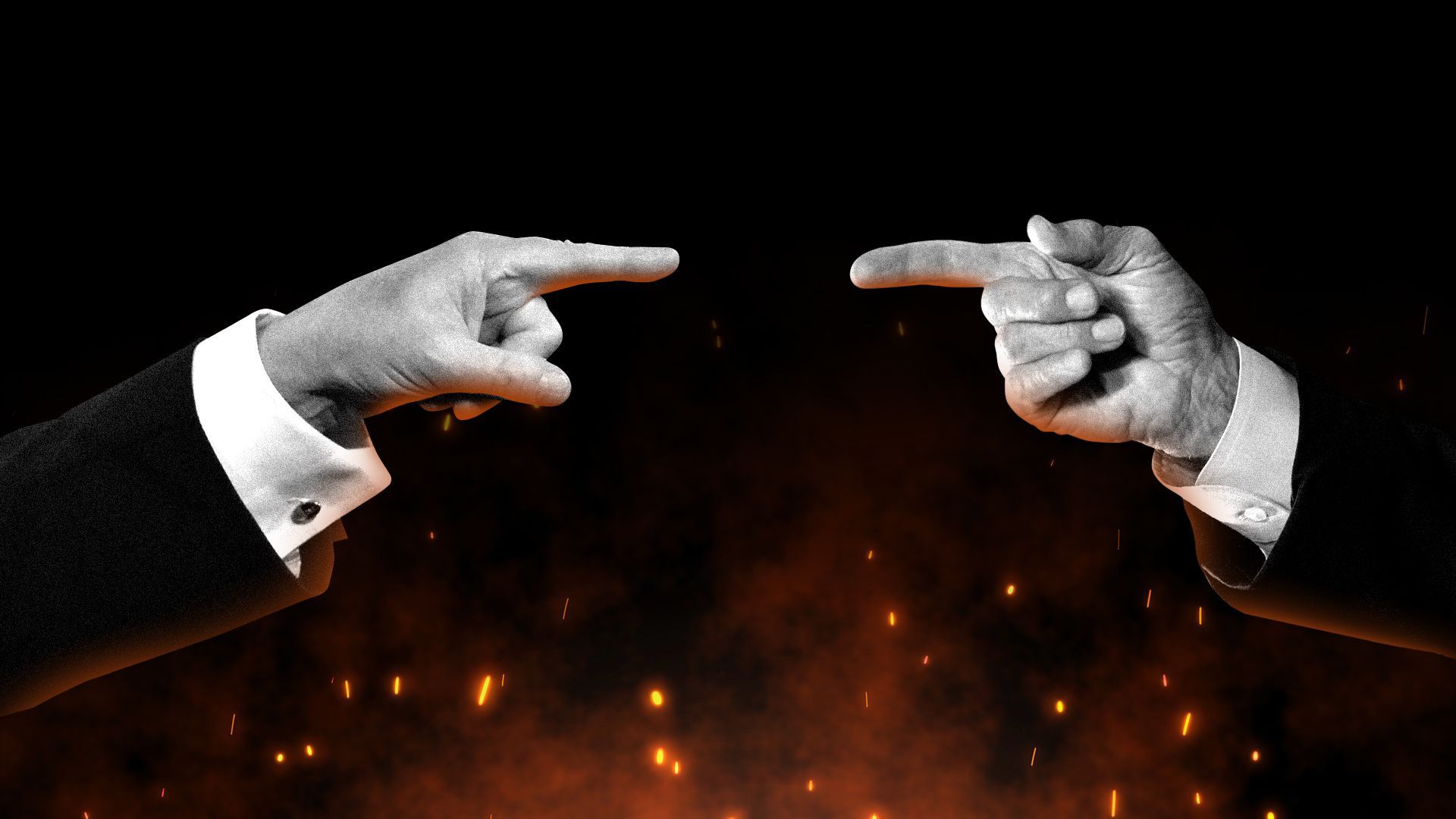 The devastating West Coast wildfires have, at least for now, put a hot glare (sorry) on the role of climate change in the 2020 presidential election.
Catch up fast: Joe Biden called President Trump a "climate arsonist" Monday in a speech that argued his dismissal of consensus climate science is a threat to people nationwide.
Shortly afterward, Trump clashed with California officials over global warming's role in states' fire crisis, even as both sides agreed on the need for better vegetation management.
"It'll start getting cooler. You just watch," Trump told Wade Crowfoot, the state's natural resources secretary. Crowfoot said, "I wish science agreed with you," and Trump replied, "I don't think science knows."
Why it matters: The day's events together represent a proxy clash over climate policy, and also show how the disasters on the West Coast are raising the topic's profile in the election's final stretch.
Quick take: Let's go back to Biden's speech, which showed the campaign's political strategy on climate change and extreme weather.
Biden is trying to politically flip the script as they compete for suburban votes. Trump has, among other things, suggested that the sometimes-destructive protests in some cities will drive suburban voters to embrace his law and order message.
"Donald Trump warns that integration is threatening our suburbs. That's ridiculous. You know what is actually threatening our suburbs? Wildfires are burning the suburbs of the West. Floods are wiping out suburban neighborhoods in the Midwest," Biden said.
From a raw political standpoint, the states hardest hit by the wildfires — California, Oregon and Washington — are not up for grabs.
But while the wildfires prompted Biden's speech, it was shot through with efforts to emphasize the effects of climate change across the country — including key swing states.
The speech ranged from discussing flooding in Michigan to the impact of powerful storms hitting Florida and North Carolina, all of which are in play in November.
What we're watching: How much climate change comes up in the Trump-Biden debates that begin in late September.
I think it's very likely that the tragedies unfolding in on the West Coast will lead to more questions about climate change than would have occurred otherwise.
Go deeper: In California, Trump continues to deny climate change is real: "It will start getting cooler" (L.A. Times)
Bonus data: A hot year so far
2020 is "virtually certain" to end up among the five warmest years in temperature records that date back well over a century, the National Oceanic and Atmospheric Administration said alongside data released Monday.
By the numbers: "The global land and ocean surface temperature for the first eight months of the year was 1.03°C (1.85°F) above average and the second highest such period in the 141-year record," the agency said.
The big picture: Nine of the 10 warmest years on record have occurred this century, and the other was 1998, per NOAA.
2. Oil faces "treacherous" path as COVID-19 digs in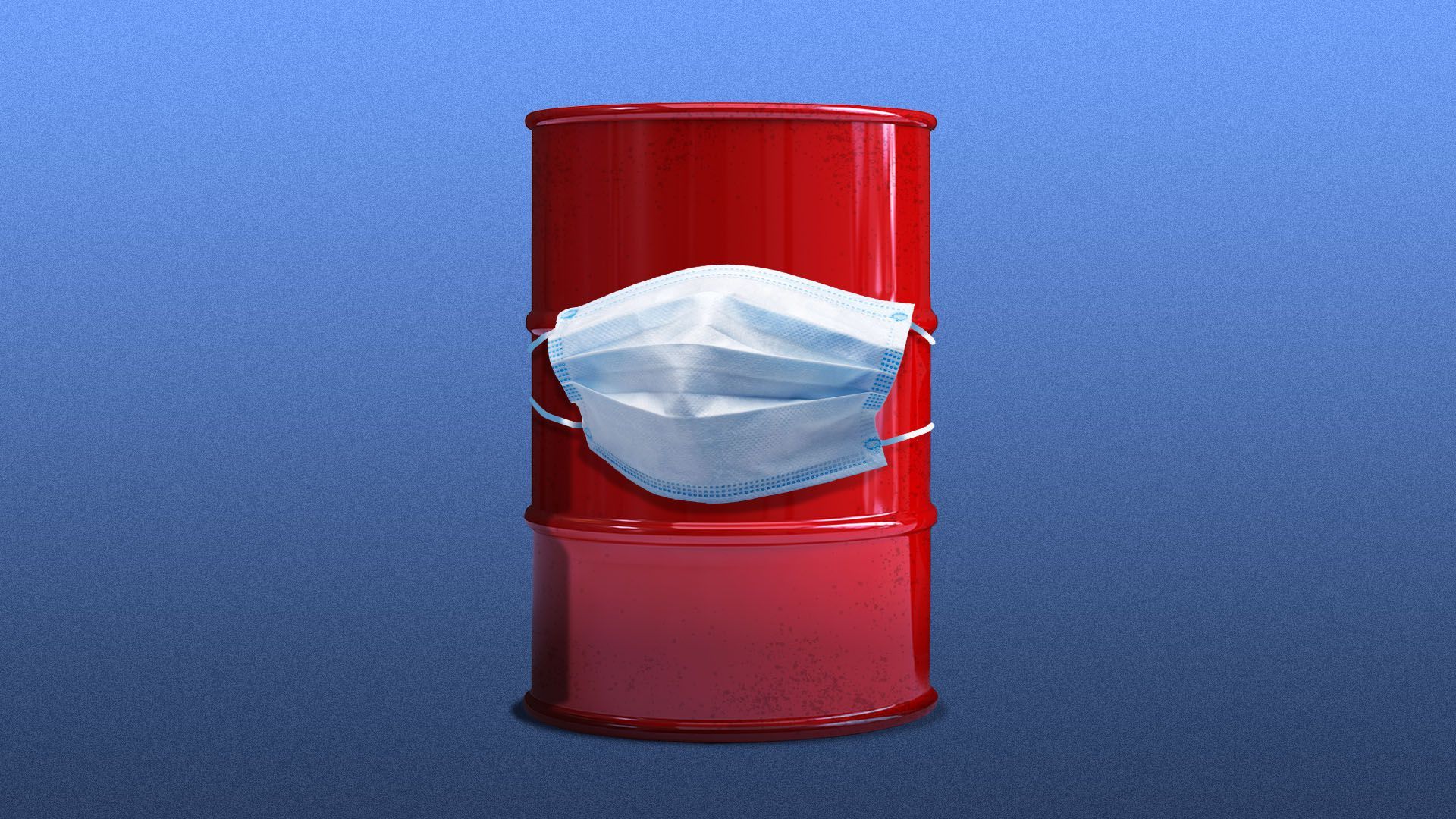 The International Energy Agency this morning cut its estimate for the pace of global oil demand recovery from the depths of the pandemic-fueled collapse, and warned that "uncertainty created by COVID-19 shows little sign of abating."
Driving the news: The agency, in its monthly market analysis, has cut its demand growth estimate by 400,000 barrels per day for the second half of the year.
Overall, they now project that full-year 2020 global demand will be 8.4 million barrels per day less than in 2019, compared to 8.1 mbd in last month's estimate.
Why it matters: The latest revision shows how the pandemic will continue to weigh on oil prices, which are higher than their April nadir, but have also been largely stuck in place for months and lost ground over the past week.
What they're saying: "As national lockdowns eased there was an initial sharp recovery in demand led by gasoline, but the curve has flattened out and it is becoming increasingly apparent that COVID-19 will stay with us for some time," the agency said.
The bottom line: "Global oil demand has accelerated rapidly since its low point in April. However, the path ahead is treacherous amid surging COVID-19 cases in many parts of the world," IEA said.
Threat level: In July and August combined, 13 more North American oil-and-gas producers and 19 more oilfield services companies filed for bankruptcy protection, per the latest tally from the law firm Haynes and Boone.
"Without any near term horizon hope for improving economic conditions for U.S. producers, it is reasonable to expect that a substantial number of producers will continue to seek protection from creditors in bankruptcy before this year is over," the firm said.
3. Nikola tests Wall Street's buy-the-dip ethos
The fate of one of Wall Street's most polarizing stocks — embattled electric truck maker Nikola, the company accused of being an "intricate fraud built on dozens of lies" and now facing a reported SEC investigation — will be decided almost entirely by long-only investors and mostly by retail traders, Axios' Dion Rabouin writes.
Why it matters: This could be the ultimate test of Wall Street's current buy-the-dip ethos and the option market mania that has driven equity prices and valuations through the roof despite a withering economy.
Can a hot tech stock continue to rise, even after being accused of essentially being the next Theranos?
Background: Nikola went public earlier this year through a reverse merger with a blank-check company and has recorded no meaningful revenue, yet reached a market valuation higher than Ford and sold an 11% stake to GM for $2 billion.
What's happening: Short sellers are effectively locked out of Nikola's shares going forward, says Ihor Dusaniwsky, managing director of Predictive Analytics at S3 Partners, which tracks short sales, or bearish bets that a stock's price will fall.
What it means: The lack of short sellers and the high percentage of shares owned by retail traders could push Nikola's price higher, even in the face of an SEC investigation, as the retail market has shown little worry about fundamentals.
Read more in Dion's Axios Markets newsletter.
4. Facebook boosts climate pledge but remains under fire
Facebook is vowing new steps to provide users with accurate climate change information and to cut emissions, but activists say it's doing too little to confront the spread of false claims on the massively used platform.
Driving the news: The social media giant on Tuesday announced launch of the "Climate Science Information Center."
It's a "dedicated space" on the platform with resources from organizations like the UN's climate science branch and NOAA.
It will also provide posts from "relevant sources to highlight climate science news," Facebook said of the hub, launching initially in the U.S., U.K., France, and Germany.
Why it matters: Facebook has come under fire from environmentalists and politicians including the high-profile Sen. Elizabeth Warren for allowing inaccurate information to circulate.
What they're saying: Facebook's announcement states that it's "committed to tackling" climate misinformation.
It noted that fact-checkers rate climate science content and apply warning labels about false info, and reduce the distribution of that content in its news feed.
Nick Clegg, Facebook's VP of global affairs, defended Facebook's practices that allow posts to remain on the site in comments to several outlets.
For instance, via Bloomberg, he said that it's a "mistaken view that the only and sustainable solution to bad information is removal."
The other side: Several environmental groups, in a joint statement, accused Facebook of only taking "half measures."
"This new policy is a small step forward but does not address the larger climate disinformation crisis hiding in plain sight," said Friends of the Earth, the Sierra Club and several others.
What's next: Facebook also announced a new goal of achieving net-zero emissions by 2030 from its whole "value chain" — including "suppliers and other factors such as employee commuting and business travel."
The company said its direct operations will achieve net-zero emissions and be 100% "supported" by renewables as of this year.
5. GM touts Hummer EV's "crab mode" ahead of reveal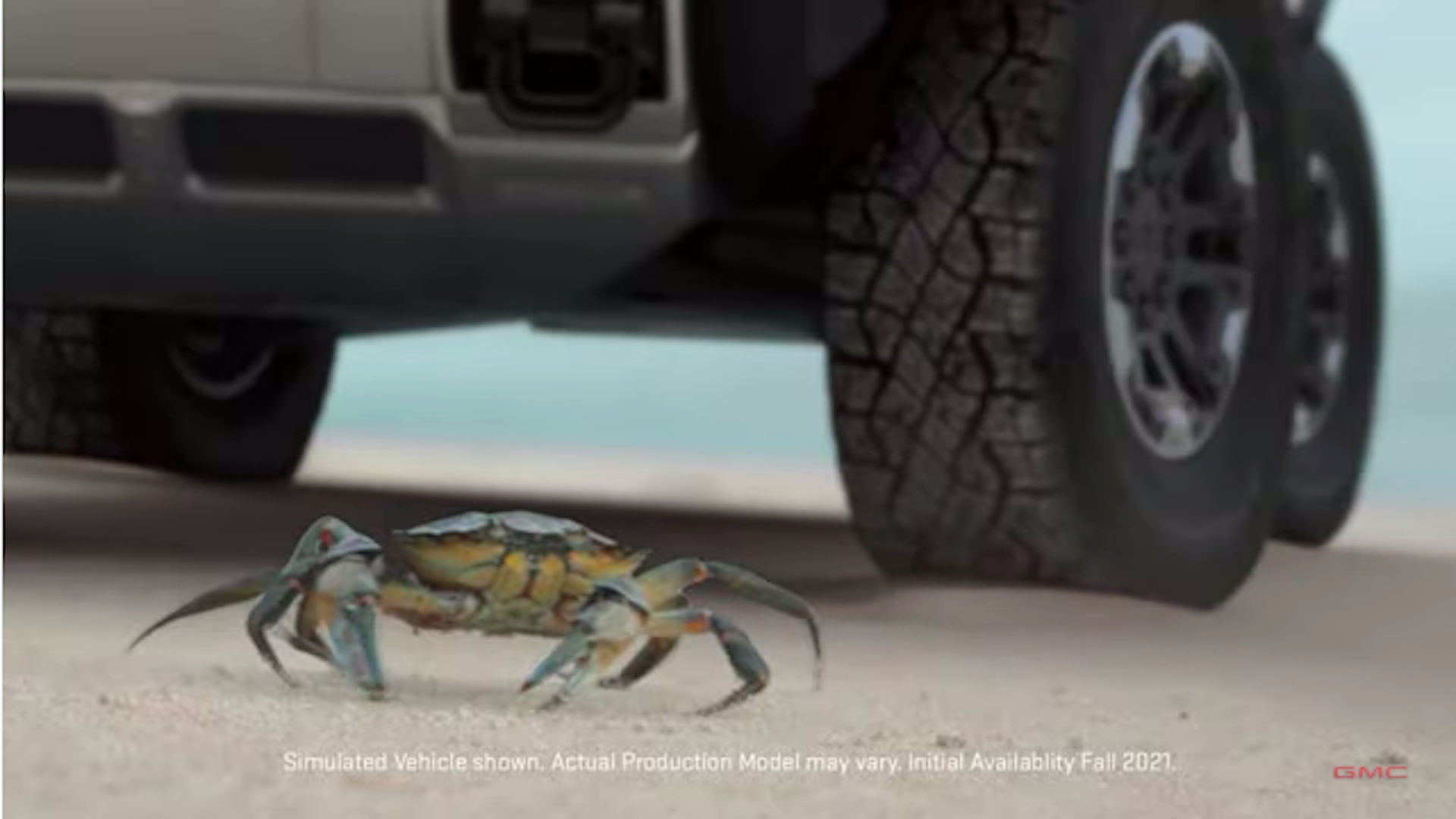 General Motors plans to reveal its electric GMC Hummer on Oct. 20 and is looking to build hype by touting the vehicle's "crab mode" off-road capability.
Driving the news: GM released a short video touting "crab mode," or four-wheel steering GMC says allowing it to "move in a diagonal direction — functionality that is tailor-made for off-roading customers."
What's next: The company said it will start taking reservations on the reveal date for the vehicle — which it dubs the "the world's first all-electric supertruck" — that goes into production in late 2021.
Why it matters: GM is betting big on EVs and its proprietary Ultium battery propulsion system. The company is investing $20 billion over five years and is rolling out several new models.