Axios Generate
May 02, 2022
💐 Welcome back! May is here. Today's Smart Brevity count is 999 words, 4 minutes. 
🗓️ This will be good: Join Axios Pro's Megan Hernbroth Thursday at 12:30pm ET for a live discussion on climate tech and finance, featuring Department of Energy Loan Programs Office director Jigar Shah. Register.  
🎸 At this moment in 1986, Van Halen ruled the Billboard album charts with "5150," which provides today's intro tune...
1 big thing: Europe's Russian oil ban may soon come into view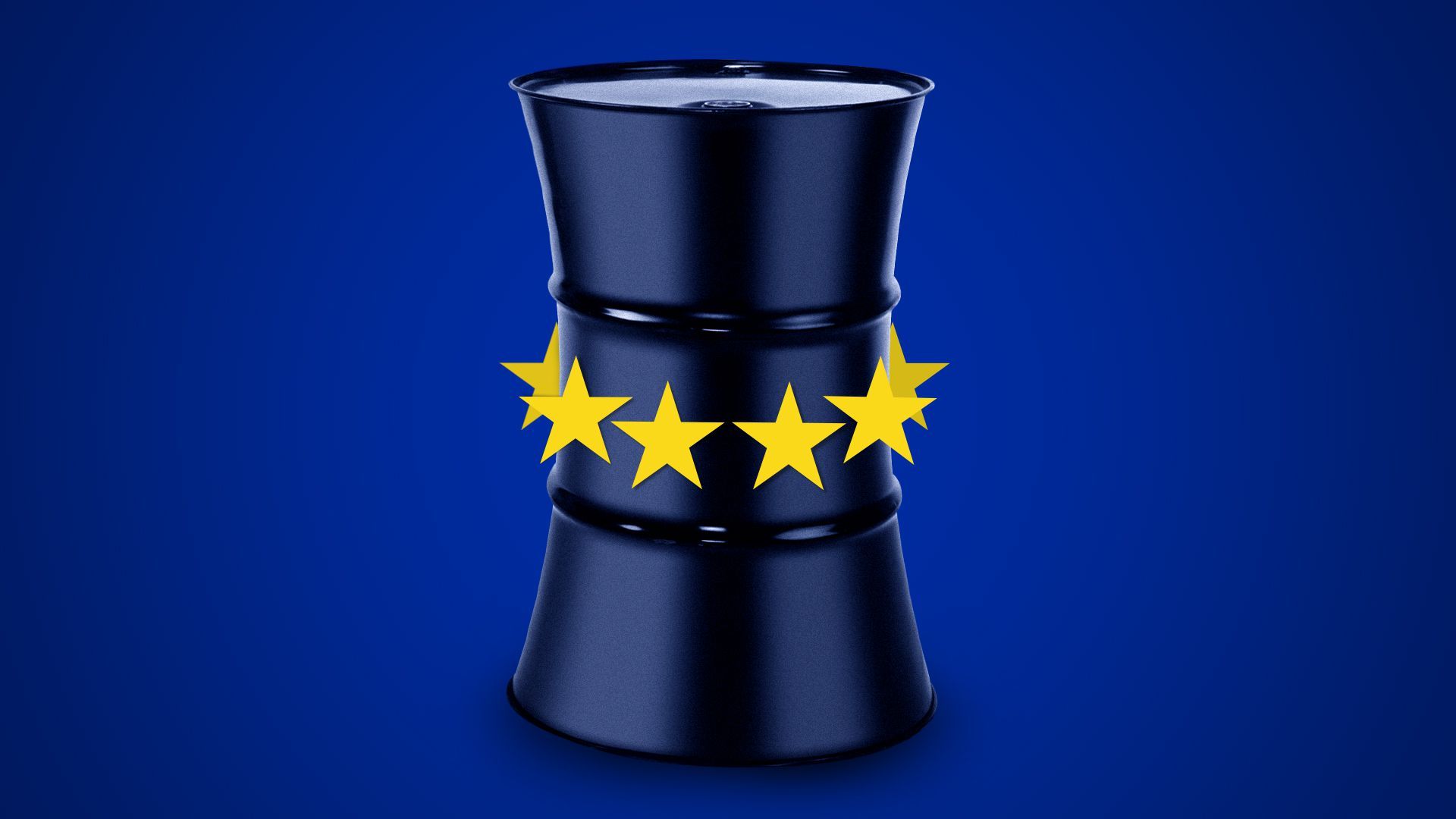 European Union officials are moving closer to beginning a phased-in ban on Russian oil, and an announcement could come this week, per multiple reports, Ben writes.
Why it matters: Russia supplies roughly a quarter of Europe's oil. An embargo would be the strongest move yet to choke off a key Kremlin revenue source.
Driving the news: EU energy ministers are meeting today and "the EU's executive branch could announce its new sanction proposals later this week," AP reports.
Reports in Reuters, Bloomberg and elsewhere say officials are eyeing a phased-in ban over the remainder of 2022.
Yes, but: "The European Commission may spare Hungary and Slovakia from an embargo on buying Russian oil, now under preparation, wary of how dependent the two countries are on Russian crude," Reuters reports.
The intrigue: "Washington and Brussels have discussed whether extraterritorial sanctions will be needed to stop China and India from buying up the Russian oil that Europe won't buy," Politico reports.
"But the EU won't impose such measures, and Washington is likely to hold off as well, at least for now, officials say."
2. California's nuclear vibe shift
California Gov. Gavin Newsom told the Los Angeles Times he's interested in extending the life of the Diablo Canyon nuclear plant that's scheduled to close mid-decade, Ben writes.
Why it matters: It signals wider concerns that reactor closures collide with climate goals and California's more regional power challenges.
How it works: The governor suggested the state would seek funds available under the bipartisan infrastructure law for helping financially struggling reactors, the paper reports.
Yes, but: Plant owner Pacific Gas & Electric is noncommittal. "We are always open to considering all options to ensure continued safe, reliable, and clean energy delivery to our customers," spokesperson Suzanne Hosn said.
The LAT notes the plant would require expensive upgrades to comply with earthquake standards.
Zoom in: The chart above via the Breakthrough Institute, an environmental think tank, shows Diablo Canyon's role in California's zero-carbon power.
"As we've seen in Germany, Japan, and around the world, every time nuclear power plants are closed, they are replaced with fossil fuels and the grid gets dirtier," Breakthrough executive director Ted Nordhaus said in a statement.
The bottom line: Newsom's stance "reflects a shift in the politics of nuclear power after decades of public opposition fueled by high-profile disasters such as Chernobyl and Three Mile Island, as well as the Cold War," the LAT's Sammy Roth writes.
3. Monthly temperature records fall in India and Pakistan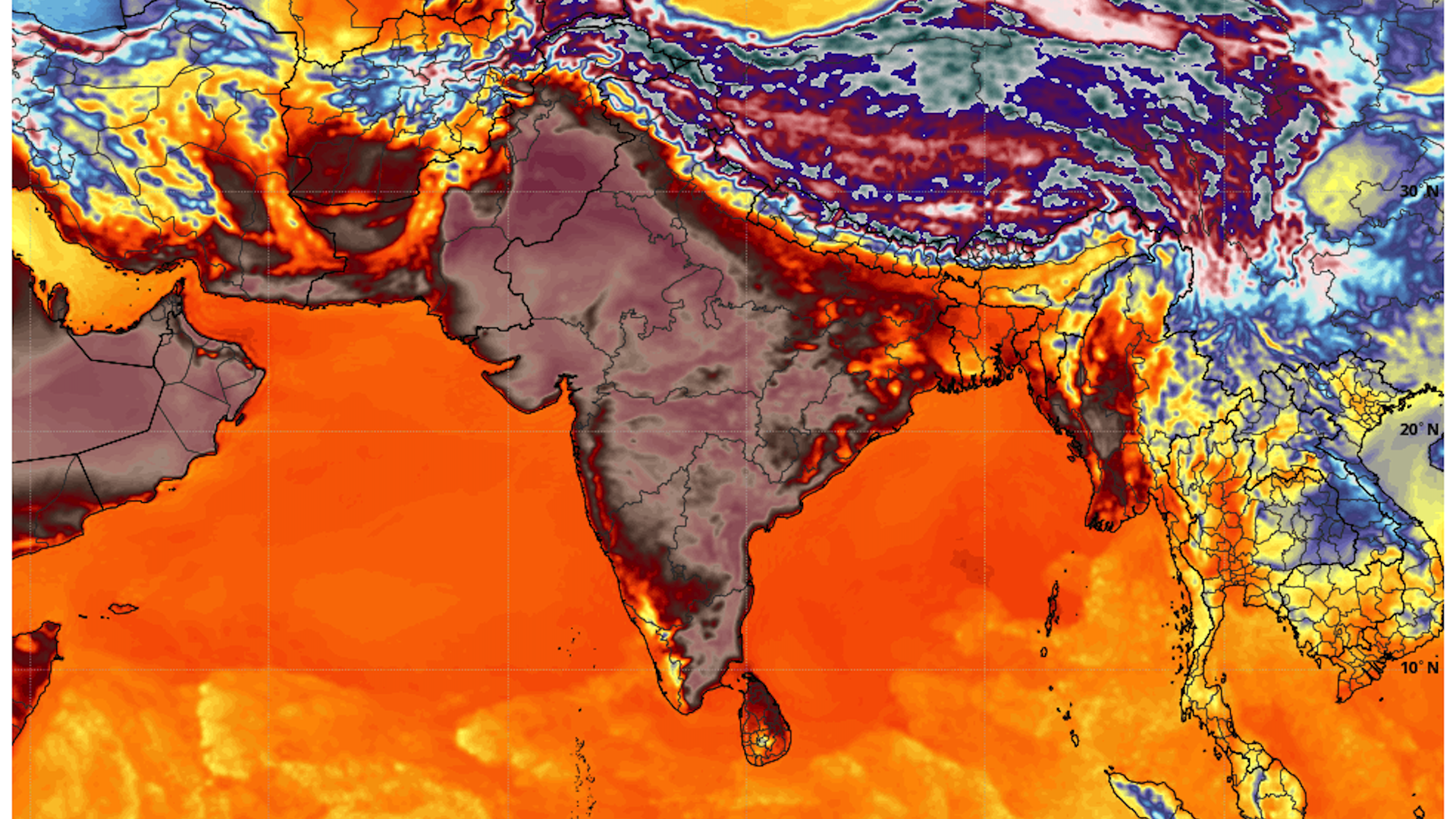 The heat wave still gripping parts of India and Pakistan set all-time monthly records this weekend, Andrew writes.
Why it matters: At least a billion people suffered through temperatures of 104°F (40°C) or higher, with many seeing highs of 110°F (43°C) and above.
By the numbers: According to Maximiliano Herrera, an expert on global temperature extremes, several monthly records fell in India and Pakistan on April 30 and May 1, while Pakistan likely experienced its hottest April on record.
Banda, in Uttar Pradesh, reached 117.4°F (47.2°C) on Friday, setting an April record. Other such records were set Saturday in Gurgaon, Chandigarh and Dharamshala.
On May 1, the temperature climbed further, to 121.1°F (49.5°C) at Nawabshah, Pakistan, which is likely the hottest temperature on record in the Northern Hemisphere so far this year.
Jacobabad in Pakistan hit a punishing 120.2F (49.0°C) on April 30.
Delhi saw temperatures exceed 110°F (43.3°C) for several days.
Threat level: The heat caused illness in India and Pakistan, according to news reports. Power outages related to the high electricity demand exacerbated the suffering.
What's next: Temperatures will start easing during the next few days but more extreme heat is expected until the monsoon season arrives between May and June.
4. New signs of a coming U.S. oil production boost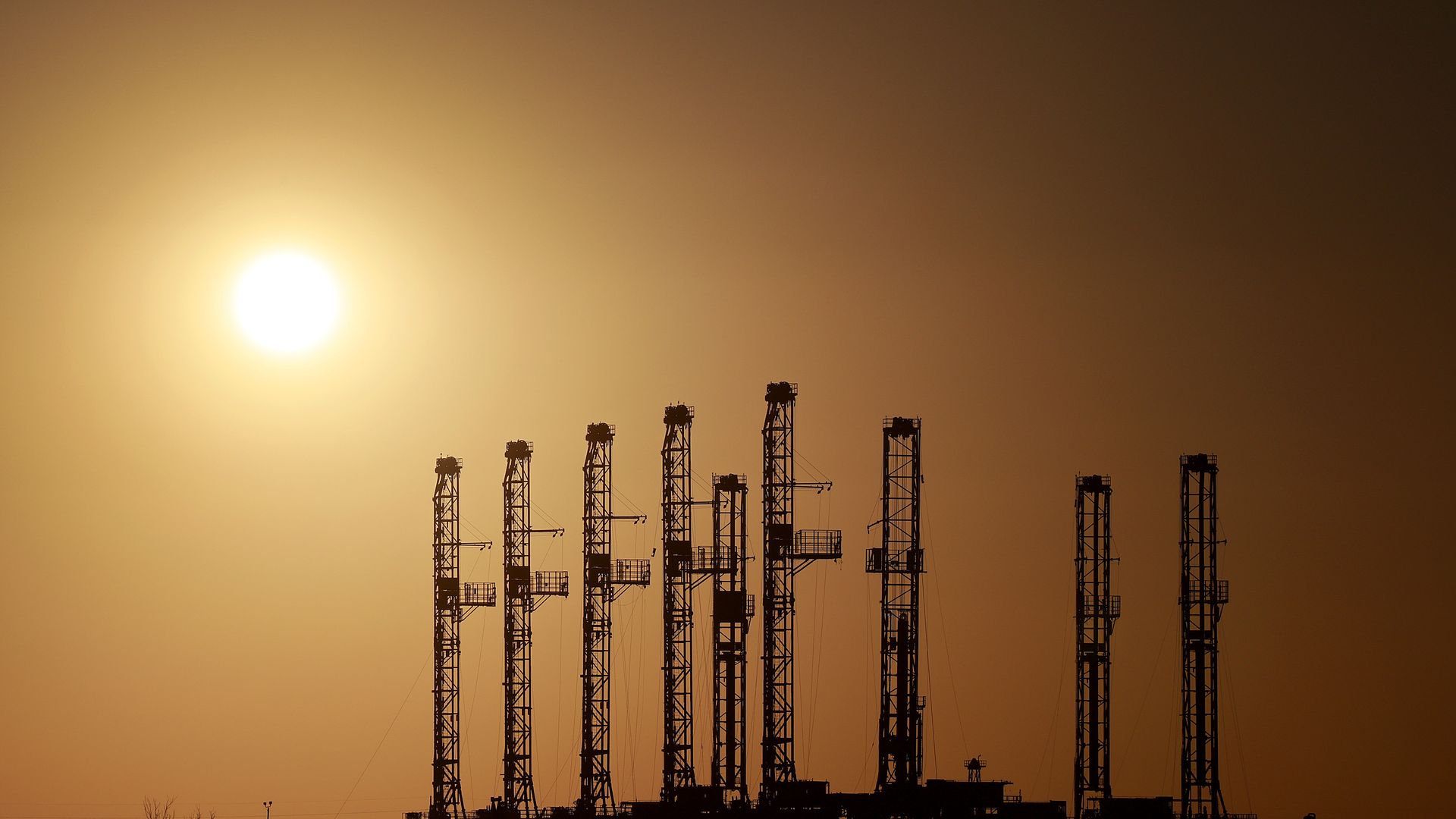 Chevron now aims to produce 700,000 to 750,000 barrels of oil equivalent per day from the prolific Permian Basin this year, and it is not alone in boosting output targets, Ben writes.
Why it matters: The oil giant's announcement Friday comes amid a commodity shock unleashed by Russia's unprovoked war on Ukraine.
The White House wants faster U.S. production growth, to the dismay of some climate activists, even as administration officials say they remain focused on climate goals.
The big picture: Producers say a combination of forces — ranging from cost pressures to investor demands — have held the pace of output growth in check despite highly attractive prices.
Yes, but: Bloomberg reports that big independents Continental Resources, Hess and Matador Resources signaled plans to raise production last week.
It notes individual increases are small, "but if the other dozens of public and private operators across the country follow suit, it could be a sign that U.S. shale is stepping up efforts to ease the global crude supply shortage."
What we're watching: Whether the Energy Information Administration boosts its U.S. production forecast in its next outlook on May 10.
Currently, it projects a 2022 average of 12 million barrels per day (mbd) and a record annual average of roughly 13 mbd in 2023.
5. How climate change could spark more pandemics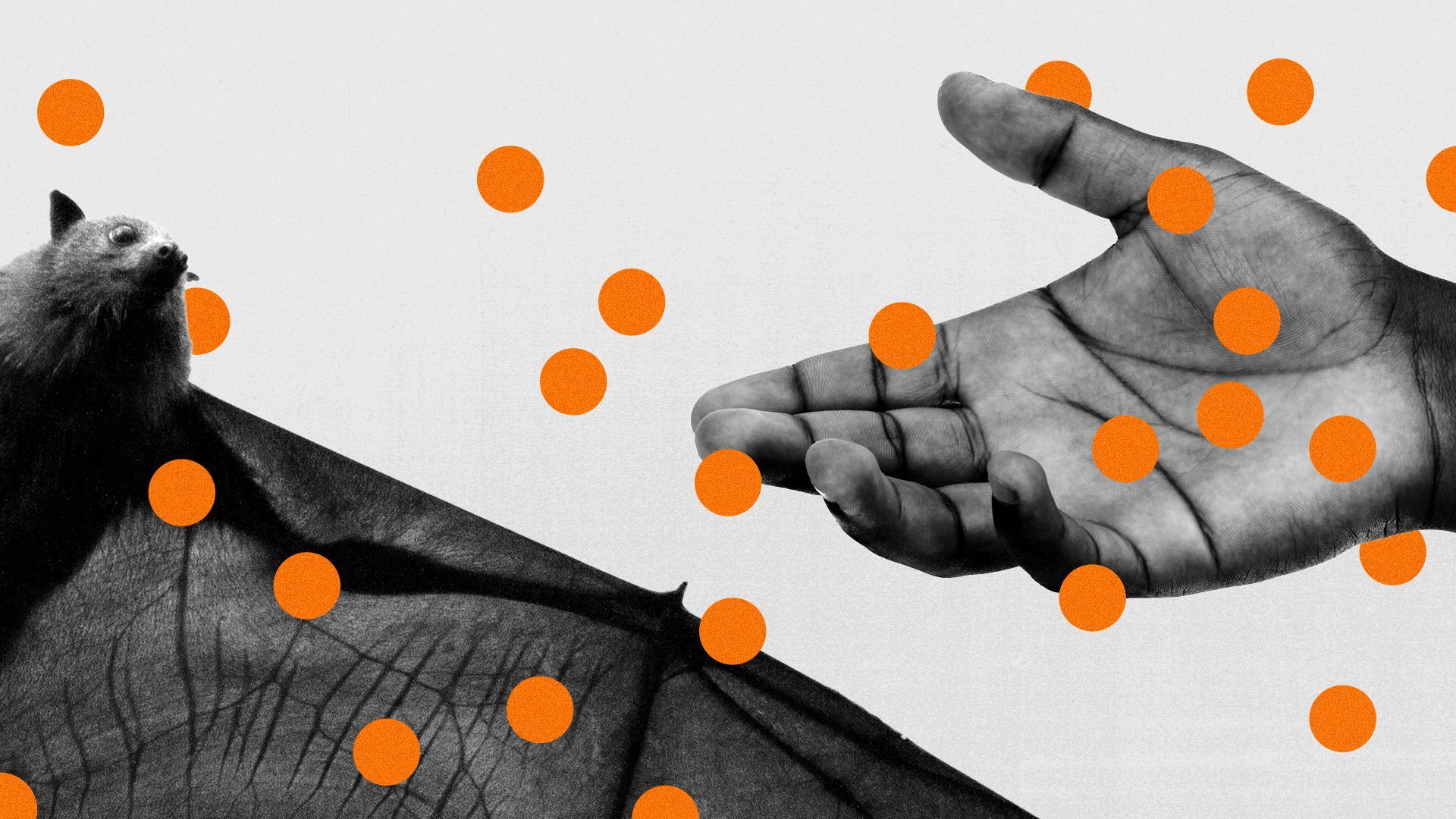 A new study finds climate change will increase pressure on species to migrate and bring thousands of new chances for viruses to jump from one species to another in the coming decades, Alison Snyder and Andrew report.
Why it matters: These events could increase the chance of a pandemic in humans. Ebola, HIV, bird flu, SARS — and many scientists think COVID-19 — all started with spillovers of viruses from wildlife and livestock to humans.
The big picture: The paper in the journal Nature shows how climate change and land-use shifts will push pathogens' host animals to novel places where they will mingle with other species for the first time.
These inter-species connections will expand the reservoirs for viruses, further threatening endangered species and increasing the chances of viruses spilling over to humans.
Most of these species-to-species jumps could go undetected, the study warns, since current surveillance efforts watch exclusively for viruses jumping from wildlife to humans.
Editor's note: The third item has been corrected to show the temperature in Banda reached 117.4°F, not 117.4°C.
Thanks for reading! 📬 Did a friend send you this newsletter? Welcome, please sign up.