Axios Generate
June 06, 2017
Good morning and welcome back to Generate!
Please take a moment to check out the new Axios Future of Work stream, where you can get the latest on artificial intelligence, and the ricochet in jobs, blight of cities, the anti-establishment political wave, and more. And you can sign-up for Steve LeVine's weekly newsletter on all those issues and more here.
Ok let's dive in . . .
From Amy's notebook: a reality check on the new coalition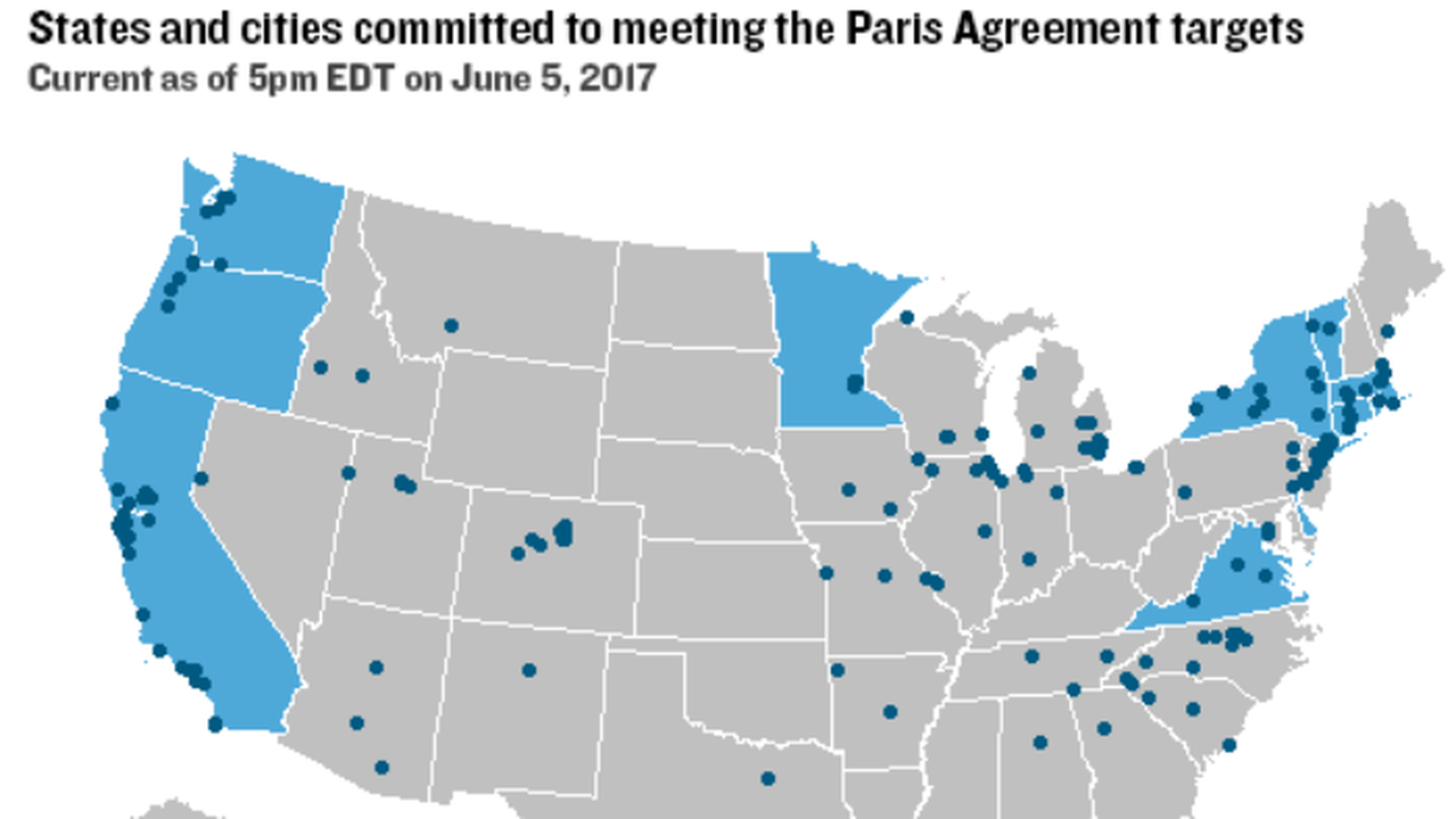 Amy Harder has a new piece that takes stock of how climate advocates are maneuvering after President Trump's decision to abandon the Paris accord. She writes:
The sheer number of backers of a new coalition seeking to meet America's commitment under the Paris climate deal is impressive — more than 1,200 states, cities, businesses, and universities. But the leaders, regions, and businesses that might have the biggest impact in cutting carbon emissions in the U.S. are not represented so far.
Why this matters: The coalition, called We Are Still In, won't be able to meet the U.S. commitment unless it gets a lot more support from the biggest carbon-emitting states, like Texas and Pennsylvania, and influential fossil-fuel companies that backed the Paris deal itself, like ExxonMobil Corp. And even then, it's going to be a stretch.
Reminder: Even the Obama administration wasn't on track to meet its own target, according to an analysis by the Rhodium Group from January. Obama's reduction target -- 26% to 28% by 2025 based off 2005 emissions levels — was a heavy lift even with an ambitious administration. It's hard to imagine how portions of the U.S. will be able to meet it while the federal government is curtailing carbon regulations.
More to come: While the coalition is currently blue states along the coasts, consumer-facing companies, and urban centers, organizers say they are broadening their movement.
Read more here.
Big green idea: a clean breakup with Paris
William Reilly, who led the EPA under President George H.W. Bush, says he fears Trump can further damage the Paris climate accord as he exits the pact. He believes the U.S. should not send delegations to annual UN climate meetings during the multi-year withdrawal process.
Why this matters: Even though the Paris agreement has entered into force, there are still decisions to be made about implementation and future. Reilly fears Trump's team could make mischief at summits where decisions rest on consensus.
"There's a possibility of the United States playing a role to try to reduce the commitments or aspirations that are agreed to in future conferences of the parties," Reilly said on the latest podcast from the Columbia University Center on Global Energy Policy.
"I think that the worst possible outcome here is to announce an intended withdrawal from the agreement, but to continue to participate in the deliberations of the parties," Reilly said.
The politics of Paris
The latest FiveThirtyEight podcast is a nice look at the politics of Trump's decision. Here are a couple takeaways from the in-depth chat, though I also recommend listening to the whole thing.
The impact could be more pronounced behind the scenes, as the decision is a potent fundraising issue for Democrats. Will it become a top-tier public issue like health care? Still no, though important for base voters on both sides.
"This is going to be easy money that's raised that can be spent in competitive races. It's not something necessarily where voters are going to be hearing a lot of climate change messaging," political writer Harry Enten predicts.
More politics: My colleague Alayna Treene points to a new Washington Post-ABC News poll that shows the majority of Americans: oppose Trump's decision to pull the U.S. from the Paris climate deal, are skeptical of the argument that the move will help the U.S. economy, and are concerned the country's global leadership role will be negatively impacted as a result.
Per the Post:
59% of those surveyed oppose Trump's decision to withdraw from the Paris accord, while 28% support it.
42% think the move will hurt the U.S. economy, 32% think it will help, and 20% say it will "make no difference."
55% said the president's decision will hurt U.S. global leadership, 23% expect no impact, and 18% said it will help.
Why it matters: Trump's move was a direct appeal to his core supporters, but outside the base it was a very unpopular decision. It remains to be seen whether climate change will be a mobilizing issue for voters, though.
Top U.S. diplomat in China resigns over Paris decision
David Rank, who was serving as chargé d'affaires (acting U.S. ambassador) in China, resigned from his post over Trump's decision to pull out of the Paris climate pact. A State official told my colleague Shannon Vavra that Rank "made a personal decision," adding that the department thanks him for his "years of dedicated service."
Rank declined to deliver the official notice to the Chinese that the U.S. was pulling out of the deal, telling colleagues in a speech he could not in good conscience as "a parent, a patriot and a Christian" play a role carrying out Trump's wishes to withdraw, per The Washington Post.
More on EPA's mining jobs claims
As I mentioned in yesterday's Generate, EPA administrator Scott Pruitt is under fire for inaccurately claiming on Sunday that the U.S. has added 50,000 "coal sector" jobs in the last few months.
In a statement Monday, EPA clarified the comment, noting that Pruitt meant to refer to "mining" broadly instead of "coal," while the agency also said that "America's miners and drillers are getting back to work under President Trump."
They're citing recent Bureau of Labor Statistics data that shows mining employment has risen by 47,000 since October.
To be sure: While Pruitt's Sunday talk show appearances emphasized coal, the BLS statistics for "mining" include the oil-and-gas sector, which has rebounded as oil prices have bounced back over the past year from their early 2016 lows. As the Washington Post points out here, that accounts for a huge share of the mining sector employment gains.
Go deeper: S&P Global Market Intelligence reporter Taylor Kuykendall looks closely at the topic here.
His piece notes that seasonally adjusted BLS data shows 51,000 total coal mining jobs in May, a gain of roughly 400 from the prior month, and up from 49,300 in October of 2016.
Yes, but: According to his firm's analysis of Mine Safety and Health Administration data, "average employment in the U.S. coal sector flattened in the first quarter after a bounce in employment and production in the last half of 2016."
​On my screen: oil, batteries, jobs
The next grid: McKinsey & Co. are out with a new report that explores how advances in battery storage tech and falling costs could shake up the electricity system.
"Eventually, combining solar with storage and a small electrical generator (known as full grid defection) will make economic sense — in a matter of years, not decades, for some customers in high-cost markets."
Oil: The Trump administration is moving closer to allowing seismic testing for oil-and-gas resources off the Atlantic coast, the Associated Press reports.
Why it matters: Critics fear that the seismic air guns will harm whales and other marine mammals. On the industry side, the results of the tests could influence the level of corporate interest in Trump administration plans to sell drilling rights in Atlantic waters that are now closed to development.
EVs: The Wall Street Journal looks closely at concerns about Volkswagen's plan to build a major network of electric vehicle charging stations in the U.S.