Good morning, and happy Monday! I hope everyone had a lovely weekend.
My latest Harder Line column takes a blunt look at where to go from here in the wake of President Trump withdrawing from the Paris climate deal. I'll give you a preview of that, and then Ben will host you for the rest of the news.
First though, another shameless plug for Steve LeVine, who sent his first Future of Work newsletter Sunday evening. It's packed with great stuff, like where automation hurts the most and the death knell for cadavers. Sign up here. Now let's get to our news.
Climate change is here to stay, so deal with it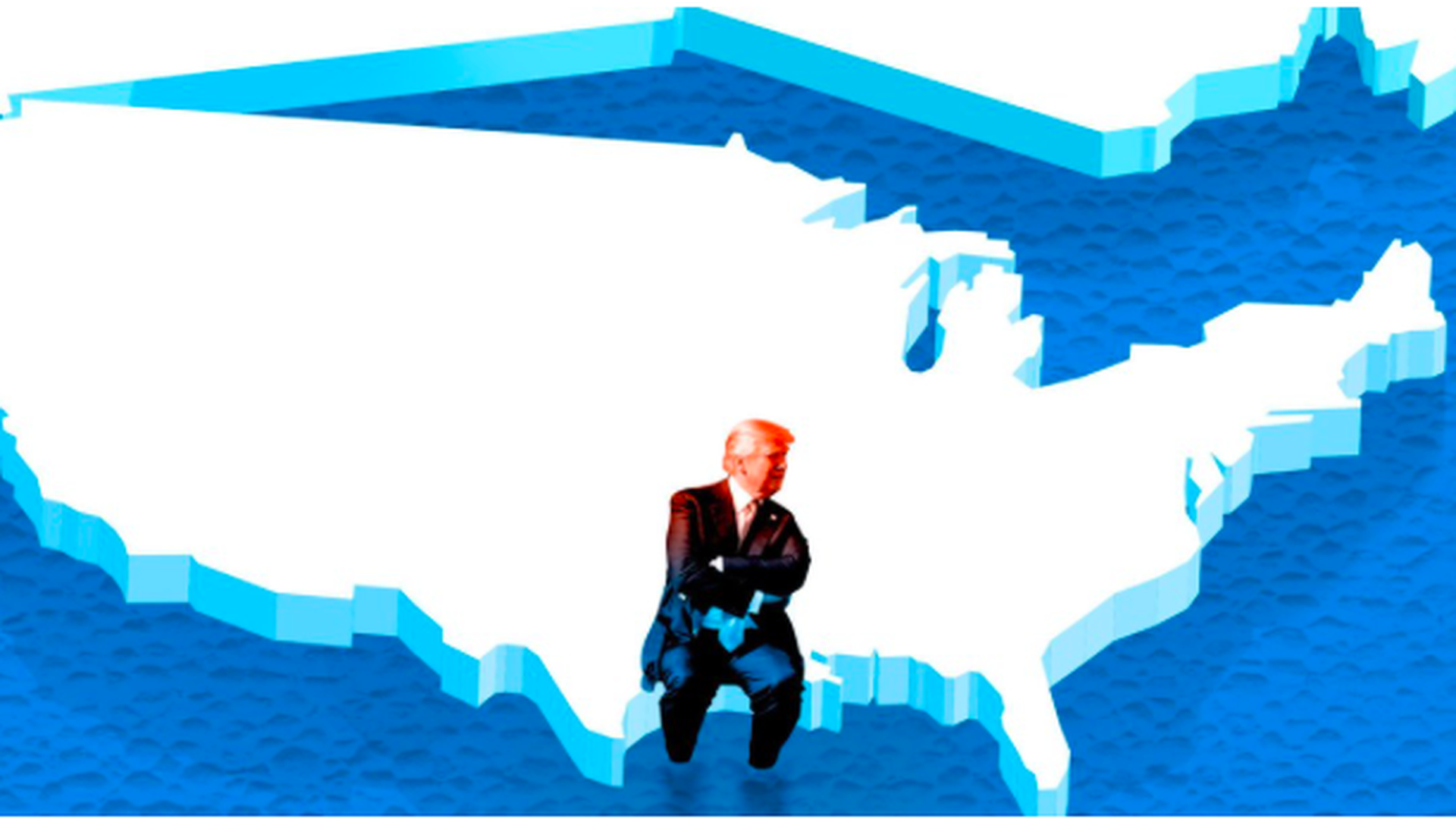 Everyone who wants to keep pushing climate policies in the vacuum of Washington leadership should start thinking more about how to adapt to a warmer world instead of focusing most political will on ways to stop it.
Why it matters: The chances of reversing climate change are slim regardless of U.S. involvement in the Paris agreement. Countries, companies, U.S. states and cities and non-governmental organizations pursuing policies to address climate change should refocus their high-level political efforts on ways to prepare for the impacts that are already here and those still to come.
"Adaptation has to become a more active part of the discussion," said Jason Grumet, president of the Bipartisan Policy Center, a centrist Washington think tank. "One thing is to recognize adaptation is not a question of defeat. Adaptation is the reality that is already taking place."
Click here for the rest of the column.
It's the Scott Pruitt show now
The EPA boss made the rounds on the Sunday talk shows and I wrote about it for the Axios stream. But here's a little of that item . . .
EPA ascendant: Pruitt's presence on three shows Sunday, and his visible public role in the Paris issue overall, signals the shift in bureaucratic power within the federal government on international climate matters.
Minority report: An exchange on NBC's Meet the Press underscores why one option that had been batted around, staying in the deal while explicitly softening the U.S. commitment, was rejected in the internal administration debate.
"You can change those targets," Meet the Press host Chuck Todd said. "No, no, no. No, not under the agreement," Pruitt responded.
Pruitt argued the wording of the deal only allows nations to make their emissions targets more aggressive, not scale them back. However, this view is not widely held among experts.
Finessing Trump: Pruitt, joining several other administration officials, declined to say whether President Trump still believes human-induced global warming is a "hoax": "I think the whole question is an effort to get it off the point and the issue of whether Paris is good for this country or not," Pruitt told George Stephanopoulos, host of ABC's This Week, after he pressed Pruitt repeatedly on Trump's views on global warming.
***Under fire: One more things about the EPA chief. He is attracting criticism for his claim, on Meet the Press, that the U.S. added 50,000 "coal sector" jobs in the first quarter. Labor Department statistics show that the total number of coal mining jobs in the U.S. is around 51,000. I'm reaching out to EPA for more, watch this space for updates.
Lobbying news
After a dry spell, several energy-related filings surfaced in the Lobbying Disclosure Act database.
Nuclear: the Nuclear Energy Institute has hired Miller Strategies for work on "issues associated with commercial nuclear energy and used fuel management."
Green groups: the Environmental Defense Action Fund has tapped Cypress Advocacy for representation on coastal restoration. The Ocean Conservancy has brought on Focus DC to lobby on appropriations.
Oil and fuels: More business for Miller Strategies. Occidental Petroleum has brought them on for work on "regulation of hydraulic fracturing; electricity reliability; export of oil and natural gas; oil and natural Gas pipelines," the registration filing states.
Valero Energy has hired them for representation on topics including the Renewable Fuels Standard.
***
Behind closed doors: the White House Office of Management and Budget has posted a slew of new records about recent and upcoming meetings between OMB, agencies and outside corporations and groups.
Click here for the June listings, and the same page lets you look at May's action. There's all kinds of meetings around EPA's next regulation on biofuels volume mandates; the agency's process for unwinding the Obama-era "Waters of the U.S." rule; and EPA chemical risk screening under the recently updated Toxic Substances Control Act.
FERC, Interior, Energy nominees moving in Senate
Happening this week: The Senate Energy and Natural Resources Committee is slated to vote tomorrow on four of Trump's nominees.
David Bernhardt to be deputy secretary of the Interior
Dan Brouillette to be deputy secretary of Energy
Neil Chatterjee to be a member of the Federal Energy Regulatory Commission (FERC)
Robert Powelson to be a member of FERC
Why it matters: the administration has been slow to fill high-level jobs at Cabinet agencies that can help do the heavy lifting on White House plans to bring about sweeping policy changes.
At FERC, meanwhile, the agency has been hobbled by the absence of a quorum since former chairman Norman Bay left in February.
What they're saying: Your Generate host obtained about 100 pages worth of Chatterjee's and Powelson's written responses to senators' questions. They're here and here.
Takeaways: Both sets of answers repeatedly voice respect for state-level decisions on electricity sources, they also emphasize the importance of FERC's market oversight.
In sum, it's probably not enough to allay activists' fears that FERC could act as a check on state-level green energy and climate policies.
More takeaways: The two FERC nominees differ somewhat on the notion of creating a "consumer advocate" office at FERC. Powelson says it's not necessary, while Chatterjee says he would consider it.
Elsewhere Powelson, who is currently a top Pennsylvania utility regulator, disagrees with Bay's recommendation that FERC should undertake a broad regional assessment of the environmental effects of gas development in the Marcellus and Utica shale.
Both are open to the idea that FERC may need stronger powers to track repeat offenders of market manipulation safeguards.
On my screen (and in my ears)
Paris: a few good listens if you want to deconstruct Trump's decision a bit more. Greentech Media's Energy gang podcast look critically at the decision here. From the right, editors at National Review (who are not Trump fanboys) take a generally approving look here. KCRW's excellent Left, Right & Center breaks it down here.
Solar: The Las Vegas Review-Journal reports that state officials have agreed on a new law aimed at restoring the rooftop solar market in Nevada, which took a big hit when utility regulators there made the economics of it much less attractive in 2015.
Oil and gas: The Wall Street Journal looks at the energy stakes of the diplomatic spat between Qatar—a major natural gas exporter—and several other Middle East states.
Thanks for reading! Tips and feedback are always welcome at ben@axios.com. Have a great Monday.