Axios Generate
April 12, 2019
Happy Friday!
Situational awareness: "Tesla Inc. stopped online sales of the $35,000 base version of its Model 3 car weeks after introducing it, the latest shift in sales tactics as the company struggles to deliver long-promised affordability and avoid losing money," WSJ reports.
Onto music. We're going to stay in the 80s for this week's final musical reference. R.E.M. released "Murmur" on this day in 1983, so they'll bring us into the weekend...
1 big thing: The climate stakes of Uber's IPO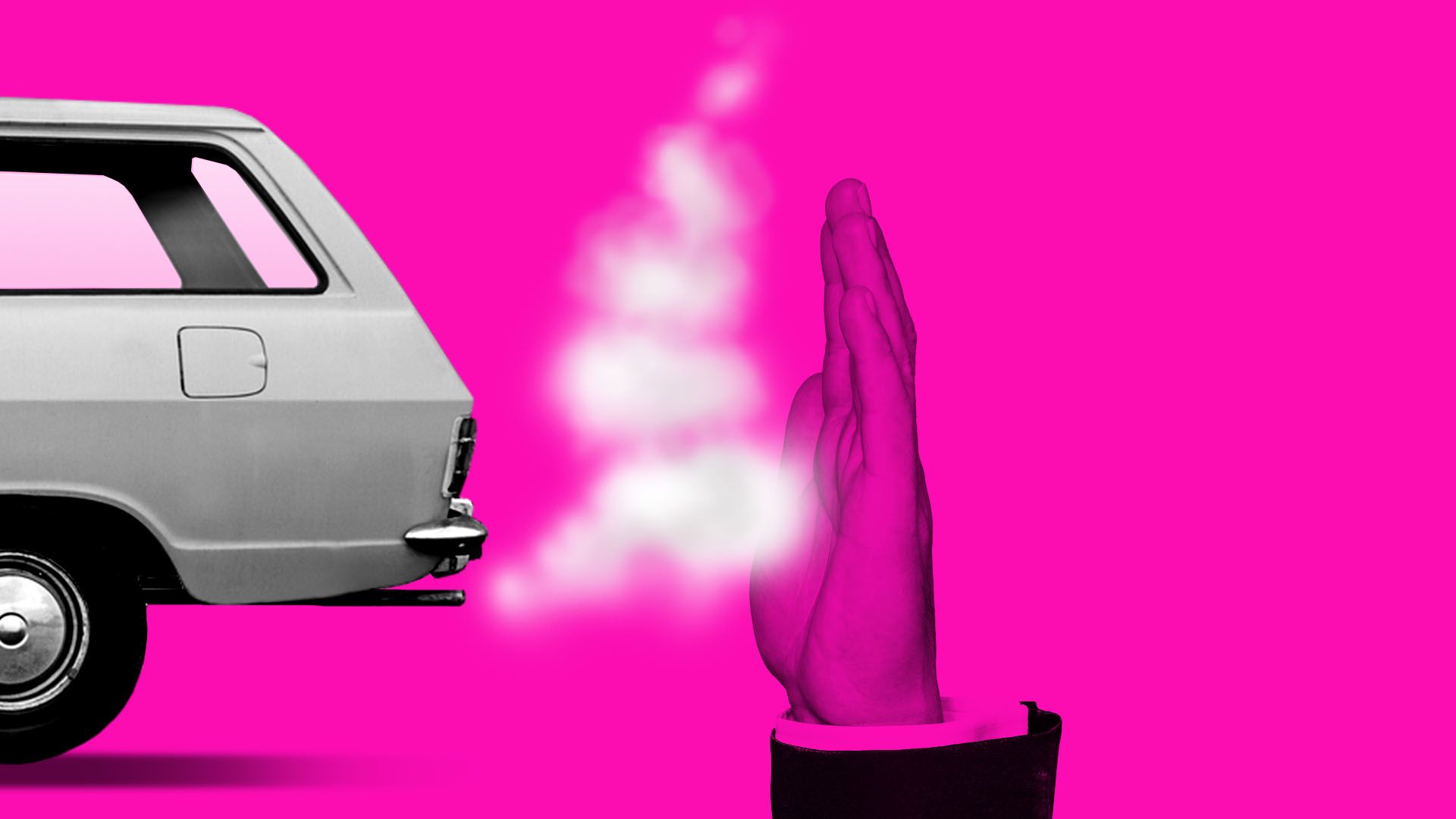 Uber's big new IPO prospectus touts the company's green ambitions as it prepares for its multibillion dollar offering — and acknowledges that environmental policy is a risk factor.
Why it matters: Uber is going public amid growing scrutiny of ride-hailing's carbon footprint as research shows it can boost emissions by cannibalizing mass-transit and increasing miles driven.
Threat level: A line tucked into the global company's filing with securities regulators caught my attention. In the lengthy section about various risks, Uber acknowledges...
"[B]ecause a substantial portion of our business involves vehicles that run on fossil fuels, laws, regulations, or governmental actions seeking to curb air pollution or emissions may impact our business."
Where it stands: The filing says Uber aspires to play a "meaningful role in creating a sustainable, low-carbon future and addressing environmental challenges."
"We believe that a transportation system based on personal car use is inefficient and unsustainable," it states.
The document touts several of the company's environmental and anti-congestion initiatives in the U.S. and internationally.
For instance, it notes work with regulators in German cities to deploy electric vehicles and dockless electric bikes.
Between the lines: The role of ride-hailing and new mobility services generally is something of a wildcard in the future of urban carbon emissions.
A number of experts say it's increasingly important for regulators to take more steps to ensure the explosive growth of ride-hailing doesn't bring a corresponding jump in CO2.
Transportation is already the largest source of U.S. greenhouse gas emissions.
What they're saying: Populus CEO Regina Clewlow, whose company provides a transportation data analytics platform for local governments, says it's up to cities to keep the environmental effects of mobility companies in check.
"[C]ities need to require access to data from mobility operators, as well as invest in their own data collection efforts to measure the impacts of Uber and other services," she adds.
Go deeper:
2. Chevron to buy Anadarko in oil mega-deal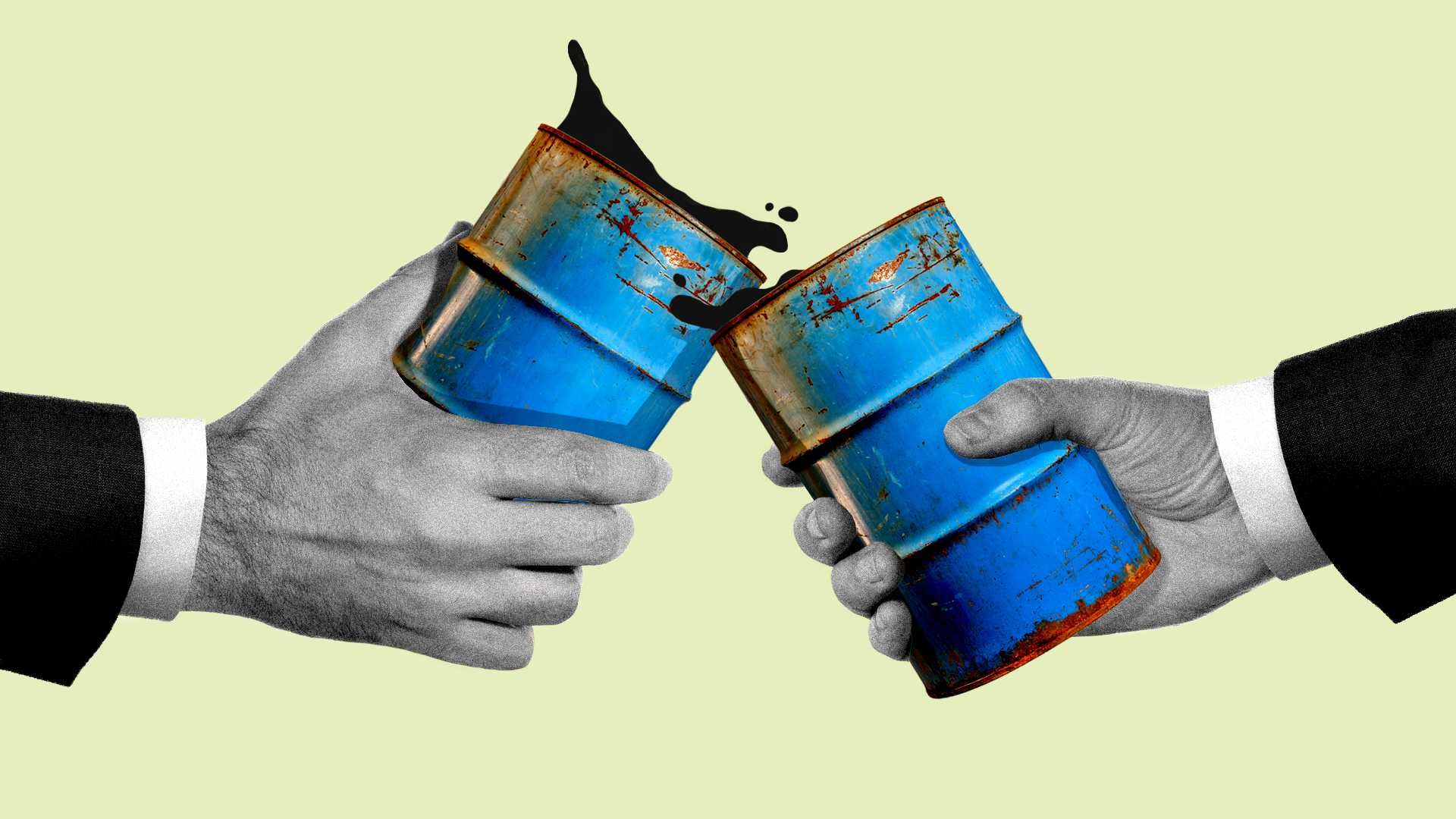 Oil-and-gas giant Chevron said today that it's acquiring the big independent player Anadarko Petroleum in a $33 billion cash and stock deal.
Why it matters: Chevron, the second-largest U.S.-based multinational oil company, said the move would bolster its position in key domestic onshore and offshore fields — notably the surging Permian Basin region of Texas and New Mexico, which produces over 4 million barrels of oil per day.
"The combination of Anadarko's premier, high-quality assets with our advantaged portfolio strengthens our leading position in the Permian, builds on our deepwater Gulf of Mexico capabilities and will grow our LNG business."
— Chevron CEO Mike Wirth, in statement
Quick take: The deal underscores how oil majors are aggressively expanding their operations in the onshore shale business, especially in the Permian.
"The combination of the two companies will create a 75-mile-wide corridor across the most attractive acreage in the Delaware basin," the announcement says, referring to a portion of the Permian that's confusingly named after another state.
Last month ExxonMobil announced updated Permian growth plans, while BP last year announced the $10.5 billion acquisition of BHP Billiton's U.S. onshore holdings.
Of note: The deal is not solely about bolstering U.S. assets, Chevron said. "Chevron will gain another world-class resource base in Mozambique to support growing LNG demand," the announcement notes.
What they're saying: It's the biggest acquisition among oil-and-gas producers since Shell announced the purchase of the BG Group in 2015, according to the consultancy Wood Mackenzie.
Once the deal closes, Chevron will have the second-largest production among the oil and gas majors behind ExxonMobil.
"Chevron now joins the ranks of the ultra-majors — and the big three becomes the big four," says Roy Martin, a senior research analyst with Wood Mackenzie.
"The acquisition makes the Majors' peer group much more polarized. ExxonMobil, Chevron, Shell and BP are now in a league of their own," he said.
What's next: The transaction will be 75% stock and 25% cash with an overall value of $65 per share, the companies said. Both companies' boards have signed off on the deal, and they expect it to close during the second half of the year.
The transaction must still be approved by Anadarko shareholders and regulators, the joint announcement notes.
The total value of the deal, including Chevron's assumption of Anadarko's debt, is $50 billion.
3. Nuclear energy pulled into Trump trade wars
Add nuclear energy to the list of sectors caught up in President Trump's protectionist trade agenda, Axios' Amy Harder reports.
Driving the news: The Commerce Department faces a Sunday deadline to tell Trump whether it recommends imposing quotas that require more domestic sourcing of uranium, the fuel used in nuclear plants.
Where it stands: The two petitioners, which are U.S. uranium producers with operations across the West, want 25% quotas for domestic uranium. Right now just 7% comes from the U.S.
The companies, Ur-Energy and Energy Fuels, allege that rising import reliance threatens national security.
They point out that the U.S. imports Russian uranium and argue that China is playing an increasing role in the global uranium enrichment market.
The big picture: It's the latest example of afflicted domestic industries seeking to seize on a sympathetic president. This is at least the fourth such petition seeking trade barriers because of alleged national security concerns during the Trump era.
The other three are around steel, aluminum and autos. The latter two resulted in new trade restrictions, while the outcome is not yet determined for autos.
Trump also slapped tariffs on solar panel imports last year under a different provision.
The other side: A coalition of big utilities, including Exelon and Duke Energy, argue uranium quotas would actually hurt America's national security by increasing costs for nuclear power plants.
The group, whose members also include PG&E and Xcel Energy, notes that America doesn't import Chinese uranium and that our biggest suppliers are allies Australia and Canada.
What's next: Once he receives the report, Trump has 90 days to decide on a response to the recommendations.
4. Chart of the day: The changing Arctic
Via Axios' Andrew Freedman...The Arctic region has been pushed into an entirely new climate, one that's outside the experience of longtime residents and native wildlife, shows a new report in the journal Environmental Research Letters.
Why it matters: The far north is undergoing profound changes that are affecting the rest of the world, from the melting of permafrost, which releases greenhouse gases, to the disappearance of sea ice.
The big picture: To understand how unusual and consequential Arctic warming is, one need only to look at recent events in Alaska, which this year experienced its warmest March on record, and warmest October through March. In fact, Alaska has had its warmest 6 years on record, too.
Where it stands: People across the state are coping with an unusually early start to spring, according to Dave Snider, a meteorologist with the National Weather Service in Alaska.
This means ice breakups on rivers, life-threatening hunts for food in native communities and many other impacts.
The likelihood that Utqiagvik (formerly known as Barrow) would reach those March average temperatures was just a 1-in-250,000 chance of occurring in a given year, Snider tells Axios.
5. The case against NOPEC
The No Oil Producing and Exporting Cartels Act (NOPEC) — previously introduced during both the Bush and Obama administrations — remains relatively under the radar, but could rattle global oil markets, writes Axios Expert Voices contributor Richard D. Kauzlarich.
The big picture: The bill aims to weaken OPEC by removing sovereign immunity from states that cooperate to influence oil production, thereby allowing for antitrust action.
If enacted and enforced, it could trigger oil price fluctuations, market instability and new risks to U.S. foreign relations.
The impact: Although the Trump administration wants to curb OPEC's power, the organization's presence in recent years has brought price and trade stability to one of the world's most valuable and strategic commodities.
Targeting OPEC with U.S. legal action could cause OPEC and non–OPEC oil-producing states (such as Russia and Azerbaijan) to retaliate.
With OPEC accounting for over 40% of world oil output and with G-20 powers as key international oil consumers, the U.S. could face backlash from other consumer allies in Europe and Asia if NOPEC is seen as destabilizing oil markets and commodities prices.
Price volatility could be especially detrimental to U.S. oil producers, now the number one source of global oil supply and a driving force behind American economic growth.
Read more of the whole post.
Kauzlarich is a former U.S. ambassador and the co-director of the Center for Energy Science and Policy at George Mason University.