May 07, 2018
Good morning from Spokane, Washington! I was here to run a popular 12km race called Bloomsday yesterday. 
Invitation: Speaking of running and more on topic, if you're in D.C. Tuesday evening, join me for a run around town and then an informal talk on all things energy, climate and the environment. I'm the guest speaker with Envirorun, a nonprofit networking group.
My latest column is my second glossary installment on electricity, building off a more general energy and climate primer published in February. I'll offer a glimpse of that, and then Ben Geman will get you up to speed on the rest.
1 big thing: a power primer for the Trump era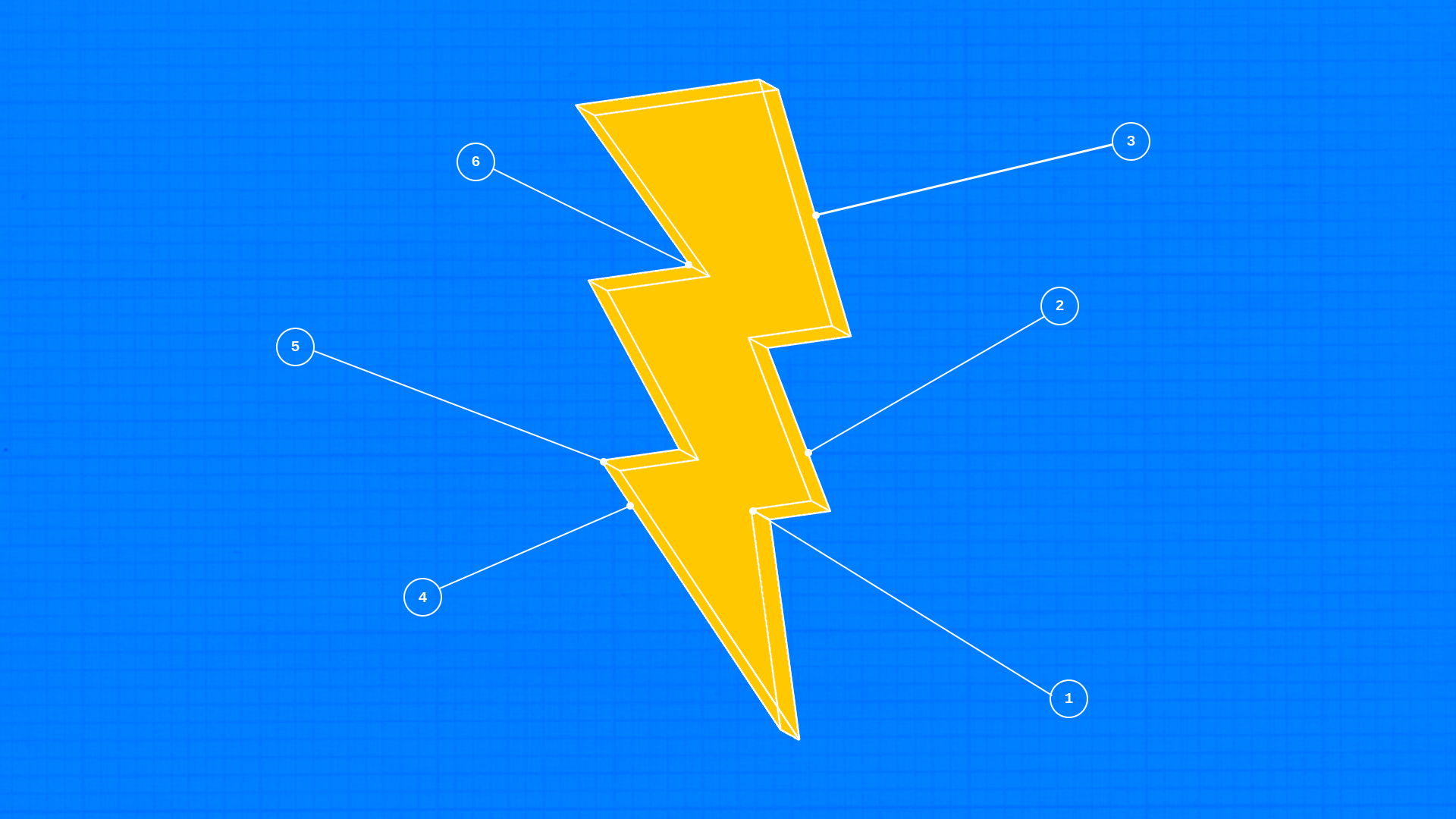 Electricity, the thing we all use but don't really notice, has unexpectedly become a hot topic under President Trump.
Why it matters: His administration is mulling bailouts for coal and nuclear power plants in a questionable attempt to strengthen the electricity grid.
Meanwhile, this winter's cold snaps drove up New England's power bills and Puerto Rico is still grappling with one of the world's worst power outages. 
Here's one key definition: 
Resilience and reliability
Resilience is the energy word du jour, with Energy Secretary Rick Perry emphasizing it as he seeks to help economically struggling coal and nuclear power plants. Reliability is a close semantic cousin. What these words actually mean depends on who you ask.
"We can't even agree on how to pronounce it, resilience versus resiliency," said Neil Chatterjee, a Republican commissioner of the independent Federal Energy Regulatory Commission, which oversees U.S. electricity infrastructure.
Chatterjee, who says resilience is the grammatically correct term, defines the terms this way: "Reliability is making sure when you hit the switch the lights come on. Resilience is making sure you can bounce back in the events when the lights go off."
The remaining definitions include:
Energy vs. electricity
The electricity grid
Intermittency and variability
Baseload power
Capacity vs. generation
Retirement and premature retirement
Click here to read the full glossary in the Axios stream.
What did I miss? Email me ideas at [email protected] for the next round.
2. Markets brace for Trump's Iran sanctions call
Big this week: Trump faces a May 12 deadline to decide whether to continue waiving sanctions against Iran or reimpose them. Markets think it will be the latter as prices rose in trading Monday to their highest levels in well over three years.
WTI, the U.S. benchmark, climbed above the $70-per-barrel level and Brent crude is trading at well above $75.
"[W]e think that it is highly likely that President Trump will exercise the exit option despite the recent best efforts of European leaders to fix the nuclear deal," analysts from RBC Capital Markets said in a note.
Why it matters: Walking away from the Iran deal and reimposing sanctions would lower volumes of Iranian crude in international markets.
Projections vary widely — common estimates range from around 200,000 barrels per day to 1 million — and a lot depends on the details of Trump's decision on the complicated deal, and the speed and scope of European buyers' response.
But any move to reimpose penalties would likely push prices higher in a market where global stockpiles are at their lowest levels in years and other geopolitical tensions abound.
Go deeper: At the Center for Strategic and International Studies, Frank Verrastro and Kevin Book look at Trump's options and how they could affect crude flows.
3. Pickup trucks will shape the electric future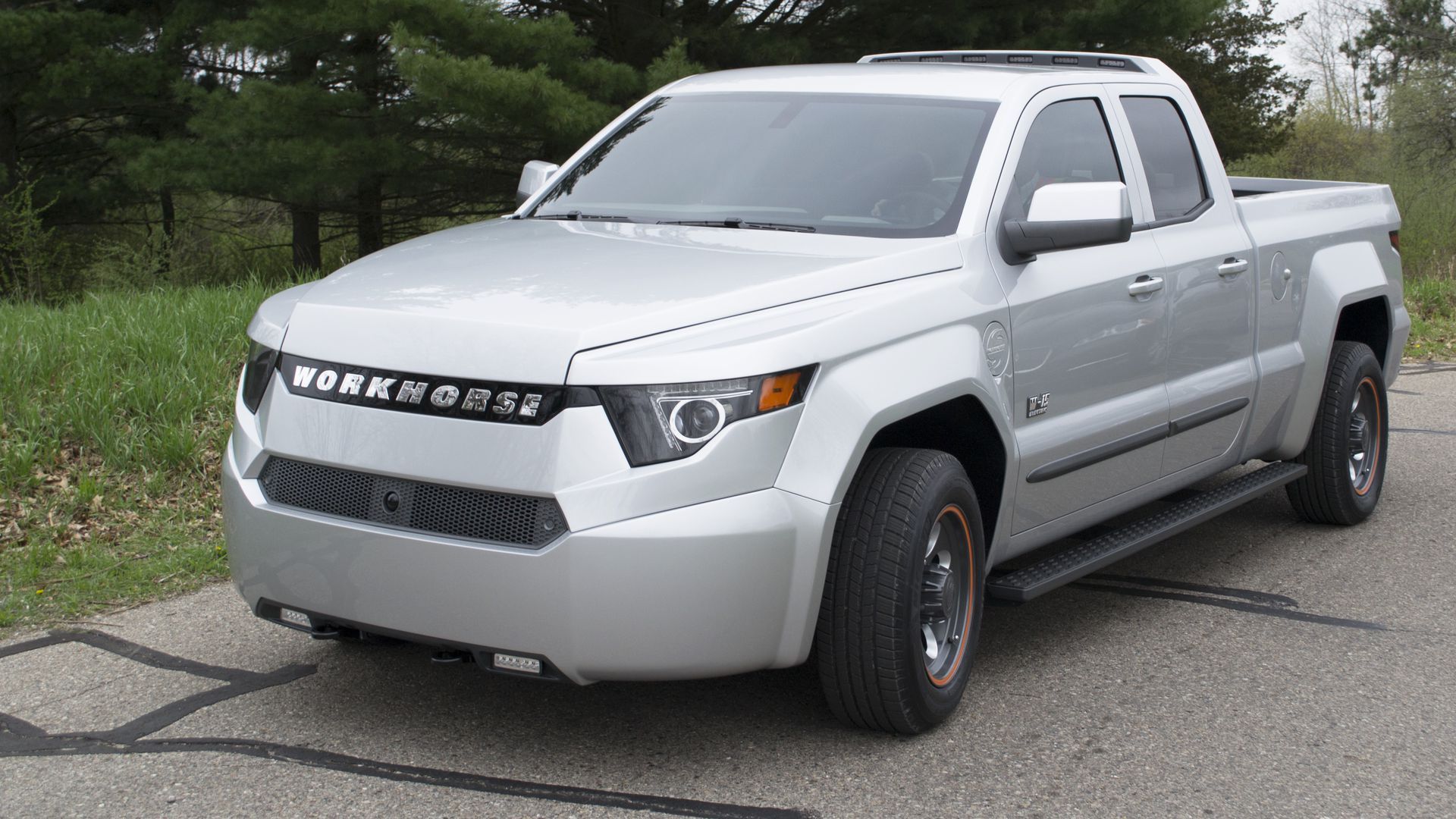 My Axios colleague Steve LeVine reports...
The future of electric vehicles in the U.S. is the SUV and the pickup truck.
The reason is the market: Almost all the conversation around electrics and autonomous vehicles centers on sedans. The world's major carmakers — VW, BMW and GM — intend to sell mass-market electrics in the U.S. But to do so, they will have to manufacture what consumers are buying.
Last year, pickups, SUVs and crossovers were about three-quarters of all light vehicle sales in the country.
Apropos of those sales, by 2020, 90% of Ford's vehicles will be trucks and SUVs, the company announced last month. (Among those will be a single light hybrid electric pickup, with no announced plans to go fully electric.)
At least two pickup prototypes appear to be nearing commercialization, including the Workhorse W-15 (pictured above).
In a tweet in December, Tesla CEO Elon Musk — who already produces the Model X SUV — said a pickup will come right after the 2020 rollout of the crossover Model Y.
Promise and peril: In a paper last year, Venkat Viswanathan and Shashank Sripad at Carnegie Mellon University said current lithium-ion batteries could power an electric pickup such as the ultra-popular Ford F-150.
The main challenge is the payload, Viswanathan told Axios, because truck owners often want to carry stuff weighing 1,000 pounds — or even a ton.
Go deeper: Click here for a bit more in the Axios stream.
4. Climate and Big Oil: an update
A couple of stories since our last edition explore whether some of the world's most powerful energy companies are preparing enough for the goal of a lower carbon future.
Shell: A piece in the Financial Times looks at the extent of investor backing for a shareholder resolution that would force Shell to adopt more aggressive carbon-cutting goals.
"Several big Dutch investors have already said they will vote in favour of the resolution at Shell's annual meeting on May 22 and they were joined on Friday by UK funds including the investment and pensions arms of the Church of England," they report.
Statoil: The company announced plans on Friday to cut the carbon intensity of production from future oil-and-gas projects to 3 kilograms per barrel of oil-equivalent, which the Norway-based multinational said is less than 20% of the current industry average.
Why it matters: The world's biggest oil-and-gas companies, especially ones based in Europe, are increasingly investing in lower-carbon technologies.
But critics say their initiatives, a very small fraction of overall spending, are too modest.
Some investors say the companies face financial peril, predicting they'll be saddled with large oil reserves they're unable to produce — "stranded assets" — as global climate policies become more strict in the future.
5. The shale boom's infrastructure toll
A piece in our Expert Voices section has some eye-catching data. Here's part of the piece by Gabriel Collins of Rice University's Baker Institute Center for Energy Studies...
Massive scale: Every month in the West Texas Permian Basin, energy producers drill hundreds of new long-lateral oil and gas wells, an increasing number of which reach 20,000 feet in length and require the transportation of pipe, sand, water and oil weighing more than the Empire State Building.
Why it matters: Unconventional oil and gas development employing horizontal drilling and fracking, like the kind occurring in Texas, is dramatically more transportation-intensive than traditional models. The movement of such huge quantities of construction materials via truck has had a destructive effect on local roads.
Drilling a single long-lateral well can now require more than 500 tons of steel pipe, a 14-football-fields-long string of sand-carrying railcars and enough water to fill more than 35 Olympic-size swimming pools.
Go deeper: Click here for the whole thing.
6. Inside Scott Pruitt's "miserable" bunker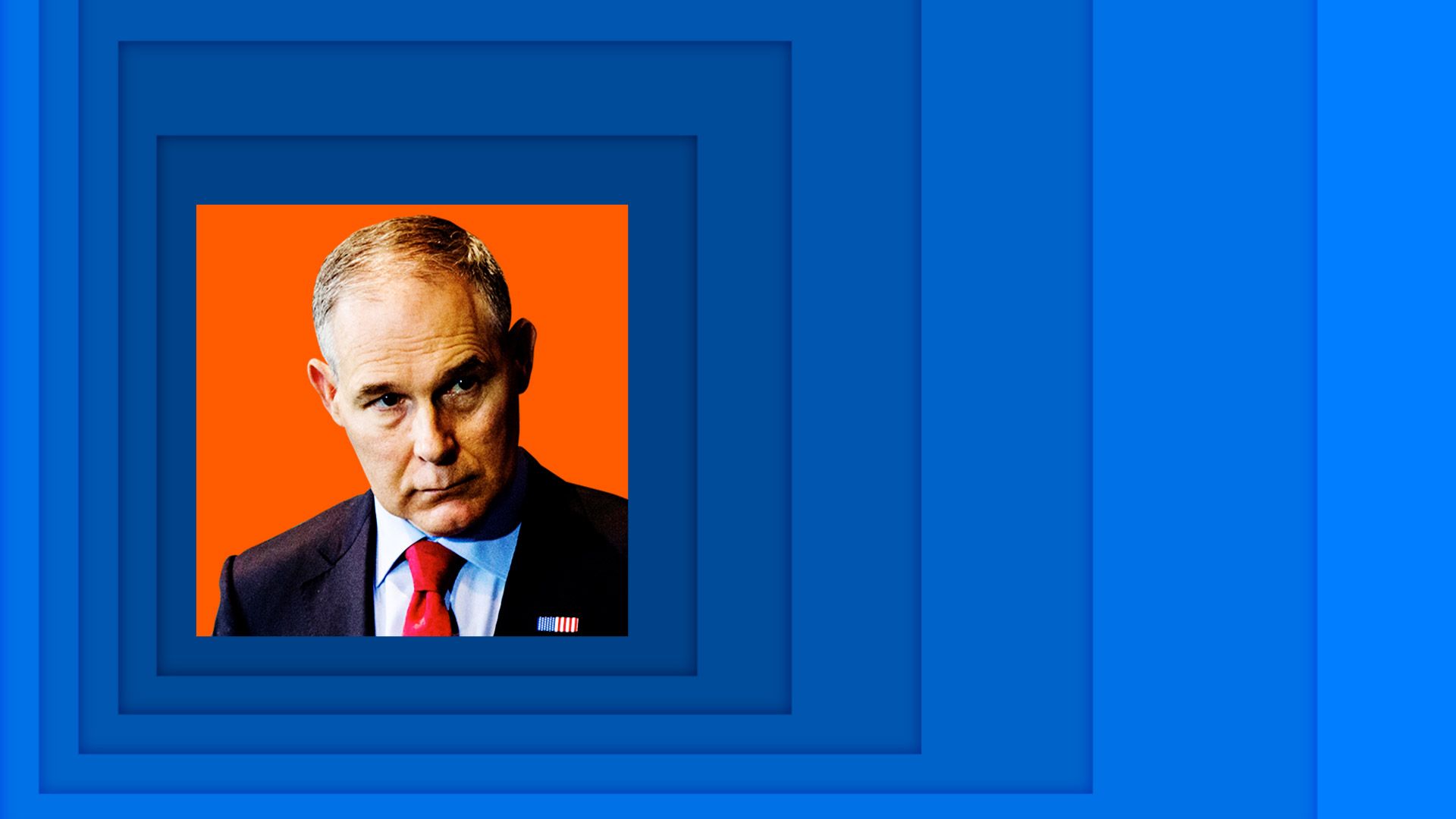 Axios' Jonathan Swan looks at the perilous state of Scott Pruitt's tenure running the EPA...
Behind the scenes: Trump is unhappy about a report in The Atlantic which says a member of Pruitt's press team has been shopping negative stories about Interior Secretary Ryan Zinke.
Why this matters: Pruitt — who is under siege from federal investigators, the White House, Capitol Hill and the media — survives because the one guy who matters in the White House won't fire him. But Trump has been souring on Pruitt, and most everyone else in the building wants him gone.
Pruitt's spokesman Jahan Wilcox has denied that his team pushed negative stories about Zinke.
The intrigue: On Friday afternoon, Pruitt had lunch with four members of his team at Ambar restaurant on Capitol Hill. The gathering surprised just about the entire senior staff of the EPA; they found out about it from a picture a lobbyist tweeted.
Over the last few months, Pruitt has walled himself off from all but five EPA political appointees: ​Millan Hupp, Sarah Greenwalt, Hayley Ford, Lincoln Ferguson, and Wilcox.
Pruitt's chief of staff, Ryan Jackson, runs the agency's operations but rarely knows where his boss is. Pruitt has frozen Jackson out of his inner circle — a disaster for a chief of staff. Pruitt and Jackson don't trust each other, multiple sources told Swan.
"All of us have been frozen out over time," one EPA political appointee said. "It's absolutely unreal working here. Everyone's miserable. Nobody talks. It's a dry wall prison."
Go deeper: Read the whole story here.
7. On our radar this week
White House: Trump is slated to hold a roundtable with auto industry CEOs on Friday.
Why it matters: The administration is seeking to scale-back Obama-era auto mileage and carbon emissions rules that some companies have complained are overly aggressive.
The intrigue: Per Bloomberg, the industry fears the administration is going too far and risking a protracted battle with California officials.
"The executives plan to encourage the president to agree with California on measured adjustments to the standards rather than a major rollback," they report.
Congress: Lawmakers are coming back into town and energy-related hearings include...