Axios Generate
January 23, 2019
Good morning and welcome back! Was this email forwarded to you? Sign up here
Today marks the 1977 release date of Pink Floyd's "Animals," so they'll make sure we don't feel alone...
1 big thing: Climate polling as Rorschach test
New public surveys offer a messy picture for anyone trying to game out where U.S. climate policy may go in the future.
Why it matters: The reports arrive as Democrats are increasing their political focus on climate and some conservatives are trying to chip away at massive GOP opposition to carbon taxes.
What they found: One of the polls — found here — shows that 44% would support taxing carbon emissions in the abstract, compared with 29% in opposition.
But support was higher when pollsters for the University of Chicago's Energy Policy Institute and the AP–NORC Center for Public Affairs Research asked about specific uses of tax revenue (see chart above).
The intrigue: Note that providing a tax rebate to all Americans is hardly the most popular option. Yet that's the guts of the proposal floated by some lawmakers, a large group of economists and the Climate Leadership Council, a group backed by some prominent GOP elder statesman and big corporate players like Exxon, BP and Shell.
The poll found even less support for coupling the tax with easing emissions regulations, which is a key part of the proposal from the CLC, its lobbying offshoot Americans for Carbon Dividends, and the economists.
Between the lines: All that said ... it's a single poll. And even that survey has mixed messages.
It also shows that willingness to pay higher monthly power bills (which is kind of a proxy for a tax) plummets as the costs rise, yet presumably a system of rebates could make higher bills more palatable.
A main takeaway from the poll is that it finds 49% of respondents said climate change is very or extremely important to them personally.
That's way lower than the share with the same feelings about the economy (76%), health care (81%) and terrorism (67%).
Partisan divide also remain immense. The poll shows that while 71% of respondents overall agree that climate change is happening, only 52% of Republicans are in agreement.
Among those who agree climate change is happening, just 33% of Republicans say it's caused entirely or mostly by human activities.
The scientific consensus is that human activities have been the absolutely dominant driver of observed warming since the mid-20th century.
But, but, but: A second survey also has results that could show greater public interest in measures to stem rising emissions and adapt to the effects of warming. Read more on this below.
2. How Americans view the climate threat
More Americans are very worried about global warming and say the issue is personally important to them than ever before, according to a new poll released yesterday by Yale and George Mason universities.
Here's more from Axios' Andrew Freedman on that survey...
Why it matters: The polling may indicate that extreme weather events — coupled with grim scientific findings — over the past year are starting to change peoples' minds about climate change.
This could have implications for any climate legislation eventually passing Congress.
The big picture: A key finding is that Americans increasingly view global warming as a present-day threat, rather than something that will affect future generations.
Nearly half of Americans (46%) said they personally experienced the effects of global warming — a 15 percentage-point spike since March 2015.
48% of Americans think people in the U.S. are being harmed by global warming "right now," an increase of 16 percentage points since March 2015.
About 7 in 10 Americans (72%) say global warming is either "extremely," "very," or "somewhat" important to them personally, a record high in the Yale-George Mason poll.
Where it stands: The University of Chicago-AP poll shows some similar trend lines.
It finds that 48% of respondents find the science on climate change more convincing than 5 years ago, compared to 14% who called it less convincing.
"Three-quarters of those who think the science of climate change has become more convincing credit recent extreme weather events for changing their views," a summary notes.
But, but, but: The public is still in a very different place than the scientific community.
The Yale-George Mason poll shows that 57% understand that most scientists agree that global warming is happening, which is the highest level since 2008.
Nonetheless, a far smaller share — just 1 in 5 — are aware of the strength of consensus amongst scientists (it's more than 90%) who are convinced that human-caused global warming is happening.
Go deeper: Record number of Americans see climate change as a current threat
3. Tech notes: Venture capital and Google in Asia
VCs: Via Bloomberg, a California co-working space and incubator for clean energy companies called Powerhouse is expanding into venture capital.
They're starting with a relatively small amount of money — $5.5 million — but they've got prominent backers, including Total Energy Ventures, Centrica Innovations, and former officials with GoogleX and NRG Energy.
Why it matters: Per Greentech Media, "The fund size may be a drop in the bucket of the overall energy market, but it's specifically tackling seed-stage cleantech investing, a niche that few investors have specialized in."
They're investing in increments of between $50,000 and $200,000, and they've already made 4 investments.
Google: TechCrunch reports, "Google has launched its first clean energy project in Asia. The company announced today that it struck a long-term agreement to buy the output of a 10-megawatt solar array in Tainan City, Taiwan, about 100 km south of its data center in the country. "
4. Fracking is thirsty and getting thirstier
The amount of water needed for hydraulic fracturing operations has more than doubled in recent years and is slated to top 6 billion barrels in 2021, the consultancy Rystad Energy said in a note.
Why it matters: It's a metric of the massive scale of the U.S. oil boom that has sent production to record levels.
That's largely thanks to growth in shale formations — most notably the Permian Basin in Texas and New Mexico — where hydrocarbons are pried loose using high-pressure injections of water, sand and chemicals.
What's next: A Rystad analyst said in the note that the industry will be able to get the water it needs as production grows and water demand soars with it.
"This surge is driven by both increased activity and higher proppant intensity. But even with such steep growth, market concerns about sourcing challenges and bottlenecks appear to be minimal," Rystad SVP Ryan Carbrey said in a statement.
However, the report also warns of looming constraints for dealing with wastewater that comes out of wells.
"With produced water in the Permian set to increase by a third by 2021 there will be local disposal constraints, but at a macro level spare disposal capacity will remain," it states.
The big picture: The volumes of water needed to support the growth of shale production has long been an ecological concern.
A study last year by Duke University researchers found that water use per well in major shale oil-and-gas basins has risen by as much as 770%.
* * *
Speaking of shale, yesterday the Energy Information Administration forecast that oil production from shale formations would rise by 62,000 barrels per day in February to reach 8.18 million barrels per day.
Why it matters: Via S&P Global Platts, the forecast rise of 23,000 barrels per day in the Permian basin "would be the lowest rate of monthly growth the EIA has forecast for the Permian since September 2016."
5. Why PG&E's peril is bad for renewables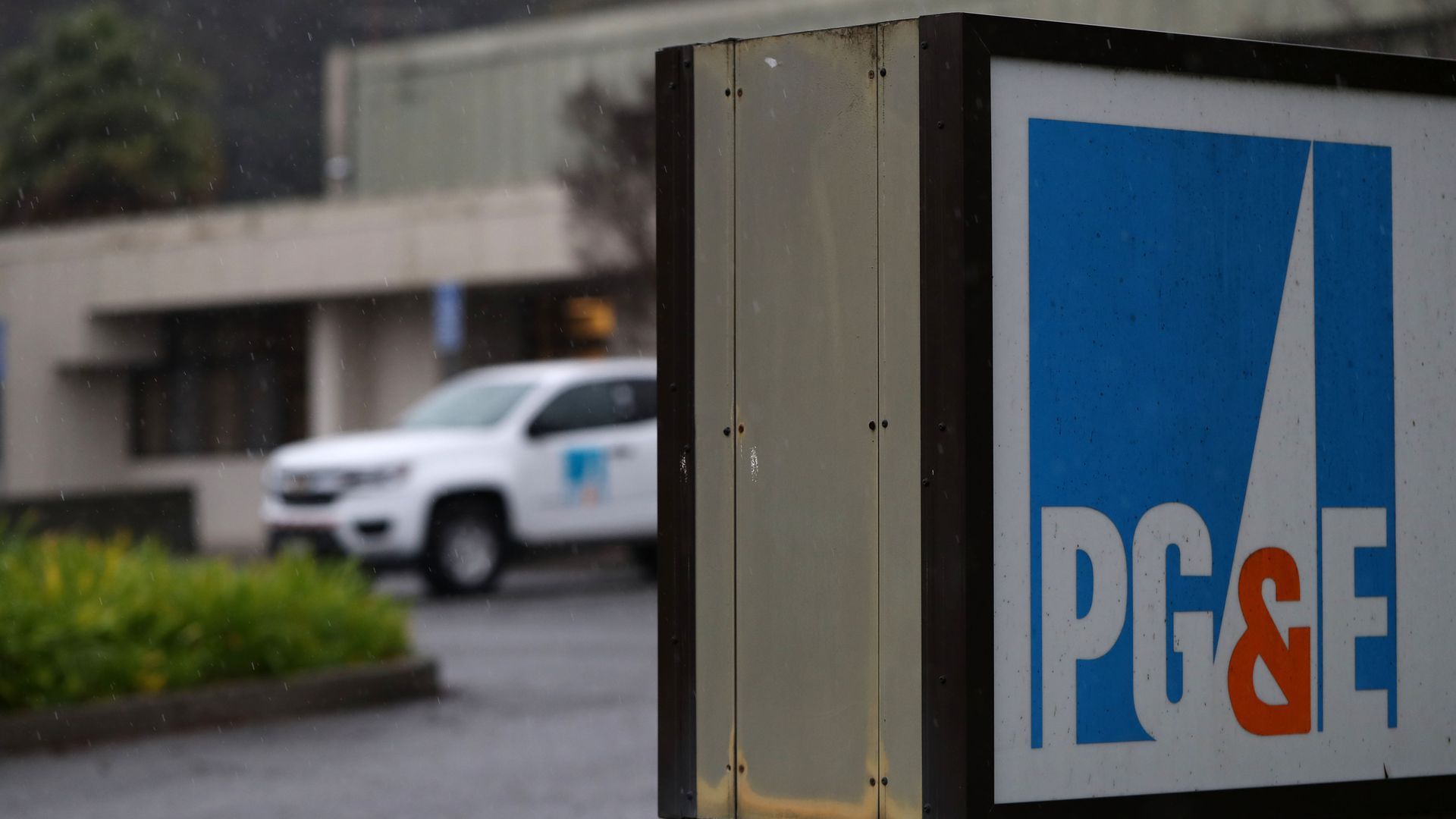 Axios Expert Voices contributor Joshua Rhodes sizes up the clean energy stakes now that Pacific Gas and Electric (PG&E), the largest utility in California, plans to file for bankruptcy by the end of the month.
The big picture: Consumers' lights will stay on regardless of what happens in court, but the future of California's energy policy might be a bit dimmer.
Why it matters: To meet California's ambitious climate goals, PG&E has entered into dozens of power purchase agreements (PPAs) with wind and solar farms, for thousands of megawatts, all over the West Coast.
If PG&E enters into bankruptcy court, it might not have to pay those contracts, some of which extend past 2040, in full.
While that might help PG&E's balance sheets, it could hurt the renewable suppliers that own the assets.
Where it stands: California aims to attain 60% renewable energy by 2030 and 100% carbon-free energy by 2045. While solar and wind are some of the cheapest sources of electricity today, some of the earlier renewable PPAs, entered into over a decade ago, are priced much higher than recent ones.
The stronger the credit rating of the project developers buying the PPA, the better the financing terms they are able to obtain from banks.
But at this point, PG&E's credit rating has been lowered to junk status.
The bottom line: If an entity as large as PG&E cannot make good on 30-year contracts, lenders' faith in such projects might be shaken. As a result, banks might offer developers worse terms on the financing of future projects, which could put upward pressure on future PPAs.
On the other hand, if these contracts are able to survive, as they have in the past — and California still has its climate and energy goals on the books — they might still prove a good investment.
Rhodes is a research associate in the Webber Energy Group and the Energy Institute at the University of Texas at Austin.
6. Latest in oil lobbying
Q4 lobbying reports are rolling in from powerful oil-and-gas sector players (with some still outstanding).
Why it matters: The filings show the financial scope of the influence industry. And while they vary in detail, the reports — which are found via links below — show the topics and bills have caught the attention of powerful players.
By the numbers: