Axios Generate
June 30, 2017
Happy Friday and welcome back! A reminder that Generate is taking the July 4th week off, but you can keep up with the latest news in the always-updated Axios stream. Here's how to put us on your phone's home screen:
Android: When you're at Axios.com on the Google Chrome browser, click the menu bar on the top right and select "Add to Home Screen."
iPhone: When you're at Axios.com on the Safari browser, click on the 'share' button at the bottom center of the screen and then click "Add to Home Screen."
Have a great holiday! My Axios colleague Amy Harder and I have lots to talk about, so let's dive in . . .
Perry's Paris rejoinder: exports make more friends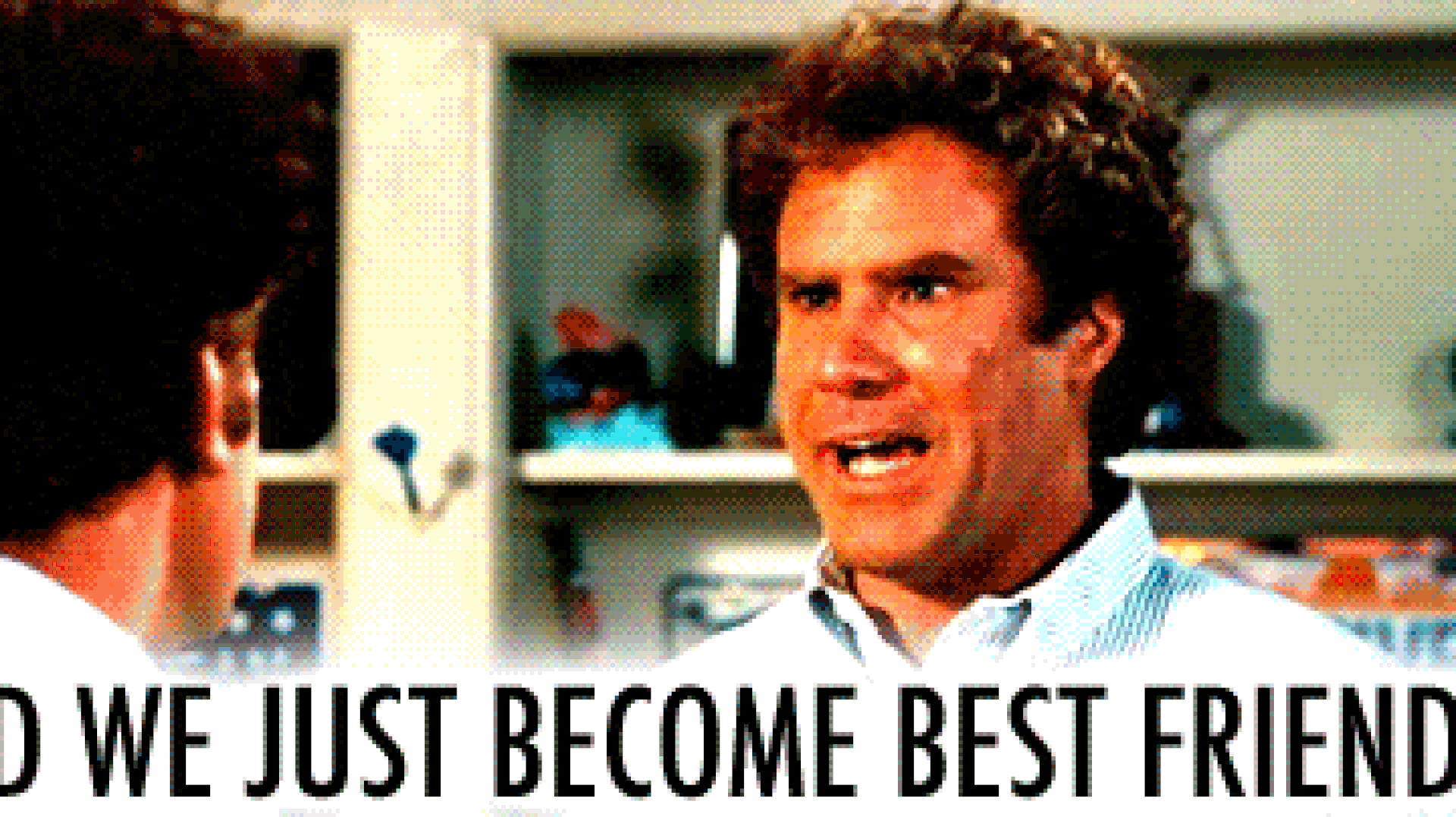 I'm cleaning out my notebook from yesterday's "Energy Week" event at the Energy Department, which included remarks from President Trump and Energy secretary Rick Perry.
Post-Paris positioning: Perry has something of a rejoinder to the views of foreign policy analysts who say bailing on the Paris agreement is bad news for U.S. diplomatic relations and adds to the erosion of faith in the U.S. commitment to working with its allies.
In his remarks onstage, Perry suggested that expanded U.S. energy exports to Europe are more important to foreign leaders than Paris, casting the benefits of those energy relations as more weighty in the international arena than the fallout from leaving the climate deal.
What he said: Perry noted that ahead of Trump's early June decision on Paris, there was pressure from Group of Seven energy ministers to remain in the global warming agreement, but, he added:
"Then we would go into our bilats [bilateral meetings] and they would go 'How about some of that LNG you've got, How do we buy your LNG, How do we buy your coal?' And it was really interesting. It was a political issue for them. This whole Paris thing is a public relations, political issue for them."
Perry talked up U.S. LNG and coal as a counterweight to Russian supplies to Europe, including Poland and the Ukraine, noting "We are in a position to be able to clearly create a hell of a lot more friends by being able to deliver to them energy and not being held hostage by some countries, Russia in particular." This, he said, will have more to do with "keeping our allies free and building their confidence in us than practically anything else that I've seen...It's a powerful message around the world right now."
What Trump's 6 energy initiatives mean for the industry
Over in the Axios stream, Amy has takes stock of what matters and what doesn't in the six energy-related announcements from the Trump administration yesterday. Here's some of her piece, listing the announcements in the order of significance, with the first having the biggest effect on the status quo:
Ease financing restrictions to back overseas coal projects: Trump is reversing a policy President Obama put in place in 2013 that restricted the Treasury Department's financing of overseas coal plants in coordination with international bodies, including the World Bank. This could have a big impact not only directly in terms of what the U.S. government could fund, but also as a trickle-down effect if other countries follow suit.
Open up a new offshore oil and gas leasing program: Trump ordered the Interior Department to do this in an executive order earlier this year, so this isn't exactly new. Thursday's move represents the first procedural step in a years-long process to make far more coastal areas available, which could have a big impact on oil and gas companies' ability to access offshore reserves in the decades to come. It won't have an immediate impact, given the time it takes to bring on new projects and the current low appetite to drill offshore due to low oil prices.
Issuing a study on how to revive nuclear energy: A study won't do much for nuclear power, and Trump isn't doing what would help the industry the most: regulations or a carbon tax making other energy sources more expensive. That said, if it concludes with specific policy measures that the administration acts on, it could move the needle for an industry desperate for any needle-moving.
Read more here.
Where climate change will hit the U.S. hardest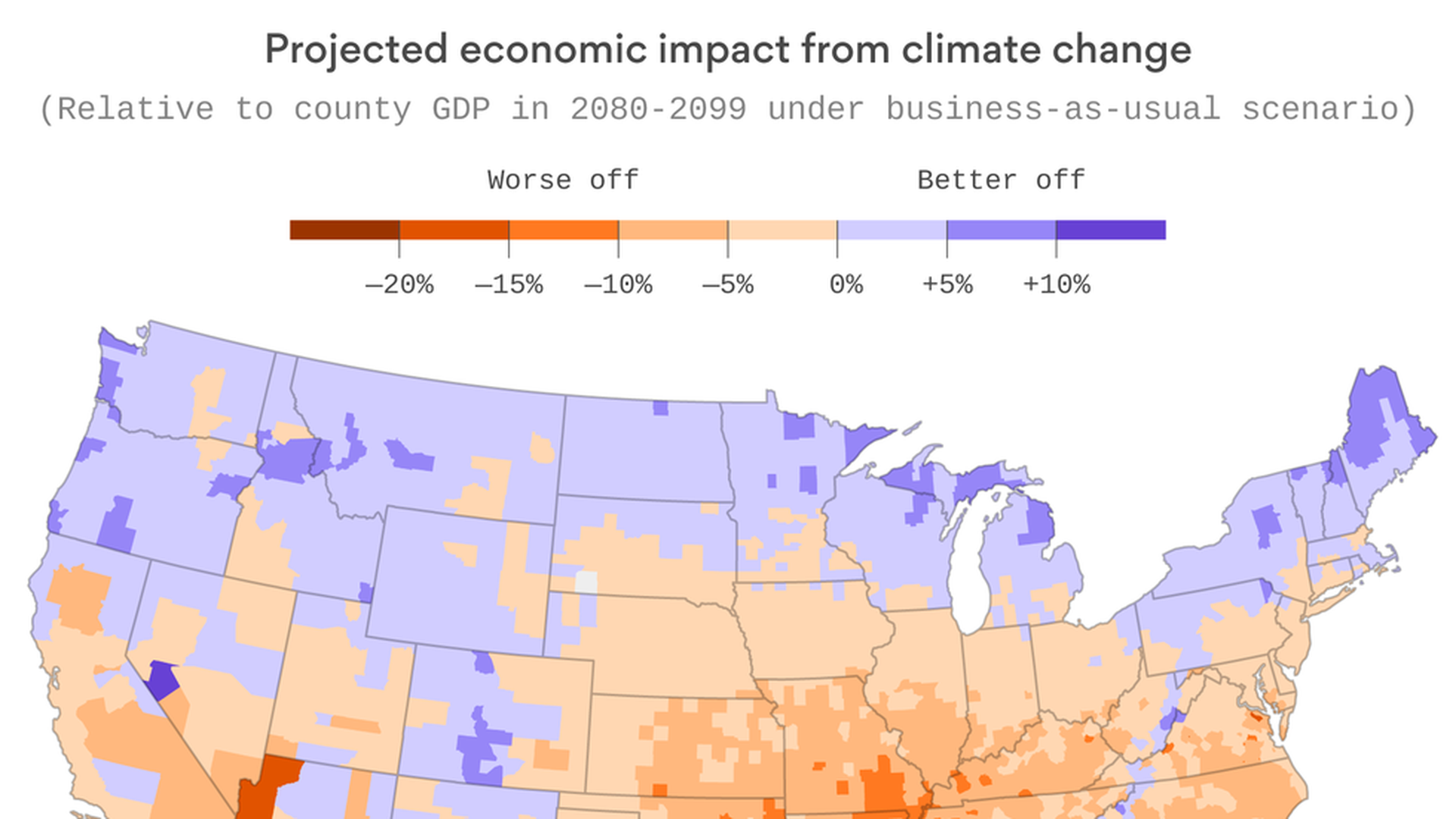 My colleagues Eileen Drage O'Reilly and Alison Snyder have a piece in the Axios stream that nicely unpacks a major new study. Here's part of their item...
Left unmitigated, rising temperatures from climate change will increase inequality and mortality rates in the U.S. by the end of the 21st century, a team of economists and climate scientists warn in a new study. It's the first to project the impacts of climate change on individual counties in the U.S. Many of those predicted to be hit hardest are in fast-growing Arizona, Texas, and Florida.
Impact on energy demand: Nationwide, for every one degree Celsius temperature rise, the study predicts electricity demand will rise roughly 5.3%, due to the hotter temperatures.
Local differences: If steps are not taken to lessen the rate of warming from climate change, counties in the South and lower Midwest — which on average tend to already be poorer and warmer — may lose as much as 20% of their income and may experience higher mortality rates. However, areas of the Pacific Northwest, the Great Lakes region and New England — which on average tend to be wealthier and cooler — could benefit economically from the change and see lower mortality rates.
A climate impact map by county is available here.
Southern CEO takes stock of "clean coal" plant's demise
Yesterday, after Trump's speech at the DOE, I caught up with Southern Company CEO Tom Fanning to ask about this week's announcement that his company is pulling the plug on its expensive "clean coal" project — the portion of Mississippi's Kemper plant that was supposed to gasify coal and trap much of the carbon dioxide. The plant will continue burning natural gas.
Behind the news: The project has been plagued by cost overruns and delays, but Fanning seems to see a silver lining. Here's what he said when I asked what the failure says about the viability of low-emissions coal:
"I really think that in retrospect, while there's a very, kind of, painful process unfolding right now, that that kind of technology has proved to be a success. We can take lignite [coal], we can gasify it, we can remove CO2 and other effluents — things like sulfuric acid and ammonia — and with the remaining synthesis gas we can actually produce electricity. I think we proved that. I think the issues about Kemper right now all deal with: when that transaction was ordered by the Mississippi Public Service Commission, gas prices were about $10 bucks per million BTU. Today they are about $3 per million BTU. I think that's where the issue is."
And he's not giving up on the idea that the efforts could help other countries:
"As you know we have been marketing that technology around the world, and we have signed a variety of agreements around the world that need this kind of technology. Now, they are in the study phase for the most part, but places like Eastern Europe, Serbia, Romania, Poland, South Korea, China — all those people I think will find that technology valuable."
From Amy's notebook: a look at federal fracking backing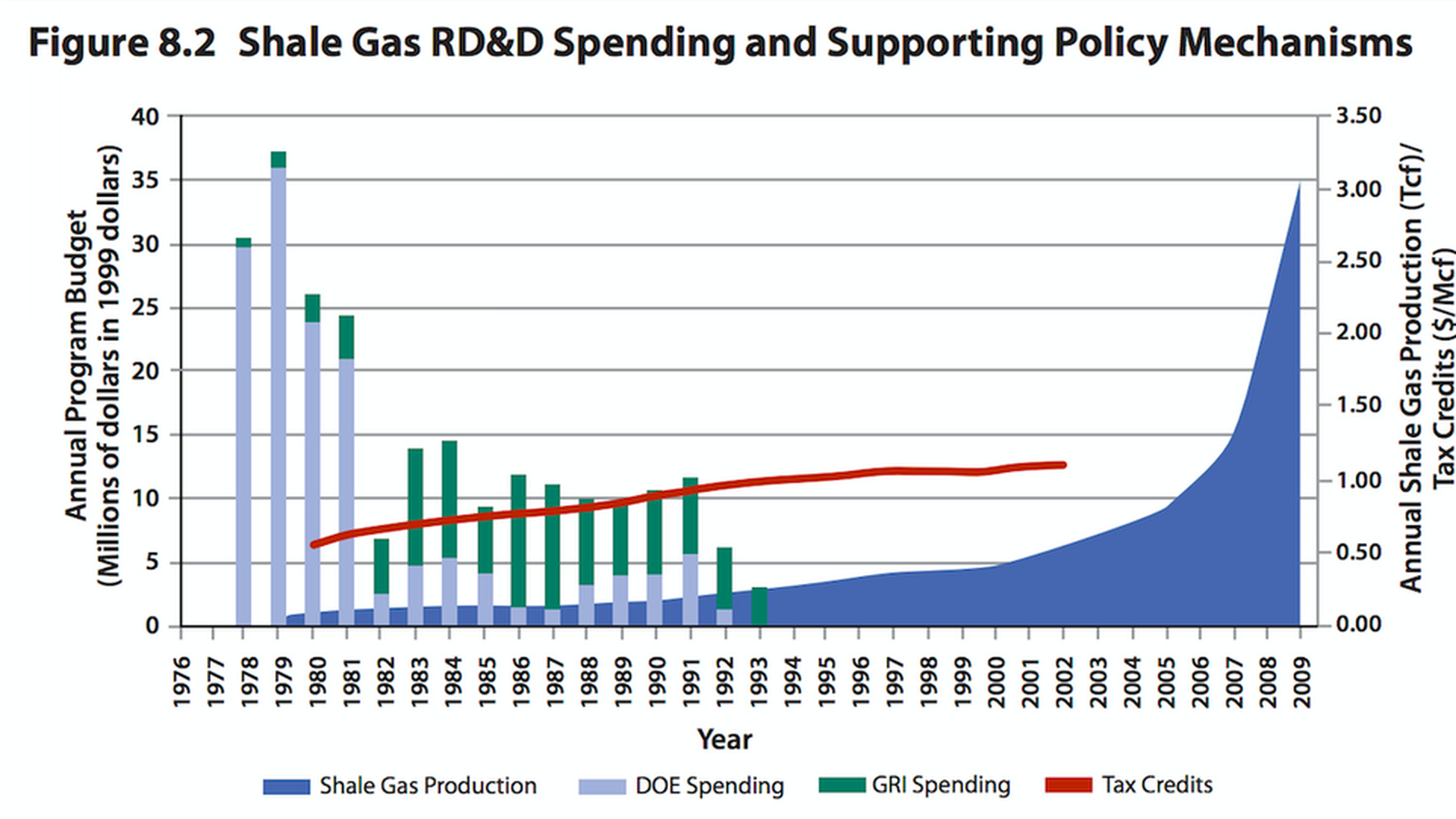 With this being Energy Week and the Trump administration talking a lot about the America's oil and natural gas boom, one common talking point is that the federal government helped fund extraction technologies that encouraged the industry in its early days a few decades ago. What does that mean, and how true is it exactly?
Amy tracked down this 2011 MIT report that includes a handy chart (above) showing the type, amount and length of federal backing that occurred for extracting oil and gas from shale rock formations across the U.S.
Why it matters: Talking points are often emptier than they seem, but this one isn't. The industry received nearly 25 years of government backing of some type, whether it was research and development money, combined public and private partnerships, and/or tax credits.
Note about the chart: GRI stands for the Gas Research Institute, a nonprofit research group initially funded by a government tax on natural gas volumes. It has since been renamed the Gas Technology Institute and still exists as a research arm of the natural gas industry.
Oil market update
Big picture: The Center for Strategic and International Studies has a nice high-level look at the state of play in oil markets, including OPEC's options to strengthen their hand if the current production-limiting agreement doesn't start having the desired effects.
"Until either geopolitical or supply/demand events provide a stronger signal, we expect an undulating pattern of fluctuating prices to characterize the oil market — for at least the next few quarters, and potentially well into 2018."
Crystal ball: The latest Wall Street Journal poll of 14 investment banks shows that the hive mind of analysts envisions lower prices for the year than they did in the May version of the survey.
Overall they're forecasting that Brent crude will average $55 per barrel this year, down $2 from the prior pulse-taking, and they're expecting WTI to average $52 this year, also a $2 haircut.
The present: Crude prices have been bouncing back somewhat in recent days after last week's declines. "Oil headed for the longest run of gains in six months as a drop in U.S. crude production and gasoline stockpiles eased concern that OPEC-led supply curbs were proving ineffective," Bloomberg reports.
WTI closed at $44.93 yesterday and was trading above that early this morning. MarketWatch has the latest here.