July 03, 2018
A quick piece of housekeeping: the next edition of Generate will be Monday, July 9. Have a nice holiday!
Yesterday marked the 1979 release of the Neil Young and Crazy Horse album "Rust Never Sleeps," so one of my favorite songs ever is today's intro tune ...
1 big thing: State climate battles expand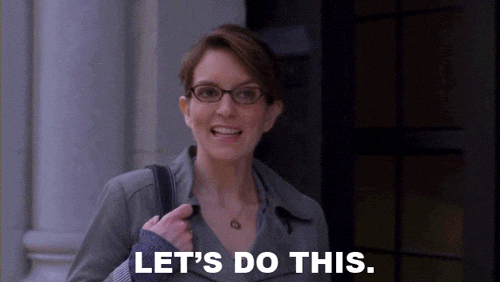 State-level climate and low-carbon energy policies are getting a lot more attention as the White House unwinds Obama-era federal efforts.
So here are a couple new developments...
1. Run it back: Two years after a carbon tax ballot measure failed in Washington state, another fight over a differently designed proposal is in the offing. A coalition of tribes, community, labor and environment groups say they've gathered enough signatures to put a carbon fee measure on the ballot, per AP.
AP and other outlets report that backers submitted over 370,000 signatures yesterday, far above the minimum needed for Initiative 1631.
The measure creates a $15-per-ton CO2 tax that would rise by $2 annually, with revenue used for renewable energy, low-carbon transport, forestry and other projects.
Buzz: The energy industry has been "galvanized" into forming a political action committee against the measure, called No on 1631, and includes pledges from BP, Shell, Chevron, Phillips 66 and others, according to Public Disclosure Commission records, the Seattle Times reports.
Context: The Seattle Times notes that the failed 2016 measure was structured differently...
"The 2016 carbon measure also was burdened by a nasty split in the state environmental community over whether it was the right way to move forward. The measure was intended be revenue neutral, cutting some taxes while raising taxes on fossil fuels that generate emissions."
2. New legal fight: Rhode Island yesterday sued several major oil companies, including ExxonMobil and BP, for contributing to climate change, which has damaged state infrastructure and coastal communities, Reuters reports.
Why it matters: It's the latest in a string of lawsuits seeking to force the industry to pay for the infrastructure and other costs of dealing with climate effects like rising seas.
But it's also the first to be brought by a state government. Cases in New York, California and Colorado have been filed by municipal or regional officials.
The lawsuit in the state court comes just days after a federal judge in California tossed out litigation against oil companies, claiming executive and legislative action — not the courtroom — is how the topic should be addressed.
What's next: We're looking to see how the oil industry will use the California decision in its fight against similar lawsuits in other venues.
2. Oil market notes: OPEC, peak demand, Iran
Yeah, no: Via Bloomberg, "Saudi Arabia and Russia reaffirmed an agreement between OPEC and its allies to increase oil production by 1 million barrels a day."
Why it matters: It comes two days after President Trump tweeted that Saudi Arabia had said they were willing to boost production by up to two million barrels daily — a claim the White House itself already softened.
Go deeper: Trump's wild OPEC weekend.
What OPEC is thinking: A new Brookings Institution post by Samantha Gross about the multiple motivations for OPEC's decision to boost output includes an interesting wrinkle — the notion that a peak in oil demand factored into their thinking. She writes:
Predicting when oil demand might level off is a difficult exercise, but the timing doesn't matter so much as the near certainty that it will happen in the coming decades.
OPEC members understand that at some point in the future when demand plateaus and declines, oil will not be worth as much as it is today.
This reality argues for increasing production in times of tight markets—selling oil now and maintaining market share is likely to be a better strategy than saving it for later when it may be worth less.
Iran and Trump: Per the New York Times, "The Trump administration is softening its earlier demand that countries like China, India and Turkey end all imports of Iranian oil by Nov. 4, as a top State Department official on Monday said the United States would allow reduced oil flows, in certain cases."
3. Research corner: a pessimistic look at nuclear
Several Carnegie Mellon University researchers conclude in a new analysis published in PNAS that nuclear power is unlikely to play a major role in helping to deeply decarbonize the U.S. energy system.
Why it matters: A number of analysts say nuclear power — via continued operation of aging plants and new development — is among the key technologies needed to enable steep emissions cuts by midcentury.
What they found: A few takeaways from CMU's engineering and public policy research team...
Construction of big U.S. reactors using current technology is basically over.
Large plants using next-wave reactor designs are at least decades away from commercial deployment absent a massive federal effort.
State-level efforts to extend the life of existing plants can only slow losses of the current fleet to a limited degree.
Much-discussed small modular light-water reactors (SMRs) offer some path forward for playing a role in the "climate critical" period of the next few decades, but it's not looking good.
One level deeper: The paper devotes considerable space to various potential deployment pathways for SMRs, such as military power procurement and use for industrial process heat — and they're bearish on all of them.
Ultimately, they argue that for SMRs to play a major role, huge direct and indirect subsidies would be needed. But that's not all.
Regulators would need to work much faster, and an aggressive federal climate policy would be needed to give investors confidence that CO2-emitting costs will be high — in the $100-per-ton range — within a decade.
4. Latest in electric vehicles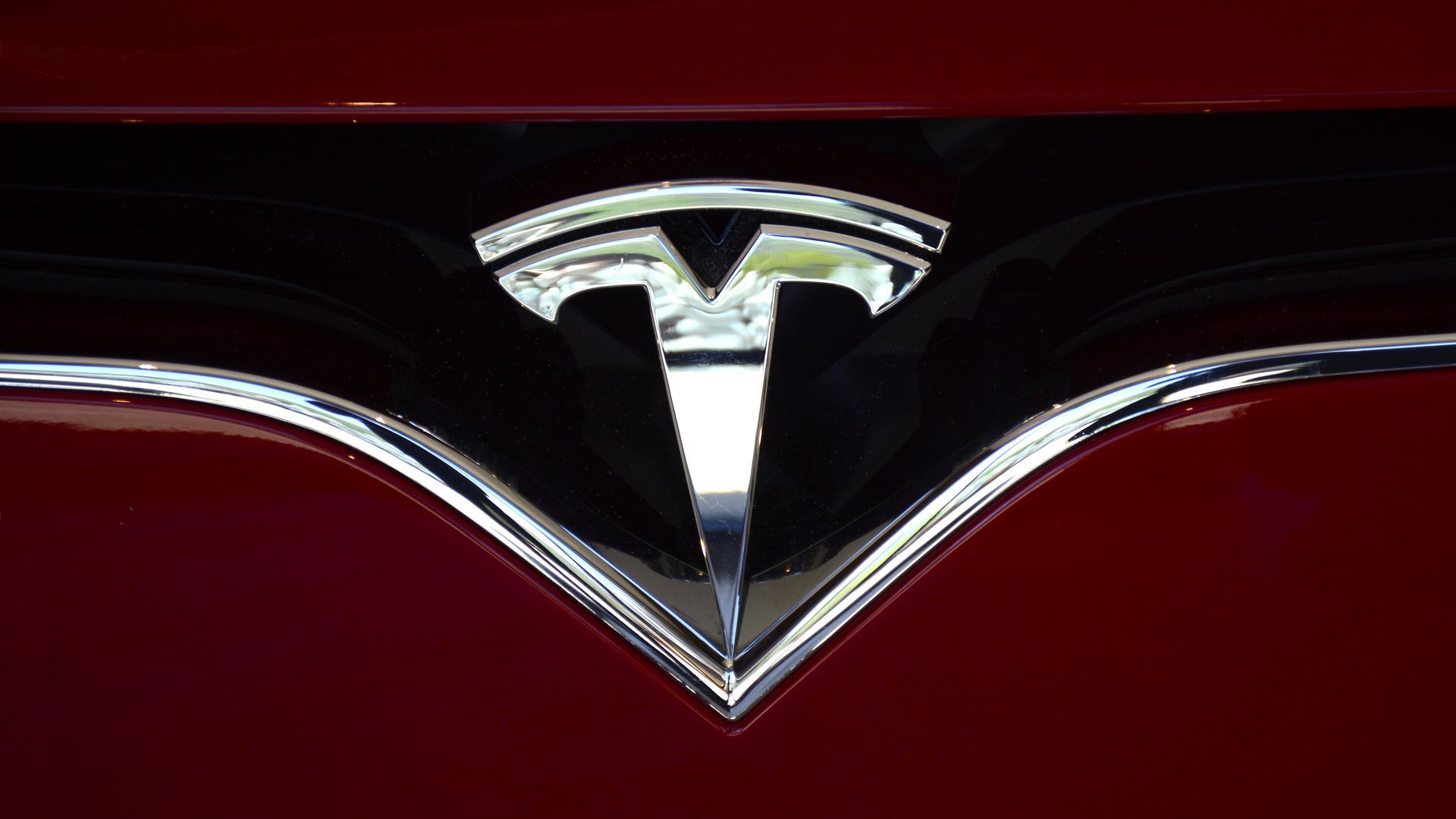 Tesla, part 1: Doug Field, Tesla's senior vice president for engineering, is leaving the Silicon Valley electric automaker, first reported by the Wall Street Journal.
"After almost five years at Tesla, Doug Field is moving on. We'd like to thank Doug for his hard work over the years and for everything he has done for Tesla," a Tesla spokesperson said.
Why it matters: Field is one of numerous top Tesla executives who have left the company in recent months. The turnover comes at a critical time for the automaker that's seeking to further ramp up production of the Model 3 sedan while preparing to launch new products including an electric semi-truck.
Flashback: Tesla said in May that Field was taking a leave of absence to "recharge" and spend time time with family, but a spokesperson said at the time that he had not left the company.
Go deeper: Tesla is bleeding top executive talent
Tesla, part 2: A quick follow-up to the news that the company met its goal of producing 5,000 Model 3s at the close of the second quarter.
While Tesla stock initially went up after word emerged on Sunday, it closed down over 2% yesterday. This Los Angeles Times piece notes that some analysts are skeptical of how sustainable that production level is.
Yes, but: "Tesla expects to increase production to 6,000 Model 3s per week by late next month," the company said in yesterday's announcement of its second quarter production and delivery totals.
Deal collapse: Nissan says the $1 billion deal with Chinese private equity group GSR Capital has been dropped after GSR failed to come up with the funds, the Financial Times reports.
"The last-minute collapse of the deal may force the Japanese carmaker and its battery partner NEC to search for a new buyer, following an initial long sale process that attracted several players betting on an electric vehicle boom in China," FT writes.
"Nissan, the producer of the all-electric Leaf, had hoped the sale would give it flexibility to procure lithium-ion batteries from other suppliers in China and South Korea to boost its cost competitiveness," per FT.
5. Chart of the day: uneven climate effects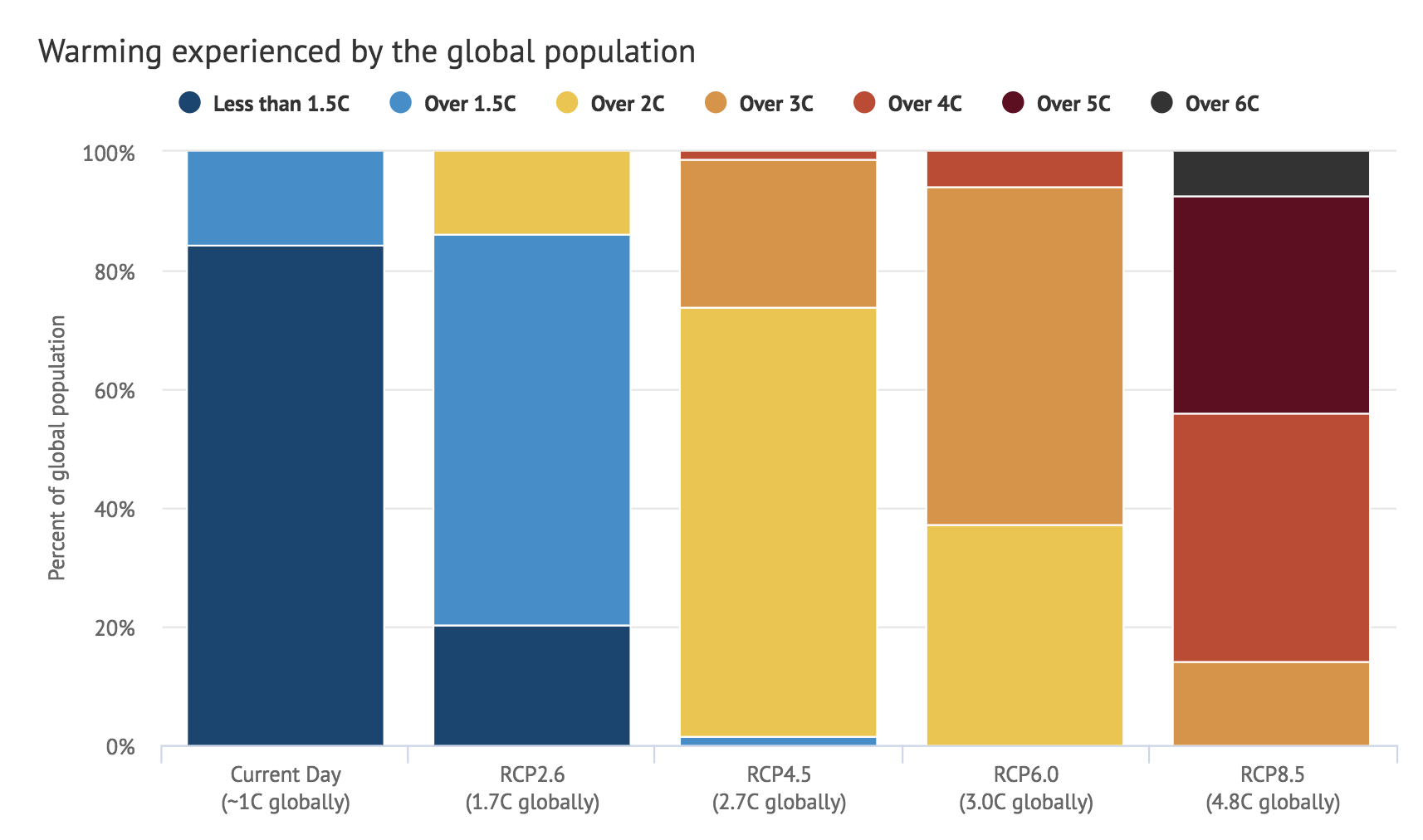 You've probably heard long-term climate projections expressed as a single temperature, such as an increase of 2°C, or 3.6 °F.
But a new analysis on the climate website Carbon Brief shows that many people will suffer from increases above the average amounts of global warming projected to occur under various emissions levels.
Why it matters: The chart above shows how much warming that varying shares of the population are projected to experience under modeling scenarios called representative concentration pathways (RCPs).
RCP 2.6 projects the temperature rise if emissions peak very soon and fall very sharply over the century, while RCP 8.5 is the catastrophic warming expected if emissions soar for decades ahead.
The bottom line: "In a world where warming is limited to 'well below' 2C about 14% of the population will still experience warming exceeding 2C. In the worst-case scenario of continued growth in emissions, about 44% of the population experiences warming over 5C – and 7% over 6C – in 2100," Zeke Hausfather writes.
What's happening now: The post concludes that 16% of the global population has already experienced warming of at least 1.5°C above pre-industrial levels — the aspirational ceiling for long-term temperature rise under the Paris climate agreement.