Axios Generate
October 17, 2018
Good morning and welcome back!
And happy birthday to Ziggy Marley, who shares a birthday with my son (a Ziggy fan!) and has today's kid-approved intro tune . . .
1 big thing: Why Trump can't quit the Saudis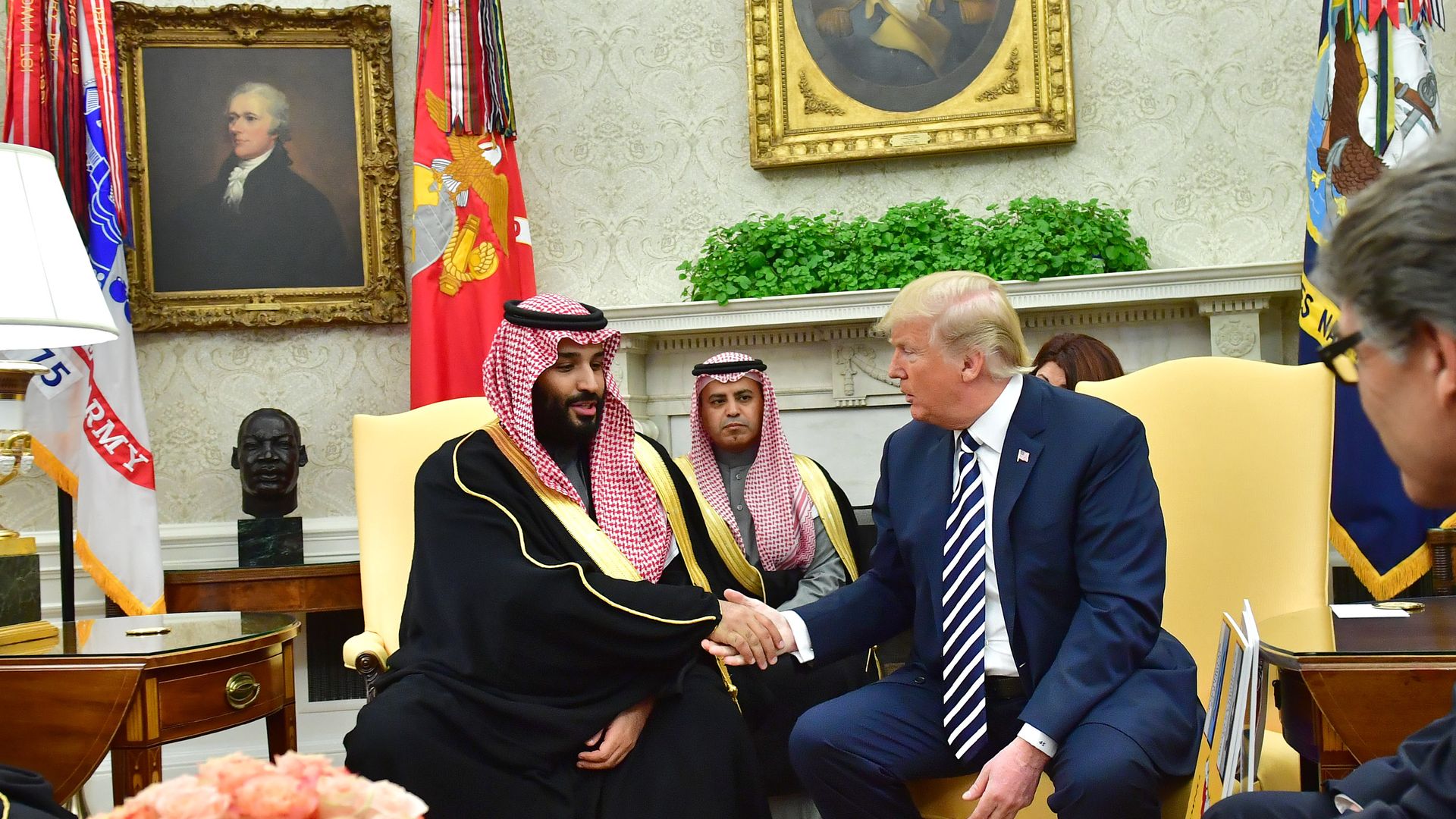 A big reason for President Trump's accommodating stance toward Saudi rulers in the apparent killing of Jamal Khashoggi is rooted in a simple dynamic: Trump needs them.
The big picture: Rice University energy scholar Jim Krane has a helpful Forbes commentary on the "crude realpolitik" behind Trump's openness to the kingdom's denials of responsibility.
It stems from the president's need for more Saudi barrels on the market to offset the effects of his Iran sanctions.
"[T]he decision to soft-pedal the Saudis plays well with the Trump administration's worldview, where international norms mean little; even less when cheap Election Day gasoline is on the line," writes Krane.
Threat level: In a note this morning, a Verisk Maplecroft analyst looks more broadly at the Saudi posture, including their implicit threat a few days ago to wield oil as a weapon in response to potential punishment over Khashoggi.
"[T]he thinly veiled threat to drive up oil prices if the U.S., UK or France impose sanctions has raised the threshold for anyone considering punitive measures against Saudi Arabia," writes Torbjorn Soltvedt.
While oil production cuts are unlikely and would be "far up the escalation ladder," Soltvedt notes that in the event of a diplomatic crisis, the Saudis could take less dramatic steps like canceling arms deals or reducing intelligence sharing.
The bottom line: The Saudis' defiant responses have raised the stakes of punitive action over Khashoggi, and Trump's posture thus far suggests it's working.
"By affirming King Salman's denial of any knowledge of the matter an immediate escalation has been avoided," Soltvedt writes.
* * *
P.S.: One frame for looking at who's bailing on the Saudi's upcoming Future Investment Initiative (FII) conference — dubbed "Davos in the desert" — is to see how much risk is involved in the decision.
Your Generate host wonders whether as many big banks would have bailed if Saudi Aramco's plans for a massive IPO weren't shelved for a couple years at least.
One company that's not saying anything is Lucid Motors, the electric vehicles startup whose CTO is on the list of attendees. Lucid last month announced over $1 billion in funding from the Saudi sovereign wealth fund that's co-hosting next week's FII. Lucid has declined repeated requests for comment from Axios.
Go deeper: We've got a running list of withdrawals
2. Breaking Wednesday: Tesla's China plan advances
"Electric auto brand Tesla Inc. says it has secured land in Shanghai for its first factory outside the United States, pushing ahead despite mounting U.S.-Chinese trade tensions," the Associated Press reports from Beijing on Wednesday.
Why it matters: The land procurement signals a concrete step toward moving ahead with plans for a major Chinese factory that Tesla announced with Shanghai officials in in July.
A little more, via AP: "Tesla said earlier that production in Shanghai would begin two to three years after construction of the factory begins and eventually increase to 500,000 vehicles annually."
The Silicon Valley electric automaker ultimately plans to spend around $2 billion to build the Chinese plant, according to press reports.
3. Chart of the day: Coal's staying power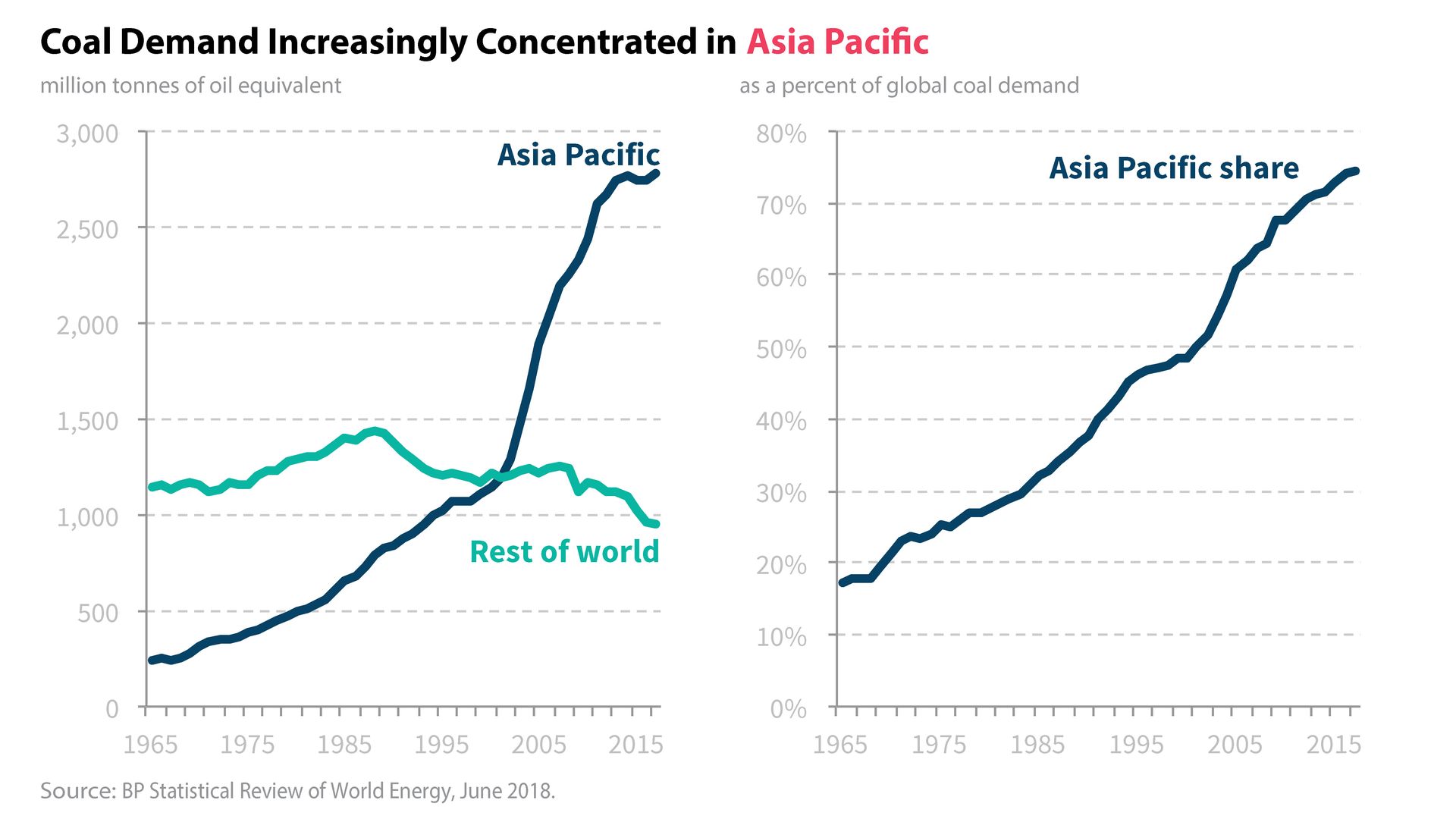 The Center for Strategic and International Studies' Nikos Tsafos looked at coal demand trends and comes to a sobering conclusion in a new analysis:
"Unless Asia can find other energy sources to meet its needs, our efforts to curb CO2 emissions from coal will likely fail."
Why it matters: Coal is the most carbon-intensive fossil fuel.
Cutting global CO2 emissions enough to prevent high levels of warming will probably fail absent deep cuts in coal demand, or widespread deployment of CO2-trapping systems that are in their commercial infancy.
The big picture: Tsafos' short paper, based on BP's robust annual energy statistics report, explores how coal demand in Asia goes well beyond China's status as the world's biggest user.
China's use is lower than it was five years ago, and India's rising use is much discussed.
But Tsafos explores a "dynamic" group of other Asian nations, including Indonesia, Taiwan, Vietnam, Malaysia, Thailand, Philippines and Pakistan, where demand collectively rose by 45 percent in the last decade.
This is counteracting the reduction in coal consumption in the U.S. and elsewhere outside Asia.
The bottom line: Curbing this coal use in order to meet climate goals is an immense challenge, given the hurdles to switching to gas, while more effort is needed to boost renewables in those Asian regions too, Tsafos writes.
4. The Capitol Hill fight over EV tax credits
Reuters broke some interesting policy news yesterday, reporting that GOP Sen. Dean Heller has crafted a plan to expand the $7,500 tax credit for purchasing an electric car.
Why it matters: Right now the credit is capped at 200,000 vehicles per automaker and then starts falling in value. Tesla is hitting that cap now and, as Reuters notes, GM is slated to bump up against it later this year.
"Heller's bill lifts the individual manufacturer cap but would phase out the credit for the entire industry in 2022," they report.
The intrigue: It's almost a cliche that energy politics are as regional as they are partisan, but it's also true and this is another example — Nevada is home to Tesla's massive gigafactory that churns out batteries for its cars and employs lots of people.
The bill comes shortly after Wyoming GOP Sen. John Barrasso — who hails from an oil producing state — introduced legislation to kill the EV tax credit.
What they're saying: "Republicans are in a tough spot on this one. They don't have the votes to kill the credits, but if they do nothing, they'll soon be in the awkward position of subsidizing foreign automakers but not the biggest domestic ones. This seems like an attempted compromise," noted Bloomberg transportation journalist Tom Randall via Twitter (though his tweets are his personal views).
* * *
Speaking of Congress, The Hill reports Wednesday . . .
"Democrats are unlikely to pursue major climate change legislation if they win the House majority, despite a growing body of evidence suggesting time is running out to address the issue."
5. Parsing the green split over Carlos Curbelo
The Sierra Club is backing the challenger to Florida GOP Rep. Carlos Curbelo in a tight race that reveals a split in green groups' political tactics on global warming.
Why it matters: Curbelo is a high-profile GOP figure on climate and facing a very tough reelection fight. He is co-founder of the bipartisan Climate Solutions Caucus and recently introduced legislation to impose a carbon tax.
But your Generate host just learned that a few days ago the Sierra Club, late in the game, endorsed Democrat Debbie Mucarsel-Powell.
Where it stands: Here's what other environmental groups are doing . . .
The League of Conservation Voters, which along with the Sierra Club has the green movement's biggest political operation, is sitting the race out.
Billionaire activist Tom Steyer's pro-Democratic group NextGen America is backing Mucarsel-Powell.
EDF Action, a political offshoot of the Environmental Defense Fund, is supportive of Curbelo.
So is the ClearPath Action Fund, the political arm of the ClearPath Foundation, a group that pushes for "conservative clean energy solutions."
The big picture: The differing approaches highlight a broader divide over how to think about Curbelo and the Climate Solutions Caucus.
To his supporters in climate advocacy circles, Curbelo's work and the House caucus he co-founded are important attempts to shift their party's widespread skepticism of climate science and alter its posture on emissions-cutting policies.
But to its detractors, the 90-member group is a paper tiger — one that gives cover to Republicans who do little or nothing to challenge their party leaders.
And in a July vote, nearly all the group's GOP members voted for a non-binding resolution that strongly attacked even the concept of taxing carbon.
What they're saying: NextGen America executive director Heather Hargreaves told Axios' Amy Harder recently that while they would like to see more GOP members like Curbelo, in the end he's helping to keep in power a party that's "enabling the Trump agenda."
"That matters more in a holistic way than introducing a carbon tax that is not even going to pass the Republican House," she said.
Go deeper: GOP congressman introduces carbon tax bill