Axios Generate
November 09, 2017
Good morning and welcome back! A reminder about a something exciting: Sinocism's Bill Bishop, one of the smartest minds on China, is moving his weekly must-read newsletter to Axios. Starting tomorrow, Bill will bring his new Axios China subscribers commentary and analysis on the most important U.S.-China news of the week. Sign up for the new Axios China newsletter here.
And a quick aside: Greg Brown is just a heck of a songwriter. Some proof is here and here. Ok! Let's get to the news . . .
Alaska! Possibly. Maybe.
Last night brought a couple of developments that signal potential for big new oil-and-gas projects in Alaska, but both come with plenty of caveats.
Why it matters: Officials in Alaska have long been searching for ways to revive the state's oil production, which has fallen to just a quarter of its late '80s peak, and to find a pathway for bringing large natural gas reserves to market.
China eyes big LNG investment: In a deal announced in conjunction with President Trump's trip to China, China pledged to invest in a major liquefied natural gas project in Alaska.
The joint development agreement is between Sinopec, Chinese state-owned CIC Capital Corp., Bank of China, the state of Alaska and the Alaska Gasline Development Corporation.
Via Reuters, U.S. officials said the plan would bring $43 billion in investment, create 12,000 jobs during construction and cut the U.S. trade deficit with Asia.
Reality check: Yes, the concept of the deal makes sense on both sides at a time when China's LNG imports have been rising. But in a short note circulated to reporters this morning, the prominent consultancy Wood Mackenzie cautions that the deal remains speculative and final investment decisions would be years away.
"The main issue for the Alaska LNG project is its high cost," said Kerry-Anne Shanks, WoodMac's head of Asia gas and LNG research.
"Sinopec may be able to secure cheaper LNG supply elsewhere," she said.
Next phase of ANWR battle set: Last night Senate Energy and Natural Resources chairwoman Lisa Murkowski, an Alaska Republican, announced that the committee would mark up legislation next Wednesday to authorize oil exploration on the coastal plain of the Arctic National Wildlife Refuge.
The bill that Alaska lawmakers unveiled is here.
It's moving under budget reconciliation, which means it's not subject to Senate filibusters.
GOP control of Washington means ANWR drilling advocates are closer opening the coastal plain of the refuge to drilling than at any time since the mid-2000s, when an effort fell just short.
Yes, but: Uncertainties abound. The effort is linked to GOP plans to move tax legislation through the budget reconciliation process, which could fall apart.
And as we noted here, modest oil prices and ample opportunities elsewhere create question marks around the level of industry interest in expensive Arctic projects that would also face litigation from environmentalists.
Latest in oil: new supply risks, parsing U.S. data, previewing OPEC meeting
Big picture: A new Goldman Sachs note this morning explores why the oil market has become a lot more uncertain in recent days and weeks amid geopolitical tensions in a number of hotspots that have driven up prices.
"While the fallout of recent escalations in Saudi Arabia, Iran, Venezuela, Iraq and Nigeria remain uncertain, with on aggregate no new disruptions, these have sharply increased the risks of new production disruptions among these large producers," they write.
Combine this with the looming decision on extending the OPEC/non-OPEC production limiting deal, and it adds up to a "new dilemma" for the cartel.
The dilemma: A higher "risk premium" and extension of the cut can helps near-term fiscal balances thanks to higher prices, but "large losses of production due to disruptions or long-term losses of market share due to excessively high prices would instead reduce their long-term fiscal revenues," Goldman Sachs writes.
Go deeper: The new episode of the Platts OPEC Outlook podcast previews the late November OPEC meeting, where an extension of the production deal is expected but there are plenty of wild cards.
It's a fun listen for the behind-the-scenes look at what it's like to cover an OPEC meeting. Words like "surreal" and "chaos" are used. Broken vases are discussed.
***
U.S. data: A couple notes from the Energy Information Administration's latest weekly petroleum report yesterday...
U.S. crude production averaged 9.62 million barrels per day for the week that ended November 3. That's the highest tally in weekly EIA data that goes back to 1983, Bloomberg notes. CNBC points out that the figure, which is subject to revision, is just above the prior high in June of 2015.
The latest crude export data shows a sharp drop to 869,000 barrels per day for the week ending November 3, which is down from the record 2.1 million EIA reported the prior week.
It's not immediately clear why — all kinds of factors lead to fluctuations.
But the general trend has been upward since restrictions were lifted.
One perspective: Michael Tran, director of global energy strategy at RBC Capital Markets, tells Axios that he expects exports to remain elevated, given the attractive economics and high inventory levels in the U.S. He notes that the U.S. is the "last oversupplied region" amid falling global stocks.
"Other regions on a global basis are increasing their reliance on U.S. exports to plug supply gaps elsewhere in the world," Tran said.
What we learned about Trump's picks
Confirmation hearings are often just stagecraft, but sometimes they're really interesting too.
Yesterday's Senate Environment and Public Works Committee hearing was in the latter bucket as the panel grilled Kathleen Hartnett White, for heading the White House Council on Environmental Quality, and Andrew Wheeler, for becoming EPA's deputy administrator.
A few takeaways...
Ethanol is very, very important politically. Hartnett White, in the face of questioning from farm state Republicans, repeatedly backed off her past criticisms of biofuels and the federal Renewable Fuel Standard.
It was the main subject of questioning from pro-ethanol GOP Sens. Deb Fischer, Joni Ernst and Mike Rounds, who would have the power to thwart her nomination.
The big climate science report is in the political bloodstream. Multiple Democrats used last Friday's multi-agency report, which found overwhelming evidence of human-caused climate change, as the basis for pointed questions.
Yes, but: Hartnett White, while softening some of her past statements on climate change, did not back off from her disagreement with the scientific consensus that human activities have been the dominant cause of warming since the mid-20th century.
She called the extent of the human contribution to global warming "very uncertain" and said there's a need for a "more precise explanation of the human role and the natural role."
No comparison: Right now, attacking biofuels is much more politically treacherous than holding views about climate science that are far outside the mainstream.
Grid battle tidbit: Wheeler disclosed that when he was still serving as a lobbyist for the coal company Murray Energy months ago, he attended one meeting at DOE and one on Capitol Hill about what became the DOE push for new power market rules boosting compensation for coal and nuclear plants.
Utility Dive has more on that here.
EV news and notes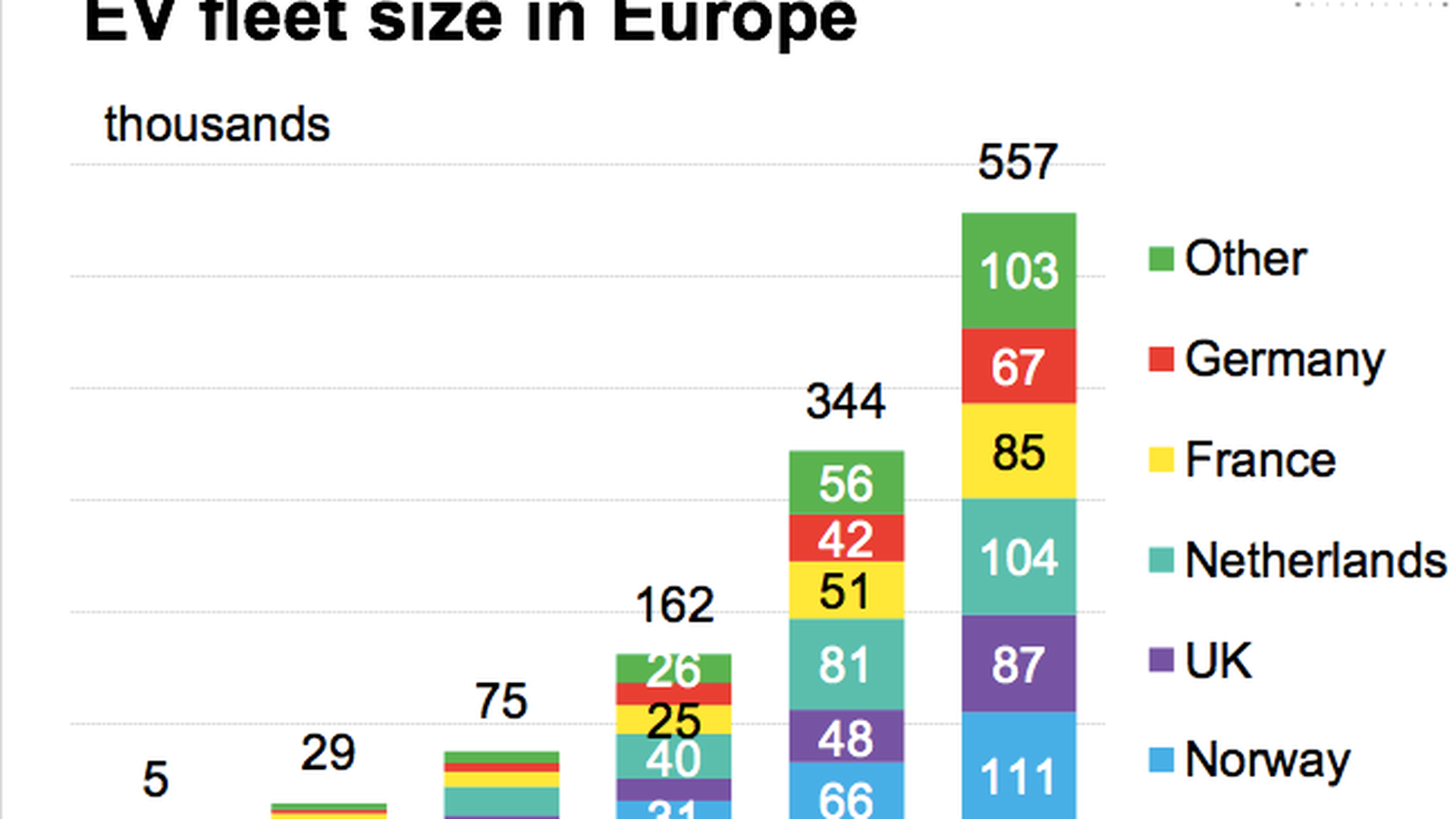 Europe, part 1: Bloomberg New Energy Finance has this short but helpful summary of how major European energy companies like Shell and Statoil are getting deeper into the electric vehicle charging space. It includes the chart above that shows the growth of EVs in Europe.
Europe, part 2: The New York Times explores why the new European Union proposal to cut carbon dioxide emissions from cars and vans by 30% by 2030 (compared to 2021 levels) is drawing criticism.
"To the disappointment of environmental groups, the commission declined to set quotas for how many zero-emission electric vehicles carmakers must sell by 2030. Instead, the plan offers financial rewards to carmakers if they exceed certain benchmarks for electric-vehicle production," their piece notes.
China, part 1: Reuters reports this morning that the Chinese EV startup Nio has raised more than $1 billion in its latest fundraising round, led by Tencent Holdings. They have a lot more details here.
China, part 2: "In the latest sign of the increasing influence of the Chinese consumer market, Ford on Wednesday signed a joint venture agreement with Zoyte Auto to build, market and distribute all-electric passenger vehicles in China under a new Chinese brand," the Detroit Free Press reports.
Top EV cities: A new report from the International Council on Clean Transportation shows that 20 cities account for 40% of the world's EVs, led by Los Angeles and Shanghai. "The 20 electric vehicle capitals have used a variety of innovative policies and actions at the local level to drive their respective electric vehicle markets," the report notes.
ICYMI: Icahn subpoenaed over Trump advisory role
Under the microscope: Activist investor Carl Icahn has been subpoenaed by the U.S. Attorney for the Southern District of New York over his role as an unpaid advisor to Trump on deregulation.
Why it matters: The subpoena opens a new front in what has been an intense lobbying and political battle over the federal biofuels mandate. It also creates a potential new line of inquiry into the inner workings of Trump's presidency.
Big picture: The refining industry — especially independent refiners like the one Icahn owns — says the RFS imposes expensive burdens including the cost of buying compliance credits know as renewable identification numbers.
Reminder: Separate from Icahn's advocacy, a group led by mid-sized refiners recently bought ads on Fox & Friends knocking Trump for backing off changes to the RFS.
Go deeper: My colleague Dan Primack and I have more in the Axios stream.
So hot right now: 2017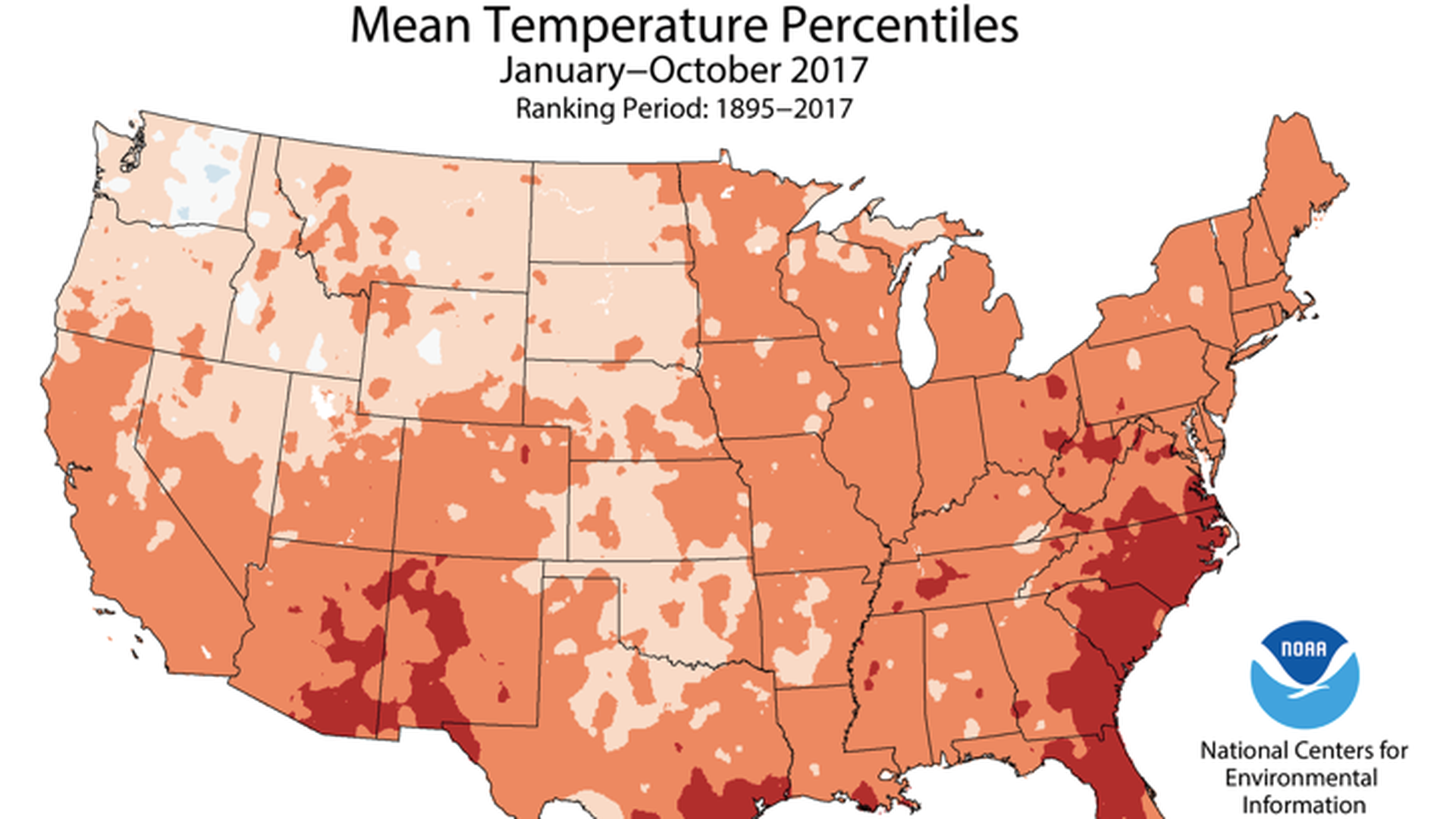 New data: "Every state across the contiguous U.S. had an above-average temperature for the first 10 months of the year," reports the National Oceanic and Atmospheric Administration in their latest snapshot of U.S. climate conditions.
In third place: "The year-to-date U.S. average temperature was the third warmest on record at 57.5°F, 2.5°F above average. Only January–October of 2012 and 2016 were warmer," the agency said.
Five states — Arizona, Florida, Georgia, North Carolina, and South Carolina — have seen record average warmth for the 10 month period.