Good morning, and welcome back to Generate. Thanks for all your comments and feedback yesterday — and keep them coming at [email protected] In case you haven't heard, Mike Allen is launching an afternoon edition of his indispensable newsletter. Sign up by clicking here.
Now for the news!
How the U.S. is already giving up its climate leadership
Signs are emerging of how the U.S. is falling behind in the global climate push, no matter what President Trump does about America's participation in the Paris deal.
Why it matters: Much talk has been made of the potential ramifications of Trump either staying in and seeking to ratchet down the U.S. commitment to the Paris deal, or withdrawing from it altogether. The truth is, America is already giving up its leadership position. Whatever Trump does with the Paris deal will show how far back in the line of leadership he wants to go on climate.
Driving the news:
Canada moved forward Thursday issuing regulations cutting emissions of methane from oil and natural gas operations, a step it had initially taken in concert with President Obama last year.
Newly elected French President Macron pressed Trump on staying in the Paris agreement Thursday, along with pretty much every world leader, White House economic advisor Gary Cohn told reporters Thursday in Europe.
This all follows an announcement earlier this week that Canada will join with the European Union and China to keep advancing climate policies in more meetings this September.
To be sure: It will probably be hard to tell precisely what impact the U.S. has on global climate talks until the next big United Nations summit on the issue in November given there's a lot of rhetoric and little concrete action between now and then.
What's next: Rhetoric is still important in the meantime. Next Tuesday, the new UN Secretary-General António Guterres will be at New York University to give his first major speech on climate change.
Big oil cartel, 2.0?
OPEC is looking a lot more like OPEC+ these days, analysts said following yesterday's meeting in Vienna where OPEC and non-OPEC nations alike agreed to keep their oil output levels for another nine months.
What happened: In their concluding press conference with Russia, OPEC leaders said they are working to "institutionalize" their dialogue with other non-member states, according to Leslie Hayward, vice president at Securing America's Future Energy, a group of U.S. military leaders and businesses working to wean America off oil altogether.
Why it matters: It could concentrate even more power and influence with Saudi Arabia, the de facto leader of OPEC. Writing from the talks in Vienna, Hayward tells Axios: "OPEC already controls some 60 to 80 percent of the world's reserves, but it's looking to expand its reach."
The dealmaking: The production deal comprises the 14 OPEC nations (including newbie Equatorial Guinea, which joined Thursday) as well as 10 non-OPEC nations, most notably Russia, the world's largest oil producer.
Zuckerberg speech leads with climate issues
As rumors swirl that Facebook CEO Mark Zuckerberg is mulling a presidential run(*), you can expect climate and clean energy would feature prominently in any Zuckerberg 2020 campaign: It was the very first policy issue he mentioned in a commencement speech at Harvard University on Thursday.
How about stopping climate change before we destroy the planet and getting millions of people involved installing solar panels?
Why this matters: The gulf within the Democratic Party on climate and energy issues has been widening, with politicians like Sen. Bernie Sanders calling to immediately wean America off fossil fuels, and Hillary Clinton, who was much more bullish on fossil fuels and their role in a carbon-constrained role (before she tacked to the left during the campaign). Zuckerberg would probably push center-left policies, somewhere between Sanders and Clinton.
(* he's not running)
​Battle lines over the Paris climate deal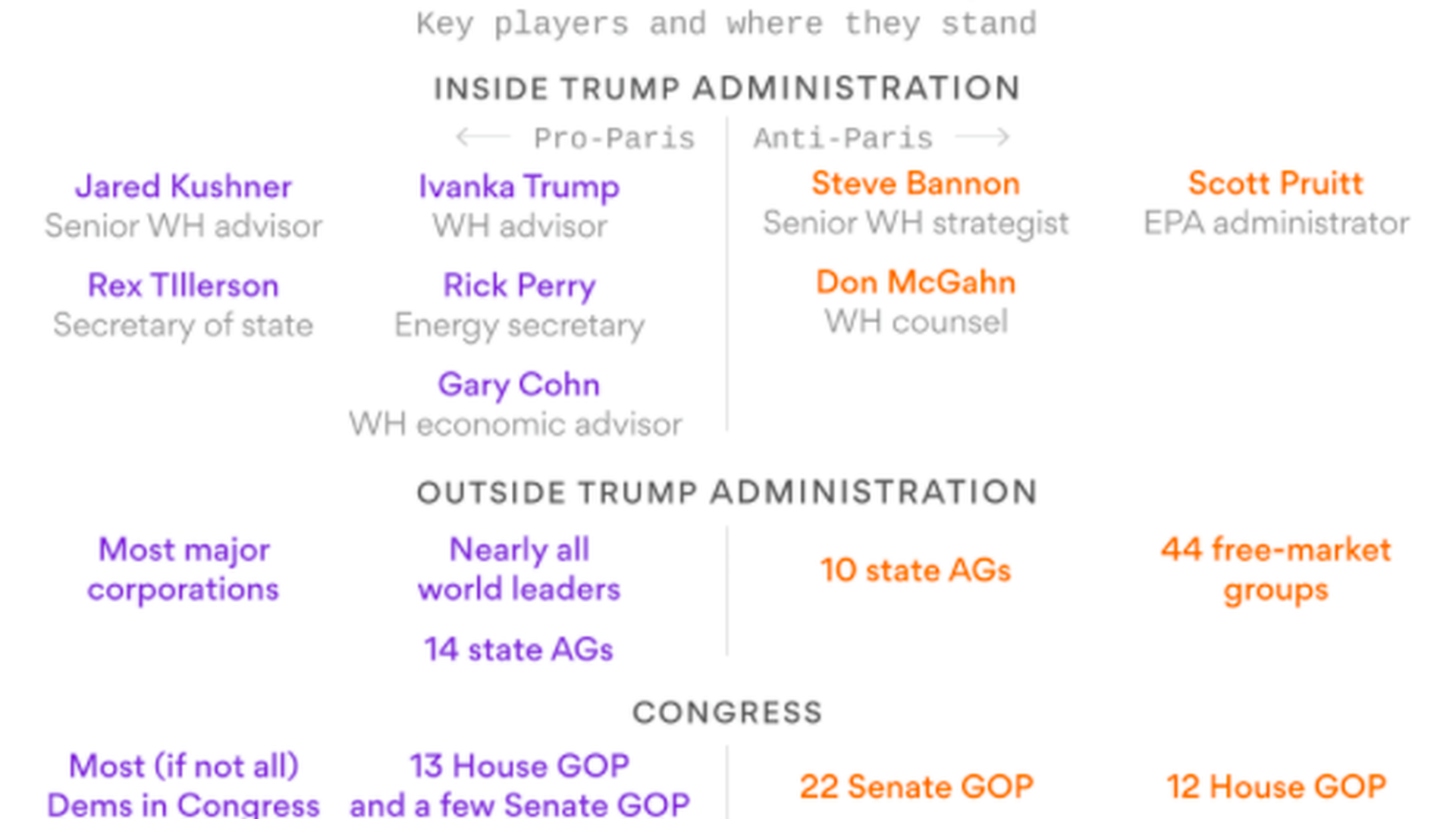 President Trump's months-long delay deciding whether to stay or withdraw the U.S. from a global climate deal struck in 2015 has prompted a fierce, multi-sided fight in Washington, across the U.S. and the world.
Check out the chart above on the players to know, where they fit in, and click here to read about the power and limitations of each set.
White House skeptical of climate deal economics
White House economic advisor Gary Cohn made some of his most extensive public remarks ever on the Paris climate deal while in Europe for the G7. They're not favorable to the accord.
"The one argument that's probably the most persuasive, and don't read too much into this, is that the last levels we put out in the Paris agreement were levels that would be constraining to our economic growth," Cohn told reporters aboard Air Force One Wednesday evening.
Reading into it: This eliminates any doubt about how the deal's perceived economic impact on the U.S. will be the deciding factor, and whether or not the U.S. will be able to lower the targets former President Obama set. Expect world leaders to emphasize how the deal could help the U.S. economy grow, instead of detract.
More Cohn quotes:
"Then you get into the whole discussion on Paris -- is it non-binding? is it not non-binding?"
"Can you change your levels? How easy is it to change your levels? Japan did change their levels after Fukishima. They went up in their levels."
"He [Trump] wants to do right for the environment. He cares about the environment. But he also cares very much about creating jobs for American workers. He wants to hear what the Europeans have to say about that."
Later Thursday: Cohn seemed to moderate his comments ever so slightly: "[Trump] knows that in the U.S. there's very strong positions on both sides but he also knows that Paris has important meaning to many of the European leaders. And he wants to clearly hear what the European leaders have to say."
Lightning round: nuclear bids, Saudi ties + more
Some news you shouldn't miss:
One more for the road
Prices at the pump are going up this Memorial Day weekend after a month of decline, according to AAA.
Why this matters: If you're driving for the long holiday weekend, it'll cost you more. Longer term, higher gasoline prices drives up Americans' interest in -- and mostly disdain for -- Washington's energy policies. However, with the OPEC production deal, domestic gasoline prices are unlikely to rise substantially any time soon.
No matter how you count them, the numbers are going up.
National average gasoline prices are $2.39 this week, according to the U.S. Energy Information Administration, three cents more than a week ago.
More than 34 million Americans are planning to take a road trip this weekend, which is 800,000 more than last year, AAA says. That increase is helping increase gas prices.
The biggest increases over the last week were found in Ohio (a dime higher), Michigan (nine cents), and California (eight cents).
Thanks for reading today, and every other day you read this. Happy Memorial Day Weekend! I'll be back here on Tuesday.