Good morning and welcome back!
I want to re-up some Axios news: Sinocism's Bill Bishop, one of the world's most wired experts on China, is moving his weekly newsletter to Axios this week! Bill will bring Axios China subscribers the most important U.S.-China news and analysis. Sign up here.
And happy birthday to Joni Mitchell, who turns 74 today, so her lovely voice is our
intro track today
. . .
https://www.axios.com/newsletters/axios-generate-679b8057-d27f-4276-94e7-ff9a57dc4f5e.html?chunk=0#story0
How OPEC sees the world
Crystal ball: OPEC is out today with its big annual World Oil Outlook, a detailed analysis of supply and demand trends in coming decades that puts meat on the bones of some top-line conclusions that Secretary General Mohammad Barkindo offered in London last month.
Why it matters: Yes, OPEC has plenty of reasons to shape a narrative around future oil demand. But the forecast nonetheless adds a detailed entry to the mix of analyses of the global energy pictures, and shows how the powerful cartel is positioning itself.
A few takeaways...
No peak: The outlook shows global demand growing through 2040 — the end of the forecast period — to reach 111 million barrels per day by then (a slight increase over their last projection), although the growth rate slows during the latter parts of the forecast to 300,000 barrels per day during 2035–2040.
As we explored in Generate before, this contrasts with some other forecasts of demand peaking as soon as the late 2020s.
Nearer term, OPEC has revised demand upward by 2.24 million barrels per day in 2022 compared to last year's outlook.
They see demand for transportation fuels climbing 5.4 million barrels per day by 2040 as the expanding auto fleet outpaces increasing efficiency and electric vehicle penetration.
Don't call it a comeback: The report shows OPEC's importance to global crude supply reasserting itself. The outlook projects that U.S. production will keep rising sharply for years but then tight oil — the driver of the U.S. surge — peaks around 2025 and then starts declining.
"Demand for OPEC crude is projected to remain just over 33 mb/d until US tight oil peaks in the mid-2020s, after which demand for OPEC crude rises steadily to reach 41.4 mb/d by 2040," it notes.
Spending needed: The report forecasts that meeting global oil demand will require $10.5 trillion in global investment between now and 2040, with $7.9 trillion of that needed in the upstream sector to ensure a "balanced and stable market."
The report notes that while what has been stagnant investment levels pick up somewhat in 2017 and 2018, it's nowhere near past levels and much of it is in so-called short-cycle (i.e. shale).
"It is vital that this be rectified so that a lack of investments today does not lead to a supply shortage in the future," the report states.
https://www.axios.com/newsletters/axios-generate-679b8057-d27f-4276-94e7-ff9a57dc4f5e.html?chunk=1#story1
Launching today: new transmission group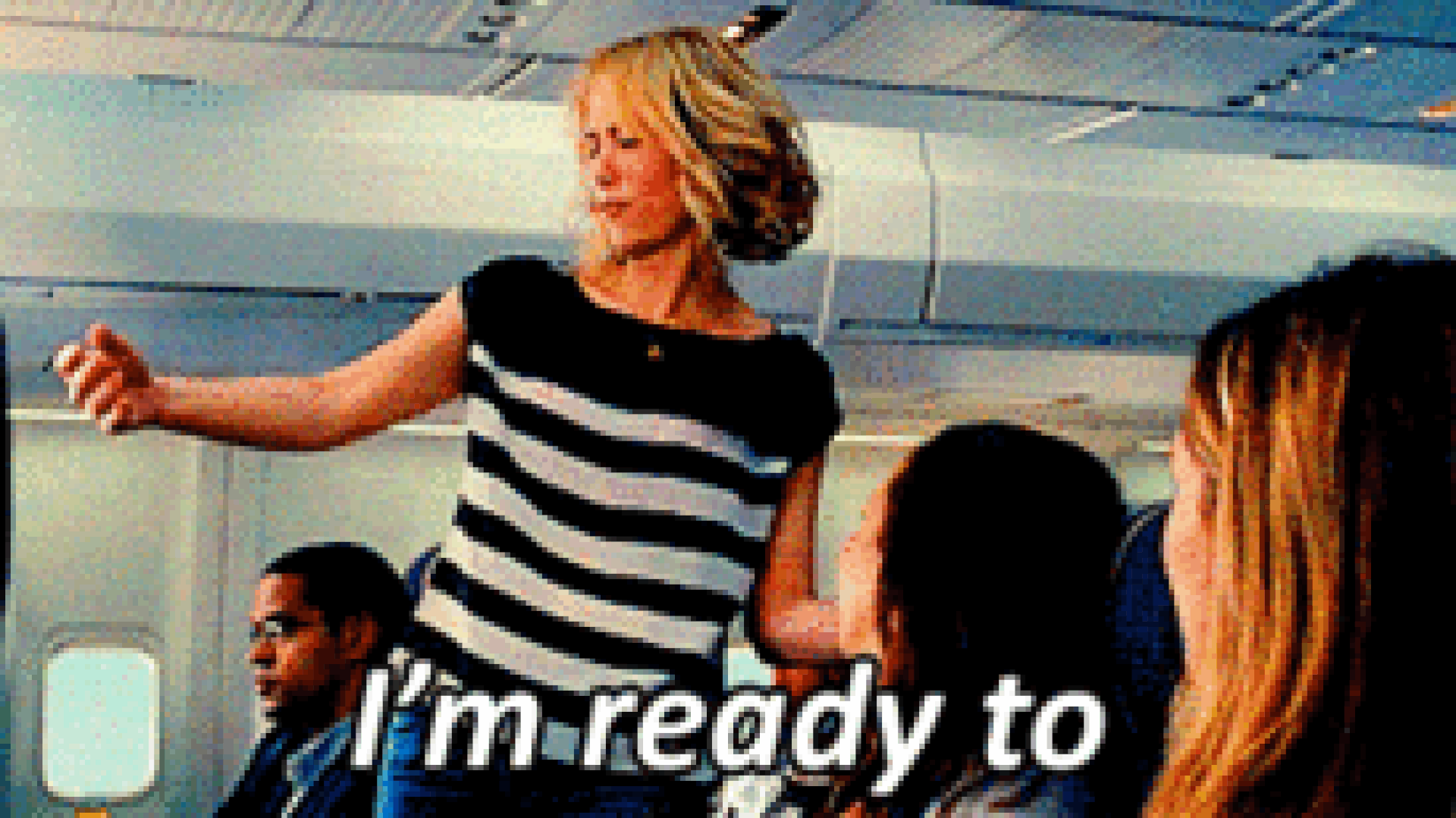 An new coalition of grid and transmission technology companies has formed to promote policies that they say could save consumers and businesses billions of dollars by enabling crucial system upgrades that ease congestion.
Unveiled today: The Working for Advanced Transmission Technologies (WATT) coalition includes Genscape, NewGrid, Smart Wires and others. It will promote the deployment of: advanced power flow control, dynamic line ratings, topology optimization, and other technologies for existing grids.
Policy goals: "A FERC-approved transmission tariff that allows the transmission owner/operator to share in the savings that result from reducing costly congestion from better operations," Rob Gramlich, the group's executive director, told Axios.
"Currently they earn their money only on invested capital plus a regulated return on equity. They generally earn nothing by delivering more energy. That is not how normal businesses work. It is a problem with the particular regulatory policies we use in this country," said Gramlich, who is president of the firm Grid Strategies and previously worked for the American Wind Energy Association and FERC, among other gigs.
Strategy: "Our main focus will be working with interested transmission owners and their regulator, FERC, to fashion tariff changes that can work for them and their customers. We will do some electric industry communications through trade press and conferences," he said.
They may also seek to work with the DOE and its national labs on technology and policy research. The members of the group are gathered today at Idaho National Laboratory for a workshop.
https://www.axios.com/newsletters/axios-generate-679b8057-d27f-4276-94e7-ff9a57dc4f5e.html?chunk=2#story2
More power notes: Going digital, parsing Perry, wind layoffs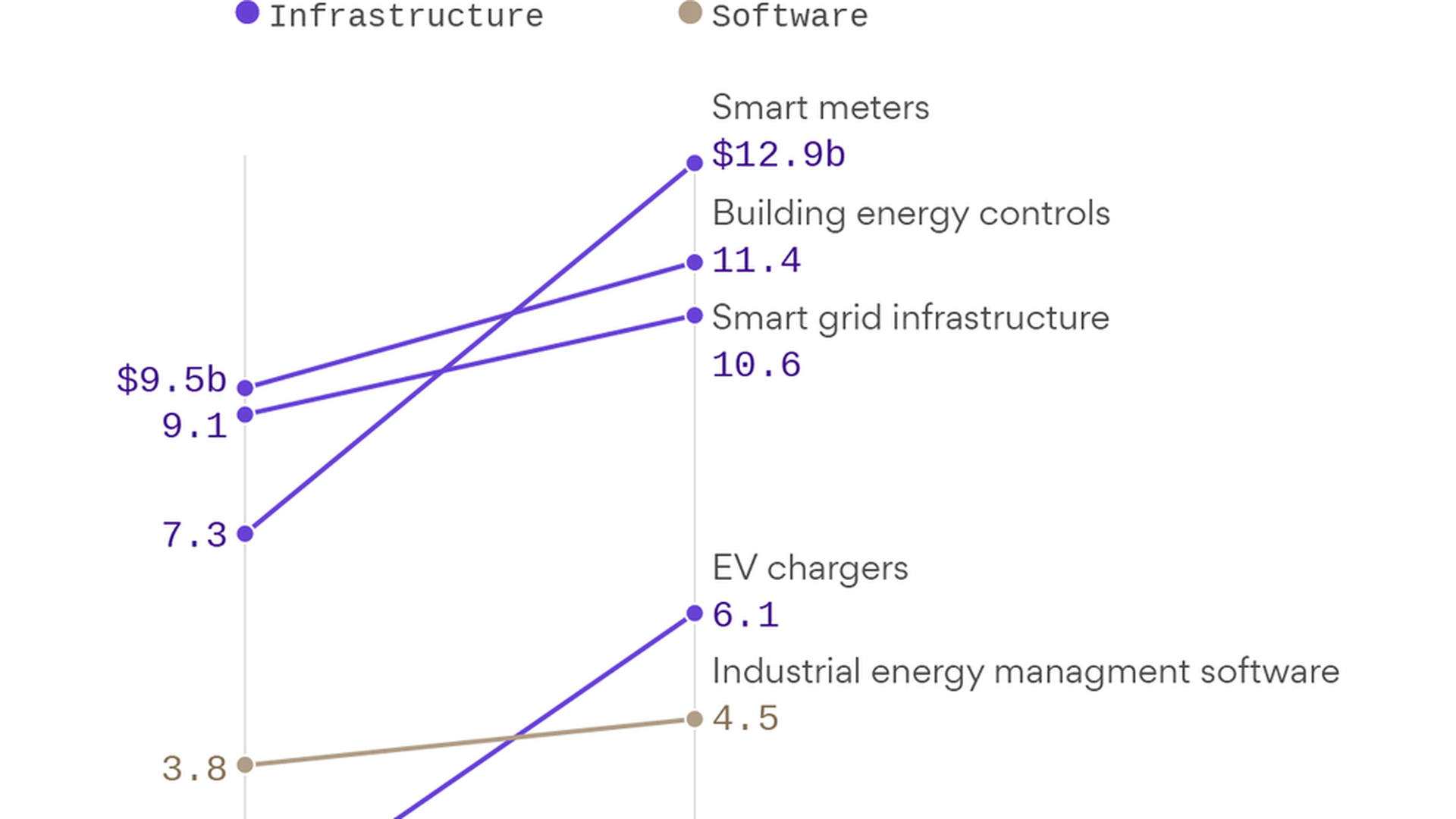 A system in transition: A new International Energy Agency report takes stock of how info and communications tech — or "digitalization" — is reshaping the energy sector.
The chart above provides one snapshot, showing the rise of global investment in a few key technologies including smart meters and EV chargers.
Why it matters: The wide-ranging report notes the potential for greater efficiency and cost-savings in several parts of the energy industry, but shows potential drawbacks too — for instance, if the digital revolution in vehicles fails to bring hoped-for efficiency gains but does lead to more auto travel.
Perry follow-up: A piece over at The Conversation takes another look at something my Axios colleague Amy Harder unpacked here — Energy secretary Rick Perry's claim that fossil fuels can help prevent sexual assault in developing countries.
It's another entry in the collection of voices that say Perry basically got things partially right, noting that access to energy can indeed promote women's rights and improve lives, but that fossil fuels don't convey special benefits.
"In our view, the most effective way in which U.S. energy policy can help women around the world is by promoting American-made natural gas, propane and renewable electricity worldwide," states the post by Michael Webber and Sheril Kirshenbaum of the University of Texas.
AI deals: Greentech Media looks at a new BDO study that shows a big increase in energy sector dealmaking in the artificial intelligence and big data space. "The study...found mergers and acquisitions involving energy companies and AI startups had soared in average value from around $500 million in the first quarter of 2017 to $3.5 billion in the second quarter," they report.
The piece notes that much of the action stems from the need for "improved analytics to manage intermittent renewable generation."
Wind layoffs: Turbine giant Siemens Gamesa announced Monday that it plans to shed 6,000 jobs worldwide in what the company called a "necessary step to strengthen the group and consolidate its position as a market leader."
The Financial Times has more, noting that the announcement comes alongside a "disappointing" earnings report and 2018 outlooks that's "below expectations."
https://www.axios.com/newsletters/axios-generate-679b8057-d27f-4276-94e7-ff9a57dc4f5e.html?chunk=3#story3
Missing from oil group's new ad: oil
Amy's got a piece in the Axios stream that adds some context to a new oil-and-gas industry ad. Here's part of it...
The American Petroleum Institute is running a new online advertising campaign touting natural gas as a reliable and resilient electricity source. The word "oil" doesn't show up once.
Why it matters: The group, one of the most powerful in Washington representing the oil and natural gas industry, is releasing the ad to respond directly to the Trump administration's recent regulatory push to favor coal and nuclear power plants over others, including ones powered by natural gas. Perry is pushing that initiative, contending it will make the electric grid more resilient.
https://www.axios.com/newsletters/axios-generate-679b8057-d27f-4276-94e7-ff9a57dc4f5e.html?chunk=4#story4
On my screen: Tesla, climate finance, blockchain
Tesla, no. 1: There has been yet another Tesla departure: via Gizmodo Media's Jalopnik, Tesla's director of battery engineering has left the company.
My Axios colleague Steve LeVine notes that the news comes after the August departure of Kurt Kelty, who was director of battery technology and had been with Tesla since 2006, before the company produced its first car. A little more from Steve's item...
"[T]he dual exits come at a crucial inflection point for the company, which is attempting to transform itself from a niche carmaker for the rich into a mainstream giant that triggers the creation of a global electric car industry. Key to that is the success of the mainstream-priced Model 3, which has had a choppy few months since its launch in July."
Tesla did not comment.
Tesla, no. 2: "Tesla Inc. has acquired Perbix, a closely held maker of automated machines used for manufacturing, as the electric-car maker struggles to boost production of its most important new model," Bloomberg reports.
Climate, no. 1: A new S&P Global Ratings report looks at the financing that must be mobilized to meet nations' emissions pledges — known as nationally determined contributions (NDCs) — under the Paris agreement.
"We think it unlikely that governments will increase their expenditure and debt burdens to the extent necessary to meet the vast direct financial pledges that some NDCs set out," the report states. Private sector funds from a range of sources will be needed to bridge the gap.
Climate, no. 2: Via the Axios stream yesterday, a piece that explores the shrinking of an iconic and important lake...
The Great Salt Lake is half the size it was in 1847. Scientists previously thought the lake was shrinking due to a shifting climate, but a study published last week in Nature Geoscience says it's getting smaller because humans are using water before it can reach the lake, writes Sarah Derouin for Science Magazine.
Tech: Via Platts, "Energy majors BP, Shell and Statoil are to co-develop a blockchain-based digital platform for energy trading."