Axios Generate
February 23, 2021
Welcome back. Today's Smart Brevity count is 1,285 words, 4.8 minutes.
🗓️ Join Axios' Joann Muller on Wednesday, 12:30pm ET as she explores the future of green transportation with United Airlines CEO Scott Kirby & GM Chief Sustainability Officer Dane Parker.
🎶 And at this moment in 1976, Rufus and Chaka Khan were atop Billboard's R&B charts with today's intro fantastic tune...
1 big thing: Deb Haaland looks to thread the needle on oil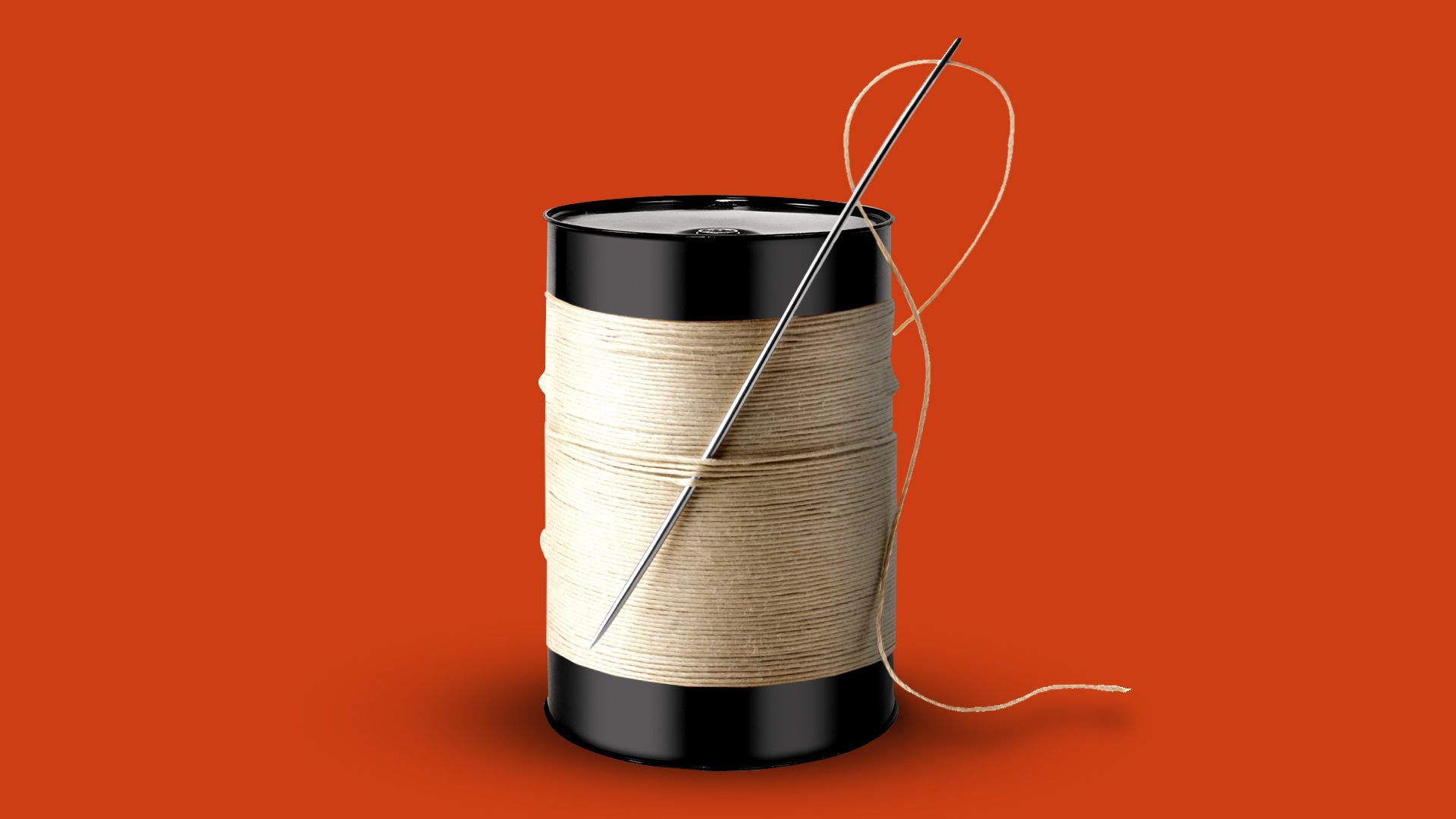 President Biden's pick for Interior Secretary faces a balancing act as she defends limits on oil-and-gas development while responding to concerns that the initiatives — and her own policy views — threaten producing states.
Driving the news: Rep. Deb Haaland (D-N.M.) appears this morning before the Senate energy committee vetting her nomination and faces critical questioning from GOP members.
"There's no question that fossil energy does and will continue to play a major role in America for years to come," her prepared remarks state.
"I know how important oil and gas revenues are to fund critical services," she intends to tell the panel.
But, but, but: "We must also recognize that the energy industry is innovating, and our climate challenge must be addressed," her remarks note.
Haaland has called for much more aggressive steps on climate change and previously expressed opposition to fracking on public lands.
Why it matters: The careful framing of her statement to senators reflects the delicate politics of President Biden's oil-and-gas and climate policies — and the key role Interior plays in some of them.
Biden has frozen new leasing on federal lands and waters — including Haaland's home state, which has lots of production from federal areas.
What they're saying: Administration officials have pointed to companies' stockpiles of current leases.
But the industry has bashed the policy on new leases and fears Interior is also making it harder to develop existing acreage, even as the agency has been emphasizing that permitting is proceeding.
"We...urge members of the Committee to seek assurances that Ms. Haaland will protect America's ability to access our oil and natural gas resources," the American Exploration and Production Council, said in a statement.
What we're watching: Check out this morning's Axios Twin Cities newsletter, where Torey Van Oot looks at the role Haaland could play in determining whether a contentious copper-nickel mine moves forward in northeastern Minnesota.
Oh, and you can sign up for Axios Twin Cities and all our newsletters here.
2. An EV SPAC deal worth watching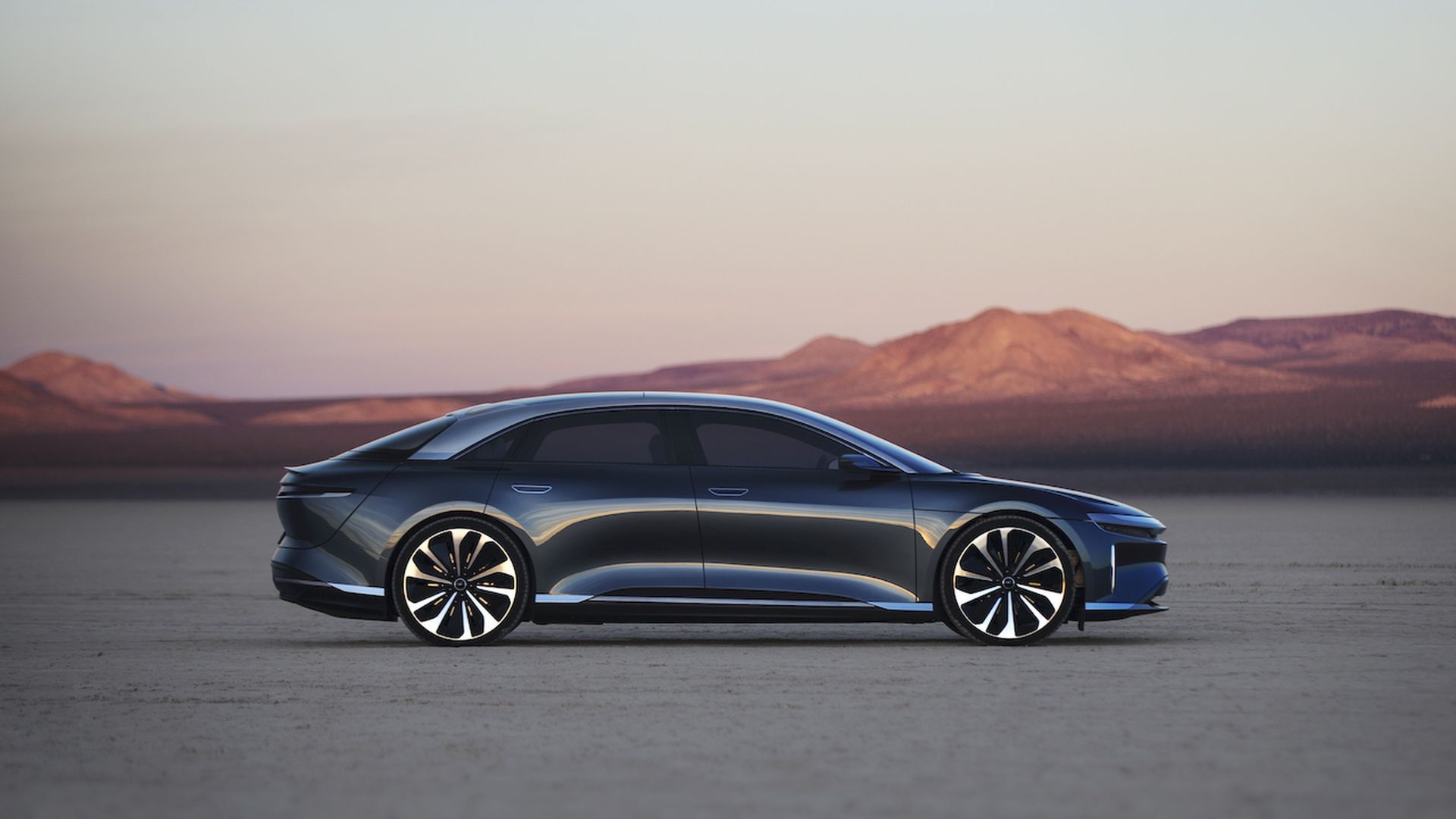 The electric vehicle startup Lucid Motors is going public via merger with the special purpose acquisition company Churchill Capital Corp IV at a valuation of $24 billion, the companies said Monday.
Why it matters: The high value of the transaction with the blank-check firm headed by former Citi exec Michael Klein underscores how Lucid could be well-positioned in the growing market.
The Silicon Valley-based company, whose CEO Peter Rawlinson is a Tesla alum, is beginning deliveries this year of its Lucid Air sedan.
The company says the luxury vehicle will have over 500 miles of range, the highest in the industry.
It's also backed by Saudi Arabia's huge sovereign wealth fund.
Where it stands: Investors in the deal include the Saudi fund as well as funds and accounts managed by BlackRock, Fidelity, Franklin Templeton, and others, the announcement states.
What's next: The announcement said the deal will provide Lucid with $4.4 billion in proceeds that will be used to expand Lucid's manufacturing plant in Arizona, which Lucid plans to scale up in phases.
Beyond the phased-in growth of Lucid Air production, the company plans to bring an SUV into production in 2023.
* * *
💵 Speaking of tech finance, the startup BlocPower has raised $63 million in Series A funding to expand its work making urban buildings more efficient and electrified.
TechCrunch has more.
3. FERC's expanding response to power woes
The Federal Energy Regulatory Commission is launching a new probe of how climate change and extreme weather pose threats to the reliability of electric power systems.
Driving the news: "The proceeding will examine how grid operators prepare for and respond to extreme weather events, including, but not limited to droughts, extreme cold, wildfires, hurricanes, and prolonged heat waves," the commission said.
Why it matters: It's part of the expanding federal and state response to the Texas crisis, but also reflects broader concerns about the vulnerability of electric systems nationwide.
Of note: FERC, in a separate statement, said its enforcement division is examining wholesale natural gas and power market activity during last week's cold snap to see if there was "market manipulation or other violations."
Bonus: One reason Texas power demand got so high
A new post at UC Berkeley's Energy Institute at Haas explores one reason Texas' energy demand got so high during the Arctic blast: lots of new homes to heat.
The big picture: "No U.S. state has built as many new homes as Texas over the last decade, and most of these homes use electric heat," business professor Lucas Davis writes.
He notes they tend to be less insulated than homes in cold regions and require lots of power when temperatures plummet.
4. Allies fear Biden's shaky on Nord Stream 2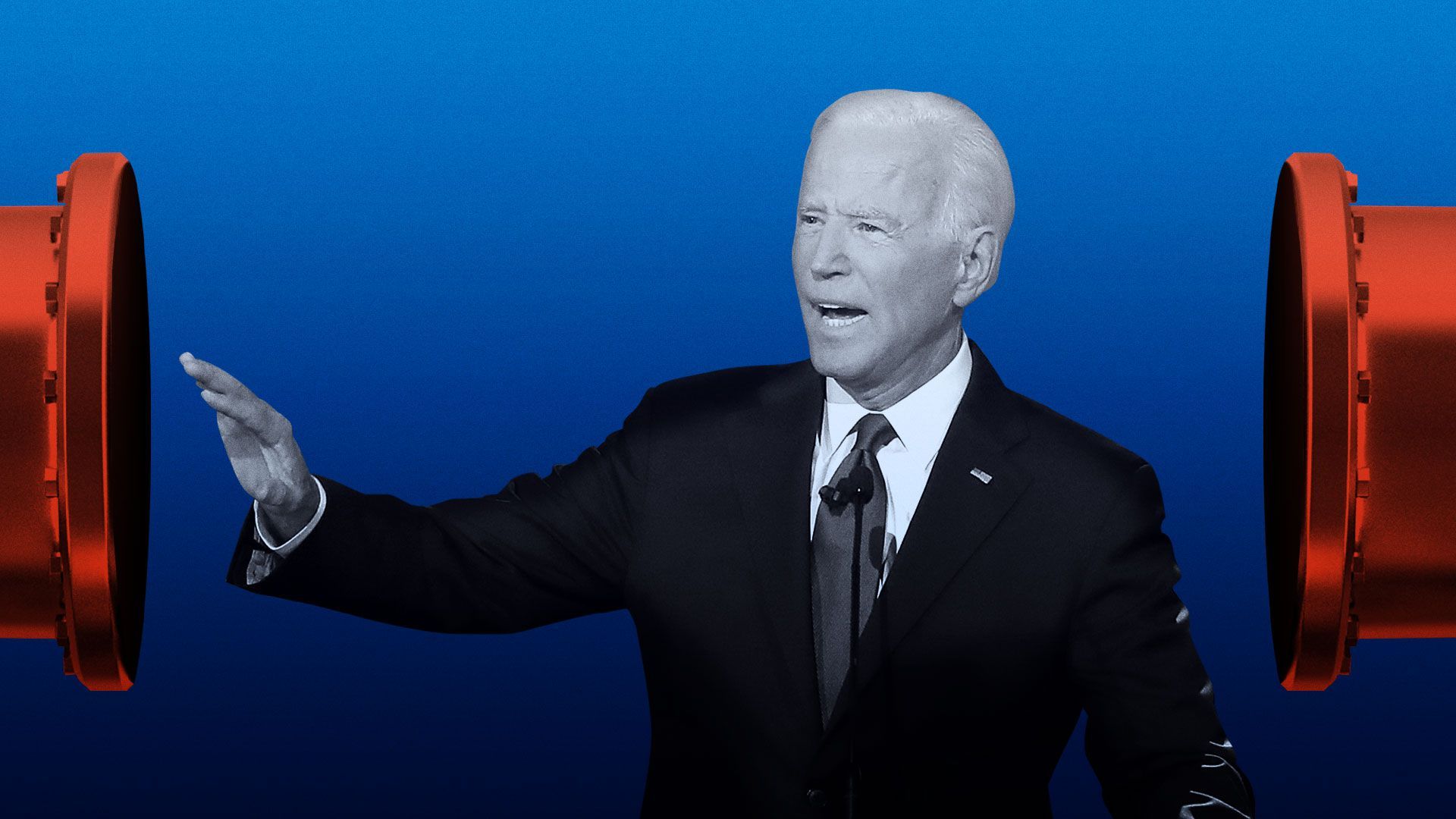 Axios' Jonathan Swan reports that Russia's adversaries in central and Eastern Europe are worried President Biden isn't willing to fight hard to stop the Russia-Germany gas pipeline Nord Stream 2 — one of Vladimir Putin's core priorities.
Why it matters: The fight is the first significant test of whether Biden's tough rhetoric against the Russian leader will be matched by action. Russian opponents fear Biden doesn't want to antagonize Angela Merkel and won't inflict serious costs on the Germans.
The big picture: The completion of Nord Stream 2 would be a huge geopolitical win for Putin and give him substantial new leverage in Europe.
Bypassing Ukraine with a direct pipeline to Germany helps Russia advance its goal of isolating its former client state from Western Europe.
Russian gas currently has to pass through Ukraine on its way to Europe.
The pipeline is over 90% complete and could be finished by the summer without a major intervention to stop it.
Driving the news: Until now, messages of concern have been conveyed to the Americans privately.
But a source close to Ukrainian President Volodymyr Zelensky told Axios: "The Ukrainians are a bit disappointed that President Biden did not commit during the Munich [Security] Conference to use every tool in his power to stop Nord Stream 2."
5. Brazil investors eye worst-case scenario
Axios' Felix Salmon reports that Brazil's markets tumbled on Monday, with state oil company Petrobras losing 19% of its value after president Jair Bolsonaro announced he was firing the company's Chicago-educated CEO and replacing him with a former general.
Why it matters: Bolsonaro also pledged to "put a finger on electricity" — to keep prices at artificially low levels, worrying investors who had previously been counting on him to have more of a laissez-faire approach to industry.
Flashback: Headlines coming out of Brazil are reminiscent of the way Venezuelan president Hugo Chavez dismantled his country's oil-production infrastructure after coming to power in 1999, starting with the forced resignation of Luis Giusti, head of the state-owned oil company.
By the numbers: Venezuelan oil production has reached formerly unthinkable lows, given that the country sits on the world's largest oil reserves.
Venezuela's 300 billion barrels of reserves now produce less than half a million barrels a day.
Brazil's reserves are tiny in comparison — less than 13 billion barrels — but the company is producing far more oil, about 3 million barrels per day.
Between the lines: Technocrats tend not to fare well under populist presidents, be they of the right-wing or left-wing variety. Venezuela's PDVSA was a well-run company before 1999, and Petrobras has been reasonably well-run until now.
But when an ex-military president takes over and puts generals in charge, loyalty to the regime tends to be rewarded more than professional competence.
6. Janet Yellen doesn't like Bitcoin's energy thirst
Count Treasury Secretary Janet Yellen among the people worried about the energy footprint of digital bitcoin mining.
Driving the news: "It's an extremely inefficient way of conducting transactions, and the amount of energy that's consumed in processing those transactions is staggering," she said at a New York Times event Monday.
Why it matters: The comments come as Tesla, which has invested $1.5 billion in Bitcoin, and some other companies are moving to accept Bitcoin as payment — and creating fresh concerns about its carbon footprint in the process.
Catch up fast: It's not the first time Yellen has expressed reservations about Bitcoin.
She told Senate lawmakers last month that while cryptocurrencies can have some benefits to the financial system, they can be used to finance terrorism, aid money laundering and other illicit activities.
What we don't know: Whether Yellen, who's increasing Treasury's emphasis on climate, will look to create more friction around the use of Bitcoin.