Axios Generate
September 01, 2017
Good Friday morning, and welcome to an impromptu guest host edition of Generate! It's been a long week, especially for the people of Houston and surrounding areas. Thanks to my Axios colleagues, including Shannon Vavra, for helping out today. Now, let's get to the news.
Despite oil boom, Harvey shows need for strategic reserves
During America's oil and natural gas boom of the last decade, the Strategic Petroleum Reserve has become a piggy bank for Congress. They've passed laws selling off oil reserves to pay for a sundry of other issues. (See our graphic below on sales related to market disruptions from hurricanes and war).
Why it matters now: Harvey is a horrific example of SPR's usefulness even in an era of abundant supply that makes Middle East unrest less of a concern.
The details: The Energy Department on Wednesday said it was releasing a million barrels of oil out of the SPR that holds 670 million barrels. By comparison, the U.S. uses about 20 million barrels of oil a day, per Reuters.
The backstory: Congress has in recent years passed laws mandating about 140 million barrels of oil from the SPR over the next 10 years to pay for deficit reduction, drug research, and highway spending, according to a research note Wednesday by ClearView Energy Partners. Meanwhile, President Trump's budget proposed selling another 270 million barrels.
What we're hearing:
"Hopefully the U.S. oil system will bounce back quickly, but Harvey provides a wakeup call that should alert Washington to our continued vulnerability to massive supply disruptions even in the age of shale," said Bob McNally, president of consulting firm The Rapidan Group and a former energy adviser to President George W. Bush. "Washington would be wise to reverse current course and think first before raiding the SPR to pay for unrelated government spending."
What's next? Pressure could grow to release gasoline from the Northeast Gasoline Supply Reserve (NGSR), which the DOE created in the wake of superstorm Sandy in 2012. There is just one million barrels of gasoline reserved there though, which isn't even one day's worth of gasoline the East Coast receives from the Colonial Pipeline that was set to be shutdown, McNally said. (Ultimately it was only partially shut down).
Things could get awkward: Some lawmakers have called for and Trump's budget proposed to get rid of that entirely, according to the ClearView note.
"If DOE ends up drawing down the NGSR, even some lawmakers who opposed its creation (either on free market grounds or out of concern that it could become a political tool) might have a hard time calling," the ClearView note states.
Strategic oil releases: by time and type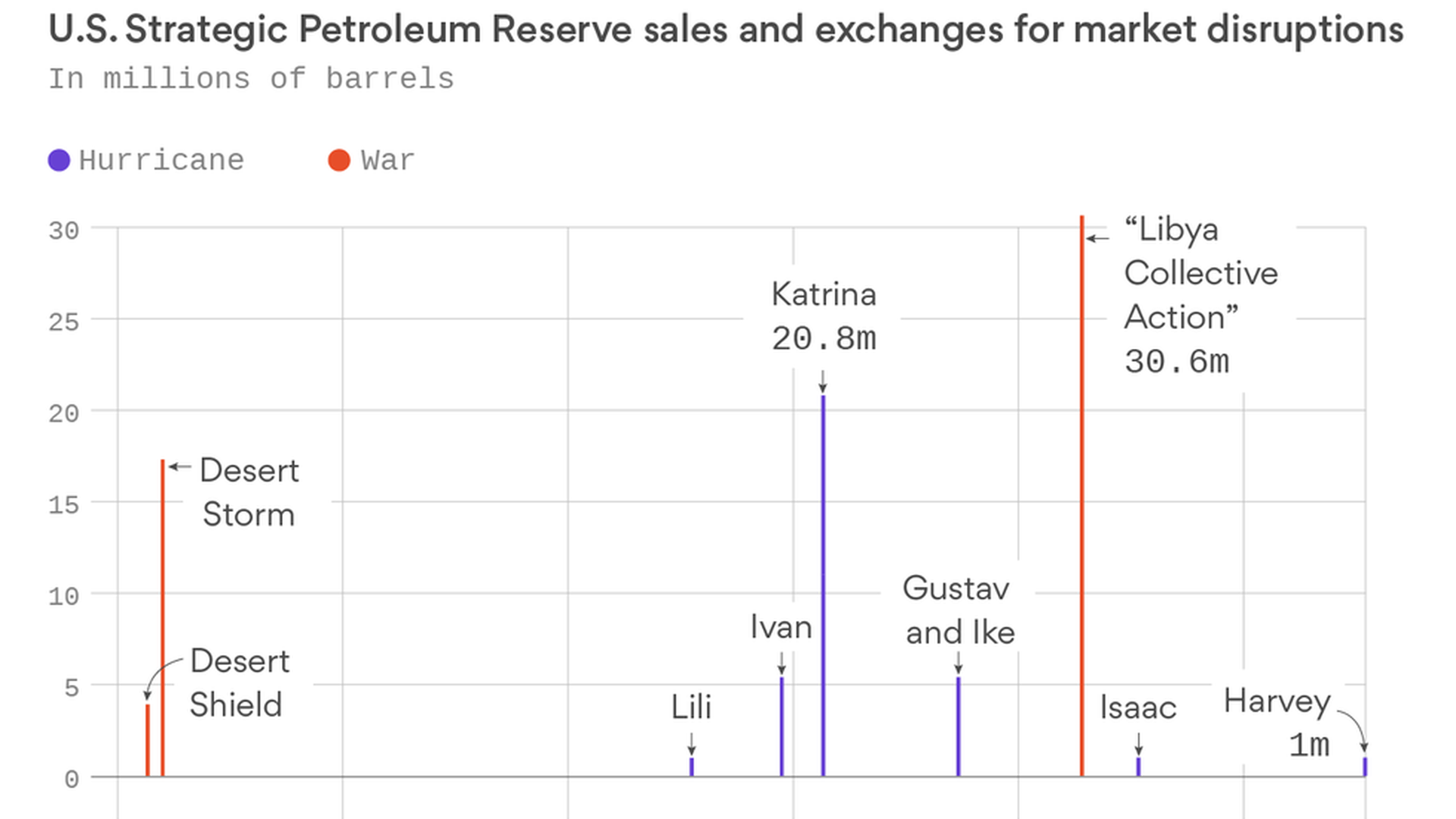 A contrarian thought on Harvey and refineries
Tim Columbus, a partner at Steptoe & Johnson who works in oil, ethanol and other energy areas, emailed me to say we're all missing a point about the potential longterm impact Harvey could have on refineries by comparing it to other storms. Namely, that the floods of Harvey are a way different beast than the winds from hurricanes Katrina and Rita.
Why that matters:
"Because the amount of work and remediation required to put these plants back on line may be an order of magnitude greater. While refiners are optimistic, nobody knows what it is going to take and won't until the water recedes and they get into these units. We've never had this before. After a wind and lightening event, you clean up the yard check the machines and bring them back up. After a water event, refiners must wait for the flood to recede and then may be required to actually take units apart to clean and test them. That takes a lot more time and effort."
Exclusive: Solar coalition launches to fight solar tariffs
A new player is entering the fight over whether the U.S. government should impose tariffs on Chinese solar manufacturers, Axios has learned.
What we've heard: U.S. Made Solar, a coalition made up of several U.S.-based solar manufacturers, is launching today, and will have a new advertising campaign criticizing the two companies petitioning for trade protections under the Trump administration and emphasizing "all things American" (one of President Trump's favorite mantras.)
Why it matters: This new coalition, separate from another one with the same end goal (no tariffs) that formed in July, shows how this debate is escalating over what the Trump administration is going to do. Most outside forces are aligning against the two companies asking for the tariffs, but the administration itself is more inclined to be sympathetic to the views, given Trump's protectionist bent and his particular focus on China.
The details: The coalition is made up of more than 10 American solar manufacturers, including RBI Solar, Nextracker, GameChange Solar, Terrasmart, Solar Flex Rack, and Panel Claw. The firm behind the coalition, S-3 Public Affairs, isn't disclosing the total amount, but the backers "believe we have the resources to convey our message to the administration." The ads, including digital and TV, are concentrated in the D.C. area.
Their message: The coalition is seeking to paint the two manufacturers — Suniva and SolarWorld — as Solyndra all over again (Solyndra, you'll probably recall, went bankrupt after receiving a half-billion loan guarantee from the Obama administration). This is substantively different — tariffs aren't loan guarantees — but the coalition is painting any government interference as a bailout that would hurt American jobs.
The backstory:
In April the bankrupt manufacturer Suniva, later joined by SolarWorld, petitioned the U.S. International Trade Commission for new tariffs on cells and for a price floor on modules, arguing cheap foreign imports are throttling the domestic panel industry.
But the wider solar industry, via the Solar Energy Industries Association, and other critics say granting that petition would wreak havoc on the economics of U.S. solar projects by basically doubling the cost of key components, greatly slowing the addition of new installations.
What's next: The USITC, which is considering the petition now, will make a recommendation by Sept. 22 about whether it thinks tariffs should be imposed. If it does, it would send the final decision to the White House.
White House kicks up nuclear review
The White House is kicking into high gear a study Trump requested in June about the state of America's nuclear industry by hiring a new staffer to take a lead on it, Axios has learned.
Aaron Weston, whose LinkedIn profile says he has worked at the conservative think tank American Council on Capital Formation and for the House science committee, is in the process of getting a White House gig to work on the study, an administration official said.
Why it matters: Top Trump officials have spoken positively about nuclear power and the importance of ensuring it remains a viable and growing sector in the U.S., despite the economic headwinds hurting it. But to date the administration hasn't taken any specific steps to do so. This report is the first broad attempt at that.
Details: The review is expected to focus on the challenges facing the existing fleet of reactors, research and development policies, export markets, and fuel cycle issues. This will include looking at the controversial Yucca Mountain proposed repository site, according to the administration official.
Reality check: Trump's budget proposed to cut the Energy Department's nuclear office that pursues R&D. Meanwhile, it remains unclear whether the department will help Southern Company with its two reactors under construction (the first in the U.S. in 30 years) by upping the already unprecedented $8.3 billion loan guarantee.
News roundup: Harvey edition
Corrections: We've updated Generate to clarify the Colonial pipeline was being partially shut down after initially saying it was going to be entirely shut down, and also to say that Solyndra's loan was for a half-billion, not half-million.