Axios Generate
May 17, 2017
Good morning and welcome back to Generate! You opened this email from me, but I want to give credit where it's due. Today's edition has a pair of scoops from my Axios colleague Amy Harder, this time on President Donald Trump's plans for the Energy Department budget.
Speaking of Trump, the Axios stream has all kinds of informative coverage of the Russia- and FBI-related scandals increasingly engulfing the White House and Capitol Hill. Ok, let's dive in . . .
Scoop #1: Trump's plan to slash renewables 70%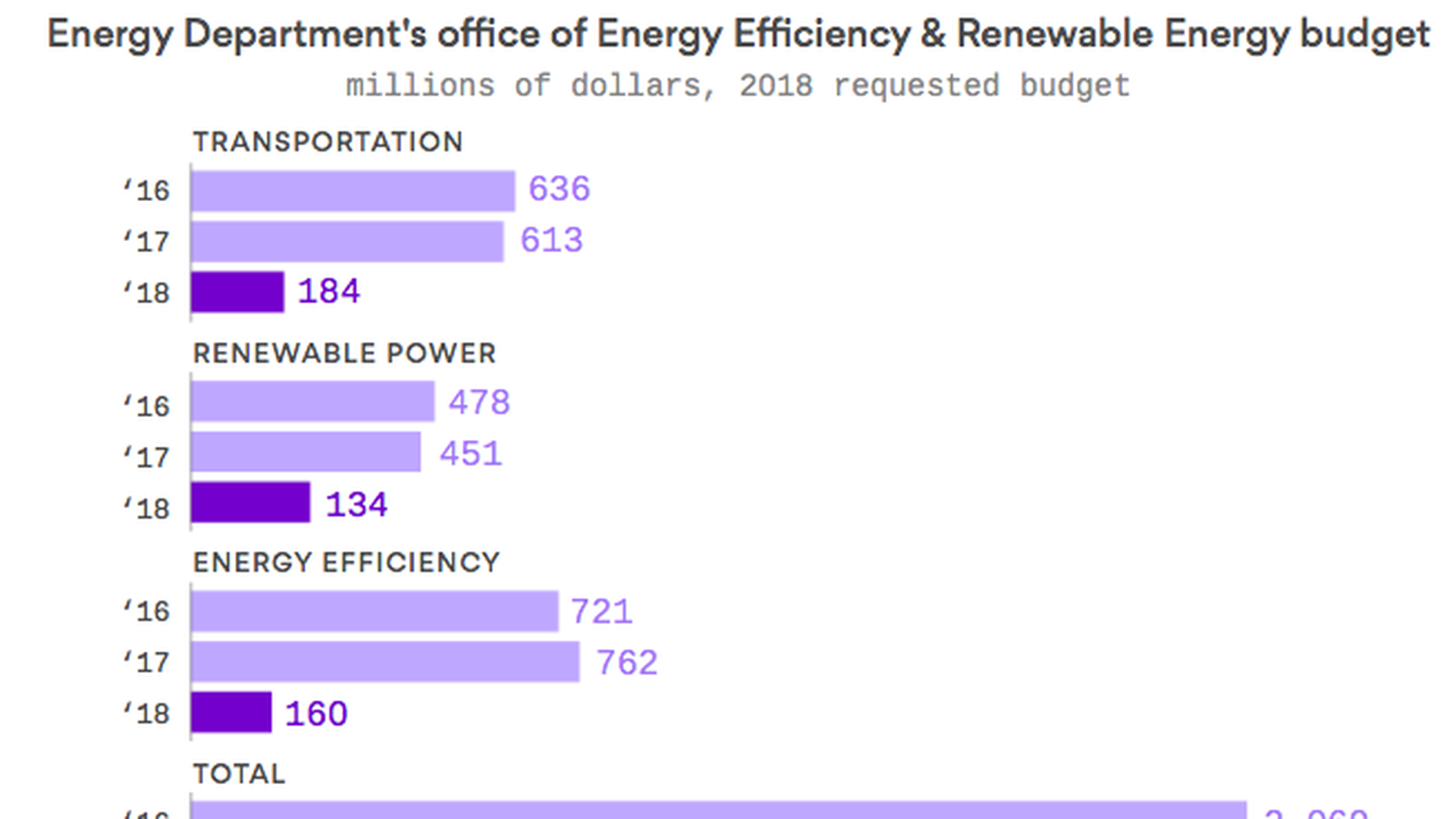 Amy Harder got a look at a draft budget document that shows the Trump administration wants to cut several Energy Department's renewable and energy efficiency programs by nearly 70 percent.
I've highlighted some of the main points, but I also recommend reading Amy's entire piece.
Why it matters: Congress is probably not going to grant such deep cuts, but the numbers are nonetheless important for two reasons: 1) It shows how extreme the administration wants to go with its budget cuts in policy areas its rhetoric hasn't supported. 2) It puts a low marker down to negotiate with Congress. The lower the starting point, the lower the ultimate numbers could well end up.
For the record: An Energy Department spokesperson didn't immediately respond to a request for comment.
What's next: The Trump administration has said it will send its budget request for fiscal year 2018 to Congress next week. These proposed cuts are part of a broader effort from the administration to make deep spending reductions, including plans to cut funding for DOE offices handling nuclear and fossil fuel energy.
Scoop #2: Trump's plan to cut fossil-fuel and nuclear funding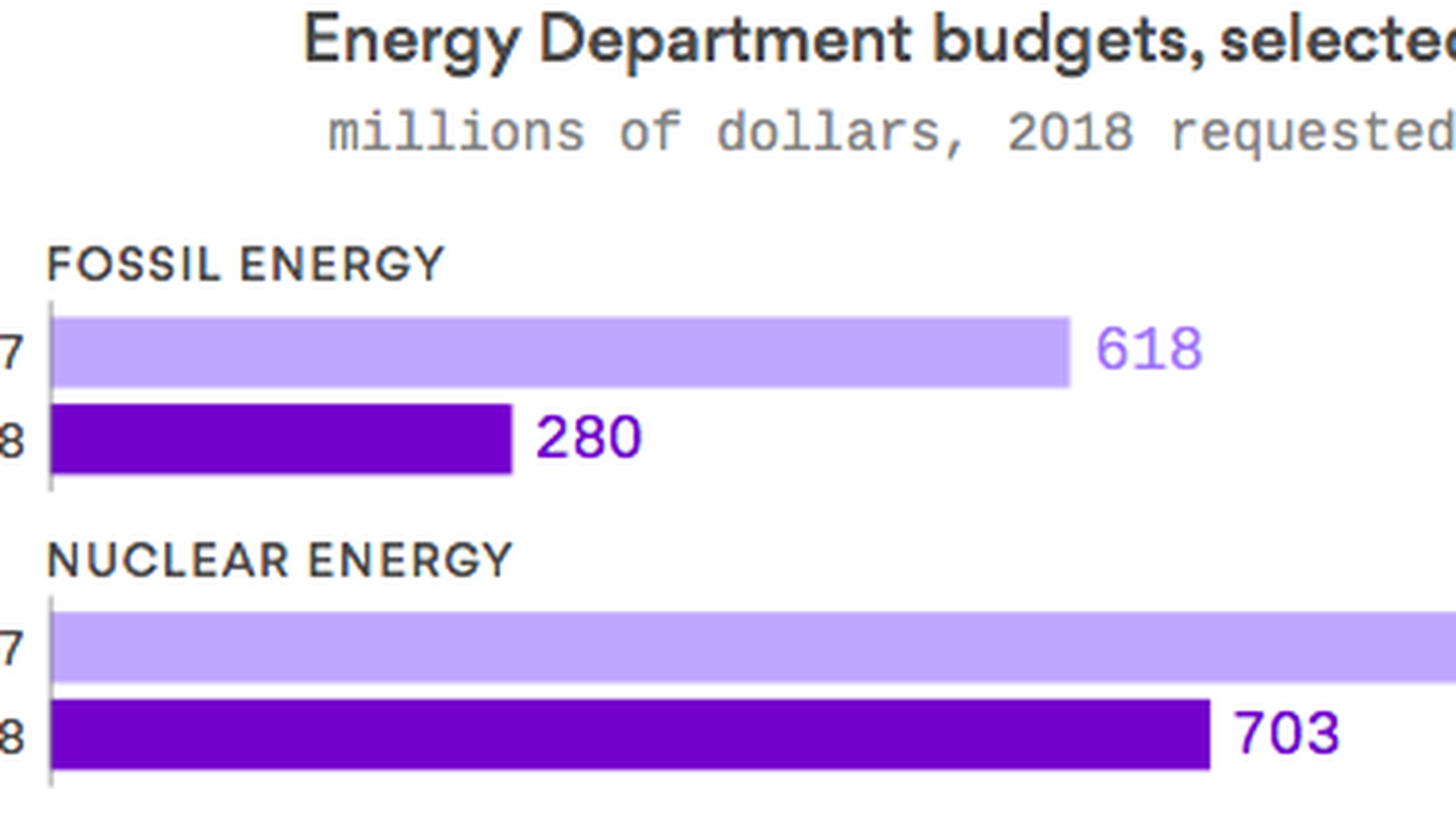 The draft budget document Amy viewed proposes cutting Energy Department's offices for nuclear power and fossil fuel energy by 31% and 54%, respectively. I've pulled out some of the main points below, but read her full item here.
Go deeper: Top Trump administration officials have repeatedly said they back nuclear power and fossil fuels, in particular coal burned more cleanly with technology that captures and stores carbon underground instead of emitting it. These proposed budget cuts show a mismatch between the rhetoric and what they're willing to allocate.
What we're hearing: Some conservative groups say cutting funding for policies like cleaner-burning coal technologies would undercut Trump's promise to save the coal industry.
"It would be very difficult, especially on the carbon capture front, to keep some of the promises that the administration made to the coal community if it's not going very deep on innovation in this space," said Rich Powell, executive director of ClearPath Foundation, a conservative organization pushing cleaner energy technologies within the GOP.
A clean energy report card
This is cool. The International Energy Agency has a tech-by-tech look at how 26 industries and energy sources are faring in the effort to hold the global temperature rise to 2°C above pre-industrial levels.
Uh-oh: The world isn't close to being on that path right now. Just a few of the sectors covered in the IEA report — onshore wind and solar, electric vehicles, and energy storage — were on track toward a "sustainable energy transition."
Get smart: The IEA has an "interactive dashboard" that provides useful information about lots of specific industries and sectors, ranging from metals to appliances to buildings and a lot more.
Why it matters: The report helps to underscore the scope of energy and industrial transition needed to drive emissions downward enough to provide what analysts say would be a good shot at avoiding some of the most dangerous impacts of climate change.
On my screen: oil and electric vehicles
Oil: The prominent analyst Dan Yergin, writing in the Wall Street Journal, explains why $100-per-barrel oil may be in the rearview mirror forever as "the entire business has been recalibrated to a lower price level."
"An industry that had become accustomed a few years ago to $100 oil now regards that as an aberration that will not recur absent an international crisis or a major disruption."
EVs: Reuters reports that German Chancellor Angela Merkel said her country probably won't meet its target to have one million electric cars on its roads by 2020.
Big EVs: Platts takes a look at the potential for electrification in big, heavy duty vehicles including tractors and container ships.
Trump and Aramco: Bloomberg reports that Saudi Aramco, the kingdom's state oil giant, will ink agreements with a number of big U.S. companies including GE and Schlumberger during Trump's visit.
A Texas-sized answer to Perry's big question
Four University of Texas experts have a detailed piece in The Conversation that looks at the integration of lots of wind power onto the Texas grid during the governorship of Rick Perry.
Why this matters now: The Energy secretary version of Perry has commissioned a wide-ranging grid study that's got renewables' backers very nervous (more on that here). They fear DOE will conclude that pro-renewables policies are threatening power reliability.
The analysis by the University of Texas experts describes why that's not the case in Texas, and won't be in other areas that integrate more renewables.
Bottom line:
"[D]espite concerns to the contrary, incorporating wind and solar into the grid along with fast-ramping natural gas, smart market designs and integrated load control systems will lead to a cleaner, cheaper, more reliable grid," the UT experts write.
More thoughts on the Lyft-Waymo collaboration
Axios' Kia Kokalitcheva succinctly explained the ramifications (for Uber in particular) of the new deal between Lyft and Waymo to collaborate on self-driving cars, and now a Barclays research note provides some more thoughts.
Tesla and GM: Barclays notes that both companies are facing competition in the race toward autonomy. As Kia noted, GM is already working with Lyft.
The research note sizes up what this could mean for GM, noting the upside is that it opens up a pathway for collaboration with Waymo. But that said...
"[I]t could be seen as a negative, amplifying competition, and exemplifying the 'frenemy' concept that is quite common in Silicon Valley."
Either way, Barclays says, the Lyft-Waymo deal underscores the need for GM to "remain nimble" and have flexibility in the evolving autonomous vehicles space.
Thanks for reading! See you back here tomorrow. Tips and feedback welcome at [email protected]