Axios Generate
March 19, 2019
Good morning and welcome back!
Over the weekend, Pink Floyd's "Dark Side of the Moon" celebrated its 46th birthday, so it provides today's intro tune ...
1 big thing: A K Street carbon alliance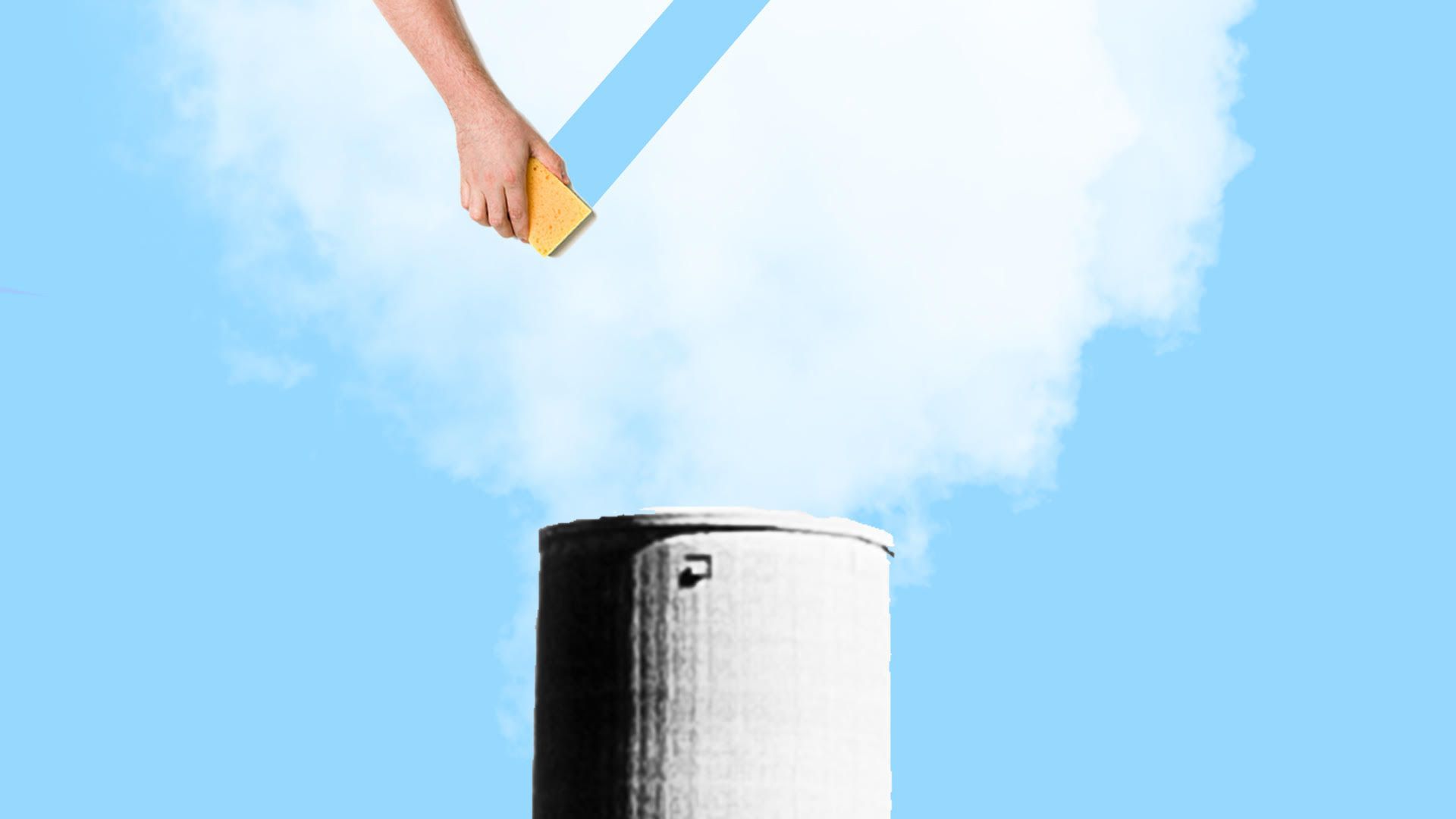 A year-old coalition of large oil and power companies working on carbon capture and storage is now under the umbrella of the National Association of Manufacturers, a powerful lobbying association, Axios has learned from lobbying disclosures and interviews.
Why it matters: The affiliation of the Energy Advance Center (EAC) — which includes Exxon, Chevron, Southern Company and Mitsubishi Heavy Industries America — with NAM arrives at an important time.
Companies are seeking to benefit from expanded tax credits enacted last year for direct carbon sequestration or use of captured CO2 in enhanced oil recovery.
More broadly, advocates of the technology — including the International Energy Agency — are calling for more rapid deployment to help cut emissions in a global energy mix still dominated by fossil fuels.
Background: EAC brought on Christopher Romans as its executive director earlier this year. He was a top government affairs official at Mitsubishi Heavy Industries America.
The other members of the coalition are ConocoPhillips, BP and Denbury Resources, lobbying records show.
What they're saying: Sources involved in the newly revealed affiliation said implementation of the expanded tax credits is one focus area, but that the group's lobbying work on carbon capture is much broader in scope.
One source said the relationship will offer the EAC a wider reach due to NAM's resources and membership.
The intrigue: NAM has battled against various Obama-era emissions regulations such as the Clean Power Plan.
But bringing the Energy Advance Center under its roof is part of a wider effort to advance the climate measures it supports, a NAM official tells Axios.
"We have been moving a bit more aggressively in the direction of finding climate solutions for the last couple of years," the official said.
Elsewhere, the group has been pushing for ratification of an amendment to the Montreal Protocol aimed at phasing out greenhouse gases called hydrofluorocarbons.
Flashback: While EAC's detailed policy goals are not clear, Axios' Amy Harder reported last year that it backs allowing companies to receive the tax credit without submitting a monitoring plan to the Environmental Protection Agency.
Go deeper:
Editor's note: This story was corrected to refer to an amendment to the Montreal Protocol (not the Kyoto Protocol).
2. Chart of the day: Saving money with EVs
The New York City government's maintenance costs for its electric vehicle fleet were much less per automobile than its gasoline-powered cars, city data released this month shows.
Why it matters: Municipal and corporate vehicle fleets are a growth area for EVs, and not just for environmental reasons.
That's the upshot of the latest edition of a newsletter I'd never seen until yesterday: the NYC Fleet Newsletter from Citywide Administrative Services.
What they're saying: "Right now, servicing costs with our all-electric vehicle models is dramatically less than with gas, hybrid, or hybrid plug-in models," chief fleet officer Keith T. Kerman writes in the newsletter.
"In general, our hybrid models also achieve benefits from gas models, though the most dramatic results in this report are with the all electrics," he adds.
Kerman notes that with EVs, "oil change, spark plug, and air filter replacement are things of the past."
Check out the chart above, which shows the average 2018 maintenance costs for different models in the city's light-duty fleet. New York has the largest municipal EV fleet in the country, a spokesman said.
H/t to Quartz, which reported on it in more detail yesterday.
3. LNG player backs a carbon tax despite costs
HOUSTON — A carbon tax would cost natural gas export company Tellurian hundreds of millions of dollars, but its founder is still backing the policy, Axios' Amy Harder reports.
By the numbers: The Houston-based company has done internal modeling that shows projected costs on its operations from a $40-per-ton carbon tax would be roughly $200 million a year, which is "significant," co-founder Charif Souki said in an interview.
Driving the news: Tellurian announced last week it was donating $2 million to Columbia University's Center on Global Energy Policy to research a carbon tax and related policies.
"[A carbon tax] would make American gas more expensive. Since we buy American gas as cheap as possible and try to resell it on the world market, it's going to be a very significant cost to Tellurian. Regardless of this, it's the right thing to do. We need to accept it and move on."
— Charif Souki
Where it stands: The 3-year-old company is working to build an export terminal in Louisiana backed by its own gas resources and pipelines that allows partners to gain equity — a business model it hopes can ensure cheaper prices than competitors. It's projected to begin operating in early 2023.
But, but, but: At least in the short-term, natural gas is likely to benefit from a carbon tax that pushes out coal for electricity, particularly in Asia's growing economies like India, which is poised to become one of Tellurian's customers.
Over time, though, it would also in theory reduce the use of natural gas and oil.
Go deeper: Read Amy's whole story.
4. Peak demand forecast and more petro-notes
Crystal ball: "Vitol, the world's biggest independent energy trader, said it expected oil demand to peak within 15 years, joining a chorus of warnings that the industry needed to prepare for a shift towards cleaner fuels," the Financial Times reports.
Why it matters: We're seeing an increasing number of analyst split with studies from the IEA, OPEC and some others that see demand rising through at least 2040 (the out-year for their projections).
Safety: Per AP, "A large fire at a Houston-area petrochemicals terminal will likely burn for another two days, authorities said Monday, noting that air quality around the facility was testing within normal guidelines."
OPEC: "The partnership at the heart of the OPEC+ alliance showed further signs of strain after Russia pressured the Saudi-led group to delay a decision on the future of their production cuts," Bloomberg reports.
Exxon: Via E&E News, the D.C. government is planning to become the latest jurisdiction to sue Exxon over global warming.
"Attorney General Karl Racine (D) last week revealed plans to hire climate lawyers to focus on an investigation and potential litigation against Exxon Mobil Corp. over the company's public disclosures regarding climate change," they write.
5. How blockchain can track climate goals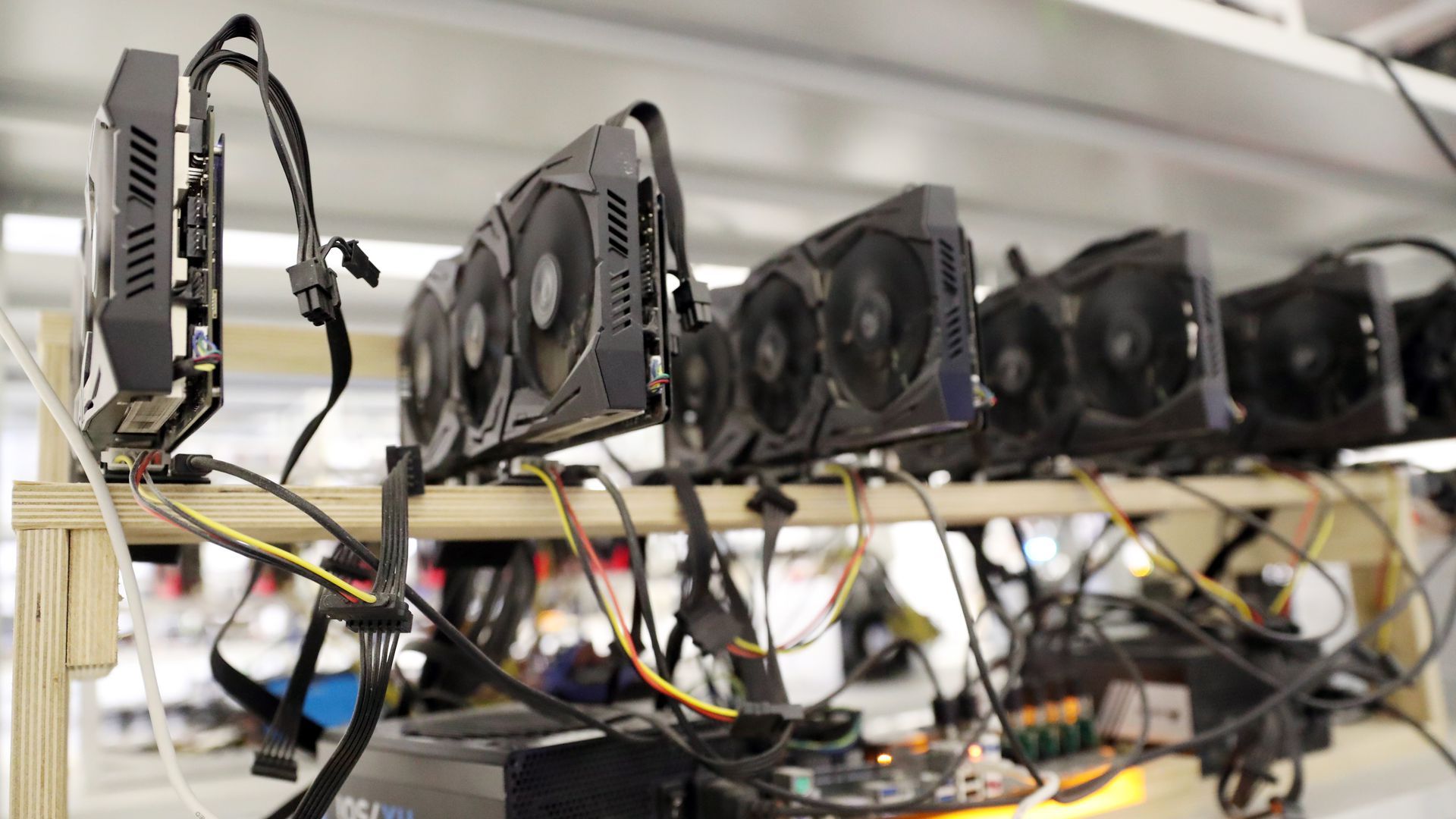 While some global policies for mitigating climate change and adapting to its effects have been put in place, there's no integrated system to track progress against those goals and evaluate the effectiveness of various approaches, writes Axios Expert Voices contributor Alzbeta Klein of the International Finance Corporation.
Why it matters: As public and private sector leaders attempt to keep warming below 2 degrees Celsius, a blockchain-based system could allow parties to monitor which strategies to reduce carbon emissions work, which don't, and how much each contributes.
The big picture: The Paris Agreement is decentralized and bottom-up, making it a promising sandbox for blockchain, which strings together data to generate a permanent record that can be continuously viewed, updated and verified by users at all levels.
How it works: Côte d'Ivoire's NDC, for example, entails reducing its greenhouse gas emissions 28% by 2030, which could be achieved by sourcing 42% of its energy from renewables in the same timeframe.
A blockchain-based system could verify not only whether those goals have been reached, but also how their achievement contributes to global progress.
Another essential application is tracking climate finance flows.
Yes, but: Blockchain isn't a silver bullet, and consumes a great deal of energy itself.
Go deeper: Read the full post.
6. More EV news: Elon Musk and India
Tesla: Via Axios' Rebecca Falconer, Tesla CEO Elon Musk was in "blatant violation" of a settlement agreement, and his defense against being held in contempt "borders on the ridiculous," the Securities and Exchange Commission said in a court filing Monday.
What's next: U.S. District Judge Alison Nathan, sitting in Manhattan, will decide if Musk should be held in contempt of court and whether he should be punished.
EVs in India: Per TechCrunch, "Ride-hailing platform Ola announced today that it has raised $300 million from Hyundai and Kia as part of a strategic partnership focused on electric vehicle development."
It brings total funding raised to $3.8 billion, they report, citing Crunchbase data.
"Ola said the partnership will build 'India-specific' electric vehicles and infrastructure customized for Ola's fleet and operating and management software," they report.