Axios Generate
September 20, 2018
Good morning! This is cool: Tomorrow we launch Axios Autonomous Vehicles, a weekly analysis of autonomous tech, and its impact on cities, policy and the economy. It'll be worthy of your time — sign up here. 
Onto music. On this date in 1982, Dire Straits released the album "Love Over Gold," so I hope you have 14 minutes handy for today's intro tune...
1 big thing: Exxon and Chevron enter the fray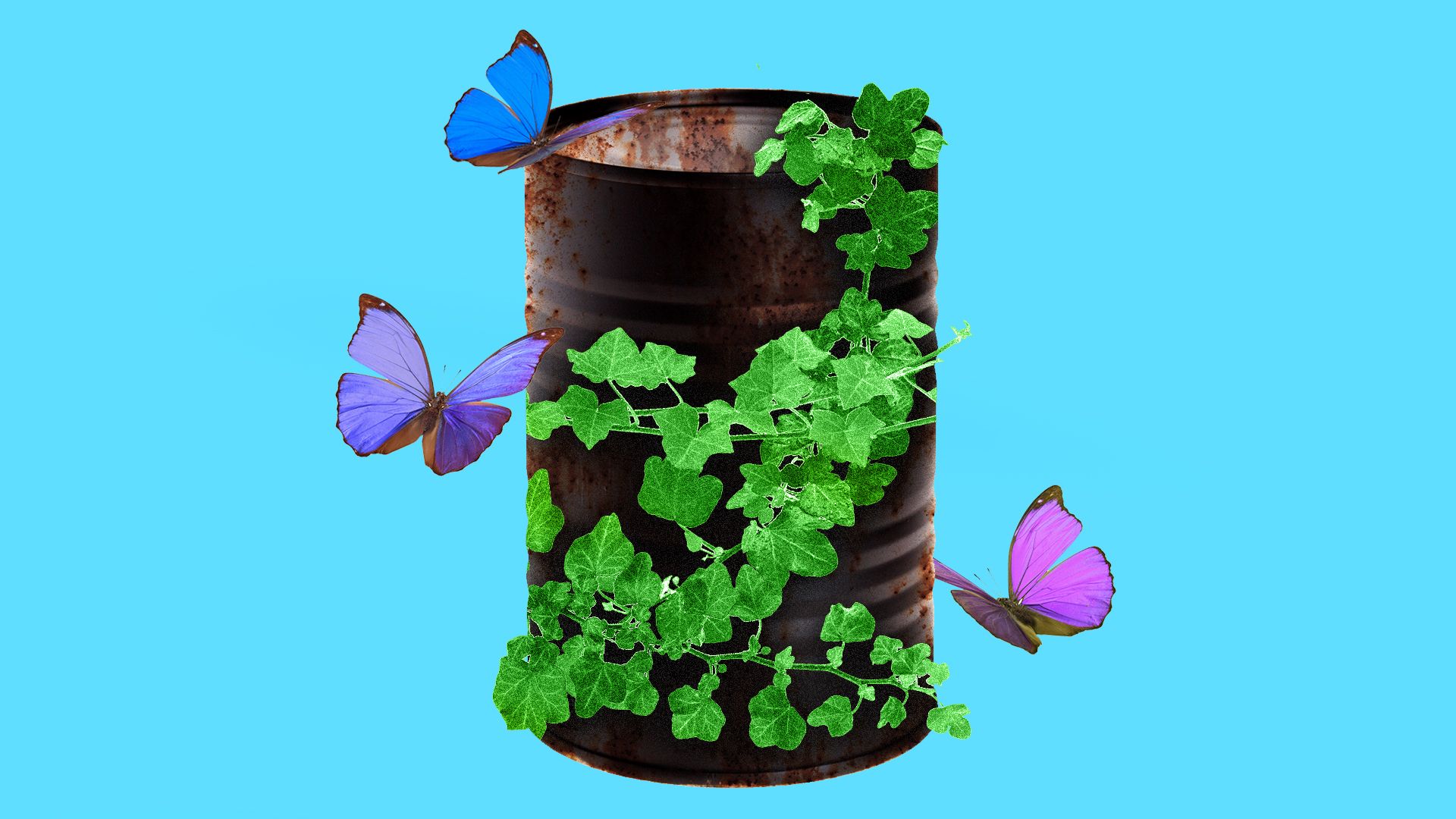 Scoop, via my colleague Amy Harder ... Powerful U.S.-based oil companies — ExxonMobil, Chevron and Occidental Petroleum — are joining a global consortium of oil and gas producers seeking to address climate change, Axios has learned.
Why it matters: The companies are the first U.S.-based members of the group, called the Oil and Gas Climate Initiative.
This is one of the strongest signs yet of how America's biggest oil companies, under pressure from investors and lawsuits, are joining most other U.S. corporations in working to reduce greenhouse gas emissions despite President Trump reversing America's course on the matter.
Driving the news: CEOs of most of the group's 13 member companies, including Saudi Aramco, Shell, BP and Occidental, are scheduled to speak at an event Monday in New York City hosted by the group and facilitated by Columbia University's Center on Global Energy Policy.
"It will take the collective efforts of many in the energy industry and society to develop scalable, affordable solutions that will be needed to address the risks of climate change."
— Darren Woods, CEO, Exxon, per draft announcement viewed by Axios
By the numbers: The group's companies represent 30% of the world's oil and gas production, and 20% of the planet's primary energy consumption. Their clout is now truly global, with the addition of American companies, which had been a notable omission since the group's founding four years ago.
Government-owned oil companies other than Aramco are also members, including China's CNPC and Mexico's Pemex.
What they're saying: The companies involved declined to comment, as did Columbia University. CEOs of Exxon and Chevron likely can't make Monday's event due to prior obligations, along with CEOs of one or two foreign-based companies, people familiar with the planning say.
The group's purpose is twofold:
Work toward cleaner operations, particularly in the area of methane emissions, a potent greenhouse gas that's the primary component of natural gas.
Investment in new technologies, for which members will contribute to a $1 billion investment fund. The primary goal is to commercialize technologies that capture carbon dioxide, but also include ones like reducing methane emissions, lowering transportation sector pollution and improving energy efficiency.
The other side: Environmentalists and others skeptical of the industry say commitments by oil companies to address climate change ring largely hollow absent more aggressive action urging governments to price carbon emissions. The group's mission is expressly not geared toward influencing any government policy.
Between the lines: CEOs of several major, publicly traded oil companies say they support carbon taxes and back a separate group writing a proposal for one. But the companies are not actively lobbying Congress to embrace the policy. That disconnect will grow harder to reconcile as their public commitments to address climate change, such as through groups like this, grow.
Go deeper: Big Oil teeters between enemy and ally in climate fight
2. Trump hits OPEC amid cartel fractures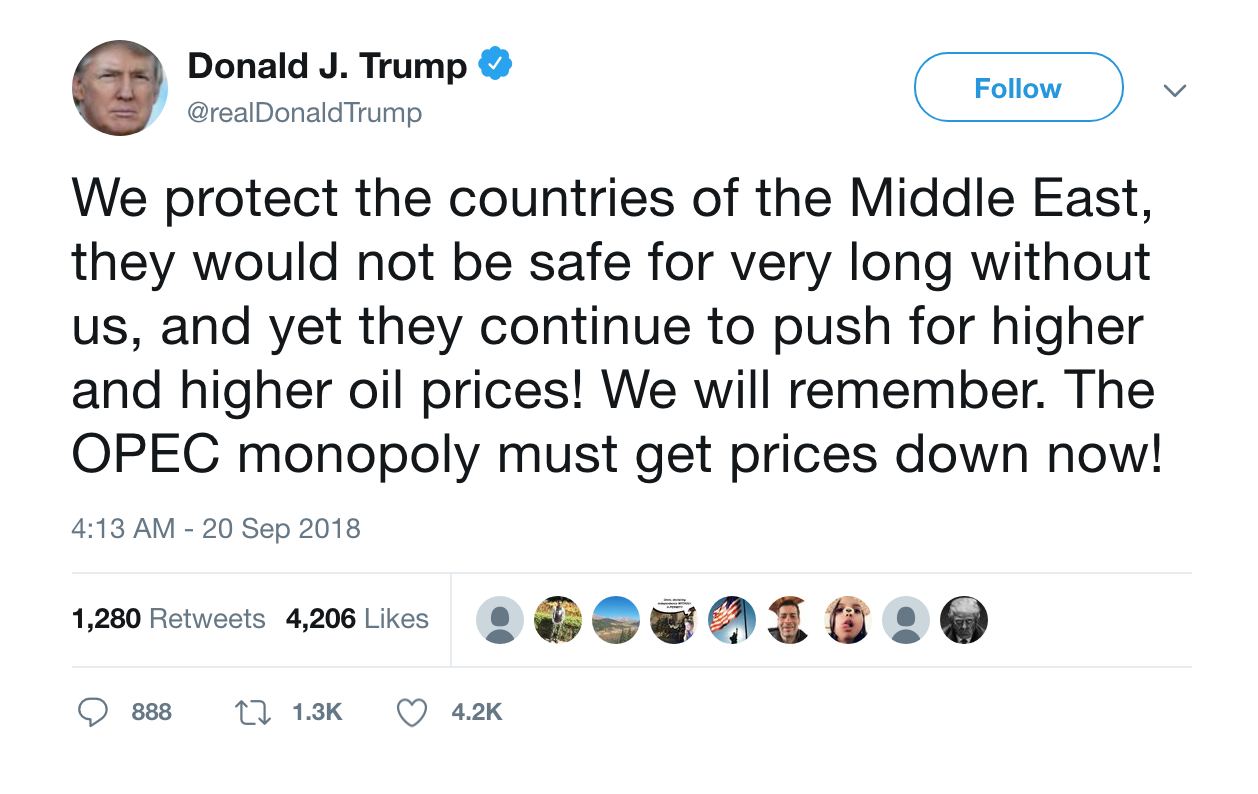 Trump resumed his attacks on OPEC Thursday morning amid oil prices that have climbed to their highest level in two months.
Quick take: With the caveat that it's quite possible to over-interpret Trump's tweets, today's action underscores the tricky oil politics facing the White House.
Trump is moving ahead with sanctions against Iran that are already curbing their exports ahead of formal reimposition in November.
But keeping Iranian barrels off the market tightens supply and puts upward pressure on prices, which creates political risks for Republicans, particularly before midterm elections.
OPEC's output already reached a 9-month high in August, according to the International Energy Agency.
Also breaking Thursday: Per S&P Global Platts, "Iranian oil minister Bijan Zanganeh on Thursday said he would veto any OPEC deal that imperils Tehran's oil market share, complicating the organization's talks with Russia and other partners to institutionalize their supply management accord beyond this year."
The comments come just ahead of this weekend's meeting of a committee monitoring the supply pact between OPEC, Russia and some other non-OPEC producers.
The session is aimed at putting meat on the bones of the broad agreement last June to raise output, Platts notes.
The big picture: This Bloomberg piece Thursday from the same interview Zanganeh did with the two outlets offers a wide-angle look at the cartel's dynamics.
It notes that his remarks reflect Iran's concerns about its "growing isolation" within OPEC and the looming U.S. sanctions. Per Bloomberg:
A flourishing partnership between its arch-rival Saudi Arabia and Russia shows signs of eclipsing OPEC's preeminence as a global source of crude.
At the same time, Iran's traditional ally within OPEC — Venezuela — is struggling to stave off economic collapse.
3. Daimler stakes electric bus maker Proterra
Proterra said Wednesday that it closed a $155 million funding round that was led by Daimler, Tao Capital Partners and G2VP. Also announced was a new partnership between Proterra and Daimler to explore ways to electrify the German automakers' line of heavy-duty vehicles.
What's next: The partnership will start with exploring "synergies" with Daimler subsidiary Thomas Built Buses to use Proterra tech for the U.S. school bus market, the companies said.
Why it matters: This is California-based Proterra's first foray into the school bus market, and fulfills CEO Ryan Popple's earlier indication of interest.
It's also another sign of the growing involvement of legacy vehicle companies in electric products.
What they're saying, per a release: The companies believe school buses are a good candidate for electrification because they travel a predictable distance each day, similar to city buses.
Yes, but: Greentech Media cautions that "it's hard to predict when or if such agreements will bear fruit."
4. China's astonishing rise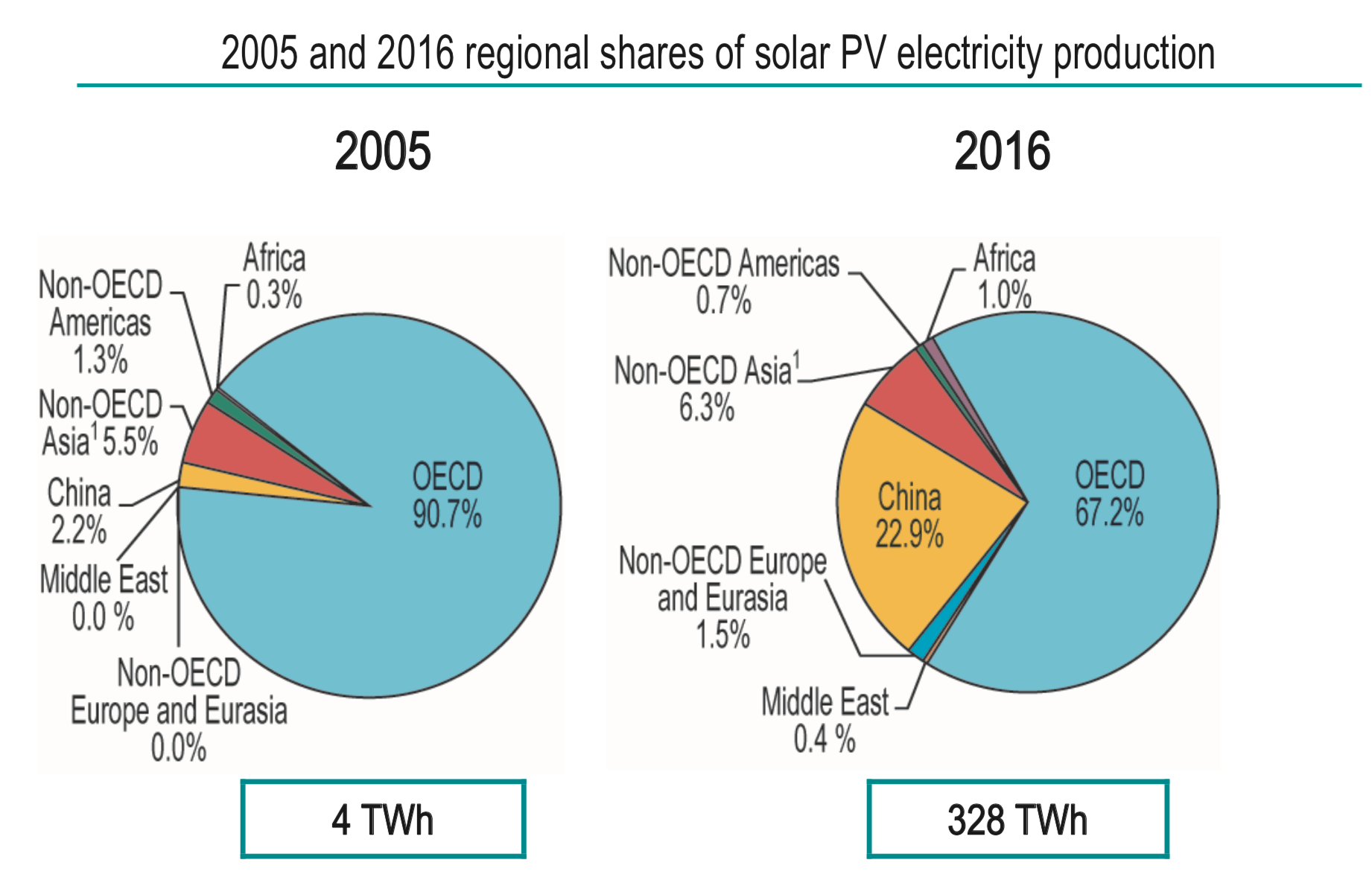 The newly published edition of the IEA's Key World Energy Statistics is a grab-bag of useful data.
But what really popped for me are graphics (like the one above) that capture the scale of China's emergence.
Why it matters: China plays an outsized role in the world's energy and climate present and future. It's by far the world's largest GHG emitter and coal user (IEA has charts on that too), but it's also a vital driver of renewable production and equipment manufacturing.
By the numbers: Aside from the solar data above, here are a few other metrics of China's footprint...
China accounted for 45% of global coal production last year, compared to 14% in 1973.
China produced a fourth of the world's wind energy in 2016, up from 2% in 2005.
China spewed 28% of the world's carbon emissions from fuel combustion in 2016, compared to 6% in 1973.
5. Parsing the U.S.-China LNG spat
More on China's new tariffs on U.S. LNG that we covered yesterday...
"Limited" threat: Barclays' analysts call the penalties "limited" for near-term U.S. export volumes.
China's purchases of U.S. cargoes have been dropping for months anyway and accounted for just 7% of total U.S. exports in July, they said in a note.
Yes, but: Looking further out, they note that China's move "makes life harder, but not impossible, for 'second-wave' US LNG projects" and that "We expect the increased uncertainty to slow, but not stop, the pace of signing of new offtake contracts for US projects."
Winners and losers: Via the Financial Post,
"Canada's proposed LNG projects are expected to be more cost competitive than U.S. projects in delivering boatloads of super-cooled natural gas to Asian markets when they are finally built, according to the Canadian Energy Research Institute."
Their piece notes that the new tariffs are an "additional" advantage, while the short Barclays' analysis (mentioned above) similarly finds that the 10% tariffs could boost projects from Canada, Russia, Qatar and elsewhere.
The intrigue: The Wall Street Journal, meanwhile, looks at a potential spillover effect of the trade war. Nathaniel Taplin writes that if China steers clear of buying U.S. gas cargoes this winter, it will likely need more coal imports.
That could be a boon to coal giant Glencore, which is "sitting on a mountain of high-quality Australian coal," his piece states.
The big picture: Via Reuters, "Energy trade with China will remain strong in the long term, officials said on Wednesday at a Sino-U.S. oil and gas forum in Houston, even as an escalating trade dispute hits U.S. exports of natural gas."
6. Link between partial autonomy and energy
Daniel Sperling and Scott Hardman write for Axios Expert Voices ... Fully autonomous vehicles are projected to increase the use of individually owned vehicles, perhaps by as much as 60%.
The big question: What about partially automated vehicles, equipped with features such as lane centering, adaptive cruise control and automatic emergency braking?
The big picture: Early data on partially automated Tesla models suggest a similar trend, showing drivers racking up more miles than in otherwise comparable electric vehicles.
Why it matters: This has potential negative consequences for congestion, energy consumption and emissions.
One explanation for the increased mileage is that partial-automation systems like Tesla's Autopilot and Cadillac's Super Cruise reduce fatigue and improve comfort for drivers.
Other factors could also be at play. Perhaps Tesla buyers are a self-selected group who already drive more. Perhaps it's not that Autopilot encourages more driving, but that more driving makes Tesla owners more comfortable with Autopilot.
Where it stands: More research is needed to fully understand these complex dynamics, since greater vehicle use can have consequences for climate change, air pollution and the maintenance of roads.
Proactive policies, such as incentives for AV ride-sharing, may help to limit these adverse outcomes as partially automated vehicles become more ubiquitous and full autonomy grows nearer.
Sperling is a professor of civil engineering and environmental science and policy at UC Davis, where he is also founding director of the Institute of Transportation Studies. Hardman is a postdoctoral researcher at ITS.