Good morning and welcome back to Generate! I hope you had a nice weekend. In case you missed it, the great Mary Keitany ran very, very, very fast yesterday and broke the women's only marathon world record in the London Marathon. And...a bit of an awkward transition...energy news is happening fast, too! Let's dive in . . .
America's nuclear failure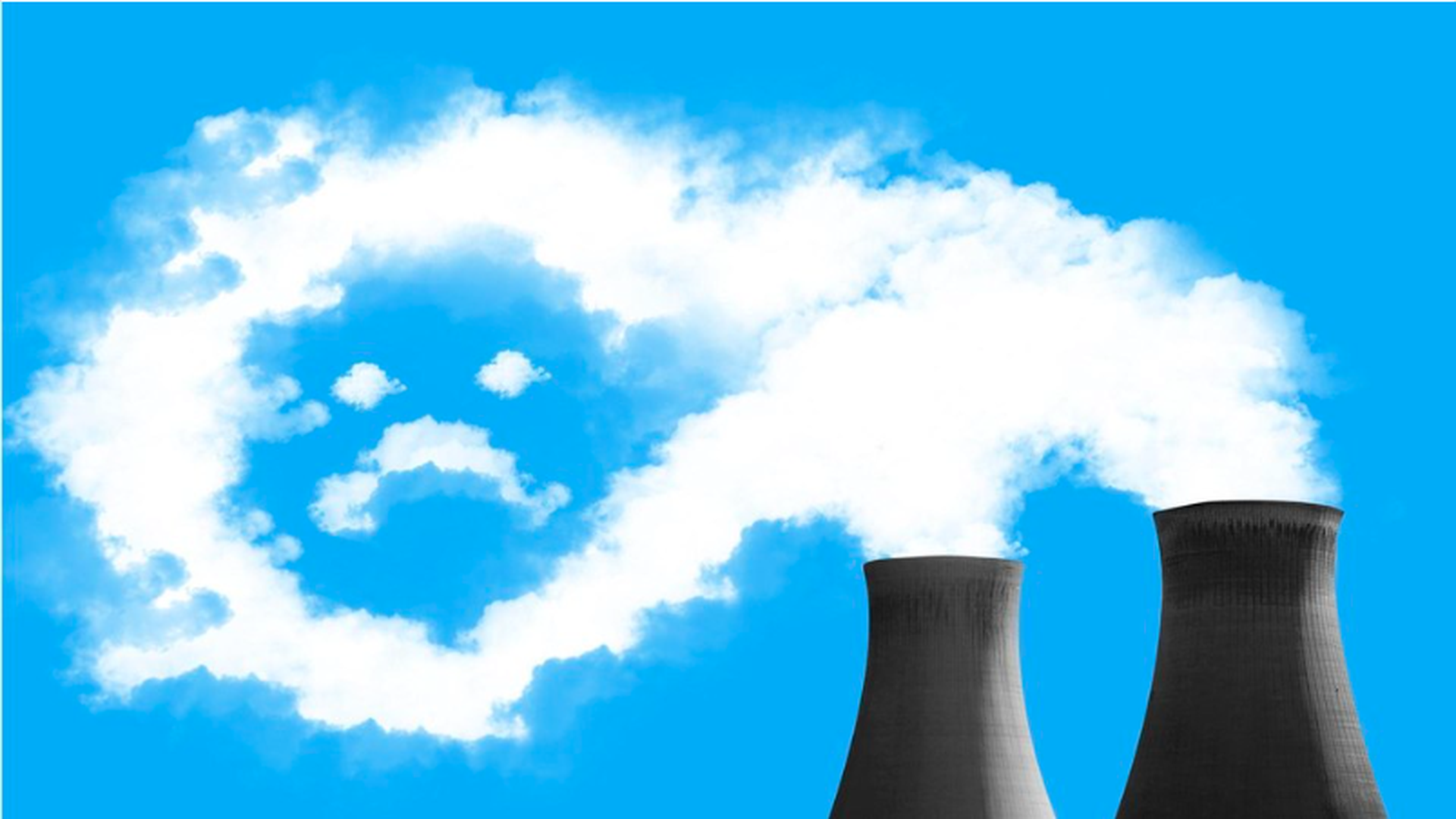 Here's a bit of my Axios colleague Amy Harder's new "Harder Line" column....
After almost 40 years and billions of dollars, the American nuclear industry's bid to revive itself is falling flat.
The latest: Self-inflicted problems on top of adverse market conditions and public fears about nuclear power has put Japanese conglomerate Toshiba on the brink of bankruptcy.
Why it matters: Toshiba is attempting to build the first new nuclear reactors in the U.S. in more than three decades. That's now in doubt. The effort represents a big chance for the industry to follow through on oft-repeated calls for an American renaissance — and, if it fails, it will exacerbate efforts to cut greenhouse gas emissions.
Why it matters, part 2: Industry officials worry that if these reactors don't come through, investments in advanced nuclear power technologies could dry up. Billionaires Bill Gates and Peter Thiel want to build futuristic reactors, but that effort would face big headwinds if the effort to build reactors using current technology falls apart. An industry that isn't growing can't innovate.
You can find the whole thing here. I recommend the read.
White House turns to energy in search for momentum
Let's check out the energy policy stakes from my colleague Jonathan Swan's scoop yesterday about President Trump's upcoming flurry of executive orders.
What's happening: We don't have details yet on the offshore energy order, but look for the White House to seek to unravel two major Obama-era decisions aimed at protecting vast swaths of U.S. waters.
Trump wants to rescind the December 20 decision to permanently ban development in nearly all U.S. Arctic waters and swaths of the Atlantic coast, according to an informed industry source and press accounts.
The White House will also likely instruct the Interior Department to rewrite Obama's 2017-2022 offshore oil-and-gas lease sale plan, which does not include any sales in Arctic waters or the Atlantic coast (the Pacific remains off-limits too).
Why it matters: Obama's moves keep most areas outside the Gulf of Mexico off-limits to development. Republicans and industry interests say this needlessly bottles up potentially huge U.S. energy resources. Green groups say development would disrupt and endanger sensitive ecosystems.
What's next: A slog. A splashy executive order will eventually be followed by court battles and lengthy bureaucratic efforts to unwind Obama's policies. Use of the Outer Continental Shelf Lands Act to permanently withdraw massive areas, as Obama did, has never been tested in court, while rewriting Interior's 2017-2022 plan requires a detailed, years-long administrative process.
Reality check: Oil-and-gas companies aren't pushing to launch hugely expansive and complicated drilling projects in Arctic waters in the foreseeable future.
Chilling factors including cheaper options elsewhere (think onshore U.S. shale); Shell's Arctic debacle; and, modest prices.
In the Atlantic, companies want to know what's actually there, because there hasn't been drilling in decades. Something to watch for is an Interior move to let companies undertake seismic undersea testing, which Obama blocked.
Trump's Earth Day message: between the lines
In case you missed it, I looked at Trump's first Earth Day statement Saturday, which promotes his environmental approach and underscores his sharp break with Obama-era policies.
Why it matters: Trump's statement arrived amid the March for Science in D.C., and cities worldwide, where demonstrators took to the streets to decry Trump's moves to cut funding for science programs, and unwind various environmental and climate regulations.
What it doesn't say: The statement breaks with many of Obama's Earth Day messages by omitting any mention of climate change
Battle lines: The 188-word statement, which appears to respond to the March without mentioning it directly, seeks to parry arguments that Trump's aggressive deregulatory push will hurt the planet, arguing that the administration is "reducing unnecessary burdens" while being mindful of the environment.
Quick take: The statement has language that's consistent with the administration's skepticism of the scientific consensus on human-induced global warming. "[R]igorous science depends not on ideology, but on a spirit of honest inquiry and robust debate," it states, using the type of phrasing that's common in climate-skeptic circles.
Lightning round
Apple: The Portland Business Journal reports on new developments in the tech giant's renewable energy push.
"Answering a mystery that's been brewing since last fall, Apple has revealed it's the company behind two big renewable-energy projects in Oregon — and one of them is the consumer-tech giant's largest ever."
Climate: My Axios colleague Alison Snyder's sharp look at Saturday's March for Science explores why divides over climate change are so tough to bridge.
Politics: Bloomberg looks at support for clean energy in Trump's political base. From their piece:
"The genie is already out of the bottle," Debbie Dooley, a Tea Party organizer and solar energy activist, said. "Renewables are popular among conservatives."
Pipelines: Clip and save for 2020. The New York Post bashes Gov. Andrew Cuomo with a new U.S. Chamber of Commerce report on the costs to consumers of thwarting natural gas pipelines.
Fracking: The Alaska Dispatch reports on efforts to bring the lower-48 shale oil revolution up north.
Week ahead
Here's a few things on our radar this week....
Earnings: First-quarter reports start rolling in this week from big energy companies. Look for reports from Exxon, Chevron, coal giant Cloud Peak Energy, renewables players including Iberdrola and First Solar, and more.
Rick Perry: The Energy secretary will speak Tuesday at the Bloomberg New Energy Finance summit in New York. So will a lot of clean energy industry players. Full agenda here.
Tax policy: The White House is slated to unveil a tax proposal this week. It won't include the border adjustment tax (BAT).
Why it matters: The dismal prospects for the BAT are welcome news for the oil industry, which has been wary of it from the get-go.
Congress: A House Energy and Commerce subcommittee will hold a hearing Wednesday on new draft legislation aimed at reviving the proposed Yucca Mountain nuclear waste repository.
Thanks for reading! That's all for today. Please send tips, feedback, and any interesting London Marathon analyses I might have missed to ben@axios.com.