Axios Generate
July 18, 2019
Hello readers! Smart Brevity count: 1,017 words, < 4 minute read.
Situational Awareness: Per AP, "Iran's paramilitary Revolutionary Guard forces seized a foreign oil tanker accused of smuggling oil, Iran's state TV reported Thursday. The vessel appears to be a United Arab Emirates-based tanker that had disappeared off trackers in Iranian territorial waters over the weekend."
And happy birthday to the late Ian Stewart, the longtime collaborator with The Rolling Stones, who plays the piano on today's intro tune...
1 big thing: EVs face headwinds in major markets...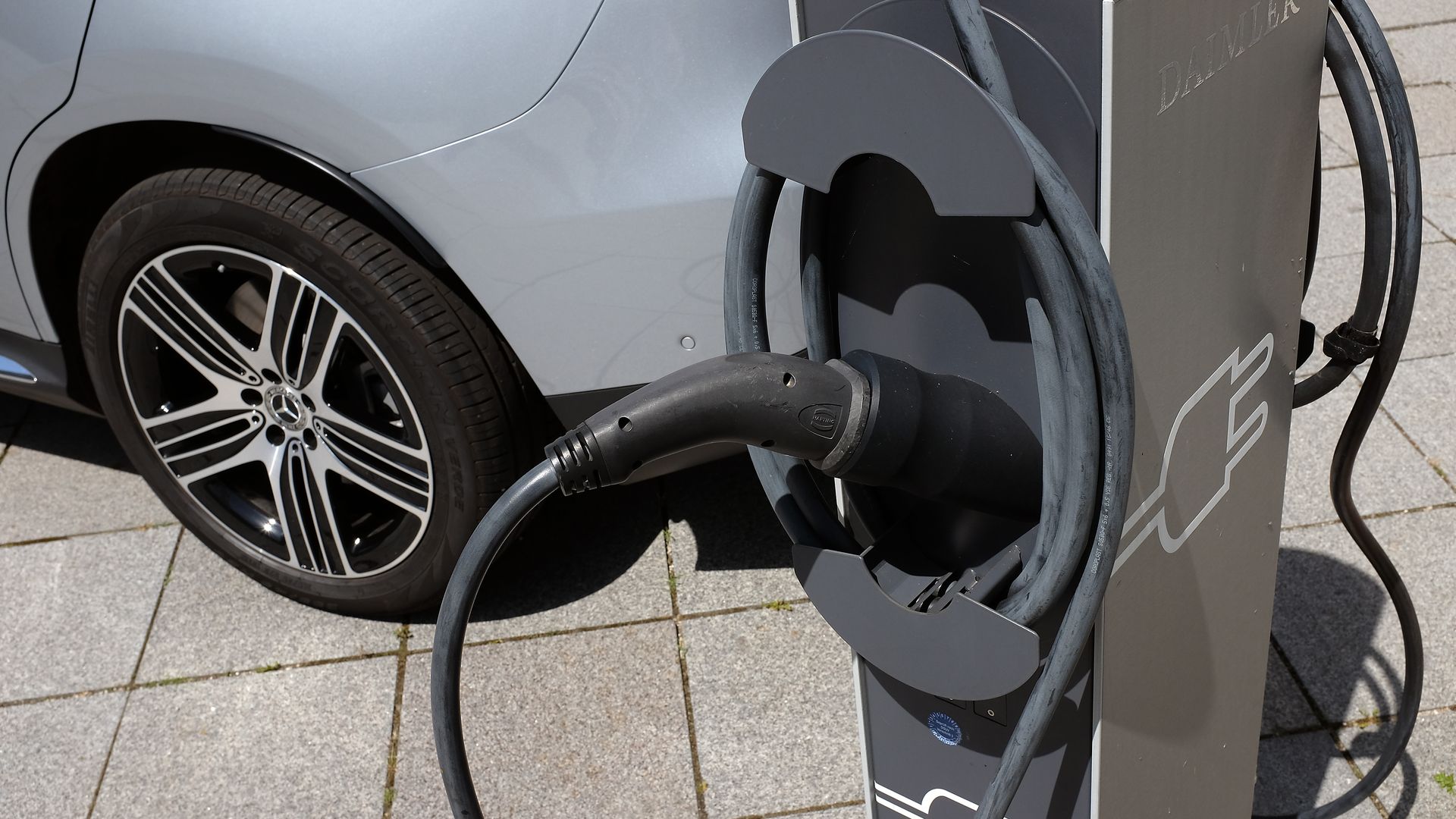 Policy changes in the U.S. and China could slow electric vehicle growth enough to prompt major energy forecasting bodies to change their estimated timeline for a global oil demand peak, according to Rapidan Energy Group.
Why it matters: Passenger vehicles account for roughly a quarter of worldwide oil demand. So the uptake of electrification and other technologies is one of — though far from the only — forces that influence the wider demand picture.
The big picture: The consultancy's updated "decarbonization policy tracker" looks carefully at what's happening in China, the world's largest auto market and the global leader in EV deployment.
One major thing happening in China's complicated market is that subsidies for EVs with more than 250 miles of range will fall 50% to $3,600 per car, and "subsidies for lower-range vehicles are being similarly reduced." But Rapidan emphasized that other important changes are afoot too.
"China is easing certain licensing restrictions that have made it nearly impossible for car buyers in large cities to purchase an internal combustion vehicle," a summary of the report notes.
The combined effect will likely slow, or even reverse, what has been rapid EV sales growth there, Rapidan said.
Meanwhile, in the U.S., Rapidan says Trump administration plans to weaken Obama-era fuel economy and emissions rules will also affect EVs.
Part of that plan would revoke California's special authority to implement rules that a number of other states follow.
"[T]he future of the [zero-emissions vehicles] program — through which states have set sales mandates for electric vehicles — is unclear as the Trump Administration moves forward with its plan to revoke California's waiver to set independent tailpipe emissions under the Clean Air Act," Rapidan notes.
The intrigue: Analyzing the future of oil demand is a rough and uncertain thing and estimates vary. Even when it comes to cars alone, changes in the efficiency of internal combustion vehicles is very important, even as EVs get lots of attention.
The International Energy Agency sees oil use in passenger cars peaking as soon as the mid-2020s, even as overall global demand rises slightly through 2040.
But when they model climate-friendly scenarios for the global energy transition, the overall peak arrives far sooner.
The bottom line: "Because of the changes occurring in the U.S. and Chinese vehicle markets, Rapidan Energy Group sees the following 6–12 months as a period during which projections of peak oil demand may be adjusted by the major forecasting agencies," they said.
2. ... even as automakers give EVs priority over AVs
Automakers are beginning to make strategic tradeoffs between investing in EVs or self-driving car technology because they can't afford to do both, Axios' Joann Muller reports.
Why it matters: Investors reward autonomous vehicle developers with higher valuations, but it'll be years — maybe decades — before the technology is ready and it's not clear the public even wants them.
People aren't clamoring for EVs, either, but to meet looming emissions standards, carmakers will need them.
The big picture: It makes sense to prioritize EVs over AVs, given the relative time horizons and the costs involved. Plus, EVs will ultimately become the basis for most self-driving cars because they can best supply the necessary power to all those AV sensors and computers.
"Wall Street wants everyone to focus on AVs. The really expensive, nearer term problem to solve is how to make EVs profitable. AVs don't have to be solved in the next couple of quarters."
— Reilly Brennan, founding general partner, Trucks Venture Capital
Where it stands: Companies have already committed huge amounts for both technologies — $225 billion on electrification between now and 2023, and another $85 billion so far on autonomous vehicles, according to a study by AlixPartners.
The future will be even more capital intensive, and most automakers now "realize doing both powertrain development and creating AVs is simply impossible for one company," Brennan says.
3. Chart of the day: Tracking methane
Here's a little more the IEA analysis of global methane emissions that we reported on yesterday.
The big picture: Per the IEA, methane emissions from energy, largely oil-and-gas development, are the second-largest source of human-caused output of the potent greenhouse gas, just behind agriculture.
Check out the chart above, which breaks down what types of oil-and-gas projects and infrastructure are responsible.
What they're saying: "[W]e estimate that it is technically possible to avoid around three quarters of today's methane emissions from global oil and gas operations. Even more significantly, around 40–50% of current methane emissions could be avoided at no net cost," IEA said alongside its data release.
4. Catch up fast: batteries, oil, nuclear, climate
Batteries: Per Bloomberg, "Toyota Motor Corp. agreed to buy batteries from Contemporary Amperex Technology Co. Ltd. as part of a broader partnership, the latest in a slew of tie-ups being forged as global carmakers race to secure stable supplies for electric vehicles."
Oil: Via the Wall Street Journal, "Mexican President Andrés Manuel López Obrador effectively rolled back key parts of a 2014 constitutional overhaul that ended a state oil-industry monopoly and let private firms find and pump oil for the first time in seven decades."
Nuclear: The Toledo Blade reports that "a controversial bill requiring consumers to reach into their pockets to keep Ohio's two nuclear power plants humming cleared the Ohio Senate Wednesday."
But the state's House won't take up the measure until at least early August, per multiple reports.
Climate: National Geographic explores a new paper in the journal Environmental Research Communications...
"In less than 20 years, millions of people in the United States could be exposed to dangerous 'off-the-charts' heat conditions of 127 degrees Fahrenheit or more, a startling new report has found."
"In 60 years over one-third of the population could be exposed to such conditions, 'posing unprecedented health risks,' the report says."
5. Quote of the day
"In our research at UBS, we estimate that to avoid a dangerous level of global warming, the world would need to commission an asset the size of New Jersey's Ocean Wind every day for the next 30 years, without missing a day."
Who said it: UBS analyst Sam Arie, writing in the Financial Times yesterday.
He's referring to Orsted's proposed 1.1 gigawatt project that Greentech Media calls "the largest offshore wind project to secure a development deal with a U.S. state to date."
Why it matters: It's a stark way of illustrating how global energy is transforming far too slowly to keep temperature rise to 1.5°C above preindustrial levels — a benchmark for avoiding some of the worst effects of climate change.
The big picture: Arie notes that despite what's slated to be decades of major renewables' growth, achieving "net zero" emissions by mid-century appears out of reach.
He's not optimistic about geo-engineering, fusion, or negative emissions tech becoming major solutions in time.
"We must now begin in earnest on a plan for adaptation," Arie writes.