Good morning and welcome back to Generate. Monday brought huge news about GOP's troubled bid to repeal Obamacare, so check out our Vitals newsletter for a short and insightful tour through what it means. You can sign up for Vitals and all our newsletters here. Ok let's plow through some energy and climate news . . .
https://www.axios.com/newsletters/axios-generate-27924c44-4b67-496f-9426-48d0a7859aa8.html?chunk=0#story0
The coming message battle over auto regs
Powerful automakers about to score a big lobbying win face the tricky task of defining it as something a little more nuanced. President Trump intends to use a visit with the auto industry in the Detroit area Wednesday to announce that EPA will revisit an 11th-hour Obama administration decision to lock in strict greenhouse gas and efficiency rules for the 2022-2025 model years.
That's welcome news for the industry, which has pressed EPA to revisit the January 13 decision and says maintaining the targets will be expensive and out-of-step with consumer preferences amid cheap gas and modest electric car sales. Green groups will loudly condemn the decision as a major rollback of a signature Obama climate initiative. But the industry will probably respond with more of a golf clap. Why? While it's clear that Trump plans to scale-back the standards, the industry is wary of claiming victory on a regulatory rollback. They'll spin this as good government and an analytical process while knowing it's likely to yield a better outcome than they got under Obama
"Until this review is done, nobody knows what that number should be," Gloria Bergquist of the Alliance of Automobile Manufacturers told Axios. She said the group is merely seeking a "data-driven" review, one conducted "without pre-judging the outcome, checking assumptions against market realities."
A different message:
White House spokesman Sean Spicer framed Trump's visit in starker terms at the White House yesterday. "He will meet with auto executives and workers and manufacturing suppliers highlighting the need to eliminate burdensome regulations that needlessly hinder meaningful job growth," he said.
https://www.axios.com/newsletters/axios-generate-27924c44-4b67-496f-9426-48d0a7859aa8.html?chunk=1#story1
Earbuds in
The latest podcast from Columbia University's energy think tank has an interesting chat with Eirik Wærness, the chief economist at Norwegian oil giant Statoil. But if you don't have 34 minutes to spare …
A big takeaway: Even if carbon emissions are controlled enough to hold the global temperature rise to 2 degrees celsius above preindustrial levels (that's the difficult goal of the Paris accord), oil companies will still need to find lots of crude to meet global demand.
"Even in a world where demand is declining significantly some decades from now towards a 2 degree scenario . . . we need the equivalent of three to six new Saudi Arabias, or three to six United States', if you like, in new oil production by 2040 … to offset decline from existing fields if we were to stop investing today," Wærness said on the Center on Global Energy's latest podcast.
Why it matters:
We're hearing a string of warnings from industry officials and experts that even with the U.S. production surge, global investments in new production could lag behind what's needed. The world's oil thirst isn't peaking anytime soon despite better efficiency and new technologies, according to forecasts from the International Energy Agency and big companies.
https://www.axios.com/newsletters/axios-generate-27924c44-4b67-496f-9426-48d0a7859aa8.html?chunk=2#story2
Tillerson faces climate email controversy
Back when he was Exxon's CEO, secretary of State Rex Tillerson apparently used an alias ("Wayne Tracker") in emails discussing climate change.
"Tillerson sent messages from the account to discuss the risks posed by climate change, New York Attorney General Eric Schneiderman said in a court filing about his office's fraud investigation of the company. Tillerson, whose middle name is Wayne, used the Wayne Tracker account on the Exxon system from at least 2008 through 2015, Schneiderman said," Bloomberg reports.
Schneiderman is probing whether Exxon misled investors and the public about the effects of climate change on its business.
Why it matters: Basically anything involving a secretary of State and emails (think Hillary Clinton) is bound to attract interest. And if this story founds familiar ... years ago conservatives pilloried Obama's first EPA chief, Lisa Jackson, over her use of a secondary email account under the name "Richard Windsor."
Exxon fights back:
In a late Monday statement, the company said Tillerson's main corporate address got tons of messages. The
wayne.tracker@exxonmobil.com
address was used for "secure and expedited" communications on a "broad range" of business topics, not just climate change.
https://www.axios.com/newsletters/axios-generate-27924c44-4b67-496f-9426-48d0a7859aa8.html?chunk=3#story3
Setting sun
The Mercury News has a dispatch on Sungevity, the Oakland-based rooftop solar power company that filed for bankruptcy on Monday and has shed hundreds of jobs.
Sungevity will sell its assets to a group of investors led by Northern Pacific Group, a Minnesota-based private equity firm. Greentech Media has a detailed look at what went wrong, reporting:
"Had Sungevity viewed itself as a solar software startup and licensed its customer acquisition platform for use by hands-on installers, it may have avoided the capital drain that comes from managing installations. Instead, the leadership split the difference, becoming a software company that's not quite an installer, and an installer that's not quite a software company."
https://www.axios.com/newsletters/axios-generate-27924c44-4b67-496f-9426-48d0a7859aa8.html?chunk=4#story4
Oil markets brace for new data
Prices are facing downward pressure again because of the persistent market glut, hovering near three-months lows in early trading Tuesday, and ClipperData analyst says it's "shaping up to be another fun week in the crude complex," Reuters reports.
Traders will be looking for all kinds of new data and info showing up over the next 48 hours. OPEC's monthly oil market report arrives Tuesday, while Wednesday brings new U.S. oil inventory data from the Energy Information Administration and a global snapshot with the latest monthly oil market report from the International Energy Agency.
https://www.axios.com/newsletters/axios-generate-27924c44-4b67-496f-9426-48d0a7859aa8.html?chunk=5#story5
Next frontiers
The Financial Times asks: "Is the world ready for wind-powered oil tankers?" Their story explores an effort by shipping giant Maersk and Royal Dutch Shell to pilot use of spinning cylinders called "rotor sails" to cut fuel use on massive tankers that bring petroleum products all over the world.
Why it's happening: the FT notes that shipping companies have growing incentive to cut fuel use. "Interest in such developments has grown as companies prepare for pollution rules coming into force in 2020 requiring them to use fuel with a much lower sulphur content that is expected to be more expensive than current fuel oils."
https://www.axios.com/newsletters/axios-generate-27924c44-4b67-496f-9426-48d0a7859aa8.html?chunk=6#story6
One cool thing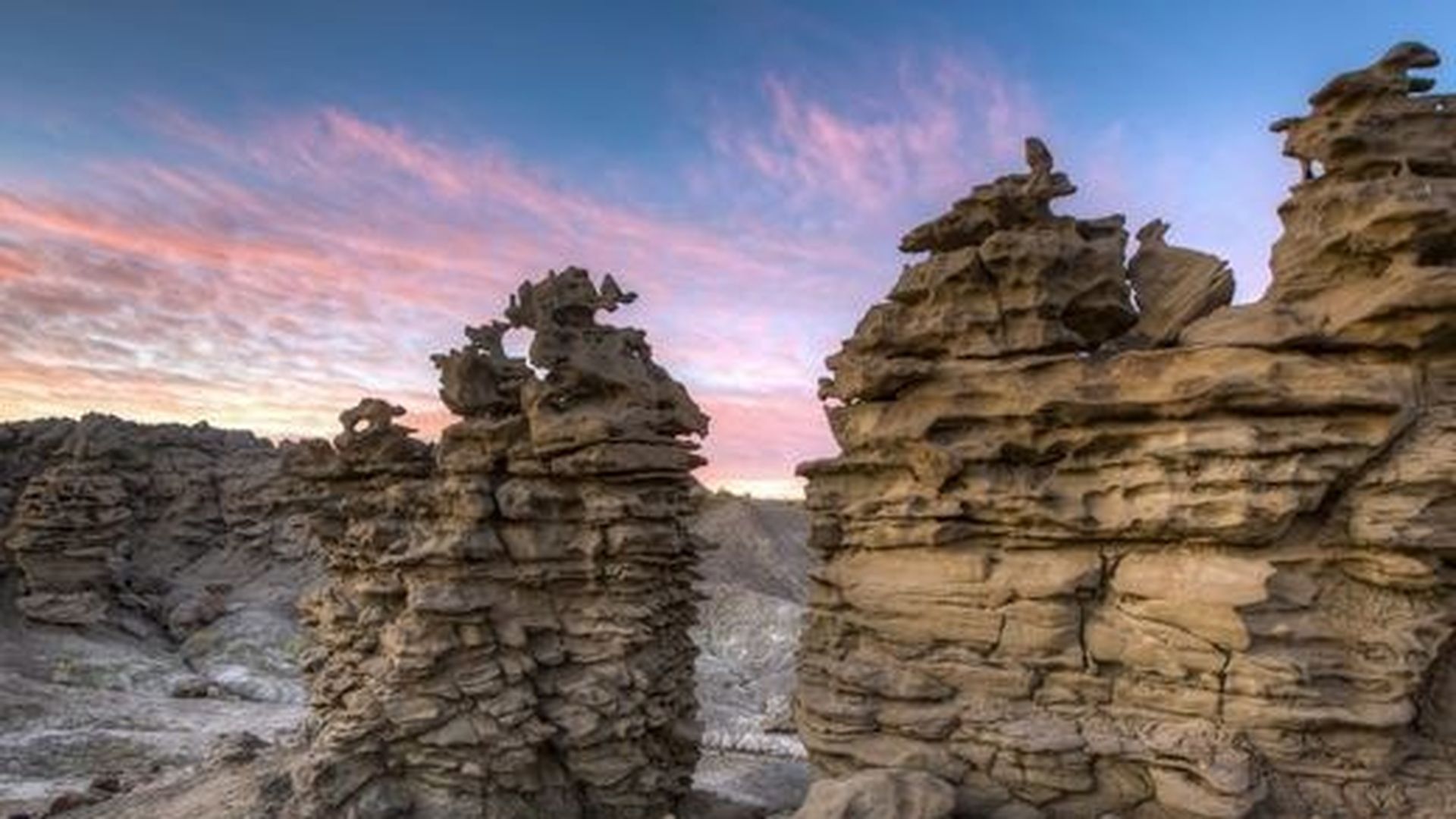 USA Today takes you on a tour through some public lands "hidden gems" from the Interior Department's Instagram. There's some really lovely and stunning wildlife shots and landscapes here. (Hat tip to Interior Secretary Ryan Zinke's Twitter feed, which flagged the display last night.)