Happy Friday! Generate will be taking a break next week, as we noted a couple days ago, but make sure to check out the Axios stream for the latest breaking energy news in the meantime. We'll be back in full action Aug. 14.This is also a good time to check out our many other newsletters, which often have news intersecting with our world: including Dan Primack's Pro Rata, Steve LeVine's Future of Work, and Alison Snyder's Science. You can sign up for any of them here.OK, we have lots of news and other cool things to share with you, so let's get to it.
https://www.axios.com/newsletters/axios-generate-2711fa71-db09-42ff-ab88-612c20e051fe.html?chunk=0#story0
Utility made failed plea for billion-dollar nuclear grant
Top executives at the company behind two financially struggling nuclear reactors, which were halted earlier this week, tried but failed to get a federal grant totaling at least $1 billion and as much as $3 billion from the Trump administration, Axios has learned.
Why it matters: The plea from SCANA Corp., the utility owner of a pair of failed reactors in South Carolina, offers a glimpse into the behind-the-scenes deliberations occurring between the Trump administration and the industry facing mounting economic challenges. This was the most explicit opportunity the Trump administration had to show that its positive rhetoric of nuclear power would translate into action. It opted not to, largely because of the steep price tag.
The details:
The deliberations were revealed in a newly released transcript from a South Carolina Public Service Commission hearing where the company executives testified earlier this week.
SCANA CEO Kevin Marsh said the Energy Department offered them a loan guarantee, but he said they needed not a loan but a grant of $1 billion to cover them in case its costs rose over the fixed price it had set with the commission. "We pursued that as hard as we could," Marsh said. "And we got no response."
But there's more: An Energy Department official Thursday said when SCANA officials were discussing the grant with the department in July, the request was for up to $3 billion to build the reactors. A request for comment to SCANA was not immediately returned.
Check out the rest of my post, including what's in store for another utility holding company Southern Company, in the Axios stream here.
https://www.axios.com/newsletters/axios-generate-2711fa71-db09-42ff-ab88-612c20e051fe.html?chunk=1#story1
How Trump is rolling back Obama's environmental rules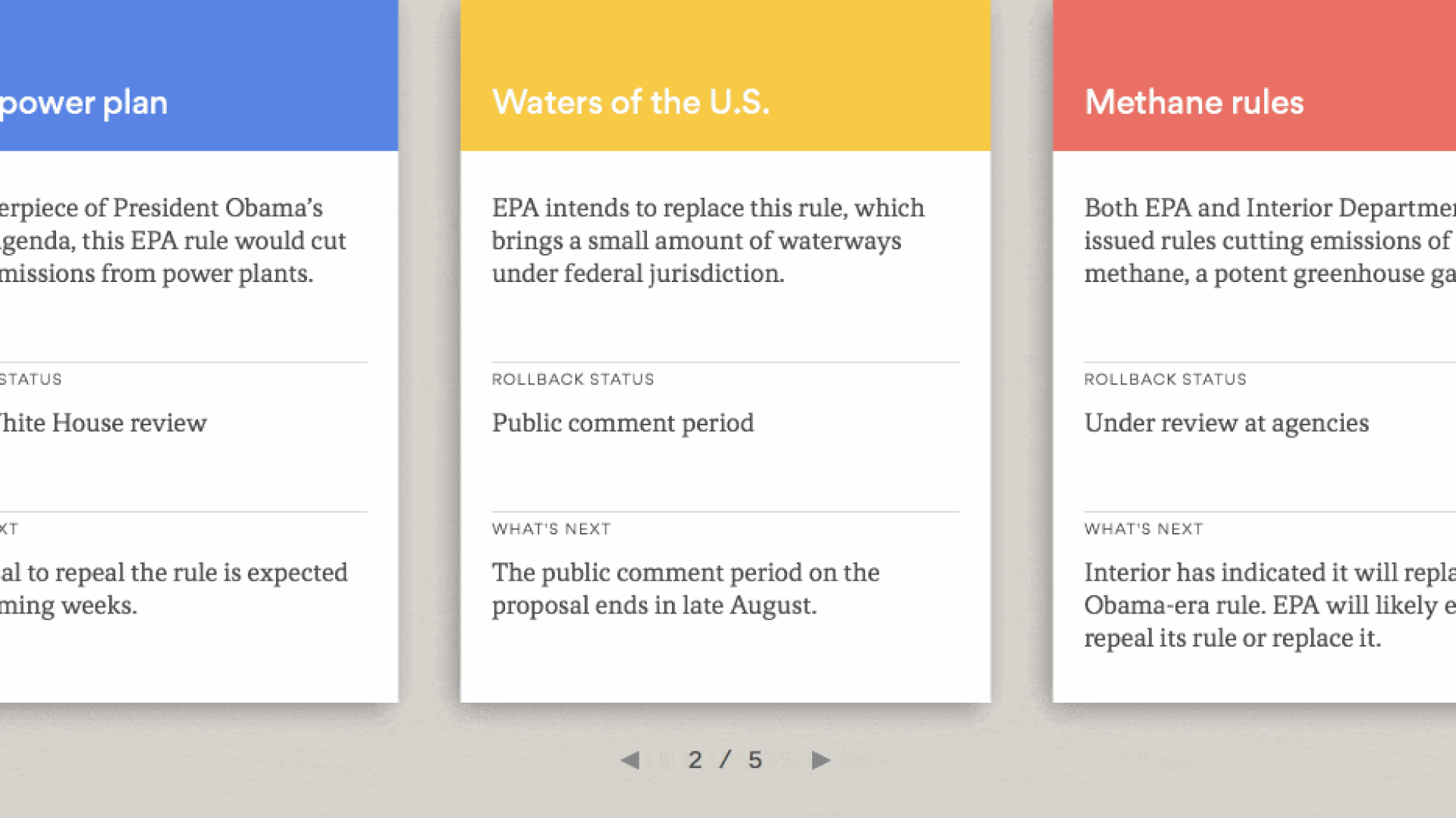 Let's take stock of where President Trump's efforts to repeal five top environmental rules from the Obama era are, now that we are roughly six months into this presidency. Click here to read about the regulations in a user-friendly, nifty card deck.
Our thought bubble: The big question looming over much of this debate is whether the administration looks to repeal rules only, or eventually replace them. So far it's a mixed bag. Regardless, the process is long and litigious. Repealing most rules will take at least a year, and replacing them even longer, because each step requires a proposal, public comment period, two White House reviews, and then a final version. Along the way, legal and political pushback is certain, possibly prolonging things.
https://www.axios.com/newsletters/axios-generate-2711fa71-db09-42ff-ab88-612c20e051fe.html?chunk=2#story2
Trump's power grid and steel studies still delayed
There are at least two outstanding reports pending within the Trump administration on the issues we care about:Energy Department's electric grid study, which was initially expected weeks ago, is still likely at least a week ago from its public release.Commerce Department's report on the feasibility of using American steel in American pipeline, which was due to the president last week.Reality check: Both agencies may be in a bind because the outside messaging about these studies are not in line with the reality on the ground, leading some outside observers to speculate that the difference between the two is leading to the delays.The DOE's leaked draft last month said renewables don't pose a threat to the grid's reliability, contradicting what Energy secretary Rick Perry has said. The final report risks appearing blatantly political if it adds even one word of new criticism toward renewables. As I've reported before, it's going to be hard for Perry to square his messaging with the reality on the ground, which is that natural gas, not renewables or federal regulations, is hurting coal and nuclear power the most.Trump has talked big game about demanding American pipelines be built with American steel, but he doesn't have the backing of the energy industry itself, which has told the administration such a requirement would increase costs. There just isn't enough of the right type of steel to make big pipelines, the industry has argued.
https://www.axios.com/newsletters/axios-generate-2711fa71-db09-42ff-ab88-612c20e051fe.html?chunk=3#story3
Axios Sourced: Environmental rules in the age of chaos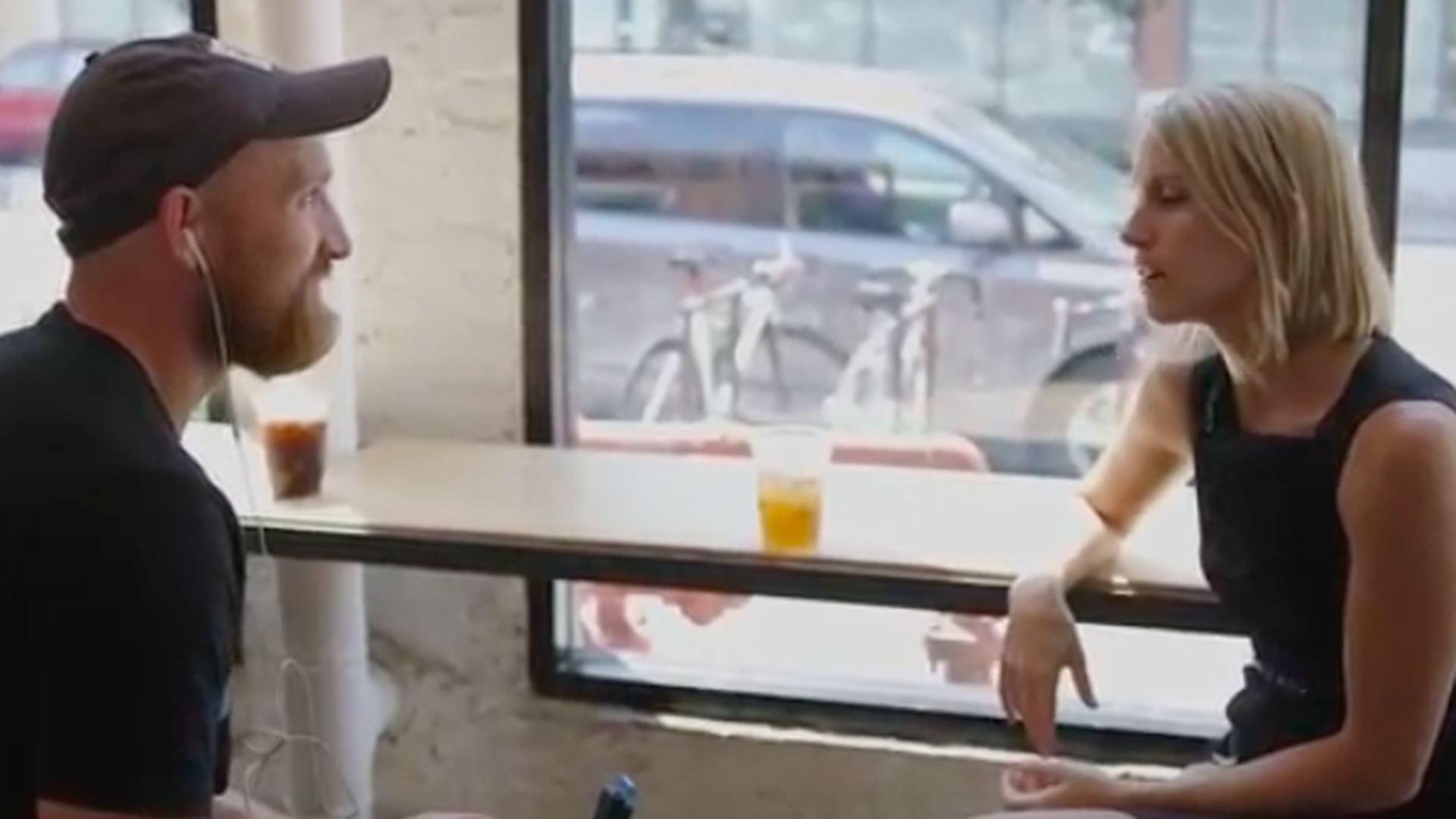 Here at Axios, we have a kick-butt video team, and I spent a little time with them Thursday afternoon talking about how all of the other chaotic news in Washington is clouding huge policy changes in energy and environmental issues. Keep your eye on the Axios stream for the video, which will be posted a little later this morning.
Check out the rest of the Axios Sourced videos on our YouTube page here.
https://www.axios.com/newsletters/axios-generate-2711fa71-db09-42ff-ab88-612c20e051fe.html?chunk=4#story4
Lightning round: FERC, ethanol and more
Here's the latest on some news you should know about — and why it matters.
Ethanol denial: The EPA is planning to reject a proposal pushed by billionaire investor Carl Icahn to shift the point of obligation in the government's federal ethanol mandate from refineries to a broader set of companies, Politico and others reported Wednesday.
Why it matters: This move to keep the policy as-is would represent a triumphant of majority opinion over that of a few influential voices, like Icahn. That's notable in an administration that's shown it doesn't necessarily always go with what the majority wants in policy areas.
Nominees approved: The Senate on Thursday approved two of Trump's nominees to lead the Federal Energy Regulatory Agency, which has been without a functioning body for months.
Why it matters: Forget environmentalists for a minute, even industry officials were getting increasingly annoyed over the delays of these nominees in particular because billions of dollars in projects were being held up as a result. These approvals show that the Trump administration and Senate can still function normally amid the chaos that has become commonplace (if still not normal).
Other top headlines:
https://www.axios.com/newsletters/axios-generate-2711fa71-db09-42ff-ab88-612c20e051fe.html?chunk=5#story5
Reality check: carbon tax road to nowhere
Many in Washington's think tank and academic world are debating the intricacies of a carbon tax, waiting to see if perhaps Congress will decide to pursue one for any number of reasons (tax reform being at the top of the list). But it's important to remember that there are zero reasons to think this will be the case any time soon.
Quote: "There is a collection of smart people developing a perfect answer to a question that Congress is not asking," Jason Grumet, president of the Bipartisan Policy Center, told me Thursday.
Rumor mills churning fake news? I've heard rumors that Republicans were mulling a deal last summer to swap carbon regulations with a carbon tax in anticipation of Hillary Clinton winning the election. The deal reportedly involved then-Rep. Jason Chaffetz (R., Utah), former chairman of the oversight committee. Reached by phone in Hawaii this week, the recently retired congressman said no such talks were happening.
"We were scared to death of Hillary Clinton's war on coal and energy in general, but we weren't that panicked," said Chaffetz, who declined to comment on any other news — including anything on Russia.
https://www.axios.com/newsletters/axios-generate-2711fa71-db09-42ff-ab88-612c20e051fe.html?chunk=6#story6
Mining industry: Electric cars need coal
It's not every day an industry-written blog post catches my eye, but one did this week. The National Mining Association wrote that electric cars will need reliable electricity from coal-fired power plants.
Why it matters: It's the first time the group, which represents coal mining companies, has waded into the hot-button topic of electric cars, according to a spokesman for the group. The blog post is an under-reported example of how the coal industry is arguing its product is still needed despite its decline relative to natural gas.
"Today coal generates a third of the nation's electricity, ensuring that many EV batteries will be charged with coal-generated power," according to the blog, which goes on to say that coal is needed to ensure the grid remains reliable as more EV's plug into it to charge up.
Fact check: Grid reliability isn't going to be a problem with electric cars for quite some time. "It's not really a problem until you're getting into the hundreds of millions, and we're only at a million" electric cars, says Robbie Diamond, president and CEO of Securing America's Future, a group working to wean the U.S. off oil that supports electric cars.
One level deeper: Diamond said NMA's entry into this debate makes sense and is ultimately good for the cause of EVs, even if some environmentalists may not agree. It's easier to handle the emissions of thousands of power plants instead of millions of cars. Once people on a mass scale adopt electric cars and start plugging in, it'll be easier to cut emissions, Diamond argues.
https://www.axios.com/newsletters/axios-generate-2711fa71-db09-42ff-ab88-612c20e051fe.html?chunk=7#story7
One thirsty thing: Zinke and Murkowski's beer summit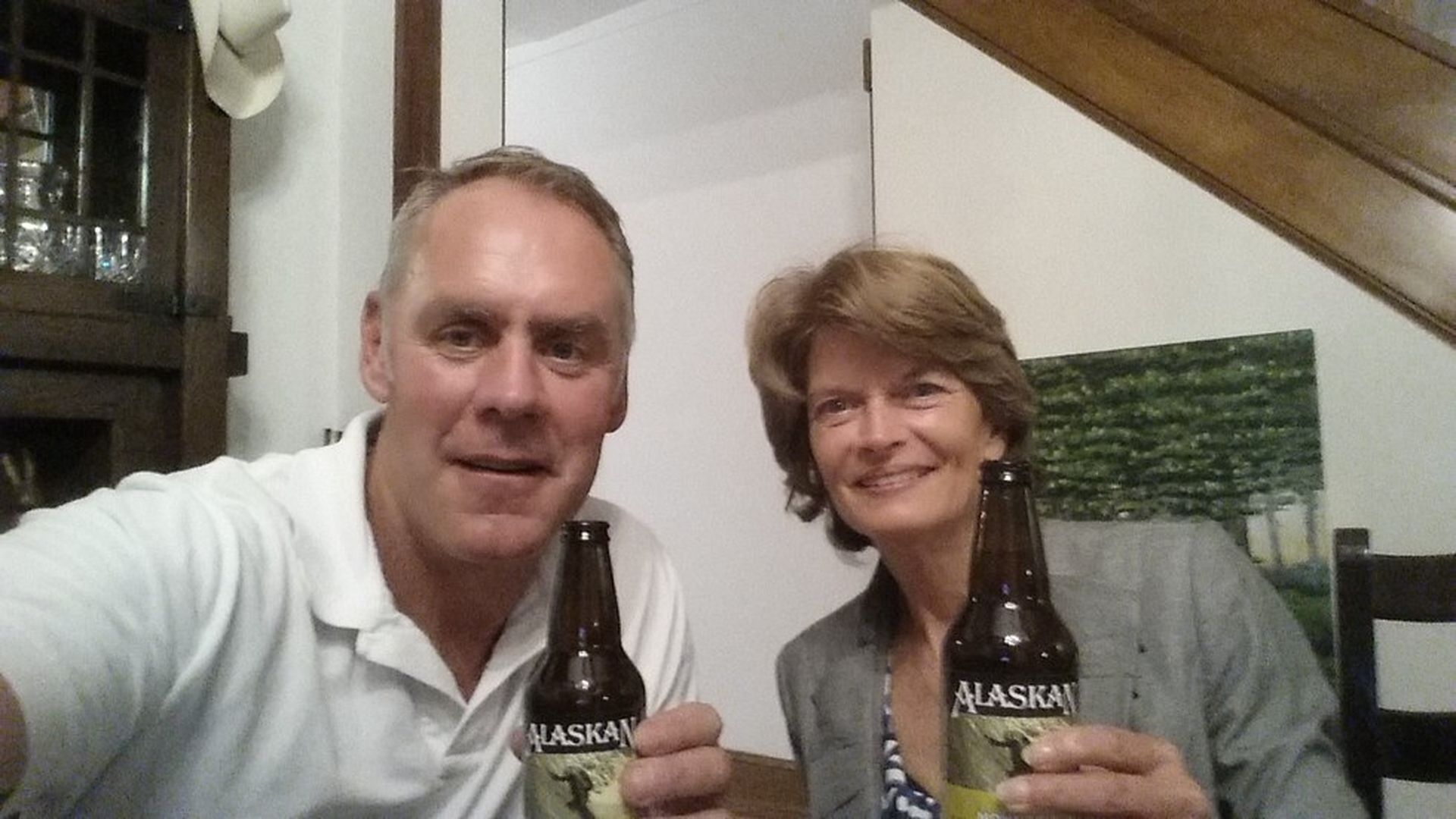 Interior secretary Ryan Zinke and Sen. Lisa Murkowski patched the whole Zinke-reportedly-threatened-Murkowski's-state-over-her-health-care-vote thing while drinking some beers together, according to a photo he posted on Twitter at 9:21 am yesterday (we're assuming it was not a real-time shot). The AP has more.
Not all beers and smiles: The Interior Department's watchdog is launching a preliminary investigation into Zinke's moves in the health care debate, The Hill reports.