Axios Generate
August 24, 2017
Good morning and welcome back to Generate! Before we dive in, a quick diversion: Later today in Switzerland the great Mo Farah will run the final track race of his career. Letsrun.com previews the 5,000 meters (and other races) at the storied Weltklasse Zurich meet. Ok let's get to it . . .
DOE's grid report is finally here. What to know...
Over in the Axios stream, colleague Amy Harder breaks down the long-awaited Energy Department report on the grid and reliability.
Key finding: The report affirms that cheap natural gas — not regulations or renewables subsidies — has been the biggest factor causing coal and nuclear power plants to shut down over the last several years.
Yes, but: There's plenty in the report and the policy recommendations for the coal and nuclear industries to like. It calls for a review of "regulatory burdens," and offers recommendations for market oversight and policy including:
"DOE and related Federal agencies should accelerate and reduce costs for the licensing, relicensing, and permitting of grid infrastructure such as nuclear, hydro, coal, advanced generation technologies, and transmission."
Bolster EPA's power to allow coal plants to make upgrades without triggering new pollution control mandates.
OK, go on...
Amy dives deeper into the grid report and offers highlights from combing the study and conversing with DOE officials:
Not just gas: There are other factors beyond natural gas in shutting down a wave of coal and nuclear plants, including: stagnant electricity growth, environmental regulations, and the rise of intermittent wind and solar resources.
Reliability warning: Growth of renewable energy on the grid hasn't created any alarming problems, but that doesn't mean one can assume it won't in the future with greater penetration of renewables, so increased attention is needed, the report says.
No intervention: The study doesn't recommend the Energy Department intervene in state energy mandates, an idea Energy secretary Rick Perry floated a few months ago. The authors didn't seek to answer that question nor does Perry have any intention of usurping states' rights, an Energy Department official said.
Backup fuel: One agency official expressed concern that natural gas plants don't have fuel on site, like coal and nuclear do, in case of emergency situations.
Perry's frame: In a letter about the report also released Wednesday, the Energy secretary emphasized the factors of environmental regulations and subsidies and didn't mention natural gas, which by his own report's conclusions, is the biggest driving influence.
"It is apparent that in today's competitive markets certain regulations and subsidies are having a large impact on the functioning of markets, and thereby challenging our power generation mix," Perry says in his letter.
Between the lines: Emphasizing how natural gas is the driving influence changing the power grid doesn't jive with the Trump administration's positions bolstering natural gas. Omitting it in the rhetoric related to the report but noting it in the report itself shows the delicate balance the Energy Department is striking on the issue.
Oil market notes
OPEC: The cartel and allied producers said Thursday that they may extend their production-limiting deal beyond the first quarter of next year.
"All options, including the possible extension of the Declaration of Cooperation beyond Q118, are left open to ensure that all efforts are made to rebalance the market for the benefit of all," the committee monitoring the agreement said in a statement.
Why it matters: OPEC and Russia have struggled to bolster prices and tame the global supply glut, though Thursday's statement claims some progress, noting: "Oil commercial [supply] stocks fell in July and the latest five-year average has been reduced from the beginning of this year."
What's next: The joint monitoring committee will meet on Sept. 22.
Operating environment: While there's constant focus on how crude prices and breakeven costs affect capital spending decisions, a new Wood Mackenzie report takes stock of how the fiscal regimes in different countries come into play.
"[G]enerating profits at current prices is not simply down to a company's ability to keep costs below current prices. Governments have a role to play too. If the fiscal system is targeted on revenues, rather than profits then, for the investor, a $50/bbl price could mean as little as $25/bbl is available to cover costs and make a return on investment," they note.
Chevron fallout: MarketWatch looks at a broader dynamic in company leadership in the wake of the news the Chevron CEO John Watson is slated to step down.
"A change of guard at Chevron would be a highly orchestrated, leave-no-room-for-mishaps event, but some saw a trend in the way major oil companies' boards are looking for the next leaders: those experienced with penny-pinching."
Stormy weather: Via Reuters, oil companies including Shell and Anadarko are removing workers from offshore platforms in the Gulf of Mexico as tropical storm Harvey heads for the Texas coast.
Global flows: Bloomberg reports that Saudi Arabia has increased sales of oil to energy-hungry China. "Competition over China, which has topped the U.S. so far in 2017 as the world's biggest importer, intensified since last year's deal between the Organization of Petroleum Producing Countries and its allies to curb supplies in a bid to raise oil prices," their piece notes.
State policy news: RGGI plans to extend its program
State-level climate policy is rightly getting more attention these days as the White House pares back federal emissions rules, which brings us to...
New pledge: The Regional Greenhouse Gas Initiative, a cap-and-trade program for power plant emissions among northeastern and mid-Atlantic states, plans to extend its program with another 30% carbon cut by 2030 (relative to 2020 levels).
More: Read the announcement here.
By the numbers: The plan envisions a regional cap among the nine states that will fall from around 75 million tons of CO2 in 2021 at a rate of around 2.3 million tons annually.
Go deeper: The states are proposing to add something new to the system: an "Emissions Containment Reserve" that keeps some pollution allowances off the trading market if prices fall too low, in order to ensure continued carbon-cutting.
"Low prices suggest low costs for industry and consumers — which is a good thing — but when they are persistently lower than anticipated, they fall short of providing the intended incentive for new investments in renewable energy and energy efficiency," notes the nonpartisan think tank Resources for the Future in a summary of the concept.
RFF is way into the idea. Wonk out with them here.
Research corner: Jacobson, permafrost, Exxon, ARPA-E
Renewables: Stanford researcher Mark Jacobson and a suite of co-authors are out with a new study that offers "roadmaps" for 139 nations to obtain all of their energy from wind, water, and solar sources by mid-century.
A summary of the paper in the journal Joule is here, and Jacobson has a video explainer here.
"Fully implementing the roadmaps by 2050 avoids 1.5 C global warming and millions of deaths from air pollution annually; creates 24.3 million net new long-term, full-time jobs; reduces energy costs to society; reduces power requirements 42.5%; reduces power disruption; and increases worldwide access to energy," the paper states.
Context: As we've covered in Generate (most recently here), Jacobson has come under fire from experts who argue that his analyses of how the U.S. could get to 100% renewables rest on impractical assumptions.
Climate: My Axios colleague Shannon Vavra summarizes a deep New York Times dive into the effects of thawing permafrost.
"Scientists have estimated that the process of permafrost thawing could contribute as much as 1.7 degrees Fahrenheit to global warming over the next several centuries, independent of what society does to reduce emissions from burning fossil fuels and other activities," the NYT notes.
Exxon: CNBC reports on a new paper by Harvard researchers who say the oil giant misled the public on climate change, and the company's pushback against the findings.
R&D funding: The Energy Department's Advanced Research Projects Agency-Energy yesterday announced $30 million in for a slew of initiatives to develop high-performance and efficient circuits.
Why it matters: Benefits of the technology include "super-fast, compact electric vehicle chargers, more efficient ship propulsion systems, and lighter, aerodynamic aircraft that can carry more passengers with less fuel," said acting ARPA-E chief Eric Rohlfing in announcing the funding.
Here's an example, via DOE: Roughly $2 million will be for this project: "Cree Fayetteville (operating as Wolfspeed, A Cree Company) and its project team will build a DC fast charger for electric vehicles using a solid-state transformer based on silicon carbide (SiC)." If it works, this would enable more than 60% less power losses, much smaller size and weight, and 40% lower materials costs than current technology, DOE said.
One fun thing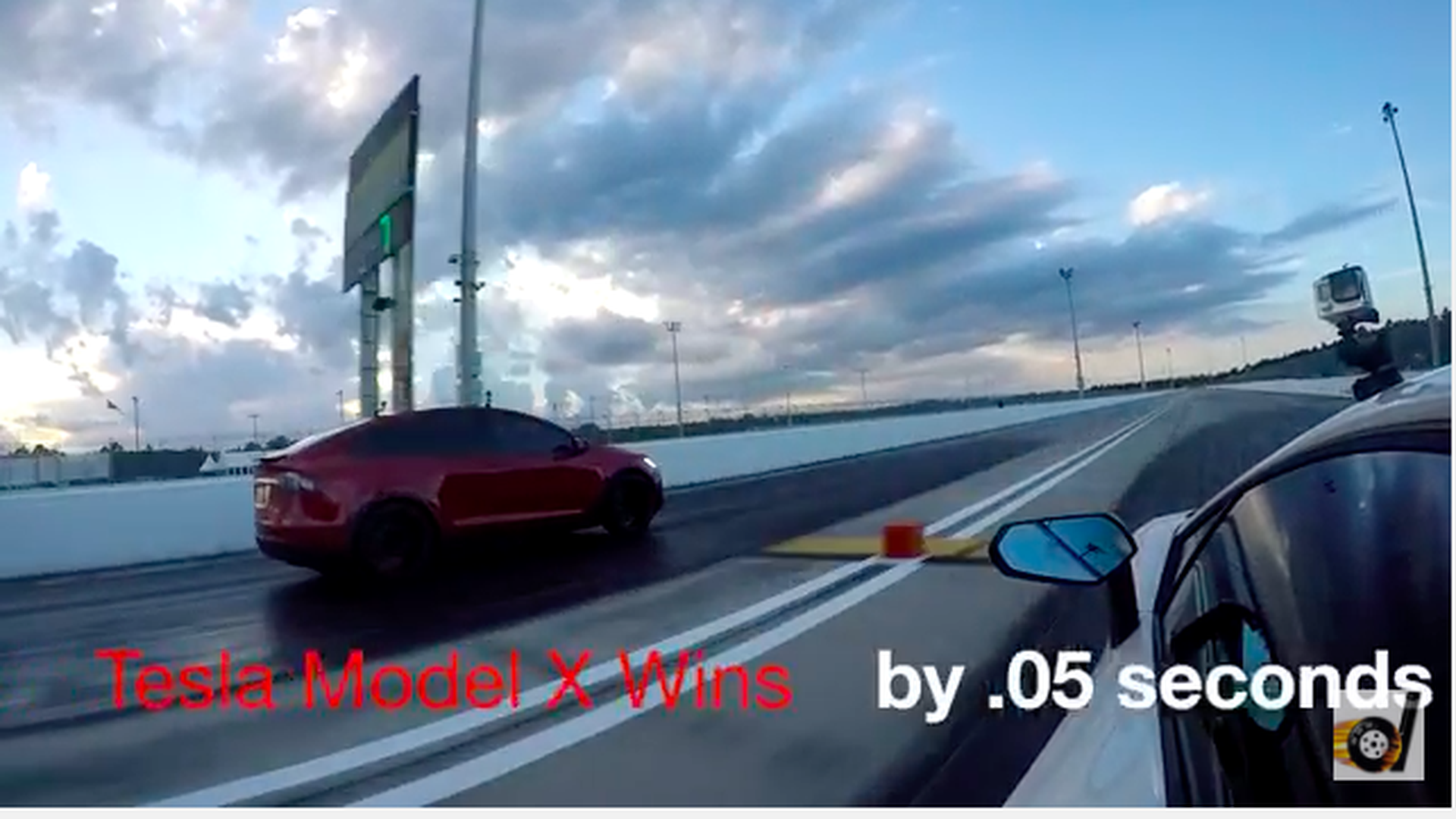 Don't try this at home: Drag Times raced the Tesla Model X P100D SUV (which is the high performance version that starts at $145,000) against a Lamborghini Aventador ($530,000).
The Tesla narrowly won the quarter-mile race. It also set what Drag Times called a new SUV speed record for the distance at 118 mph. You can watch the race here, and Autoblog has a write-up here. Oh, and Tesla CEO Elon Musk boasted about it here.
Listen to the future: The Autoblog piece makes an interesting point about the clip.
"The difference in the sound between the two vehicles is striking, as we find from the separate camera views. The Lamborghini absolutely screams, while the Tesla just whistles in the wind a bit."