Axios Generate
September 19, 2022
🥞 Welcome back! Today's newsletter has a Smart Brevity count of 1,057 words, 4 minutes. 
🗓️ Join Axios journalists and special guests in Houston at 8am CT Tuesday to launch the Axios Houston newsletter with an event focused on city sustainability efforts. Register to attend in person or virtually.
🎶 Tomorrow marks 40 years since Dire Straits dropped the album "Love Over Gold," which provides today's intro tune...
1 big thing: Three storms with climate as a common thread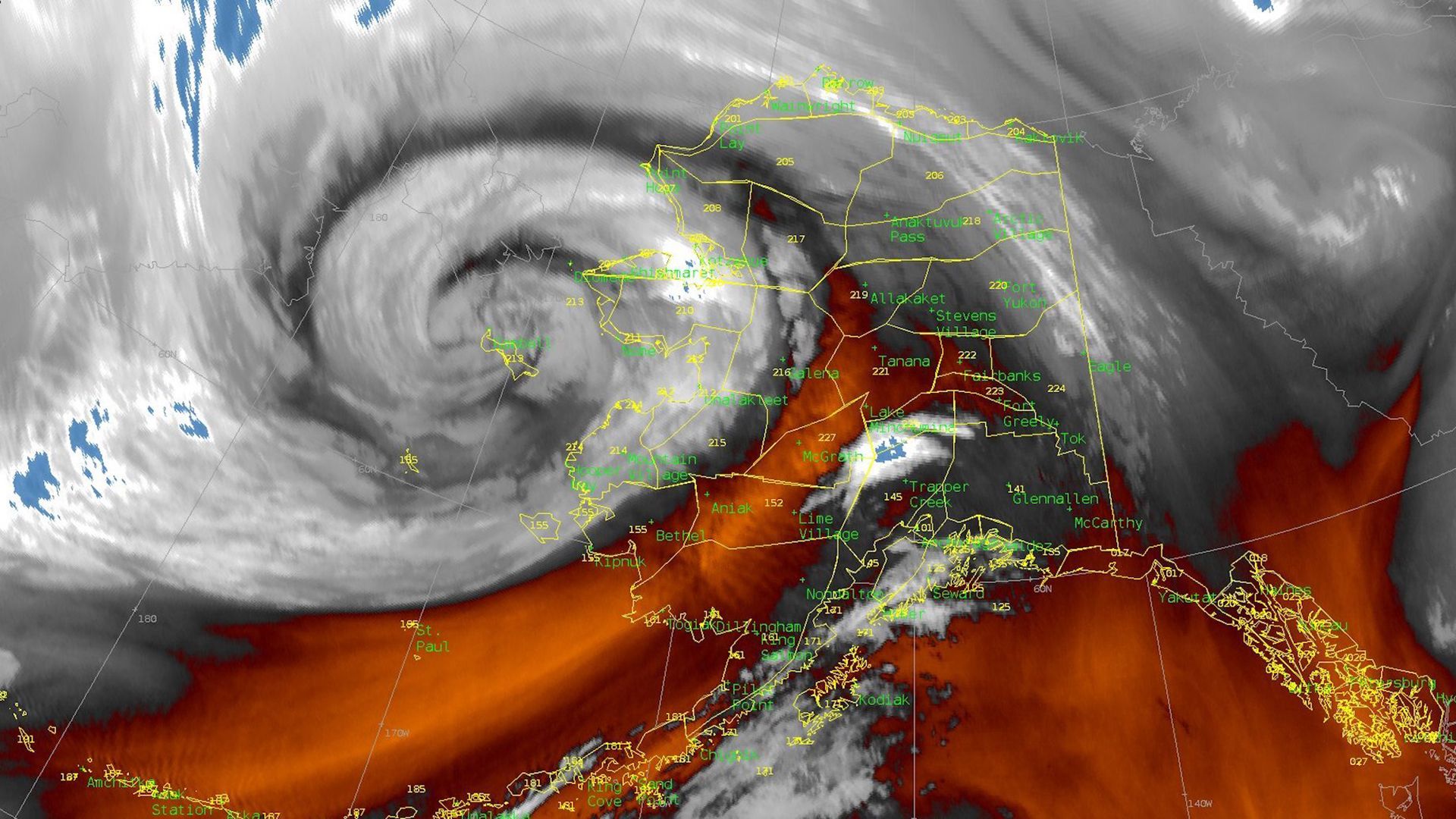 Three blockbuster storms struck different coasts this weekend, causing widespread damage in Puerto Rico, Alaska and Japan, Andrew writes.
The big picture: Each storm either exhibited unusual characteristics in its formation and intensification or in its interaction with built infrastructure.
Damage from all three offers examples of what we can expect more of in a rapidly warming world.
In Alaska: The most intense storm ever recorded in the Bering Sea during the month of September blasted communities across Alaska's western coastline with hurricane-force winds and record high storm surge flooding.
The villages hit include names familiar to the climate community for being vulnerable to erosion and seeking to move to higher ground, such as Kivalina and Shishmaref.
Severe flooding was also seen in Nome, the endpoint of the Iditarod sled dog race.
In Puerto Rico: Hurricane Fiona struck yesterday, causing an island-wide blackout that illustrates the territory's challenges to repair its electrical grid in the wake of Hurricane Maria in 2017.
Hardening infrastructure against increasingly potent extreme weather events is a major challenge facing the United States.
At one point last evening, nearly the entire island was under a flash flood warning, with "catastrophic" flooding underway.
In Japan: Typhoon Nanmadol, the country's fourth-most intense typhoon to make landfall, struck the island of Kyushu yesterday morning eastern time.
The storm dropped more than two feet of rain in 24 hours on parts of that island, threatening to cause landslides, along with wind and storm surge flooding.
Climate change is enabling hurricanes and typhoons to dump more rainfall and stay stronger further north.
Prior to its landfall, the storm had rapidly intensified — a process with climate change ties and reached Category 4 intensity.
Zoom in: The Alaska storm has the clearest links to climate change from a physical science standpoint, scientists told Axios.
The storm evolved from Typhoon Merbok, which underwent an unusually rapid and explosive transition process over the North Pacific into a storm that feeds off jet stream energy.
Scientists told Axios the storm's formation, transition and impacts have global warming ties.
Between the lines: The typhoon formed unusually far to the east, over anomalously warm waters, said Rick Thoman, a climate scientist at the University of Alaska at Fairbanks, via email.
It then passed over record warm waters in the North Pacific, which injected more energy.
"This is surely a climate change connection," Thoman said.
Brian Brettschneider, a climate scientist based in Alaska, said such intense, out-of-season storms may become more frequent as climate change progresses.
Scientists have warned that a rapidly warming Arctic, with melting permafrost, sea level rise and longer ice-free seasons would imperil Alaska's coastal communities.
Bonus: Perspective on Alaska's storm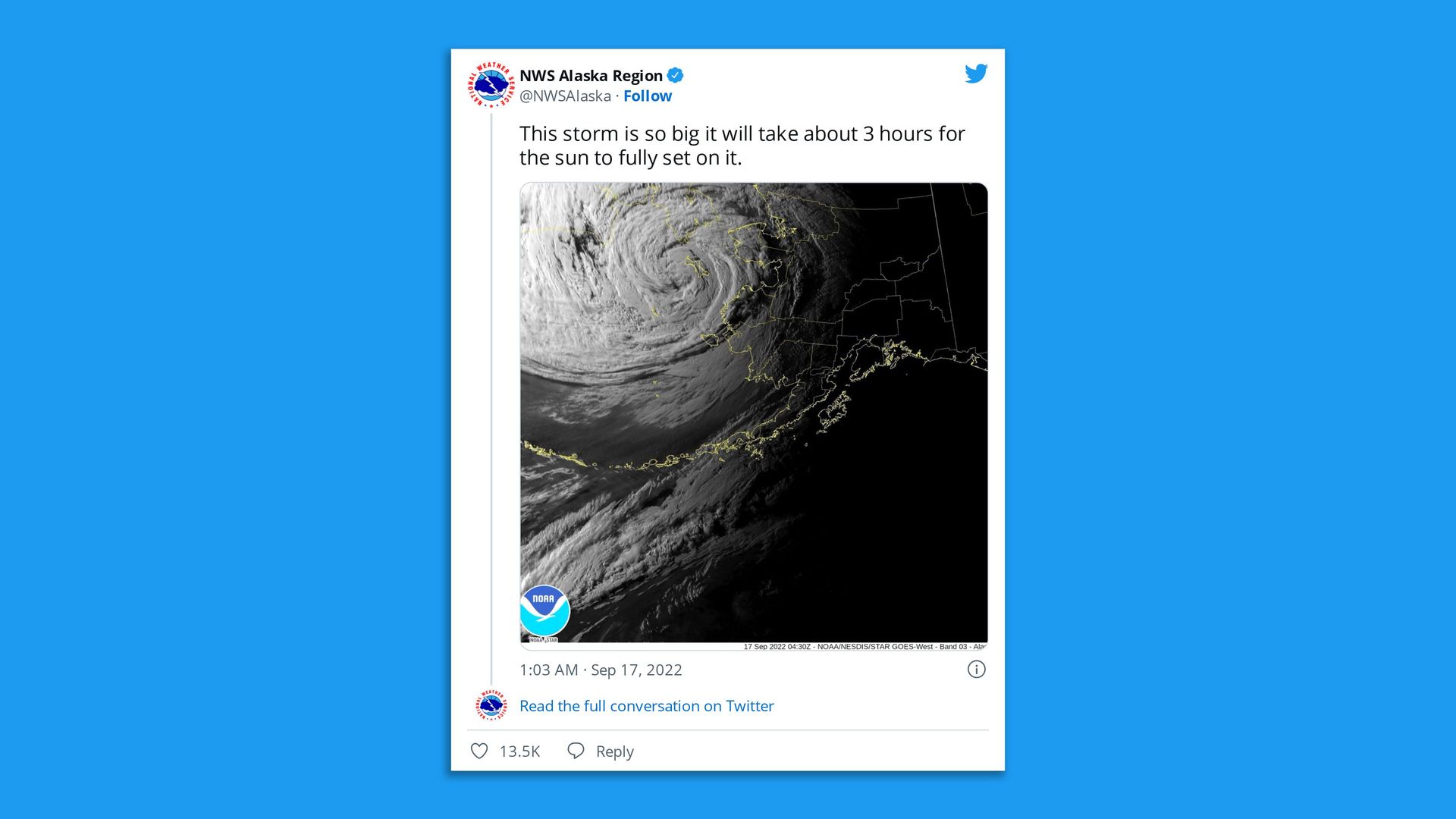 The Alaska storm's coastal flooding broke longstanding records. For example, Nome saw its worst coastal flooding since November 1974, Thoman said.
Why it matters: By battering already vulnerable coastal communities, the storm will make them more susceptible to the Bering Sea's notorious winter storms.
2. A new window into global fossil fuel data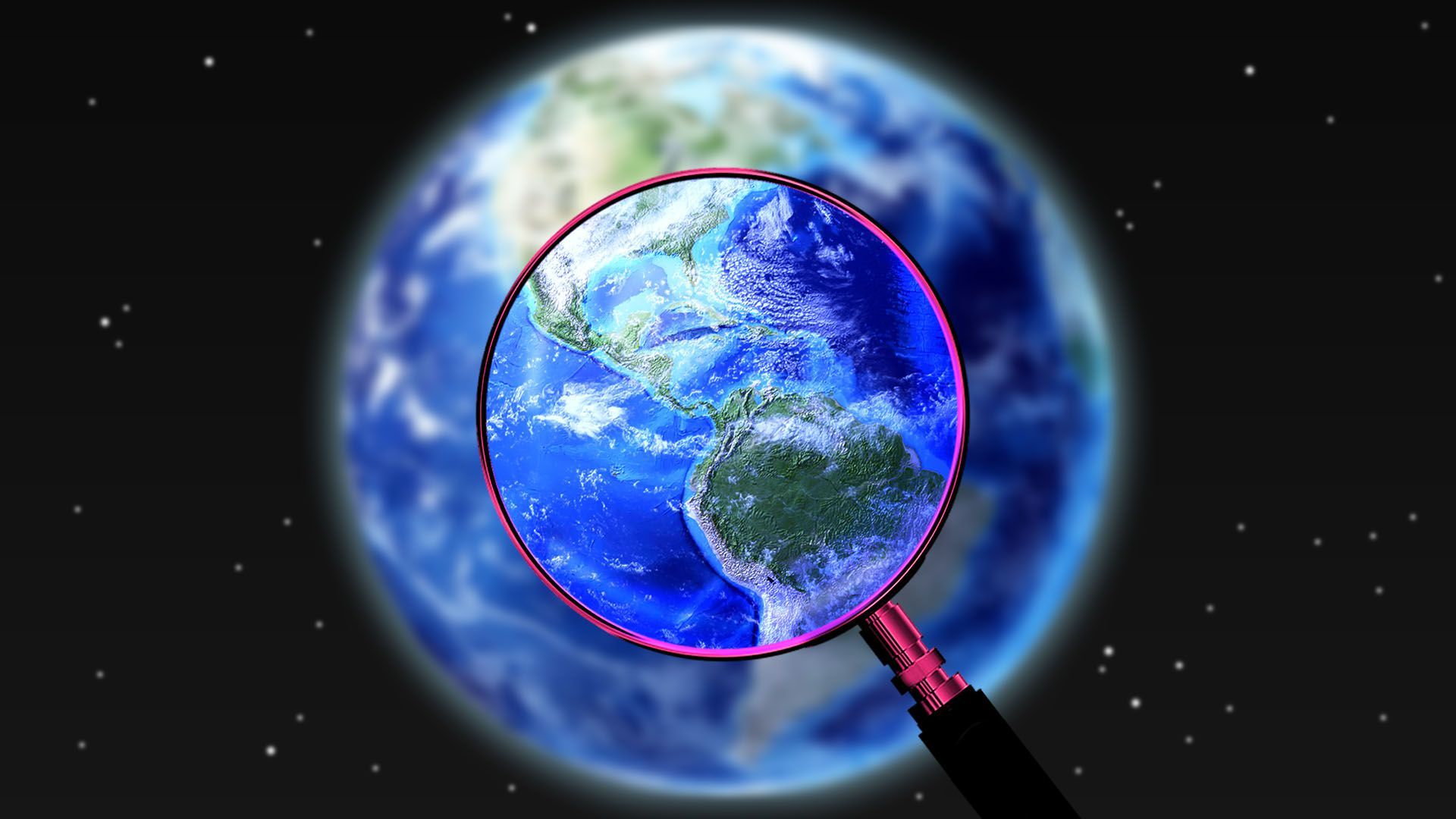 A pair of nonprofits is launching what they call a first-of-its-kind public database of detailed info on global fossil fuel reserves, production and emissions, Ben writes.
Driving the news: The Global Registry of Fossil Fuels has data on 50,000 fields in 89 countries, covering 75% of global production, Carbon Tracker and Global Energy Monitor said.
Why it matters: Meeting, or even coming somewhere close, to Paris Agreement goals will mean huge amounts of oil, coal and gas need to remain untapped.
The groups say the database — now live at fossilfuelregistry.org — is a tool for helping manage the transition away from these fuels needed to keep warming in check.
The big picture: "Policymakers and civil society lack the asset level data needed to inform decisions on how to manage this phase-out, while markets lack the information to predict which assets are likely to become stranded," the groups said.
While there's a lot of privately held data, backers of the effort say it makes information access more equitable.
What they're saying: The new tool will "make governments and companies more accountable for their development of fossil fuels by enabling civil society to link production decisions with national climate policies," Carbon Tracker founder Mark Campanale said in a statement.
3. Tracking the oil industry's methane exposure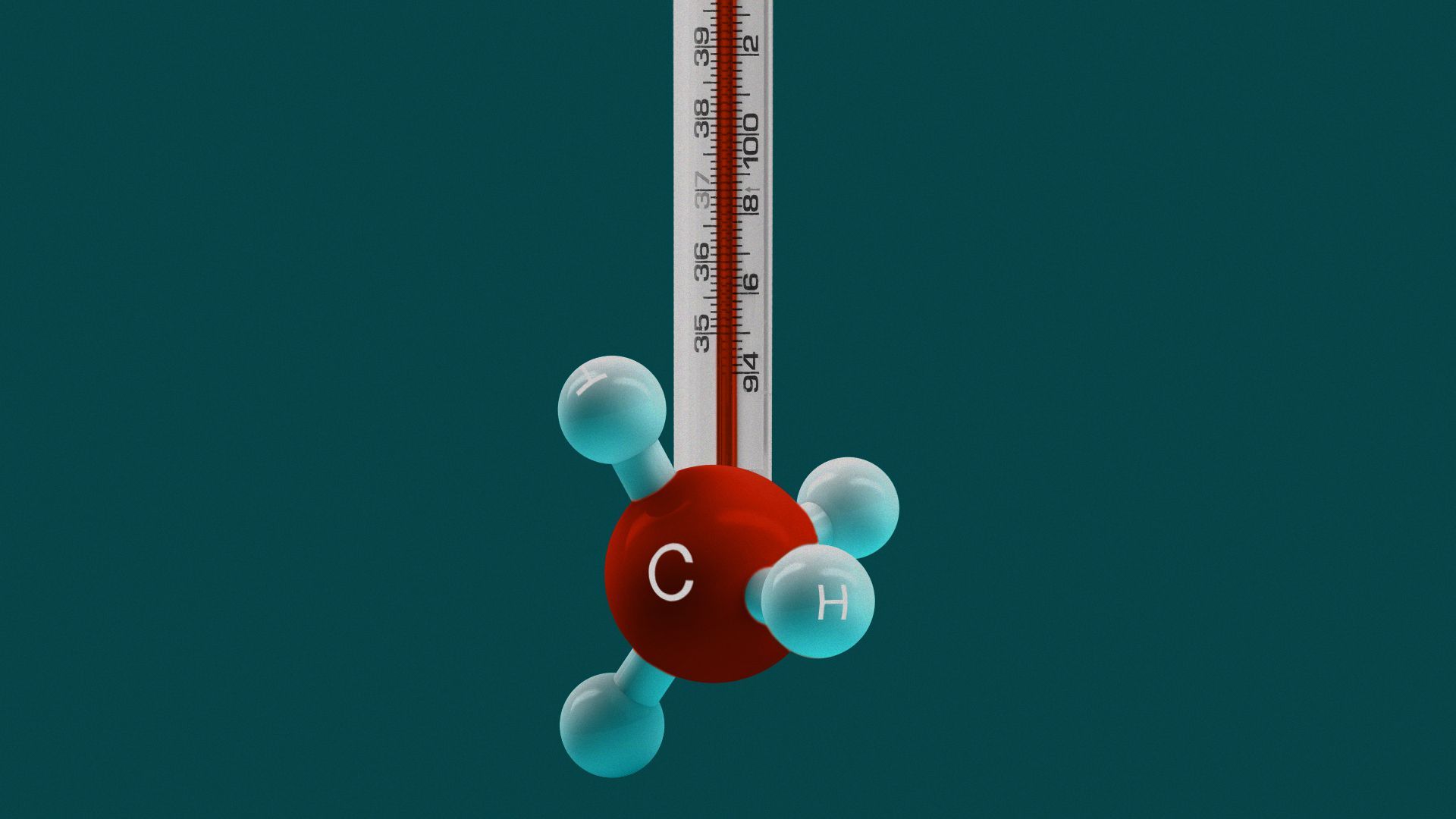 The oil-and-gas industry faces higher methane emissions penalties under the new U.S. climate law than prior analyses suggest, the satellite monitoring firm Kayrros said today, Ben writes.
Catch up fast: The law imposes fees on the release of the potent planet-warming gas from wells, compressors, gas transmission lines and other equipment.
The law also requires more sophisticated EPA data gathering efforts ahead of the mandates taking effect.
Why it matters: Kayrros says this more robust monitoring will reveal higher emissions than existing estimates.
That means higher penalties unless the industry improves tracking and acts on that info.
"A single midstream asset could create a multi-million-dollar liability," it said. Kayrros cited recent peer-reviewed analysis based on its data.
Zoom in: It starts at $900 per ton for 2024 emissions and rises to $1,500 in two years.
Estimates based on current data imply an aggregate fee of $1.25 billion for 2024 emissions, Kayrros said.
But the firm estimates this could increase threefold to around $3.3 billion "if the industry fails to adopt preventative measures in the form of the latest satellite technology."
Editor's note: This item has been corrected to show that estimates imply an aggregate fee of $1.25 billion for 2024 emissions, not $1.25 million.
4. The climate-driven health crisis
ICYMI: The newest stories in our Climate Truths Deep Dive series landed over the weekend and explore the health care impact of climate change.
The big picture: The stories range from looking into one region's toll (see above) to wide-angle reporting on the health care industry's evolution to the nexus between climate and infectious disease spread.
Zoom in: One area to watch is mental health. Climate anxiety is an increasingly accepted phenomenon that many psychologists and therapists are tailoring their practices to treat.
The symptoms are especially prevalent among young people and can be debilitating at times, mental health professionals tell Andrew.
5. Quoted
"This is not only a European gas crisis. It has become a global gas crisis with the potential for significant spillover into the broader economy in the form of higher inflation and slower growth."
— Barclays analysts in a note on the European energy crisis
📬 Did a friend send you this newsletter? Welcome, please sign up.
🙏Thanks to Mickey Meece and David Nather for edits to today's newsletter. We'll see you back here tomorrow!