Axios Generate
August 22, 2018
Good morning and welcome back! Happy birthday to Roland Orzabal of Tears for Fears, who has today's intro song...
1 big thing: Future stakes of Trump's CO2 plan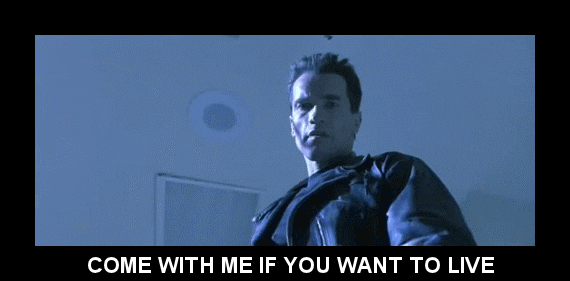 There's an important dynamic to understand about the outcry over EPA's proposal to just lightly regulate power plant carbon emissions and abandon a more sweeping Obama-era plan.
The new EPA proposal isn't actually a recipe for soaring carbon emissions. But it's nonetheless dismaying in relation to where policy should have been heading by now, at least according to climate advocates.
Part of the outcry centers on the potential bankshot effect on emissions of traditional pollutants like soot. But, let's stick with the climate side...
By the numbers: EPA estimates that under their plan, power sector CO2 emissions will be around 33% lower in 2030 from 2005 levels, compared to an expected 35% drop under the Obama plan.
While activists say it fails to guarantee even those cuts, the bigger picture is that some experts say it's a step backward at a time when the country should be aiming for much more aggressive reductions. The kind consistent with deeply decarbonizing the economy by around mid-century so the U.S. does its part to help prevent highly dangerous levels of warming.
Put another way, in the pre-Trump era, climate advocates saw Obama's Clean Power Plan and vehicle rules — which are also being jettisoned — as a baseline for wider emissions policies in the future, including curbs that extend to other industrial sectors too.
Now, that's gone.
Josh Freed, of think tank Third Way, tells me "standing still is heading in the wrong direction."
"The conversation in the United States today should be, what is the next, more ambitious successor to the Clean Power Plan, not whether the Trump administration's plan accomplishes slightly less or significantly less than the Clean Power Plan."
— Josh Freed
John Larsen of Rhodium Group said something similar when we chatted about why the new EPA plan won't do much to stymie the market forces that are lowering coal's share of power markets.
But his group has noted that even with the Obama rules, the country is not on track to hit its targets under the Paris agreement.
"The market elements are all good news," Larsen said. "But it's not enough."
Be smart: A research note yesterday from ClearView Energy Partners explored the implications of the new draft rule that takes a narrow view of EPA's authority under the Clean Air Act:
The announcement of a replacement rule may largely represent a political milestone for a President who promised to end his predecessor's 'war on coal,' but we also view it as a significant policy action that could to make it difficult for a differently oriented successor to establish greenhouse gas (GHG) limits on any stationary sector via executive discretion.
2. More takeaways from EPA's power plant move
Nope: Bill Wehrum, EPA's top air pollution regulator, offered another strong sign that the agency isn't keen to revisit EPA's 2009 conclusion that greenhouse gases threaten human welfare — a finding that provides the legal underpinning for regulation.
"We are not proposing to rescind to the endangerment finding. We are not proposing to find that power plants do not contribute to that endangerment," he said on a call with reporters Tuesday.
Why it matters: While EPA is proposing a modest rule, the comments signal that a push by conservative groups to unwind their underlying authority to regulate probably won't get far.
Instead, Wehrum and acting EPA Administrator Andrew Wheeler cast the plan as a move to act within the limits of their Clean Air Act authority. They argue that Obama's EPA interpreted those powers far too expansively with its 2015 rules.
Health: ICYMI in the Axios stream, EPA estimates that there would be between 470 and 1,400 additional premature annual deaths by 2030 under its new coal plant regulations.
The details: The estimate comes in the EPA's proposal for governing coal-burning power plants. The particles are part of particulate pollution (PM 2.5) that is emitted from coal-burning plants, which EPA says on its website can cause asthma, decreased lung function, and "premature death in people with heart or lung disease."
Cars and power: A good point via Twitter (it's not all snark and venom!) is on how this power rule indirectly influences the transportation sector. A slightly more carbon-heavy grid under Trump could also lightly dent the emissions advantage that electric vehicles hold over fossil-fuel powered cars.
3. An important oil-and-gas fight in Colorado
Axios' Amy Harder reports from Denver ... A planned ballot initiative that would significantly curtail future energy production in Colorado was top of mind at an oil and natural gas conference that opened here yesterday.
Why it matters: Colorado is America's fifth-largest gas-producing and seventh-largest oil-producing state. Layer on top of that a political battleground and a growing population colliding with an increasing number of wells, and it's ripe for controversies like this.
Of note: This is the third attempt since 2014 to get such an initiative on the ballot, and it's likely to succeed in at least getting a vote.
The intrigue: During a panel I moderated, one industry executive — Bill Crawford, chief financial officer of HighPoint Resources — said 70% of his firm's acreage could be affected. The industry points to a state government agency study concluding the initiative could cut off as much as 85% of the state's future energy development on non-federal lands.
One level deeper: The initiative would impose a 2,500-foot setback for oil and gas development from occupied buildings and other "vulnerable" areas, which could include rural areas. It's waiting for final state approval to be placed on the ballot, but backers are confident they have the needed signatures.
The other side: Anne Lee Foster, one of the initiative organizers, said in an interview Tuesday that despite several years of attempted compromise, including a taskforce set up in 2016 by Democratic Gov. John Hickenlooper, nothing has been done to address growing concerns among residents.
The lack of progress, she said, comes as environmental and public-safety accidents have been apparently increasing over the last year.
Go deeper: NYT has a piece on renewed oil sands interest in Colorado's neighbor to the west.
4. Senate panel probes blockchain and energy
Coindesk has a rundown of yesterday's Senate Energy and Natural Resources Committee examination of the decentralized digital transaction technology.
What they're saying: "The foremost risk discussed at the hearing revolved around the energy needs of cryptocurrency miners," they report.
"The witnesses estimated that public blockchains may be using anywhere from one to as much as five gigawatts worldwide, though, as [the Electric Power Research Institute's Thomas] Golden contended, 'this is less than 0.1 percent of the global power usage,'" Coindesk writes.
The story notes that lawmakers also asked about how blockchain can be applied to various energy projects.
Go deeper: Where blockchain will really matter in energy.
* * *
Speaking of blockchain, Greentech Media reports that "Blockchain firms are racing to create ethical sourcing platforms for cobalt amid growing concerns over mining conditions in the lithium-ion battery supply chain."
5. Chart of the day: the age of household cars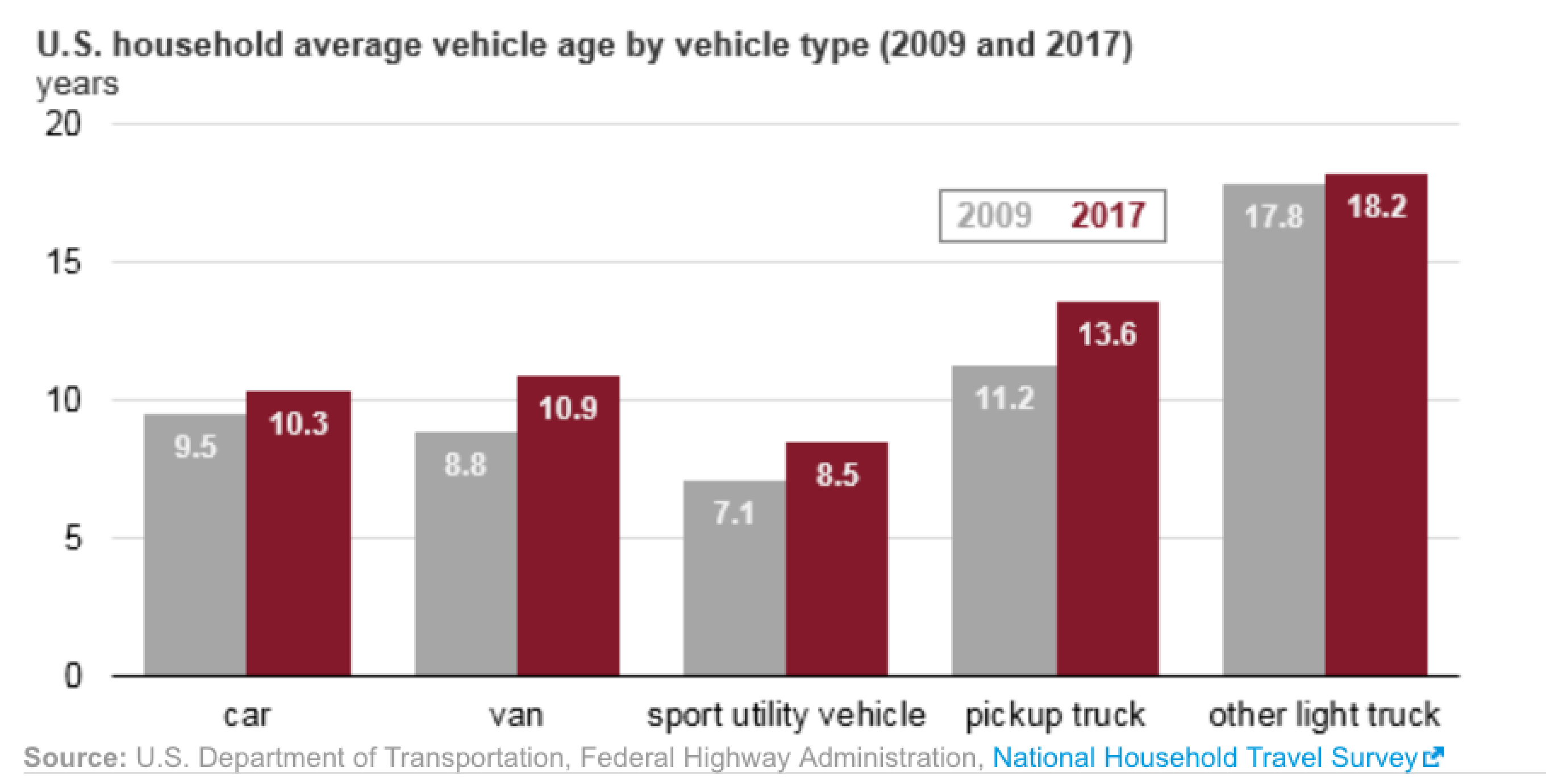 The average household vehicle age grew from 9.3 years in 2009 to 10.5 years last year, suggesting that "many households have delayed the purchase of a new vehicle," the Energy Information Administration said.
Why it matters: "The slowing of vehicle turnover has implications for transportation fuel consumption, because newer vehicles tend to have better fuel economies," EIA said in the brief report that's based on Transportation Department data.
Quick take: The report also underscores why, despite ongoing sales growth, it will take electric vehicles a long time to become a substantial share of the auto market — the fleet turns over pretty slowly.
6. Latest in EVs: Tesla, Hyundai, global sales
Big picture: Via Bloomberg New Energy Finance, "Worldwide electric vehicles sales rose above 400,000 on a quarterly basis for the first time in the April-June period, rising 77 percent from the prior year to 411,000."
Why it matters: The milestone signals the rapid growth of the technology's deployment, albeit from a very small base compared to overall global auto sales.
By the numbers: China, the world's largest auto market where the government is strongly pushing EVs, led the way with 225,000 in quarterly sales. Another 22% of global sales were in Europe, followed by 19% in North America, per Bloomberg NEF.
Separately, Bloomberg NEF's Colin McKerracher noted Wednesday that EVs grew to over 6% of California's vehicle sales in the first half of 2018.
Tesla: Reuters notes that Morgan Stanley has stopped rating Tesla, a sign that the Wall Street powerhouse may play a role in the company's take-private plan. A follow-up piece has a bit more, reporting that sources confirmed the bank was "close to" being hired by CEO Elon Musk.
The intrigue: Reuters reports that Morgan Stanley is currently advising the EV startup Lucid Motors on a potential investment in the company from Saudi Arabia's sovereign wealth fund.
"Morgan Stanley has been a top financier of Tesla over the years, making it a prime candidate to arrange any debt financing needed, the sources said," they report.
Hyundai: Per CNET, "The EPA just revealed its figures for the 2019 Hyundai Kona Electric, the automaker's first battery-electric crossover in the US. It's officially rated at 258 miles per charge, which is 20 miles more than the [Chevy] Bolt EV."
Why it matters: It's a sign of the growing consumer options for EVs with considerable range as automakers expand their offerings.