Axios Generate
September 06, 2018
Good morning and welcome back!
At this time in 1981, Stevie Nicks had a one-week run atop the Billboard album charts with "Bella Donna." So that's reason enough for this intro tune...
1 big thing: Saudis tout their crude CO2 edge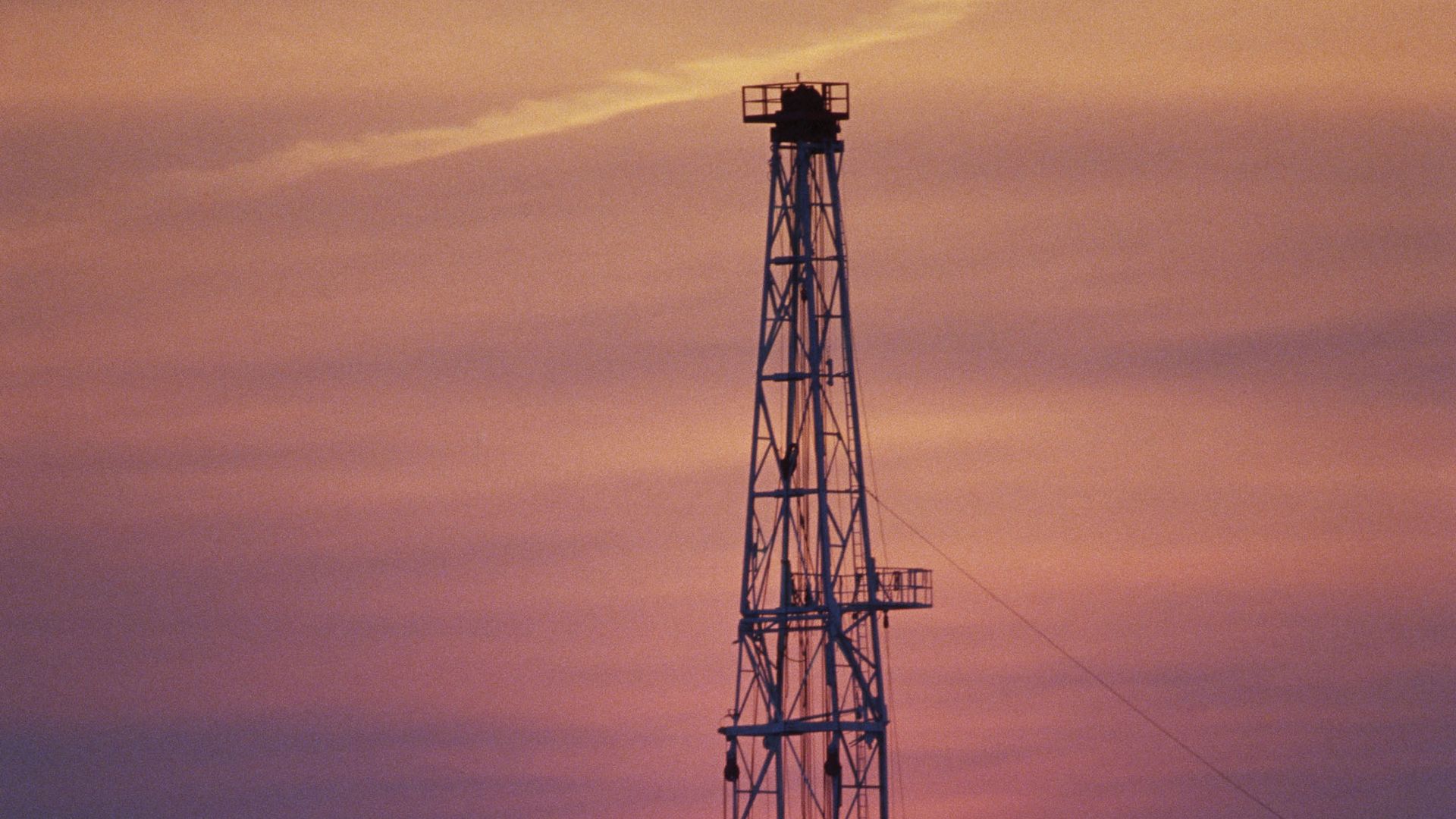 A comprehensive Stanford-led analysis in Science finds that Saudi Arabia's crude oil production has the lowest carbon emissions per barrel among major petro-players.
Why it matters: Upstream production (before it's refined and used in cars, etc.) accounts for 5% of all greenhouse gas emissions from global fuel combustion, the study finds.
My thought bubble: The results could have ramifications well beyond academia, especially as carbon pricing and other climate policies emerge worldwide. Look for Aramco to try and ensure it doesn't just gather dust on a shelf.
By the numbers: The study finds that Saudi crude production averages roughly 5 grams of CO2-equivalent per megajoule — which is low in part because production from their giant conventional fields involves little flaring of gas.
Middle Eastern producers Iran and Iraq (among others) flare more, which drives up their emissions intensity. Indeed, one big takeaway from the study is that gas flaring — which spews the potent GHG methane — really spikes the climate damage from crude production worldwide.
Saudi crude is relatively less energy-intensive to extract and process compared to some other key producers, especially heavy and unconventional sources like Venezuelan crude (which averages 20 grams of CO2) and Canadian oil sands (which average roughly 18 grams).
U.S crude oil production averages 11 grams, which is roughly the worldwide average.
What we're hearing: The Saudis are increasingly touting the carbon footprint of their crude, according to multiple sources.
"This is definitely something the company [Saudi Aramco] will be highlighting," oil analyst Ellen Wald, author of the recent book "Saudi, Inc." tells me.
Rice University's Jim Krane, citing talks with an unnamed Saudi official, writes in a recent analysis that "Saudi Arabia will begin highlighting the low carbon intensity of its crude oil as a marketing strategy."
It's an effort that has already begun. In March, Aramco CEO Amin Nasser praised their "leadership" at a major energy conference in Houston.
Possible climate impact: Glen Peters, research director at Norway's CICERO Institute who was not involved in the study, notes that cutting CO2 from crude production is important because of the lack of good substitutes for oil in transportation. He says:
"Reducing flaring, avoiding heavy oil, and mitigating emissions in other fields will all help reduce global emissions, even while we consume oil."
"You could say to a degree we already knew this, but this paper has certainly upped the ante in terms of details and comprehensiveness."
What's next: The International Energy Agency is taking a closer look at the topic, and will include more data and analysis in its upcoming World Energy Outlook.
Of note: Aramco was among the funders of the research, and provided access to an expensive commercial dataset, but did not influence the outcome or results, Stanford professor Adam Brandt tells Axios. Other funders are listed in this summary.
Read more in the Axios stream here.
2. Gov. Jay Inslee on the record
Axios' Amy Harder has some notes from the road ... Over omelettes at the governor's mansion in Olympia, Washington, Democratic Governor Jay Inslee and I talked about his support for a ballot initiative taxing carbon emissions, climate-related lawsuits and more.
Why this matters: Inslee, chair of the Democratic Governors Association, is emerging as a leading progressive politician and critic of President Trump. Excerpts of the interview are below...
Inslee drew a stark contrast between those who vote for and those who vote against a state-wide ballot proposal imposing a fee — others call it a tax — on most major polluting facilities in the state as a way to address climate change.
"Let me tell you, if you're voting against the [ballot] initiative, you're going to be voting with Donald Trump, who is a climate denier," Inslee said.
Reality check: There's a lot more daylight between voting "no" on this proposal and denying that climate change is real. Two years ago, residents voted against a similar carbon tax proposal. Inslee may now see connecting anything to Trump as an effective political ploy in the mostly blue state of Washington he represents.
Inslee offered rather tepid support for lawsuits — including one brought by King County — suing oil companies alleging liability for climate change.
"I support people having access to the courts. I support the right to bring this lawsuit. I wouldn't be in favor of shutting them down," he said.
Go deeper: Read Amy's full interview in the Axios stream.
3. This chart is a sign of the times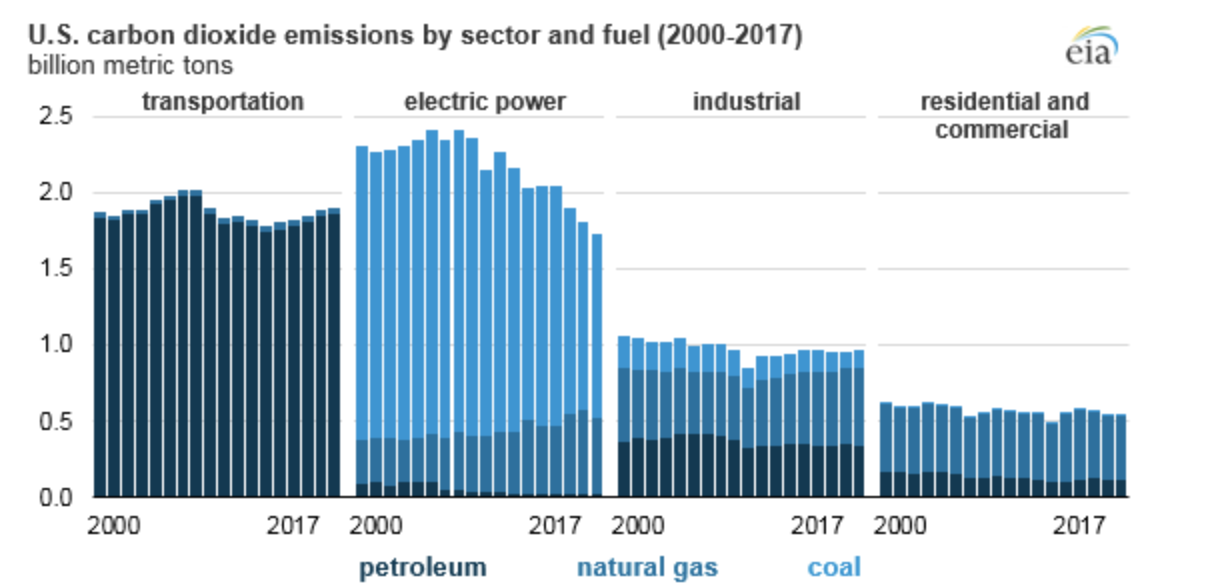 Newly released Energy Information Administration data shows that U.S. CO2 emissions from energy — the overwhelming source — dipped by another roughly 1% last year.
The big picture: "U.S. energy-related CO2 emissions have declined in 7 of the past 10 years, and they are now 14% lower than in 2005."
The chart above signals why — there was a displacement of coal by natural gas and renewables, as well as stagnant or falling power demand.
Last year, emissions from electricity production fell by 4.6%.
Yes, but: Check out transportation-related emissions. They're going up, further evidence of something we've written plenty about: Wringing CO2 from transportation is proving harder than cutting power-sector emissions.
Go deeper: California's transportation challenge
4. EPA's legal options in the CO2 regs battle
The new episode of the Kleinman Center for Energy Policy's podcast explores the coming courtroom fights over EPA's Affordable Clean Energy (ACE) rule.
Why it matters: ACE is EPA's modest draft replacement for the more sweeping Obama-era Clean Power Plan for power industry carbon emissions.
The pod is an interview with attorney Joseph Goffman, a key author of the Obama rule that's being jettisoned. So he's not a neutral source. But Goffman offers a compelling look at the fault lines.
The intrigue: Once the court battle over ACE and repealing the Obama plan begins, he says Trump's team faces a tough decision about whether they should try and limit the options of the next EPA to write more aggressive mandates.
The big question: Whether EPA has the power — which former President Obama's team claimed — to force system-wide electricity system changes, or whether Clean Air Act rules must stay "inside the fenceline" of power plants.
Goffman says Trump's EPA has two basic options...
An all-in, high-stakes strategy that says the court must side with its narrow interpretation of Clean Air Act powers because there's no other valid reading.
Argue the court should defer to its position because it's a reasonable interpretation of the law, even though there may be other reasonable ones too.
The bottom line:
"If the case comes up under the first option, if the agency goes for broke and tries to persuade the court that there is only one interpretation, and if the court agrees, then that will all but close off the path for a future administration to look at a system-wide approach," Goffman says.
5. The stakes of the SCOTUS fight
E&E News looks at what yesterday's Senate hearing revealed about Supreme Court nominee Brett Kavanaugh's views toward regulations.
Why it matters: Administrative action is where it's at when it comes to U.S. climate policy, given that emissions legislation is in a deep, deep freeze in Congress.
"Although not calling to get rid of Chevron deference entirely, the judge has expressed some skepticism about the doctrine, under which courts typically defer to an agency's judgment when a law is ambiguous on an issue," Ellen Gilmer reports.
"Kavanaugh said the executive branch too often fails to persuade Congress to pass its policies and then tries to fashion new authority out of old laws by claiming they are ambiguous," the story adds.
What's next: There's a good chance that a battle over the scope EPA's power to regulate CO2 emissions under the Clean Air Act could again come before the court, even though the agency's underlying authority isn't likely to upended.
Go deeper: The climate stakes of Kennedy's exit
6. On my screen: Exxon, Tesla, wind, batteries
Exxon: Per Reuters, "ExxonMobil Corp said on Thursday it has signed a preliminary deal to build a petrochemical complex and invest in a liquefied natural gas (LNG) terminal in China, the latest major foreign investment in the world's top chemicals market."
Tesla: The Canadian Press reports that Walmart is expanding its pre-orders for Tesla's electric semi-truck, which is not yet in production.
"The Canadian subsidiary of the U.S.-based retail giant says it will acquire 30 of the 18-wheeler semi-trucks on top of the 10 ordered last November," their story notes.
Offshore wind: Via the Financial Times, "Orsted, the Danish energy company, has completed the world's largest offshore wind farm in the Irish Sea, a multi-billion pound project that sets a new milestone as wind farms become bigger and more powerful."
Batteries: Greentech Media reports on the growth of residential storage. "For the first time ever, the U.S. saw more home energy storage than front-of-meter storage deployed in a single quarter."