Axios Generate
August 31, 2018
Happy Friday and have a nice holiday weekend! We'll be back Tuesday.
This is cool: Our own Amy Harder will be the inaugural journalism fellow at the University of Chicago's Energy Policy Institute. Check out the announcement here. Congrats!
And finally, happy birthday to Van Morrison, whose singular voice brings us today's intro tune...
1 big thing: California's transportation challenge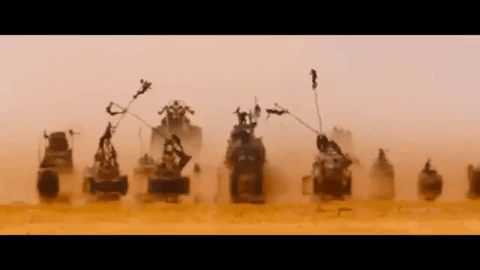 California is on the cusp of enacting a law to have 100% carbon-free electricity by 2045. But amid the hoopla, a new report underscores an arguably tougher challenge: Wringing CO2 out of transportation.
Why it matters: Transportation emissions have been rising in recent years — even as the state's overall CO2 output has dropped over the last decade —
and ticked up another roughly 2% from 2015–2016.
Cars, trucks and other vehicles now account for just over 40% of greenhouse gases in the state that's the world's fifth-largest economy, the report from Beacon Economics and the group Next 10 says.
Where it stands: Modest gasoline prices, a shift in consumer preferences toward pickups and SUVs, and declining transit usage all contribute. But, so does something less obvious — California's housing crunch.
"While fuel economy standards have done much to reduce emissions, there are more cars on the road today and, in the last few years, those cars have been driving farther distances as housing costs push people farther from job centers," the report states.
The intrigue: Bloomberg's Eric Roston notes that the report "could become part of an expected confrontation between the state and White House."
That's because the Trump administration recently floated draft auto mileage and emissions rules that would freeze Obama-era increases in 2020 rather than allow them to keep tightening. And, crucially for California, the plan would revoke the state's power to impose tougher mandates.
The big picture: The report — called the California Green Innovation Index — is a detailed look at California's climate and energy picture in light of policies that go back over a decade.
The state reached a key goal — cutting emissions to 1990 levels by 2020 — 4 years ahead of schedule, it notes.
"Between 2006 and 2016, California had greater emissions reductions (-11.1%) than the U.S. as a whole (-10.2%) while also achieving greater economic output (15.9% growth compared to 11.6%)," the report finds.
2. An EV milestone and more Tesla intrigue
The big picture: Cumulative global sales of electric passenger vehicles will reach 4 million this week, according to Bloomberg New Energy Finance — but what's even more interesting is the rate of increase. They said in a report Thursday...
The time needed to reach each consecutive million EVs sold has shrunk from 17 months for the second million to 6 months for the fourth million.
There are several new EV models that we expect to come to the market before the end of 2018, which should help increase sales numbers globally.
Tesla: Reuters broke the news last night that funds controlled by BlackRock, the investment powerhouse, supported a failed attempt to replace Elon Musk with an independent chairman of the board.
Tesla investors overwhelmingly voted down the proposal the split the CEO and board chairman duties at the electric automaker's shareholder meeting in June.
Why it matters: While the motion failed, BlackRock's stance signals that a major shareholder that's one of the nation's most powerful investors believes there should be a fundamental change in Tesla's management structure.
And that was even before the more recent tumult over the aborted take-private plan and some other recent Musk controversies.
Per Reuters, "BlackRock funds are a top-10 Tesla stockholder, controlling nearly 6.5 million of Tesla's 170 million shares."
3. Canada's big pipeline ruling
Oil sands: Via the Associated Press, "Canada's Federal Court of Appeal on Thursday halted the contentious Trans Mountain pipeline expansion that would nearly triple the flow of oil from the Alberta oil sands to the Pacific Coast — a setback that comes just as the government is buying the project."
The decision found inadequate consultation with First Nations people. Also, as the Vancouver Sun notes, the court said federal regulators failed to study the effects of marine tanker traffic that would result from the export project.
Why it matters: The decision is a major win for environmentalists and First Nations' groups that opposed it.
It's blow to Prime Minister Justin Trudeau and the latest hurdle for oil companies and Canadian officials seeking to open new markets for Alberta's oil sands.
Trudeau, via Twitter yesterday afternoon, vowed to keep pushing for the project.
Plus, speaking of pipelines...
Permian bottlenecks: Per Reuters (with emphasis added by your Generate host)...
Texas oil production fell in June from a year earlier for the first time in 16 months, according to figures released on Thursday by the state's energy regulator, a fresh sign that a lack of pipeline space in the nation's largest shale field may be curbing production.
4. Chart of the day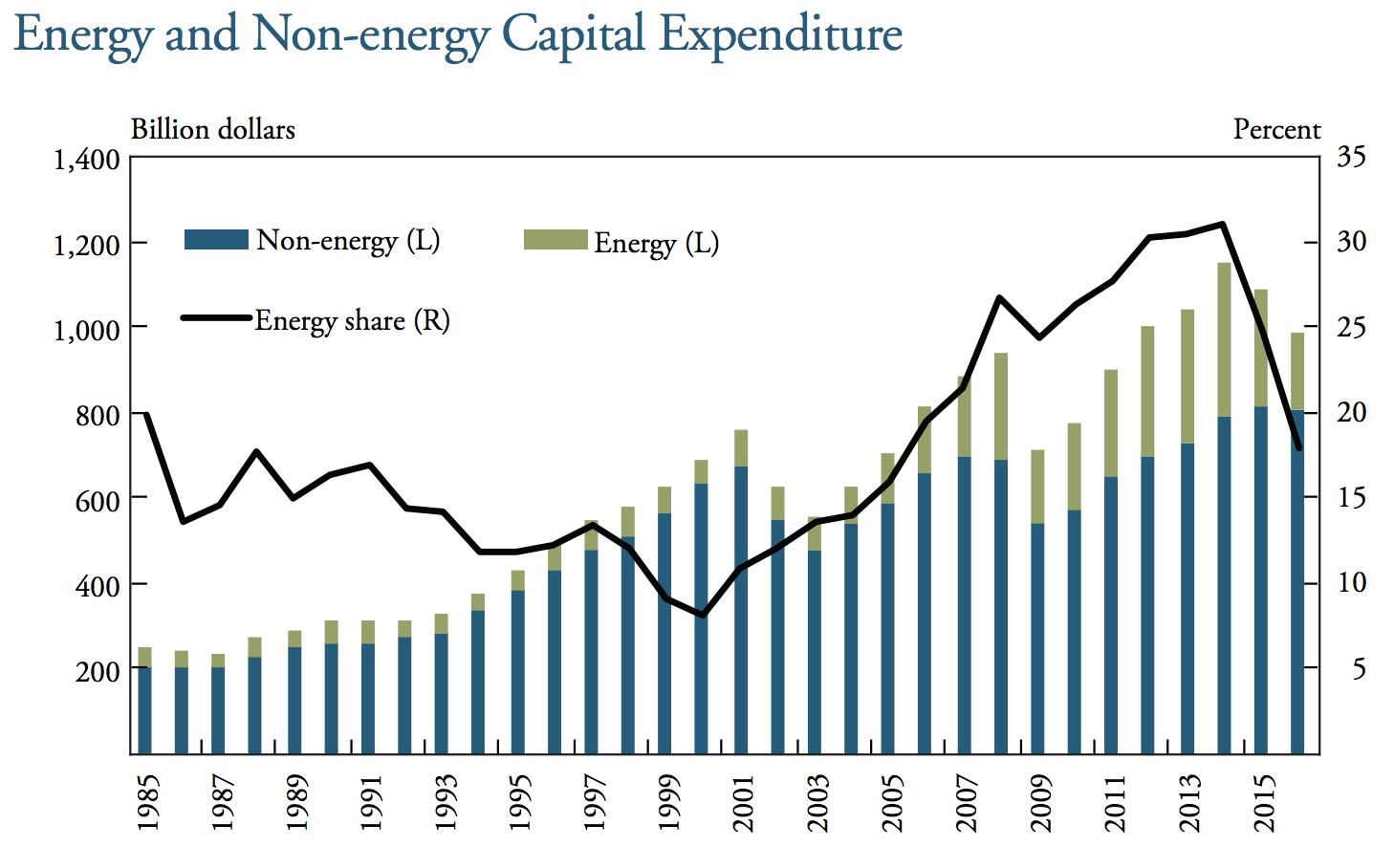 The chart above is a reminder of the influence of the energy economy. It's big.
The context: It's from this new-ish (Aug. 22) paper from the Kansas City Fed that tracks the energy sector's "substantial influence" on overall U.S. business investment.
By the numbers: From 2006 through 2014, capital expenditures, or capex, among publicly traded firms rose by 41% — a boost "largely driven" by the energy sector, which was up 125%.
But after oil prices crashed in 2014, energy capex plunged by over 50% from 2014-2016, which was enough to push overall business capex down by 15 for the period — even though non-energy investment was actually up slightly.
Why it matters: The paper by David Rodziewicz concludes that taking stock of the energy sector's influence is important for policymakers and forecasters. He writes:
[I]f the aggregate economy is more sensitive to investment fluctuations in the energy sector, then a period of unusual strength in energy investment could mask underlying weaknesses in the economy at large
Similarly, negative investment shocks to the energy sector could falsely signal weakness in an otherwise healthy economy.
5. Exxon's Guyana find grows
Exxon said Thursday that it has made a ninth discovery in a huge oil field off Guyana's coast, a region where the oil giant says it has already located over 4 billion barrels of oil-equivalent.
Why it matters: The region slated to play a major role in the oil giant's future production growth plans — the company and its partners anticipate production surpassing over 725,000 barrels per day by 2025.
The Houston Chronicle has more here on Exxon's latest find.
The big picture: Exxon's operations slated to transform Guyana into the world's newest petro-state once oil starts flowing in a couple years, which brings risks alongside the new revenues as the country seeks to avoid the so-called resource curse.
CNN Money has a new story about what Exxon's moves will mean for the South American country. "Corruption, infrastructure and unexpected market forces could present challenges for Guyana," they report.
Go deeper: Exxon's expanding offshore future; Getting the newest petro-state its fair share.