Axios Gaming
August 10, 2021
Welcome back to Axios Gaming with Megan Farokhmanesh. Have you missed Stephen? He'll be back soon.
Today's edition is 1,096 words, a 4-minute read.
1 big thing: Activision Blizzard shareholder demands change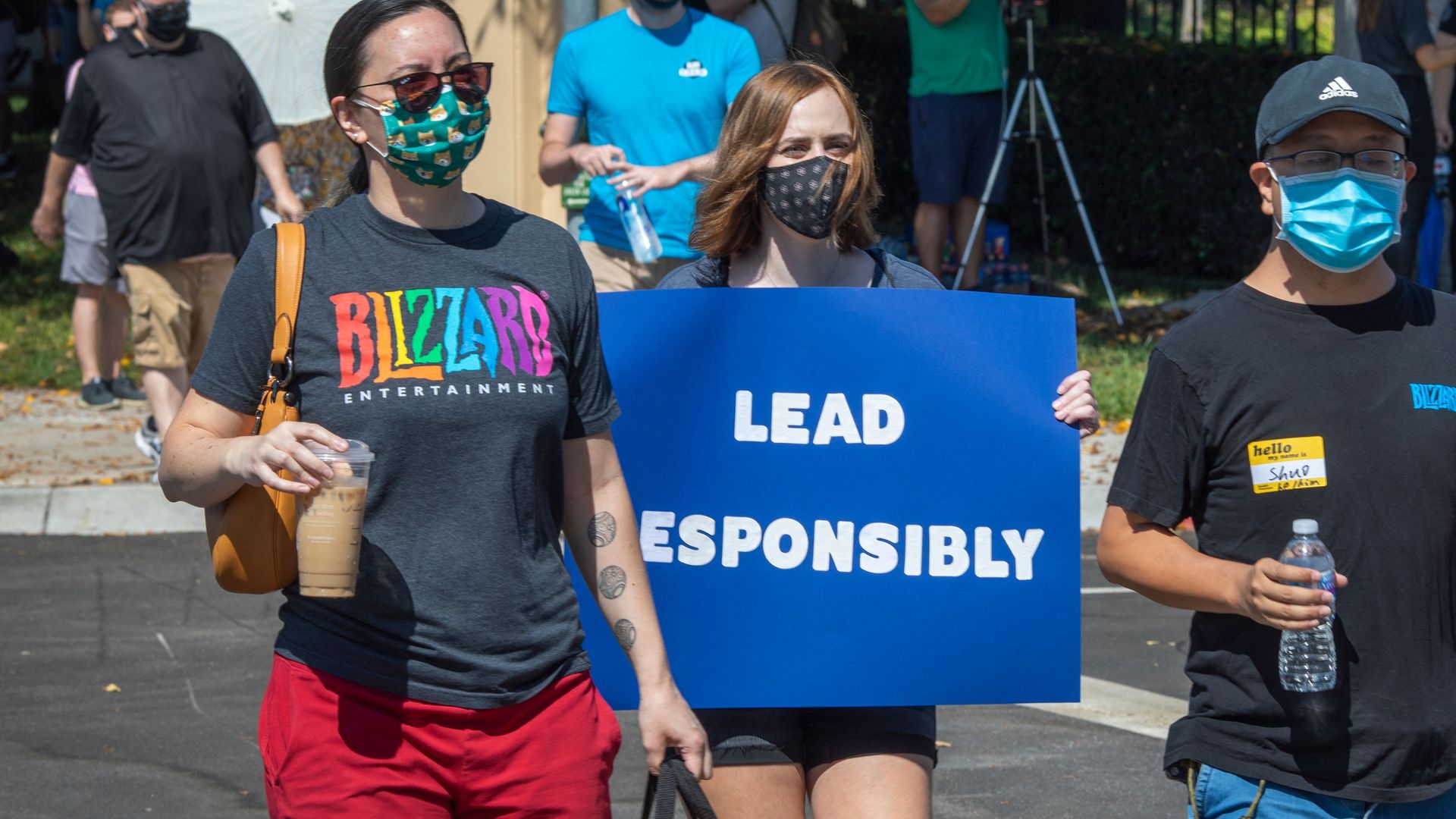 An Activision Blizzard shareholder and investment group is calling for the company to take more drastic action, following an "inadequate response" to reports of its toxic culture.
Why it matters: Investment group SOC advocates for ethical business practices and is outspoken on topics like pay gaps between executives and workers.
SOC (formerly CtW) campaigned successfully against Activision Blizzard and Electronic Arts for their executives excessive pay.
In a letter shared exclusively with Axios, executive director Dieter Waizenegger pointed to a lack of changes regarding the company's process to fill vacancies in senior management or board of directors.
He also took umbrage with a lack of changes around executive pay, "either with respect to clawing back compensation from executives who are found to have engaged in or enabled abusive practices, or to align executives with the equity goals [CEO Bobby] Kotick articulated."
Activision Blizzard's decision to hire infamous union busting firm WilmerHale to review the company's practices is "deficient in a number of ways," the letter continues.
"This firm has a sterling reputation as a defender of the wealthy and connected, but it has no track record of uncovering wrongdoing, the lead investigator does not have in-depth experience investigating workplace harassment and abuse, and the scope of the investigation fails to address the full range of equity issues Mr. Kotick acknowledges."
SOC is calling on Activision Blizzard to increase its board diversity and equity by adding a female director, "preferably one with a history of advocacy for marginalized people and communities," by the end of the year.
Additionally, it asks that the company commits to "gender-balance on the board by 2025, and reserving at least one board seat for a nominee selected by current employees as their representative."
Other key points:
SOC is calling for no bonuses in 2021 and to make future bonuses contingent on the company's ability achieve milestones for diversity and equity.
It's also demanding a company-wide equity review that will "encompass the full range of concerns (including inequities rooted in gender, gender-identity, sexuality, and race) articulated by Mr. Kotick, Activision Blizzard employees, and customers: equity and representation issues in game design, the development process, and in user forums and similar settings."
What's next: Although Kotick has promised that Activision Blizzard "will be the company that sets the example for this in our industry," employees and industry observers remain skeptical.
"At this critical juncture in Activision Blizzard's history, we urge you and the board to push beyond the inadequate response from management and take the steps necessary to protect our investment from the financial, operational, and reputational risks that have come to the fore over the past week," Waizenegger says.
2. A tiny return for the Amiga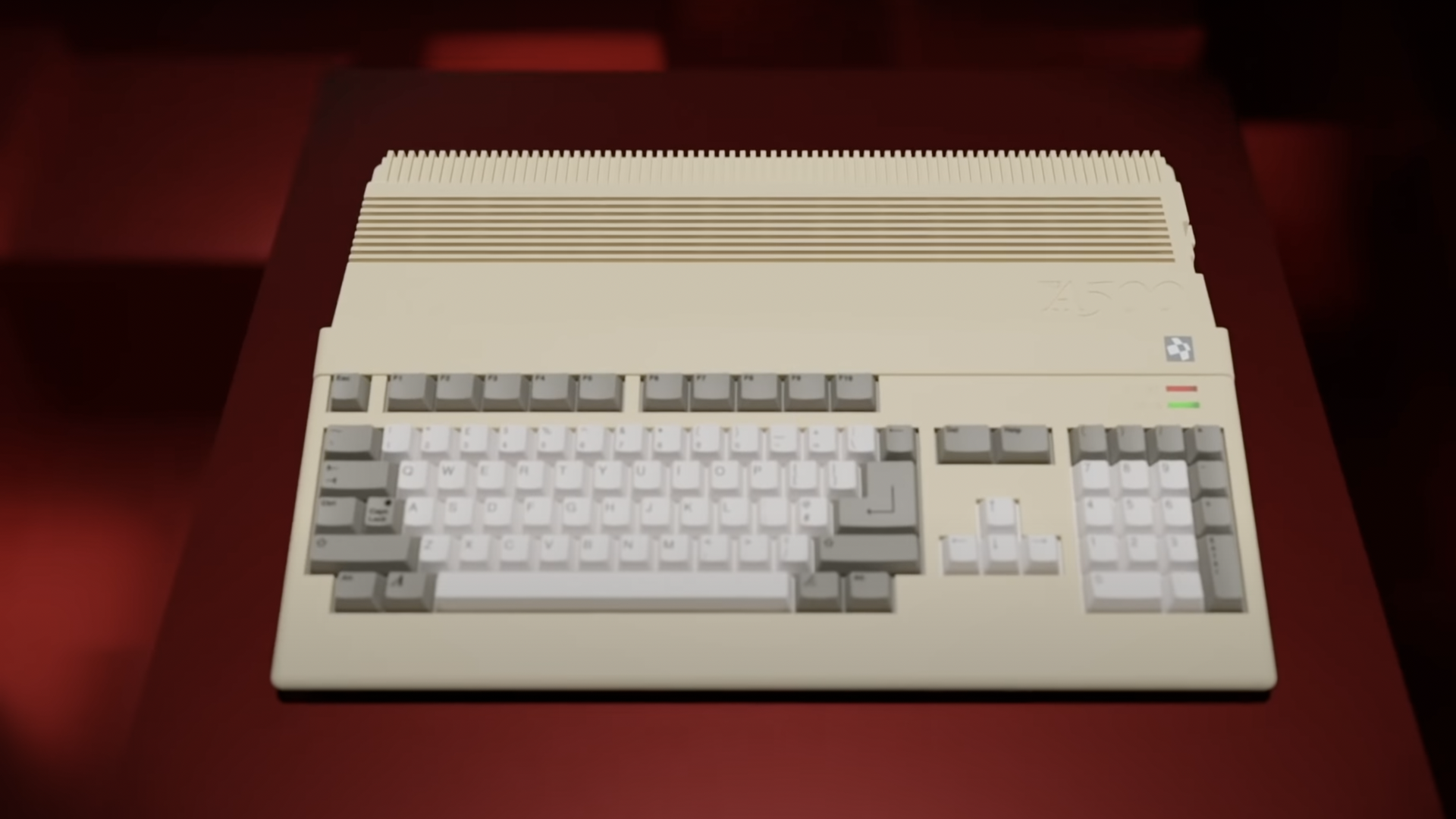 Retro Games is releasing a mini "reimagining" of the Amiga 500 called the The A500 Mini.
The details: The A500 Mini will include 25 classic games, including "Alien Breed," "Another World," "Chaos Engine," "Simon the Sorcerer," and "Worms."
Players will also be able to add their own games with a USB stick.
The console, which launches in early 2022, includes a two-button mouse and retro controller.
The big picture: Mini consoles have become a popular way for fans to revisit classic games.
Nintendo's SNES and NES Classic Editions were instant hits that became difficult to find after their release.
Sony also released a mini PlayStation, the PlayStation Classic.
3. Twitch makes it easier to learn why you're banned
Twitch is updating its policies around suspensions to give users a better idea of how and why their content violates rules.
Why it matters: The platform's policies around suspensions have historically been murky, leaving some streamers in the dark about why their accounts have taken a hit.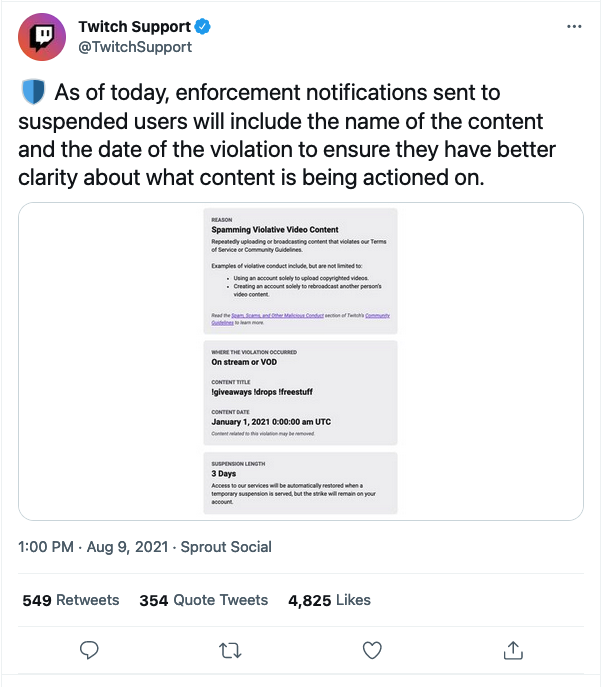 On Twitter, the company said that "enforcement notifications sent to suspended users will include the name of the content and the date of the violation to ensure they have better clarity about what content is being actioned on."
4. Seeking better ways to describe games
Today on Reporter's Notebook, a segment where we share previously unpublished interview excerpts, Stephen Totilo gets into the shortcomings of game genres.
Video games might be better served by being classified by how they make you feel, than simply by what you do in them, Shawn Layden, the former head of PlayStation's development studios, recently told Axios.
Why it matters: He is concerned that the genres commonly used to describe various types of games might be holding the medium back
What he's saying: "One of the blockers we have in the video game business is that we continue to describe our content by its core mechanic," he said. "That's a shooting game. That's a racing game."
"We need to begin to describe our titles, our intellectual property, our creative output, more in the context of how it's going to make you feel."
"Is the game going to lighten your day? Is it going to be ultimately grim like 'The Last of Us Part II?' We need to look at it more holistically rather than just the execution of a button press."
For the record, the official PlayStation store lists "The Last Of Us Part II" as an action adventure and the genre categories in the Xbox store aren't "comedy" or "drama," but "action & adventure," "fighting," "indie," "shooter," etc.
5. Need to know
🎉 Nintendo is holding a 20-minute indie showcase tomorrow at 12pm ET.
😷 PAX Australia's October event has been "postponed" due to COVID; organizers said the next event will take place in 2022.
👁 "Pokémon Go" developer Niantic has acquired 3D mobile scanning mobile app to "make multi-OS scanning easier and more accessible to the Niantic Explorer community."
6. Worthy of your attention
The bizarre Minecraft meme Penis SMP has spawned a world of its own (Ryan Broderick, Polygon)
"A recent fan project, called the 'Penis SMP,' has turned an offhand Tumblr joke into a fully fleshed out world with its own Minecraft server. It's a radical glimpse of a future where technology completely erases the line between creators and their fans."
7. Fast and not even a little furious
"Mario Kart 64" speedrunnder Daniel Burbank now holds all 32 records for the game's top times, making him the first to ever do so.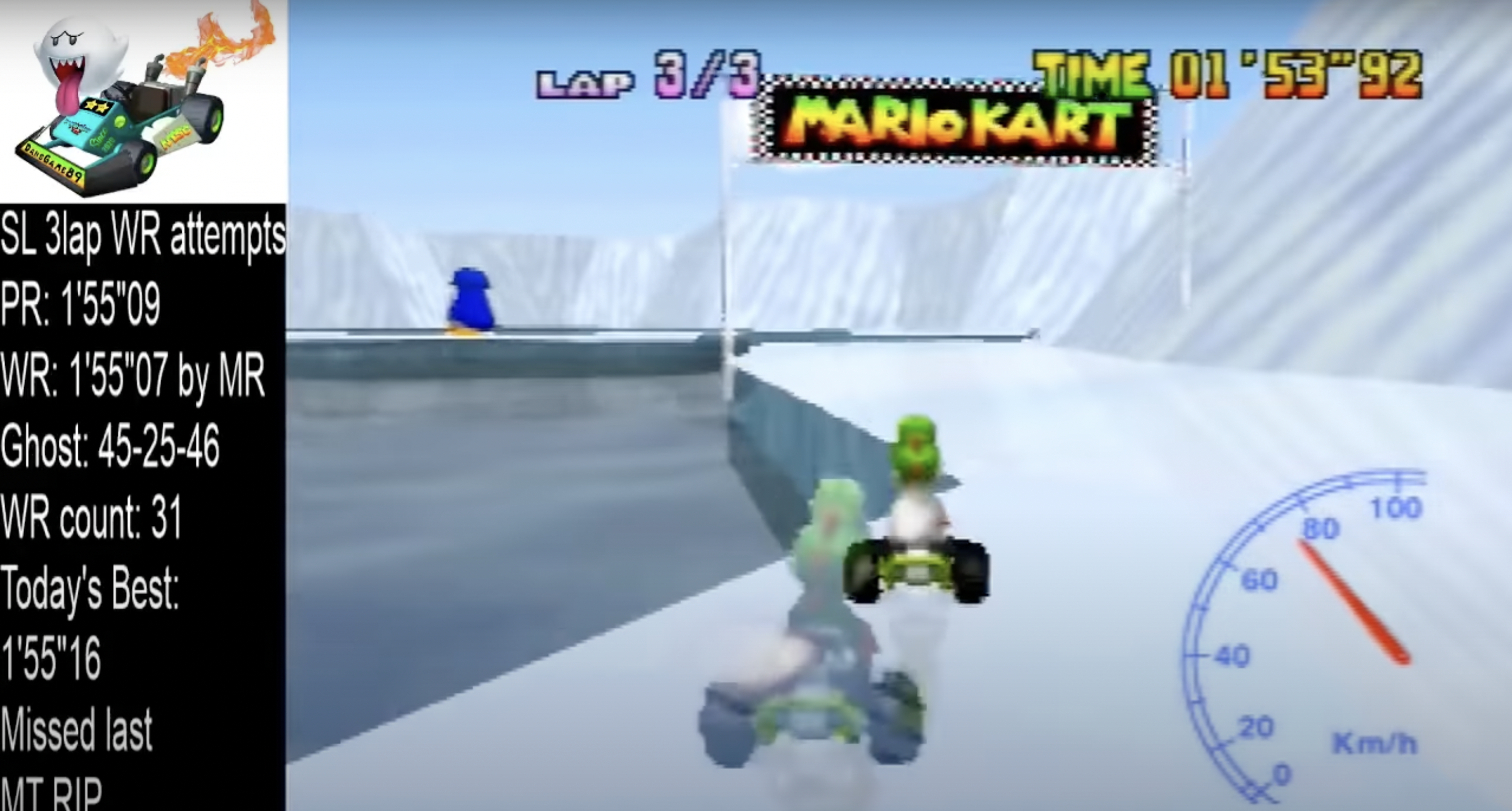 To get all 32 records, a speedrunner needs to have the fastest single lap in addition to all three laps. It's a goal players have been fighting to reach since since 2013. For a very wholesome moment, you can Burbank's clip where he exclaims "I did it, man! Let's go ... it happened."
🎁 Like the newsletter? Refer Axios Gaming to your friends to spread the word and get free stuff in the process. Follow the link here to begin.
🐦 Find us on Twitter: @megan_nicolett / @stephentotilo.
"Mario Kart" players achieving their dreams :')