August 04, 2021
Welcome back to Axios Gaming with Megan Farokhmanesh. Oh, were you expecting someone else? Stephen's away on vacation.
Today's edition is 1,210 words, a 5-minute read.
1 big thing: Sony's PlayStation gains
Sony's PlayStation 5 sales are on track to hit the company's target goals this year, as its CFO claims to have found a way to work through the semiconductor shortage plaguing the tech industry.
Why it matters: PlayStation 5 consoles are still hard to come by, though the company's optimistic outlook suggests interested buyers may start to have an easier time.
Sony expects PlayStation 5 sales to hit the company's target of 14.8 million PlayStation 5 units sold, despite Sony CFO Hiroki Totoki's comments in May that low supply would continue into 2022.
As noted by VGC, Totoki also said the company has taken action "through various measures."
This chip shortage, a side-effect of COVID, has impacted everything from consoles to home appliances. "Regarding the supply of semiconductors, we are not concerned," Totoki said.
In May, the company noted it had sold 7.8 million units.
The PlayStation 5 — specifically the $499 console, which includes a disc drive — is also no longer selling for less than what its production costs.
Sony also says it sold 500,000 PS4 consoles in the most recent quarter. That number tallies lifetime sales up to 116.4 million.
The big picture: Last week, the company announced the PS5 has sold 10 million consoles, making it the fastest-selling console in Sony Interactive Entertainment's history.
As noted by senior analyst Daniel Ahmad on Twitter, "This was PlayStation's largest Q1 ever in terms of revenue."
"This shows the demand that PS5 is seeing," Ahmad continued. "At this point, the PS4 had shipped 10.4m units. Yet it took 3 weeks longer than the PS5 for the PS4 to reach 10 million units sold through to consumers. In other words, PS4 did not sell through as fast as PS5 currently is."
2. Activision Blizzard's ongoing woes
Activision Blizzard CEO Bobby Kotick said, "There's no place at our company where discrimination, harassment or unequal treatment of any kind will be tolerated," as the company continues to field fallout from revelations about its toxic culture.
Driving the news: Kotick opened an investor call yesterday by addressing the ongoing scandal.
Activision Blizzard "will be the company that sets the example for this in our industry," he said.
As we reported yesterday, employees say the company has failed to protect those in harm's way, while actively shielding abusers from punitive action.
What's happening: Activision Blizzard is now facing a second lawsuit from the studio's investors.
The lawsuit claims investors were mislead as the company failed to disclose "numerous complaints about unlawful harassment," which artificially inflated the company's stock.
What they're saying: The ABK Workers Alliance, the group within Activision Blizzard responsible for the recent walkout, has loudly decried the company's efforts so far for failing to "meaningfully address our requests."
Kotick says the company will continue to investigate claims and will take "decisive action" against bad actors. "We will not just terminate employees where appropriate, but will also terminate any manager or leader found to have impeded the integrity of our processes."
3. Insomniac's last-minute "Ratchet" boost
Today on Reporter's Notebook, a segment where we share previously unpublished interview excerpts, Stephen Totilo shares additional insight from Insomniac.
The developers of PS5 showpiece "Ratchet & Clank: Rift Apart" discovered they could offer what arguably is the game's most impressive graphics mode just a few weeks before launch, Insomniac director of core technology, Mike Fitzgerald, told Axios.
Why it matters: As studios go, Insomniac is one of best at squeezing performance out of its games.
For "Rift Apart," the game was expected to run at 30 frames per second at a relatively low resolution with ray tracing (think: advanced lighting) or at 60 frames per second at high resolution without ray tracing.
A week before the game's launch, Insomniac announced a third option: 60 frames per second with ray-tracing, running at a mid-range resolution.
That new mode, dubbed "Performance RT," was offered via a downloadable update that was ready for players on day one.
Between the lines: Making games for a new console is a constant process of discovery about what the hardware can do, Fitzgerald said. "As you get towards the end, you find out how much performance you can push out of it."
The new mode was a late discovery, the result of cross-disciplinary teams in programming, art, testing and elsewhere figuring out how they could get the most out of the PS5.
It helps that Insomniac's tech team touches all of its games and sticks with them. "There's no point, say, in the middle of production where we say, 'OK, engine's locked, good luck, game team, finish your thing and we're going to move on to the next thing,'" Fitzgerald said. "We have the whole core technology team focused on the quality of 'Ratchet & Clank' until a month after it ships."
He realizes they put some pressure on themselves after offering performance upgrades for their PS4-based Spider-Man games for the PS5's launch. "We knew, okay, well, people are going to expect this out of the next game. We do, too, but it's built for [the PS5], so how are we going to find that extra?"
4. Gamescom approaches
The next big virtual gaming event, Gamescom, will kick off with a live two-hour showcase on Aug. 25.
Why it matters: The annual conference is another event where developers make big announcements and show off upcoming games.
The event begins at 2pm ET and is likely to include announcements ahead of the official show.
Although Gamescom typically takes place every year in Cologne, Germany, the event will remain virtual this year due to COVID. Organizers scrapped plans to hold a "hybrid" in person and digital event earlier this year.
Geoff Keighley will once again produce and host the returning event.
5. Need to know
🪦 "Diablo Immortal" is delayed until the first half of 2022 to allow Blizzard to "add substantial improvements to the whole game."
🍗 Chikon Club's "Soup Pot" has also been delayed. The game will now launch "later this year" for box Series X/S and Steam.
💰 League Championship Series (LCS) struck a 7-year sponsorship deal with cryptocurrency exchange FTX, making it the largest esports agreement of its kind for Riot.
⚡️ "Fortnite" is adding two more "Street Fighter" characters — Cammy and sentient mop Guile — to its shop on Aug. 7. Earlier this year Epic added Ryu and Chun-Li.
👻 "Ghost of Tsushima: Legends" is getting a new mode called Rivals, where two teams with two players will compete in combat waves. Sucker Punch will also release an update on Aug. 20 with new features and balances and plans to release "Legends" as a standalone game.
6. Worthy of your attention
The tricky, essential art of preserving canceled games like "Starfox 2" (Leah Williams, Kotaku)
"The value of preserving [video game] history is misunderstood and often fraught with complications. Copyright law typically means publishers — and sometimes developers — control the IP of anything produced, meaning preservationists are often breaking the law while they work to document the history and talent behind lost creations."
7. *Bo Burnham voice*
The dissonance of yesterday's Activision Blizzard investor call, which swung from executives addressing harassment allegations to call-ins congratulating the team on a successful quarter, was not lost on listeners.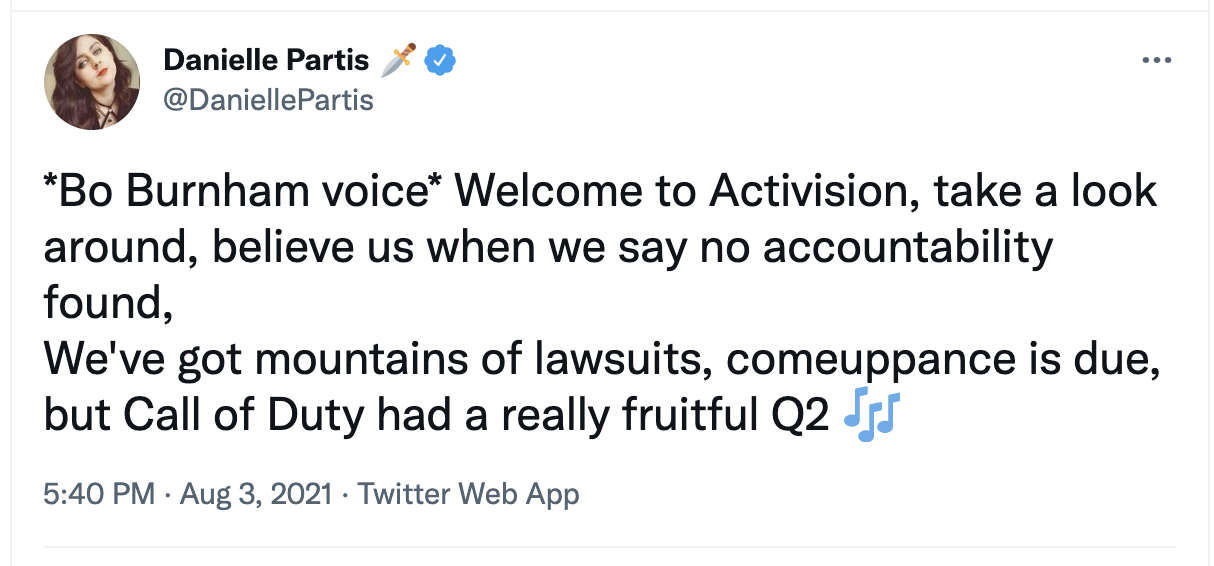 If you want to hear a musical version (which I highly recommend, even if it's an extra click) Uplift Games' Josh Ling has created a delightful little jingle.
🎁 Like the newsletter? Refer Axios Gaming to your friends to spread the word and get free stuff in the process. Follow the link here to begin.
🐦 Find us on Twitter: @megan_nicolett / @stephentotilo.
When will someone create a sing-a-long of my (mediocre) tweets?