Axios Gaming
January 12, 2023
Happy Thursday.
I just read that hardly anyone plays the Black Cat card in Marvel Snap, which only makes me more determined to keep it in my deck, tough as it's been to use effectively. I'm sure that says something about me.
Programming alert: No newsletter on Monday in observance of Martin Luther King Jr. Day. I'll send you a special edition on Tuesday.
Today's edition: 1,351 words, a 5-minute read.
1 big thing: Dire times at Ubisoft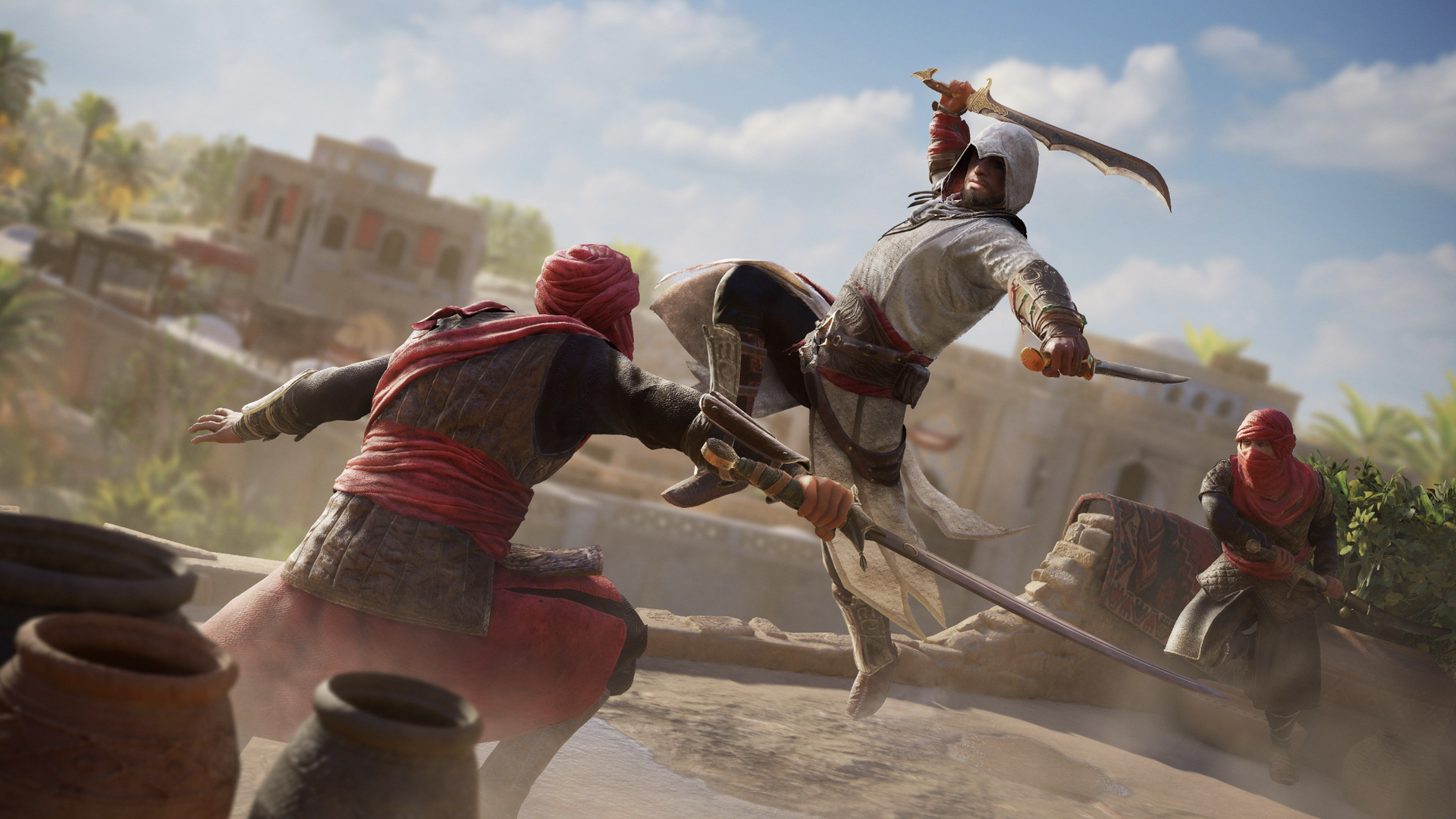 A cascade of bad news for Ubisoft has raised questions about what it'll take to turn things around at the massive publisher of Assassin's Creed.
Driving the news: Ubisoft management yesterday announced the cancellation of three unannounced games (in addition to the four axed last July), is looking for $200 million in cost reductions over two years and has lowered its operating income forecast for the current year by $1 billion.
It's trying to avoid layoffs, saying it will shrink via "natural attrition" and possible divestment of "non-core assets."
Developers on the canceled games will be shifted to other projects, a Ubisoft rep tells Axios.
What they're saying: "We are clearly disappointed by our recent performance," Ubisoft CEO Yves Guillemot told investors yesterday, in a call that was announced only 20 minutes in advance.
Guillemot and CFO Frederick Duguet said that inflation was giving some gamers pause about buying new releases and maintained that Ubisoft's games for the 2022 holiday season, namely Mario + Rabbids Sparks of Hope, had been heavily marketed and well-reviewed.
Yes, but as analysts on the call pointed out, other publishers scored huge hits last fall.
Ubisoft, by contrast, has had fewer and fewer games to sell. Once known for releasing multiple blockbuster games each fall, its sole mega-release of the last two years was Far Cry 6, which came out in October 2021.
Ubisoft has teased multiple strategy shifts that haven't panned out.
In spring 2021, it promoted a push into free-to-play and mobile gaming, announcing new games of those types for its popular Division franchise. Nearly two years later, Ubisoft hasn't released either Division title and its scant free-to-play releases have performed poorly.
In December 2021, it revealed an experiment to incorporate NFTs into its games. That flopped.
What's next: Ubisoft executives swear a turnaround will happen and that its pipeline, impacted by production challenges of the pandemic, will eventually flow again.
2. Skull & Bones & Delays
Ubisoft's multiplayer pirate game Skull & Bones was publicly delayed a sixth time yesterday, making it one of the most-postponed big-budget games of all time.
Treasure chest half full: The more development time a game has, the better it can be.
Treasure chest half empty: The buzz around this game, including from Ubisoft sources talking to Axios and others about its development, has been poor for a while.
3. Union saga's twists
The effort to unionize workers at Boston-based Activision Blizzard studio Proletariat is becoming tense, with one worker at the studio telling Axios they feel "disillusioned" by the way their colleagues have sought to organize the team.
Why it matters: Disputes between workers and management have been an expected and recurring aspect of the game industry's nascent unionization efforts — not so much disputes among the workers themselves.
What they're saying: "This is all being pushed faster than we've been able to process what it actually means for our jobs, who it applies to, what the benefits are versus the risks," the current worker tells Axios, speaking anonymously out of concern for retaliation.
The worker says that even though colleagues had been discussing possible unionization since the fall, they had not signed a union card and were caught off guard by the Dec. 27 public statement from a Proletariat work group and the Communication Workers of America about forming a union.
One concern: Pro-worker concessions won by Proletariat leaders when they sold the studio to Blizzard last summer could be back on the table during contract negotiations.
Catch up quick: In December, workers at Proletariat said that a supermajority of some 57 workers wanted a union.
Earlier this week, Proletariat management declined to recognize the union and instead pushed for an anonymous worker vote administered by the National Labor Relations Board. (Management also believes only 48 workers are eligible to unionize.)
Proletariat's leaders had hinted at some discord among its workers, saying in its blog post that "we have come to understand that many of our employees prefer to have an anonymous vote."
An Activision Blizzard rep then told Axios that "some employees said they felt pressured to sign union cards and were inadequately informed about what they were signing and what it meant when they signed."
In response, a CWA rep told Axios those assertions were either the result of management "interrogating workers about the union in violation of the National Labor Relations Act or they are copying and pasting from their law firm's anti-union playbook."
The bottom line: The worker who spoke with Axios said they are politically pro-union and wary of Activision Blizzard management. But they felt that communication among their colleagues needed to improve to better sell a potential union's benefits to them and about half a dozen other skeptics on staff.
4. Need to know
🇸🇦 Saudi Arabia's Public Investment Fund has increased its stake in Nintendo from 5% to just over 6%, according to a public filing reported by Nikkei.
🚗 The creative director and other senior developers from Microsoft's acclaimed Xbox/PC exclusive Forza Horizon 5 have left Playground Games to form Maverick Games. No comment from Microsoft about what this means for Playground.
🤔 The head of Amazon's San Diego game studio, which didn't release a game during his six years in charge, is stepping down, Bloomberg reports.
🏈 EA Sports will remove a CPR-related touchdown celebration from Madden NFL 23 in light of the on-field injury suffered by Buffalo Bills player Damar Hamlin, CBS Sports reports.
🎮 Microsoft is holding a Developer Direct showcase on Jan. 25, ending an update drought about its upcoming games. Marquee release Starfield will get its own event at a later date.
⚡️ Microsoft is rolling out new energy-saving options for its Xbox consoles, first to members of its Insider program.
In addition to switching more consoles to the more energy-efficient shutdown state when powered off, the update will also allow the machines to pull third-party data about energy consumption in local power grids, then schedule downloads of software updates when the grid has more renewable energy available.
5. The week ahead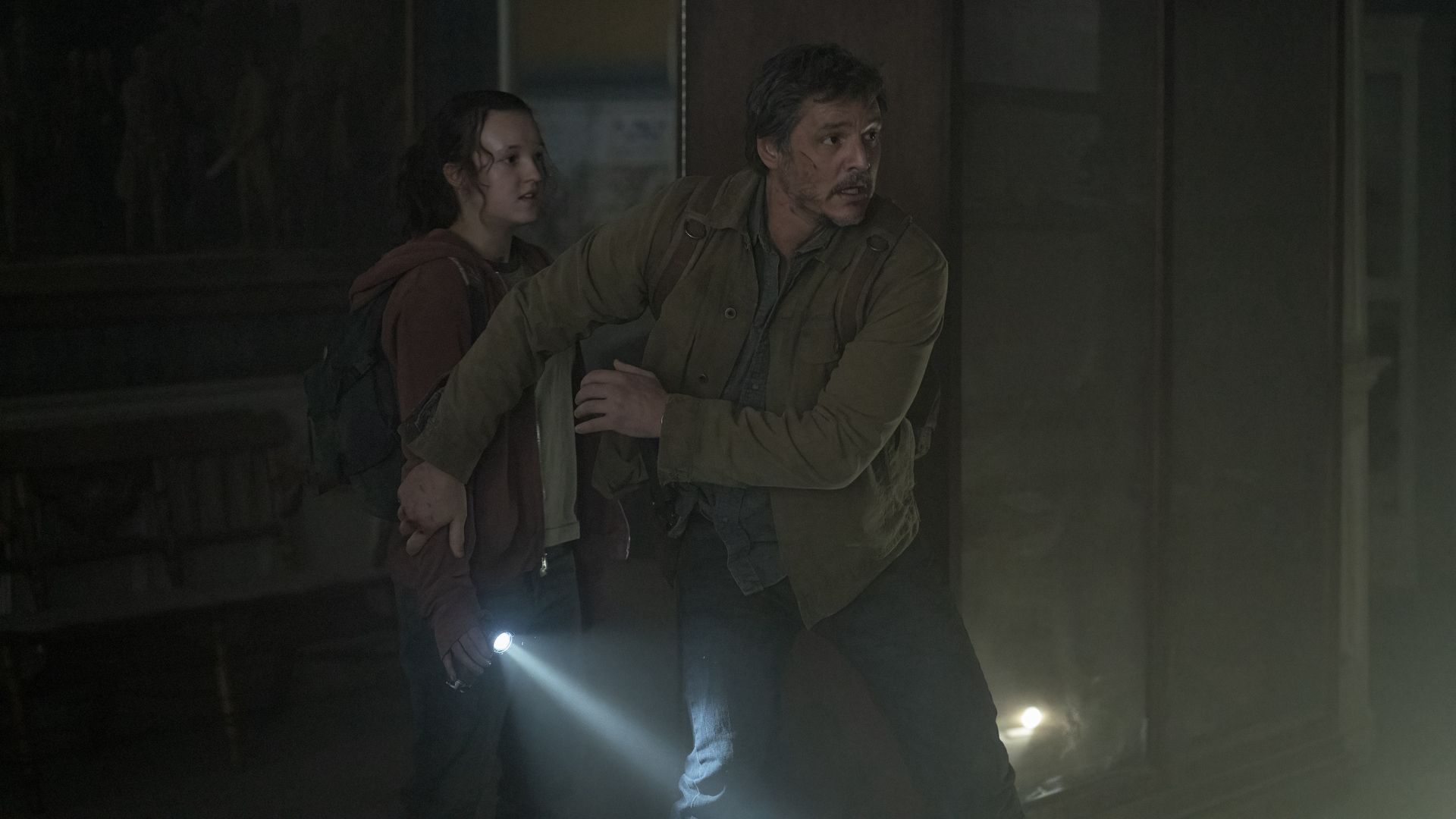 Friday, Jan. 13
Saturday and Sunday, Jan. 14 and 15
Monday, Jan. 16
Martin Luther King Jr. Day in the U.S.
Tuesday, Jan. 17
Wednesday, Jan. 18
Google Stadia shuts down.
Genshin Impact update 3.4 is released.
Thursday, Jan. 19
Friday, Jan. 20
6. Peter played … Tinykin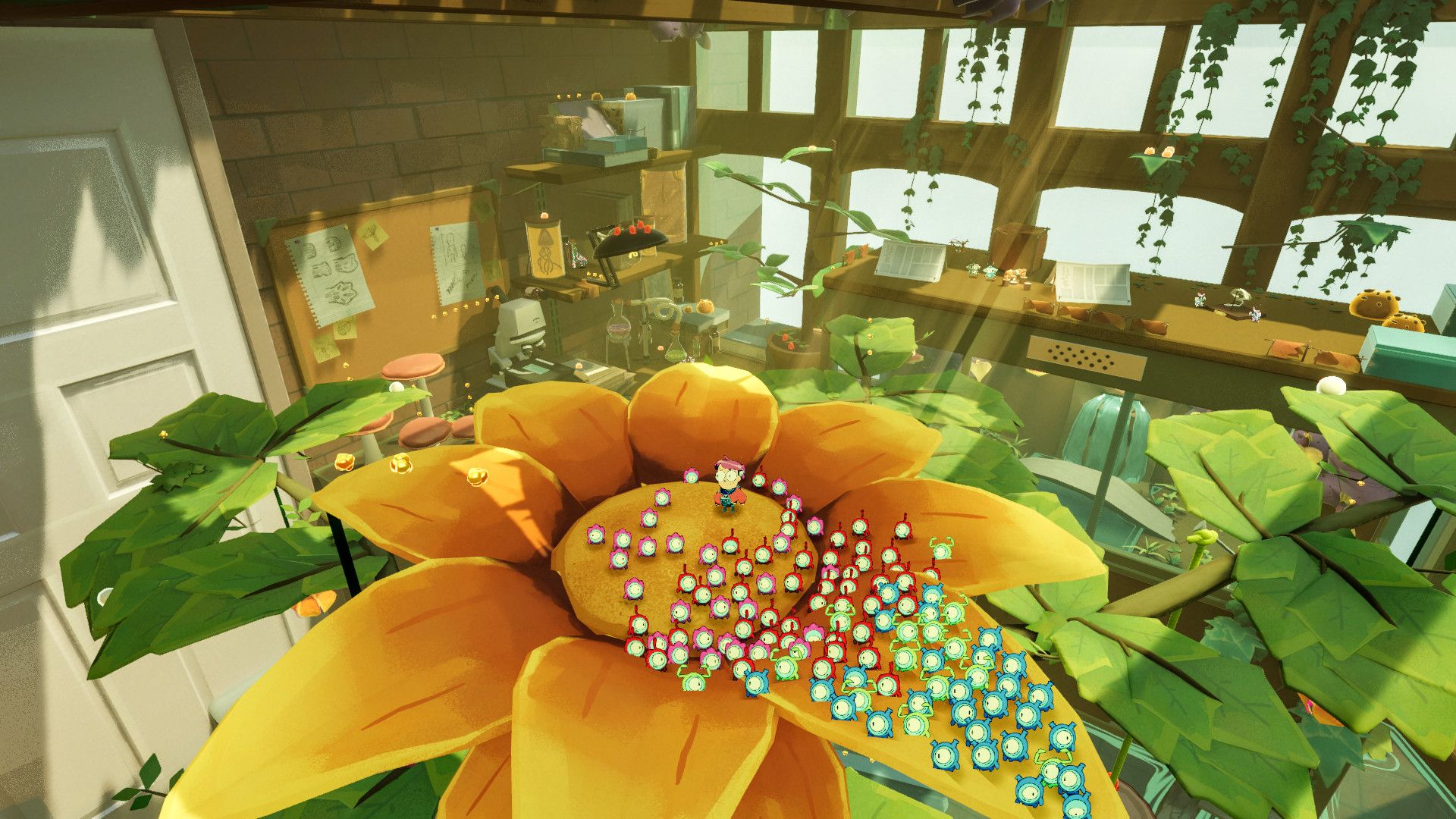 Hello, Axios' Peter Allen Clark here. Over the holidays I caught up with several 2022 releases, and had a great time with Horizon: Forbidden West and a decent time with The Callisto Protocol.
The biggest surprise was my playthrough of 3D puzzle platformer Tinykin (I saw credits at 9 hours on Game Pass. It's also available on PlayStation, Switch and PC).
What it's about: Tinykin was developed by Splashteam and published by tinyBuild. In it, you play as a little astronaut named Milo. He lands in a house much, much bigger than him and discovers little creatures called tinykin that start following him around.
Tinykin can feel delightfully like Nintendo's Pikmin, as players throw the cheerful minions at environmental obstacles, allowing for further exploration. The game also reminded me of quirky shrunken adventures like Katamari Damacy and the early Wii title Elebits.
With the tinykin's help, Milo finds out that the house is a bustling bug metropolis, full of creatures in need of help.
Tinykin excels at breezy traversal, creative whimsy and light atmosphere.
It just feels fun to roam around the house as Milo, and the rich artistry that brings the tiny world to life, surprised me again and again.
It's also just nice to play a game in which enemies aren't attacking you.
If you're looking for an easy escape into a tiny, cozy world, you can do a lot worse than Tinykin.
🎁 Like the newsletter? Refer Axios Gaming to your friends to spread the word and get free stuff in the process. Follow the link here to begin.
🐦 Find me on Twitter: @stephentotilo.
Thank you to Kathie Bozanich for copy editing this newsletter.
Two corrections to note: Last week's interview with EA CTO Marija Radulovic-Nastic incorrectly stated the year she began working for the company. It was 2004. This week's calendar of upcoming 2023 releases mentioned EA Sports' return to college football, but that game was actually delayed to summer 2024.