August 27, 2021
Hi, everyone. Stephen here, almost solo, with another Axios Gaming newsletter.
A big thank you to everyone who sent questions for our Friday Q&A. So many more than we can get to today! Please keep them coming.
Today's edition is 1,350 words, a 5-minute read.
1 big thing: A different kind of war video game
The upcoming video game "War Hospital" is the rare historical war game focused on saving lives, not taking them.
Why it matters: War video games are common and cliche. Not this one.
The details: Brave Lamb Studios' "War Hospital" is a World War I medical simulation game set in and around a ruined town in France throughout the year 1917.
Players assume the role of a British commander named Henry Wells who runs a field hospital set up in the town's half-destroyed church, just yards from trenches where Allied troops fight German forces.
The game is played from a bird's-eye view and includes a dash of combat and exploration outside of the town.
But the heart of "War Hospital" involves doctors, nurses and wounded soldiers and the morally gray choices involved in the care for people during wartime.
One tricky choice presented during Axios' virtual demo with the Warsaw-based studio involved deciding which of two injured soldiers the base's lone doctor would help.
A developer showing the game tried to heal both.
But he didn't have enough resources to spend on two thorough surgeries and had to resort to a cheaper amputation for one. An added life saved, though one fewer fighter available.
The dual operations exhausted the doctor, leaving him more prone to mistakes in future operations.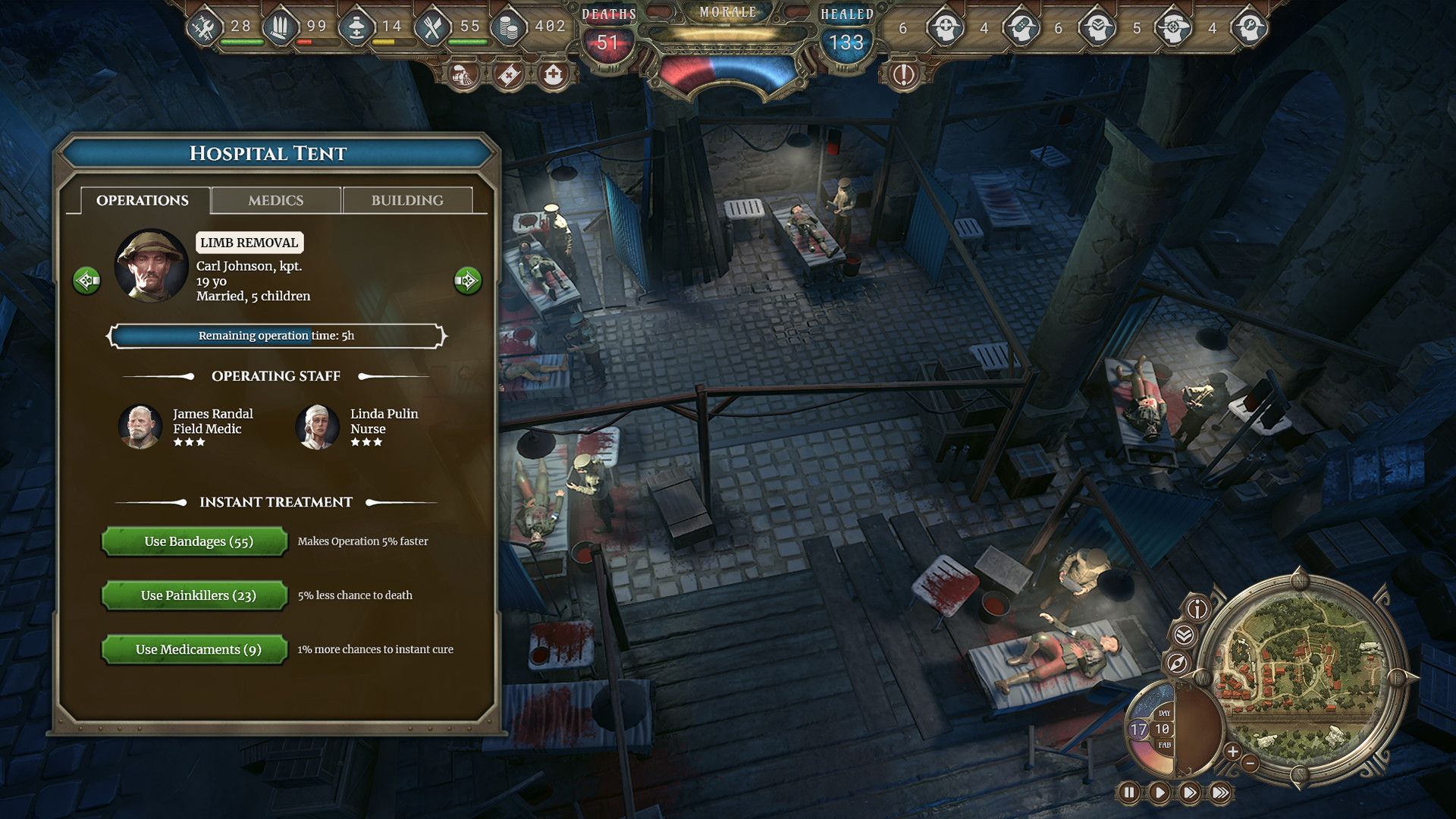 The core tension of the game involves the drive of a war effort and the tug of being humane.
"War Hospital" tracks the camp's morale and the number of soldiers healed or killed. A list of injured soldiers mentions wounds that are physical or psychological and charts their severity.
Camp morale can drop if injured soldiers are repeatedly rushed back to the front.
But sending too many soldiers home can leave the town vulnerable to the encroaching Germans. It may also reduce the resources given to the base by HQ, which limits the player's ability to upgrade the town's medical facilities and add more doctors.
The big picture: Popular war games like "Call of Duty" tend to treat war more as a playground, with a focus on the game-ified fun of combat, not the trauma of true conflict.
Those conventions were challenged by 2014's "This War of Mine," which was inspired by the siege of Sarajevo and challenges players to protect civilians during an urban invasion.
It also inspired "War Hospital" lead designer Michal Dziwniel, who told Axios his 19-person team's game is about "trying to save a small part of humanity in a dehumanized environment."
There is no winning or losing in his game, just getting to the end of the year, maybe inspiring a temporary ceasefire along the way, and seeing how everyone has fared.
What's next: "War Hospital" is scheduled to be released in December 2022 for PC and consoles.
2. Montreal's third wave
The announcement of a new Gearbox studio in Montreal yesterday extends an extraordinary streak of studio openings in what was already one of the global capitals for video game creation.
Driving the news: Since last year, Tencent's TiMi Studios, 2K, Amazon, Dontnod, New World Interactive, Phoenix Labs, Quantic Dream, Room 8, Deck13, and more have opened studios in Montreal.
Two motivations prevail:
Financing the studios with the region's generous tax credits.
Tapping into a rich talent pool filled by decades of major game development in the city.
Between the lines: Montreal has been a game development hub since the '90s when local studios such as Behaviour got a new neighbor in Paris-headquartered Ubisoft.
The "Assassin's Creed" maker now employs nearly 5,000 people in its studios in Quebec, where its Montreal operation is the largest.
Since Ubisoft entered, other game giants followed, including EA, Eidos and Bethesda.
What they're saying: "We think we are in the third wave, where we see more big studios coming, many of them coming from Asia," Stéphane Paquet, head of the public-private business group Montréal International, told Axios.
Among the recent studio openings: A Montreal office for Chinese hit-maker MiHoYo, whose "Genshin Impact" is one of the biggest games on the planet.
Some new studios, such as Haven and Raccoon Logic, are opening in the wake of development downsizing at Google Stadia, and many are plucking ex-Ubisoft developers, some of whom have become disenchanted with that company.
Joked one local developer to Axios of everyone's Montreal game dev hiring strategy: "Ubi is basically their supermarket."
The big picture: Montréal International estimates there are now about 200 game studios and 15,000 industry workers in the city.
One studio source told Axios that expansion has been good for workers, as some deeper-pocketed companies such as Epic and Unity arrive and offer better wages.
And as new studios provide more options, they have an unusual amount of power to land the jobs that make them happiest.
3. You ask, we answer
It's Friday, so time for more reader Q&A.
Q: Do you think we will ever see something like arcade culture again in the U.S.? A physical space where people can meet and compete other than the occasional comic shop fight night or novelty barcade?
A: Not really. While people are antsy to gather in person more, should the pandemic subside, arcade culture requires a business model to go with it. And gaming is just becoming increasingly online and virtual.
Q: I was lucky enough to snag a PS5 pretty quickly... I've never had a new console like this so early in its life cycle, so my question is—is it normal to have so few next-gen exclusives several months after launch?
A: Sure is. Early adopters wait a long time in the early going. Or, if you were an N64 owner back in the day, you kept waiting even in years two, three and four.
In this case, the new consoles' support for the previous gen also means that when you get another PlayStation exclusive such as February 2022's "Horizon: Forbidden West," it'll run on PS4, too, just better on your machine.
Do you have a question? Send it by replying to this newsletter.
4. Need to know
🍎Apple's proposed settlement regarding a class-action lawsuit by app makers would allow developers to promote non-Apple payment methods outside of the app (over email, for example) for in-app add-ons, but critics are calling it a minor concession, if that.
📱Nintendo's mobile gaming presence is shrinking again, as the release of new content for "Dragalia Lost" will slow down this year, its developers announced (via NintendoLife). Another mobile Nintendo game, "Dr. Mario World," is shutting down this year. Nintendo hasn't released a new mobile game since 2019.
🏍"No More Heroes 3" reviews hit at midnight ET last night, thanks to its revised review embargo. Some critics panned it, others think it's flawed but terrific.
🗯Wargaming has apologized for offering the promo code "W0LAXU5FKUTURY5", which PC Gamer explains was a not-so-veiled insult against a gamer called Tury 5.
5. Worthy of your attention
From a Twitter thread by a frustrated developer who said too many players of his 90-minute game were exploiting a Steam policy that lets people get refunds for games they've played for less than two hours. [Emika Games, Twitter]
"I am not offended by people who return the game because they did not like it or because of technical problems. But if a person went through to the end and returned the game, it can be compared to the fact that he ate all the pizza, but he did not like it, and just returned the box and [got] his money."
6. More of this, please
This week's big new update to "Destiny 2" didn't just add new missions and narrative beats.
It also added an in-game timeline, a welcome addition for some players (hello!) who often have trouble remembering all of its tangled lore and won't always notice long explanatory Twitter threads.
May the makers of "Assassin's Creed," "Halo," and other convoluted sagas take note.
🎁 Like the newsletter? Refer Axios Gaming to your friends to spread the word and get free stuff in the process. Follow the link here to begin.
🐦 Find us on Twitter: @megan_nicolett / @stephentotilo.
W0LAXIO5RUL35T3LLURFR1END5WHATSECRETCODE...93