August 26, 2021
Hello and welcome to a Megan-exclusive edition of Axios Gaming.
⚡️ Situational awareness: Blizzard will rename "Overwatch" hero McCree following the company's ouster of the character's namesake, Jesse McCree, in the wake of toxic workplace allegations.
Today's edition is 895 words, a 3.5-minute read.
1 big thing: MLK experience in "Fortnite"
A new interactive experience in "Fortnite" is sparking discussion about whether featuring Martin Luther King Jr. in the game is simply too ridiculous.
Details: Epic Games and Time Studios created "March Through Time," in which players can explore a digital version of the Lincoln Memorial in D.C. during 1963, listen to King's full "I Have a Dream" speech and view digital museum-like exhibits.
Why it matters: "Fortnite" has proved that it can serve as a venue for entertainment beyond what it offers as a video game.
Its March Through Time Initiative turns the game into an educational tool that allows a young audience to interact with King's speech on a platform they know well.
The big picture: "Fortnite" has been holding in-game concerts and events for years now with huge names like Ariana Grande and Travis Scott.
Last July, it held an in-game showing of "We the People" in Party Royale mode to talk about systemic racism.
But the juxtaposition of civil rights icon King with "Fortnite"'s colorful, cartoon shooter hasn't been lost on critics.
Essayist Chris Franklin points to "the tonal dissonance and the way it serves the platform itself" with screenshots of two players — appearing as the xenomorph from "Alien" and Rick from "Rick and Morty" — visiting the site.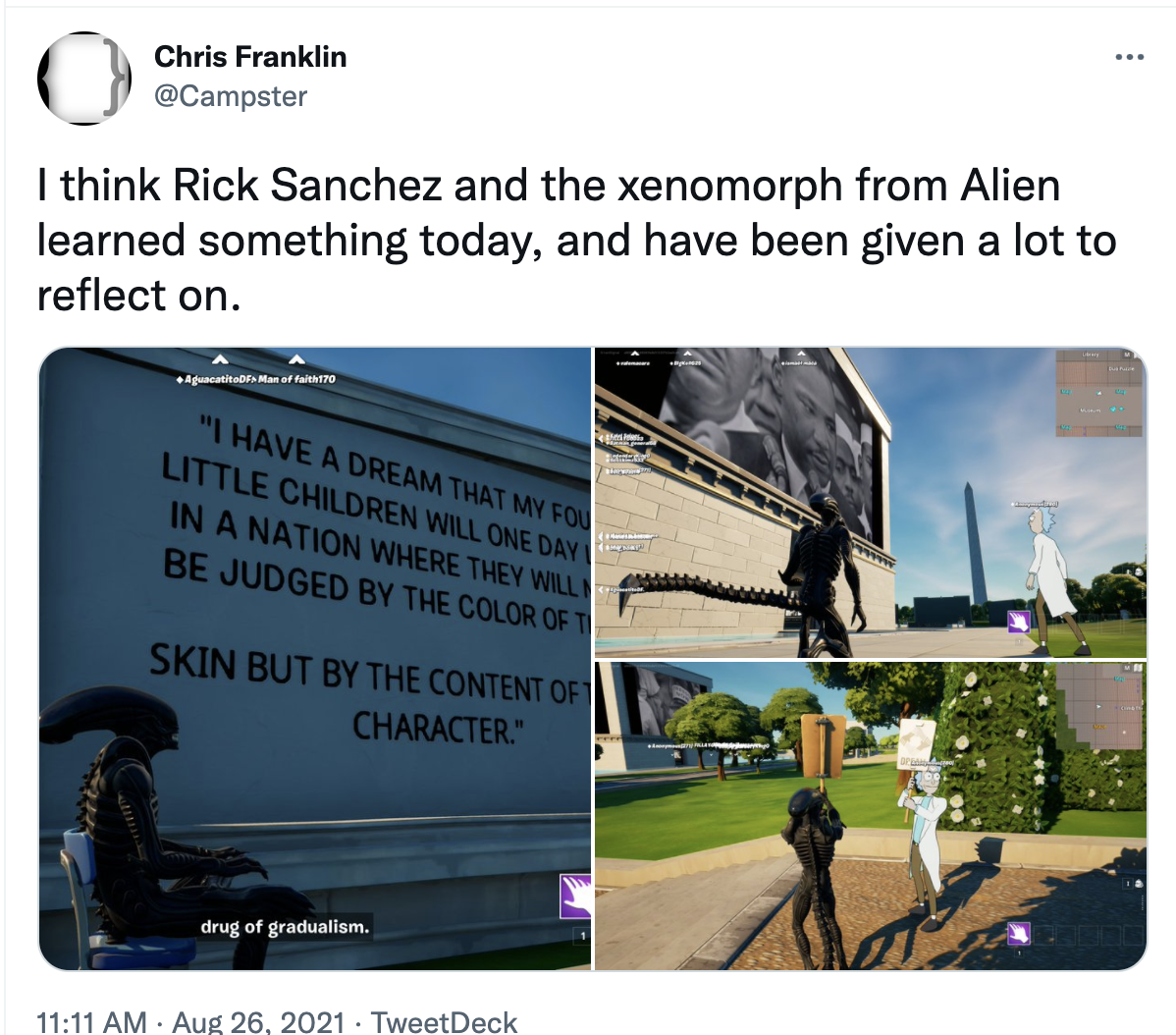 "You can't sell licensed skins for your social Battle Royale Party one minute, then expect it to be a serious place to learn about history the next. Fortnite by its nature can't be everything," Franklin tweeted.
A good example: Upon finishing all the experience's challenges, players get a "D.C. 63" spray for their lockers.
"I guess it's cool that games have the capability to do this sort of content given it's removal from schools, but it will strip his legacy and the Civil Rights movement to barebones," tweeted Narrative designer Zaire Lanier, adding that "there won't be actual discussions."
2. The 2022 release calendar shows no mercy
The 2022 release calendar continues to grow as COVID-19-related delays push highly anticipated games into early next year.
Why it matters: In a typical year, big game releases have a steady pace, with many highly anticipated games landing in the spring and fall.
As revealed during yesterday's Gamescom kickoff, however, games like "Horizon Forbidden West," "The King of Fighters XV," "Sifu" and "Saints Row" are all set for a February release.

A few highlights of the next year (so far):
Jan. 21: "Elden Ring"
Jan. 28: "Pokémon Legends Arceus"
Feb. 17: "The King of Fighters XV"
Feb. 18: "Horizon Forbidden West"
Feb. 22: "Sifu"
Feb. 22: "Destiny 2: The Witch Queen"
Feb. 25: "Saints Row"
A few other anticipated games without definite dates include "Rainbow Six Extraction" (January 2022), "Hogwarts Legacy" and "Gran Turismo 7."
3. Destiny, as explained by 44 tweets
Developer Rami Ismail has created a handy summation of the story so far in Bungie's online multiplayer shooter "Destiny." It only took him 44 tweets.
Why it matters: Whether you're a new player or prefer to stroll through the game casually, this may be the closest you'll ever get to a patient explanation of what's going on.
"Destiny"'s lore is so dense Bungie actually listed a job for a "Destiny Historian" back in June to catalog the game's sprawling narrative.
Ismail's unspooling of the game's story was a response to a woeful tweet from a writer about unpacking the game: "I need duolingo to add a destiny option so i can learn to understand what people on twitter are talking about."
The details: I couldn't include them all if I tried. A taste to get you started.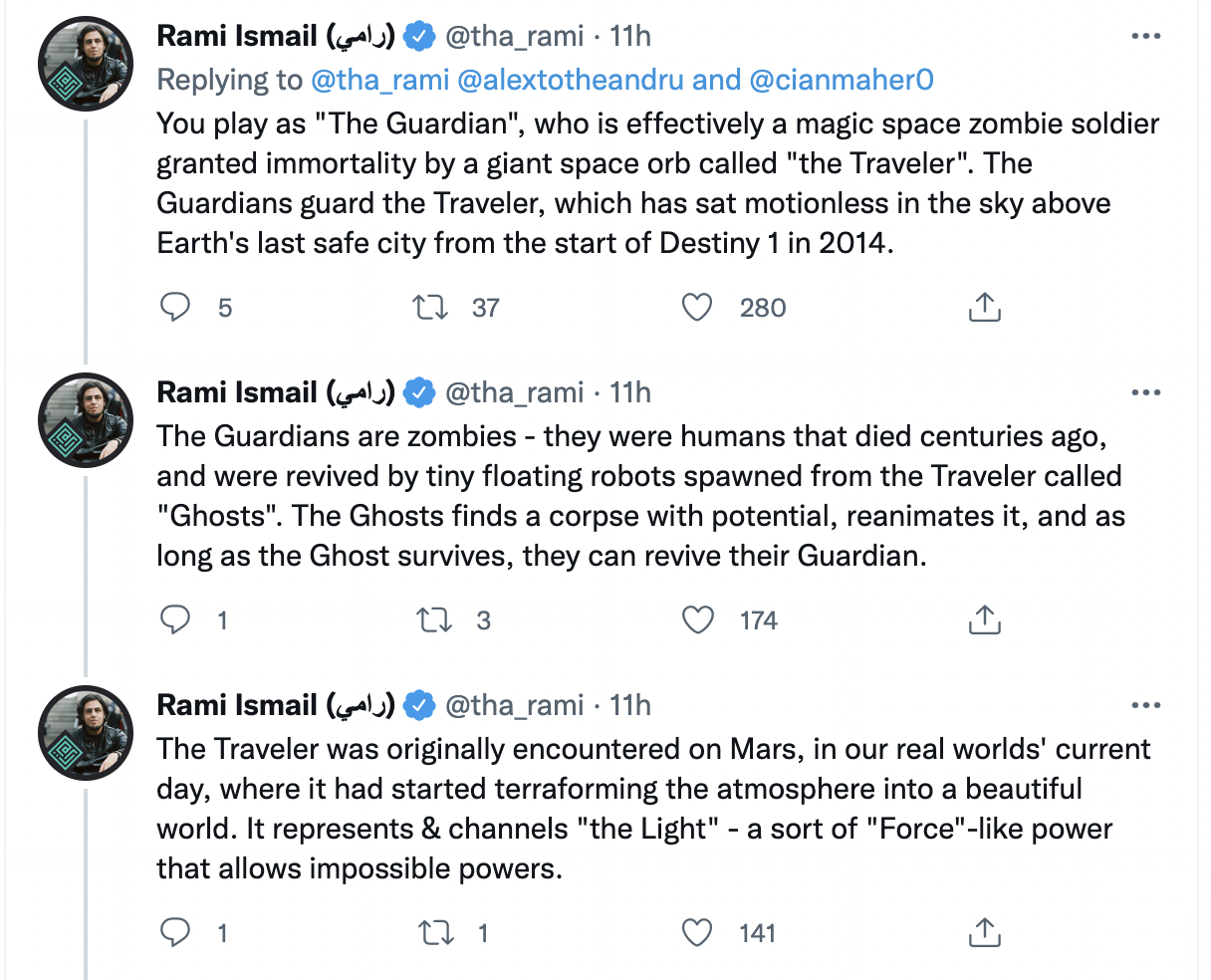 4. Need to know
🔒 Netflix is holding the softest of launches with a Poland-based test of games "Stranger Things: 1984" and "Stranger Things 3" for Android users: "It's very, very early days and we've got a lot of work to do in the months ahead, but this is the first step."
🎉 Niantic will keep its pandemic-era interaction radius of 80 meters (about 87 yards), following campaigns from players to keep features rolled out during COVID in place.
🌝 Xbox's September Games with Gold features "Warhammer: Chaosbane," "Mulaka," "Zone of the Enders HD Collection," and "Samurai Shodown II."
🎻 North American NES and SNES designer Lance Barr is retiring from Nintendo after nearly 39 years with the company; he also worked on projects like the NES Zapper and Wii Nunchuck. On LinkedIn, Barr wrote that he is "moving onto 'other' projects."
❄️ Gearbox will open a Montreal-based studio — its second in Canada, following its Quebec office — to work on both existing and new properties.
5. Worthy of your attention
"Twitch hate raids are more than just a Twitch problem, and they're only getting worse" (Nathan Grayson, the Washington Post)
"Hate raids are a complex dilemma born of an era in which communities spin intertwining webs between platforms. The damage might be done on Twitch, but it's organized on chat platforms like Discord and signal-boosted on YouTube and far-right-friendly video sites like BitChute."
6. In which size does matter
Normally when I come across a story I think is worth a read, it goes into the Worthy section (duh). Here I have what I'd call a curiosity, in which Waypoint writer Joseph Cox has published a truly deranged piece about playing PS5 games on his 4-inch screen iPod Touch. Cox, the only person to still own an iPod, bravely explains how he's accomplished this act of self-harm:

45 hours of "Persona 5" on an iPod Touch. Please, there are people who care about you.
🎁 Like the newsletter? Refer Axios Gaming to your friends to spread the word and get free stuff in the process. Follow the link here to begin.
🐦 Find us on Twitter: @megan_nicolett / @stephentotilo.
Axios Gaming is best enjoyed on a screen measuring at least five inches.