Axios Gaming
June 23, 2022
It's Thursday. I hope you're doing well.
Believe it or not, Atari turns 50 on Monday. If you're old enough to have any memories of Atari back in the day, please send them in — words or photos welcome — by replying to this (if you get the newsletter via email). Might make for a fun round-up.
Today's edition: 945 words, 3.5 minutes.
1 big thing: Ubisoft CEO gives up some pay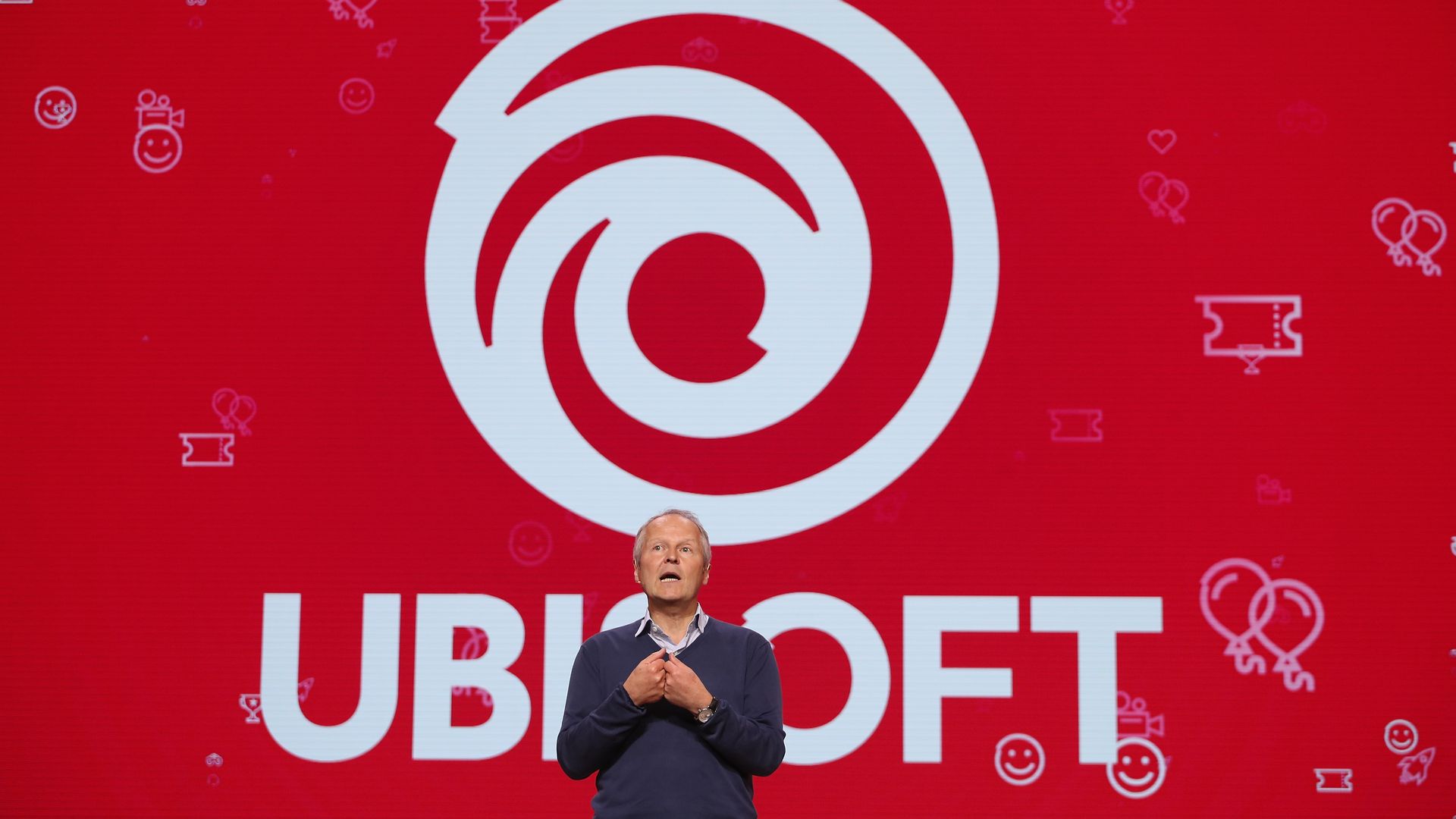 Ubisoft CEO Yves Guillemot is forgoing about a third of his annual compensation for the coming year, according to a recent company filing.
Why it matters: The unusual move signals just how rough things have been going for the Paris-headquartered mega-publisher of Assassin's Creed and Rainbow Six.
Details: Guillemot will forgo payment of about €310,607 (approximately $327,000) that he otherwise would have received over the next year.
That will drop his compensation for the next year by a third to €624,824 (approximately $656,000), not counting additional stock awards that won't be available until after 2023.
The pay cut was made without public fanfare, tucked into the fine print of Ubisoft's 352-page annual report published in French and English this month.
What they're saying: "This is a personal decision by Yves Guillemot, which he took considering that the company had not reached the financial targets that it had publicly communicated to the markets," a Ubisoft rep told Axios.
The chunk of pay Guillemot is giving up is tied to the company's financial performance as well as the execution of internal reforms meant to address issues stemming from the company's sexual misconduct scandals that first flared in summer 2020.
Ubisoft badly missed the financial targets tied to that pay, meaning even if Guillemot hadn't given it up, the variable pay would have been far lower than what was potentially achievable in a good year.
In the past year, Ubisoft's operating profit dropped 14%, its net bookings (sales, basically) dropped 5% and its stock has lost half its value.
Between the lines: Gaming CEOs have given up compensation before as a way to signal that things are really bad.
In 2011, Nintendo's CEO at the time, Satoru Iwata, took a 50% cut to his salary following the bungled launch of the company's 3DS handheld and after issuing a sudden emergency price cut.
In early 2014, Iwata announced another 50% pay cut due to poor sales of Nintendo hardware.
Last October, Activision Blizzard CEO Bobby Kotick gave up any bonuses for the year and took a big pay cut in the wake of sexual misconduct and discrimination allegations against his company. (Kotick is eligible to have that pay restored and receive a $22 million bonus as soon as next month, pending the board's assessment of company reforms.)
The bottom line: Ubisoft has been in a bad spot for the last few years and is still seeking a way to climb out.
The misconduct scandals of 2020 hurt company morale and soured some fans on Ubisoft's games.
But the bigger blows to the company's profits are its underperforming games, dating back to 2019 bomb Ghost Recon Breakpoint and the company's struggle to produce hits — aside from 2020's Assassin's Creed Valhalla — since then.
2. More from Ubisoft
The Ubisoft report also revealed some other details:
The company's matriarch has died. A Ubisoft rep confirmed that the mother of the five Guillemot brothers died in 2021, as the filing showed the brothers inherited stock in the past year.
The four other Guillemot brothers hold executive and board positions at the company.
In feature articles about Ubisoft, she's been credited with encouraging her sons to go into business together, leading to the co-founding of the company in the mid-'80s.
The company declined to comment further on her passing and legacy.
Headcount is up to 20,665 as of the end of March, compared to 20,324 the year prior.
The rise was most pronounced in Ubisoft's European/MiddleEast/Africa offices, while its headcount in the Americas declined.
Employees took more sick days, about 4.3 per worker in the year ending March 31, 2022, up from 3.5 the year before.
Remote workers tend to take fewer sick days, experts have said.
Ubisoft attributes the increase to a return to pre-pandemic numbers. It has promoted a hybrid working model that involves a return to some in-office time.
3. Need to know
😞 Red Bull has suspended a Formula 2 driver after he used a racist slur while streaming a Call of Duty game, PC Gamer reports. (This happens a fair amount.)
👩🏻‍⚖️ Bungie is suing a YouTuber who it says impersonated the studio while issuing nearly 1,000 bogus DMCA takedowns against other Destiny YouTubers, The Game Post reports. The studio is seeking $7.6 million in damages.
😲 One of the all-time best tactical combat games, Into the Breach, is coming to mobile on July 19, exclusively to Netflix subscribers, its creators announced today. (All versions of the game will also receive new characters and missions at that time.)
🤔 Former senior PlayStation developers have formed a studio called Liithios, which plans to make an open-world multiplayer game called Ashfall. The studio is promising "the first true Web 3.0 AAA title for PC, Console," using one of the common terms for blockchain tech.
Asked by Axios how it would bring a blockchain game to consoles, given PlayStation and Xbox's lack of indication that they'd allow any, Liithios co-founder Michael Mumbauer said: "It isn't only Web 3. It's also a console/pc game off chain."
4. Looking back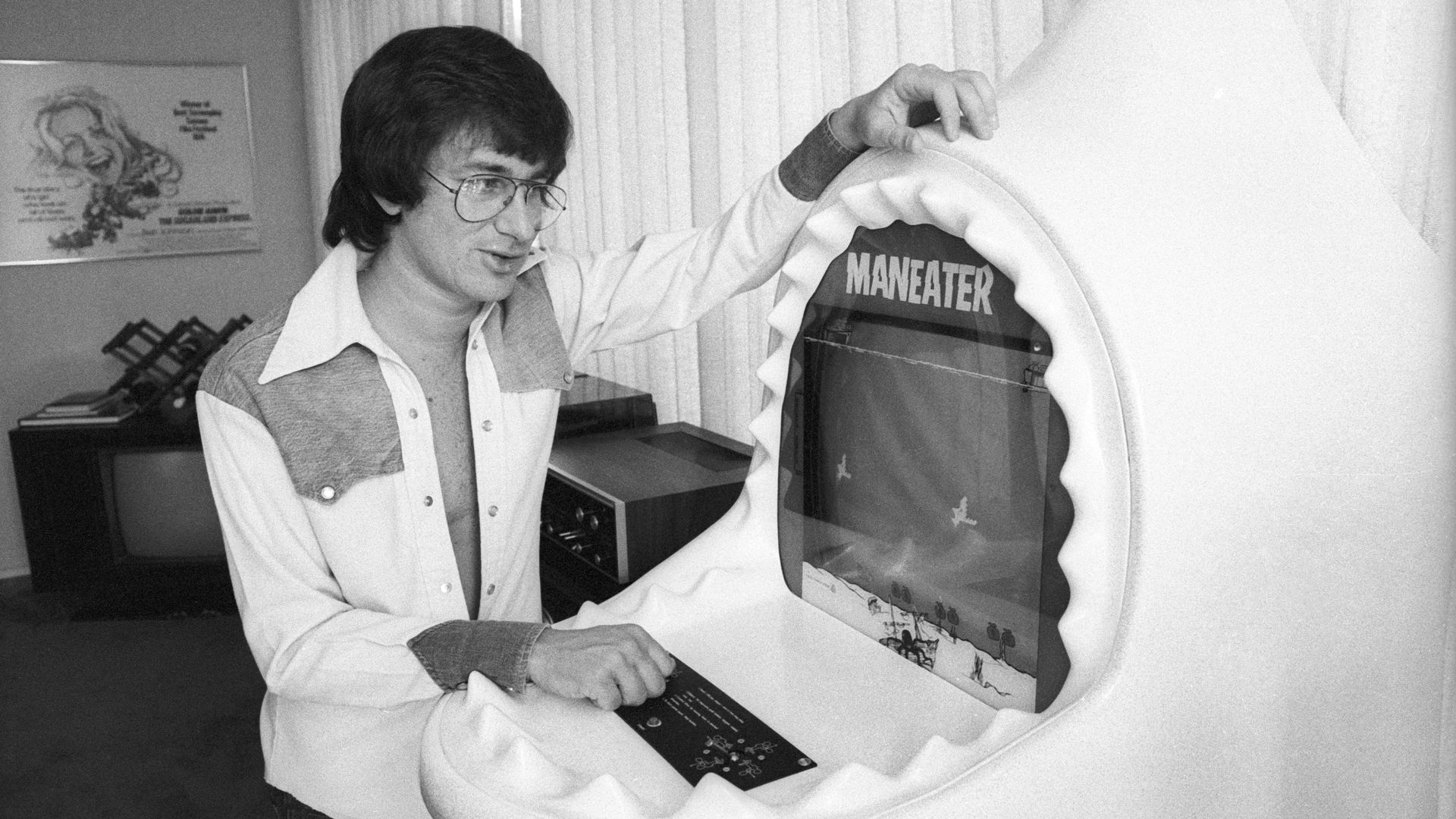 This week's throwback photo features director Steven Spielberg posing in December of 1975 with an arcade game called Maneater.
The game drew obvious inspiration from Spielberg's "Jaws" movie that had premiered earlier that year.
As for Spielberg and video games, he:
Is credited with conceiving the Medal of Honor war game franchise, which debuted in 1999.
Tried in the late 2000s to make a game with EA codenamed LMNO that was described to Newsweek as "'North by Northwest' meets "E.T," but the project was canceled after years of development.
Cooked up the concept for the 2008 Wii game Boom Blox, in which players used gestural controls to knock down towers of virtual blocks.
🎁 Like the newsletter? Refer Axios Gaming to your friends to spread the word and get free stuff in the process. Follow the link here to begin.
🐦 Find me on Twitter: @stephentotilo.
I started with a Magnavox Odyssey 2, thank you very much.