January 25, 2022
Hi everyone. Stephen here.
🎬 Dwayne "The Rock" Johnson says he's going to star in a movie adaptation of "one of the biggest, most badass games." To be announced this year.
Today's edition: 1,178 words, 4½ minutes.
1 big thing: The empire strikes everywhere
Three major Star Wars games in development at EA underscore how big Disney is going with video games — without committing to making any big games of its own.
The big picture: Despite Disney's struggles to make its own hit games and its divestment of internal development studios, it's been able to create a new era by connecting the industry's top teams with its globally popular franchises.
Driving the news: EA confirmed this morning that a sequel to its 2019 hit, action-adventure game Star Wars Jedi: Fallen Order, is deep in development at its Respawn studio, alongside two previously unknown titles.
Respawn is also developing a first-person shooter overseen by Star Wars game veteran Peter Hirschmann, who most recently led the development of the studio's virtual reality World War II game.
And it's producing an unnamed strategy game from Bit Reactor, a new independent studio composed of developers from Firaxis, the Civilization and XCOM studio owned by EA rival Take-Two Interactive.
Those are in addition to Star Wars games coming in 2022 from WB Games and Zynga, and later from Ubisoft and Quantic Dream.
Not just Star Wars: Disney has also been busy seeding the development of major Marvel games at Sony PlayStation (Spider-Man 2 and Wolverine), Skydance, Firaxis and more, from what we've heard.
This is all hot off a year that included Marvel's Guardians of the Galaxy from Square Enix's Eidos Montréal studio and a Pirates of the Caribbean expansion to Microsoft's Sea of Thieves.
Between the lines: The caliber of studios involved augurs well for the games' quality, though Disney-backed Marvel's Avengers shows how pairing with a top studio can still produce a flop.
Game publishers that agree to these deals are balancing the need to pay Disney for a license against the safer selling points of famous characters.
Yes, but: New or even existing video game intellectual property may be squeezed out as studios work on Disney's Jedis and super-heroes instead.
2. Unpacking clone sent packing
A video game that appeared to copy the title, gameplay concept, and design of 2021 indie hit Unpacking is no longer listed on Apple and Google's mobile app stores, an apparent delisting a day after it topped the iOS charts.
Why it matters: For all of the talk of content curation by app giants like Apple, game developers regularly see clones rocket to app store success.
Deja Vu? No, we didn't already run this item. Two weeks ago, it was the indie hit Wordle that had its clones delisted after an outcry.
Details: Both the original Unpacking and the mobile game Unpacking Master task players with opening moving boxes and placing items in rooms.
What they're saying: "This is a very intentional imitation that directly copied items and environments from our game, not an accident or misunderstanding," Witch Beam developer Wren Brier tells Axios.
She says her studio saw no point in reaching out to Unpacking Master's developers or publisher, "as we don't feel that would achieve anything."
Instead, she says: "We think it is the app stores' responsibility to better curate their stores."
The publisher for Unpacking Master did not respond to a request for comment.
No word from Apple or Google about what happened.
Apple's store review guidelines warn against copycats, though seemingly anticipates some passing review: "In addition to risking an intellectual property infringement claim, it makes the App Store harder to navigate and just isn't fair to your fellow developers."
3. New: Blizzard's "new world" survival game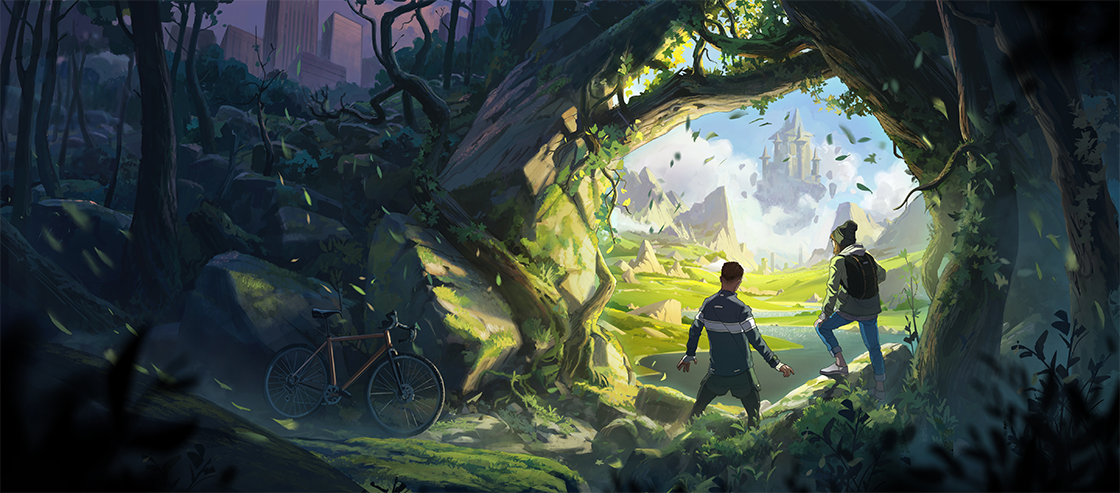 Activision subsidiary Blizzard announced development of "a brand-new survival game for PC and console" today.
Why it matters: A new game announcement from Blizzard used to guarantee a long wait and, eventually, an excellent game. Now, there's no guarantee and a shadow over each new project.
Blizzard's workforce has been shaken and, in some cases, shattered, by years of misconduct, some of which came to light through lawsuits and investigative reports last summer.
The studio has also been squeezed by Activision Blizzard management to produce more games, more rapidly, with little sign of success from that strategy.
Major Blizzard projects announced in recent years — Diablo Immortal, Diablo 4, and Overwatch 2 — have been delayed.
Details: The announcement, titled "create a new universe with us," was angled for job recruitment with links to multiple openings.
Between the lines: Blizzard management set up today's announcement with an official post last week that also outlined actions the studio has taken to address misconduct issues.
That list included hiring more people to focus on diversity and inclusion as well as the tethering of management pay incentives to improved company culture.
4. New Raven flap
The union partnering with workers trying to unionize at Activision studio Raven criticized a move by management as "nothing more than a tactic to thwart Raven QA workers who are exercising their right to organize."
The latest: Raven announced yesterday that members of its quality assurance team would be spread out to different departments.
In a statement to Axios, Activision repeatedly presented this as a plan that had been months in the making — "in the works for some time" — and notes this is a preferred practice in many studios.
5. Need to know
🔧 Nintendo appears to be quietly improving the quality of Nintendo 64 game performance on the Switch, according to Kotaku and others.
🤔 Gaming tech company Unity made a dogfight simulation for the Air Force, Vice reports. It's a problem for employees who have been calling for management to keep its tech out of real-life warfare.
💰 The Saudi-backed Savvy Gaming Group is buying top esports organization the ESL for $1 billion.
⬅️ YouTube's longtime head of gaming is leaving for a blockchain gaming company.
6. Worthy of your attention
It's Just a Game. Or Is It? [Peter Sagal's review of Oliver Roeder's Seven Games: A Human History, The New York Times]
Each of the primary sections of this book reads like a tragedy, a repeating myth of hubris told with different characters but the same ending, so that by the third or fourth telling you start to dread what you know is coming. ...
Each time, devotees of the game stake their claim that their pastime is a pure expression of ineluctable human creativity, and then, as the programs improve, the players are stripped of their illusions. The human champion ends up in a hotel ballroom across a game board from some young programmer who sits next to a box that tells him what to do, and each time the box eventually wins.
The game they thought was an art is just another mechanism, no more inaccessible to the brute strength of microprocessors than, say, assembling an automobile. In this respect, "Seven Games" isn't so much a biography of these classic games as their group obituary.
7. His way
Ever think you'd hear Frank Sinatra in a video game trailer?
Okay, maybe you did. But, for a Final Fantasy game?
The crooning in the new Stranger of Paradise: Final Fantasy Origin trailer starts at 2:48.
🎁 Like the newsletter? Refer Axios Gaming to your friends to spread the word and get free stuff in the process. Follow the link here to begin.
🐦 Find us on Twitter: @megan_nicolett / @stephentotilo.
Asteroids ... featuring: The Rock.