Axios Future
January 24, 2019
Have your friends signed up?
Erica and Kaveh are steering Future for the next two days as Steve finishes up a week in Davos, rubbing shoulders with the global elite.
We'd love to hear from you. Hit reply to this email or message Steve at [email protected], Kaveh at [email protected] and Erica at [email protected].
Okay, let's start with ...
1 big thing: The future of automation resembles the past
The midwestern counties hit hardest by previous waves of job-market turbulence will again bear the brunt of the next round of automation-fueled disruptions, report Erica Pandey and Kaveh Waddell.
Why it matters: As middle- and low-wage jobs in the American heartland disintegrate further, the national anger and polarization fueled by an urban-rural divide will only deepen.
"We often talk about automation in terms of which jobs will be lost. It's just as important, if not more important, to think about which places will be hit."
— Roy Bahat, head of the venture fund Bloomberg Beta
The backstory: The last wave of technological disruption — the IT revolution of the 1980s — created new jobs, but the bulk of the job and wage gains were in the high and low ends of the labor market. Scores of middle-wage, middle-skill jobs in manufacturing, largely in the middle of the country, were automated away or sent abroad.
Now, the new wave of automation and AI is projected to hit high- and low-paying jobs in addition to middle-income jobs, says Marina Gorbis, executive director of the Institute for the Future.
The next crop of vulnerable jobs — which include middle-wage occupations like trucking and administrative office work as well as lower-wage jobs like waiting tables and farming — are scattered all over the country, but the highest concentration is once again in the heartland, per a new report from the Brookings Institution.
By the numbers:
One-quarter of all jobs across the U.S. have a high chance of being wiped out by automation.
The 5 states with the highest share of at-risk jobs are Indiana (29%), Kentucky (29%), South Dakota (28%), Arkansas (28%) and Iowa (28%) — all of which went for President Trump in 2016.
Compare that to the bottom 5, New York (20%), Maryland (20%), Massachusetts (21%), Connecticut (22%) and New Mexico (22%), all of which went for Hillary Clinton.
But the extent of the hit to middle America is even clearer when zooming in to the county level.
For example, in Jerauld County, South Dakota, 53% of jobs are hanging in the balance.
48% of jobs are vulnerable in Scott County, Mississippi; 48% in Dakota County, Nebraska; and 46% in Colfax County, Nebraska.
Why it's happening: Automation is best suited for jobs that are repetitive and predictable — like factory work. Now, in the AI age, machines may encroach even on jobs that require uniquely human skills, like taking care of the elderly or waiting tables, says Gorbis.
What's next: To absorb the coming disruption, the government and corporations will have to take charge of reskilling and upskilling huge swaths of displaced workers.
"The big challenge we're looking at in the next few years is not mass unemployment but mass redeployment."
— Michael Chui, McKinsey Global Institute
The bottom line: The cost of reskilling the 1.4 million people who are displaced will be close to $34 billion, according to the World Economic Forum.
2. A high school takes on the future of work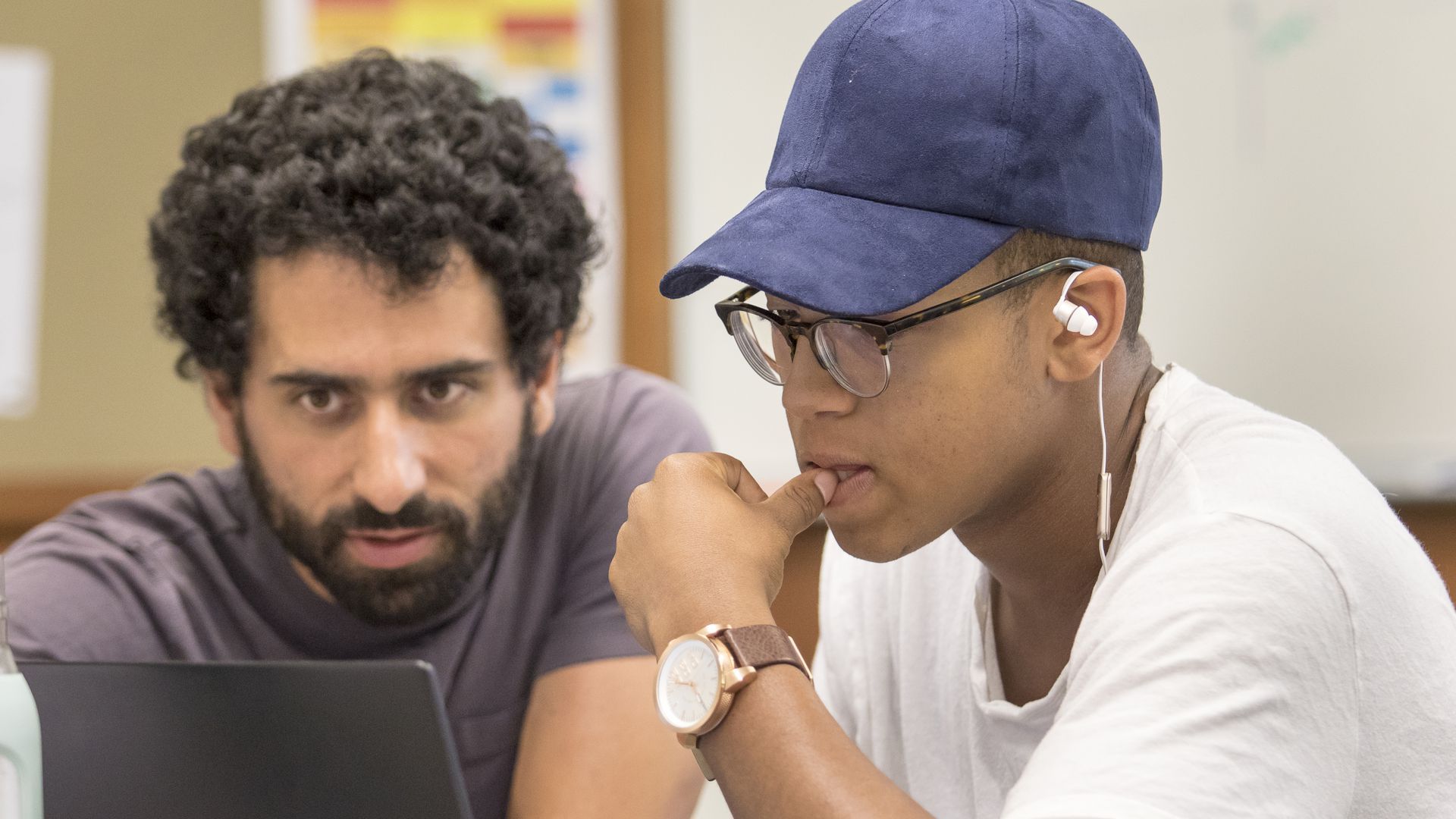 The year I graduated high school, economic anxiety was cresting: The Great Recession was at its worst, and unemployment was hurtling toward 10%, Kaveh reports.
Now, a decade later, there's a new distant shadow hanging over high schoolers: the prospect of an uncertain, topsy-turvy job market turned on its head by the likes of robots and AI.
Faced with this coming reality, my alma mater — Lakeside, a private prep school in Seattle — is planning a curriculum overhaul that it hopes will ready its students for careers of the future.
The big picture: Lakeside, which counts Microsoft co-founders Paul Allen and Bill Gates among its alumni, has long emphasized tech. Students are given laptops starting in fifth grade, and every high schooler learns programming in math class.
That may no longer be enough, says Lakeside principal Bernie Noe.
The school recently started a yearlong process to turn its curriculum upside down. Faculty visited 23 Seattle-area businesses, government agencies and nonprofits to understand how they hire.
The verdict from the field trips: Everyone wants non-technical skills. "In the age of AI, that's the one thing a computer can't do," Noe says.
A top priority should be teaching students to coexist with artificial intelligence, says Noe: "knowing where their cognitive ability ends and AI's picks up."
Another challenge is to get students comfortable with ambiguous problems, says Noe. "We want to get them in situations where it's not even clear there is an answer. We're 100% sure that's a skill kids will need."
Some of these skills might be better taught in art studios and gyms — or on service trips and internships — than in math or science classrooms.
The reshuffle may cause casualties, too. Some teaching styles, assignments or even entire subjects might be shown the door, Noe says.
I asked several Lakeside sophomores how they think their high school should adapt and what working will be like by the time they start their careers.
NhiVan Tran said: "Computers will be doing a lot of computations and calculations, so I think that careers will not be based on being able to do those calculations, but on how a person uses that information to better their work."
Anya Shukla said: "In my future, I just see more opportunities to explore the uses of AI, or have a career in a field that hasn't been created yet."
3. Crazy stat: The cost of preventing fires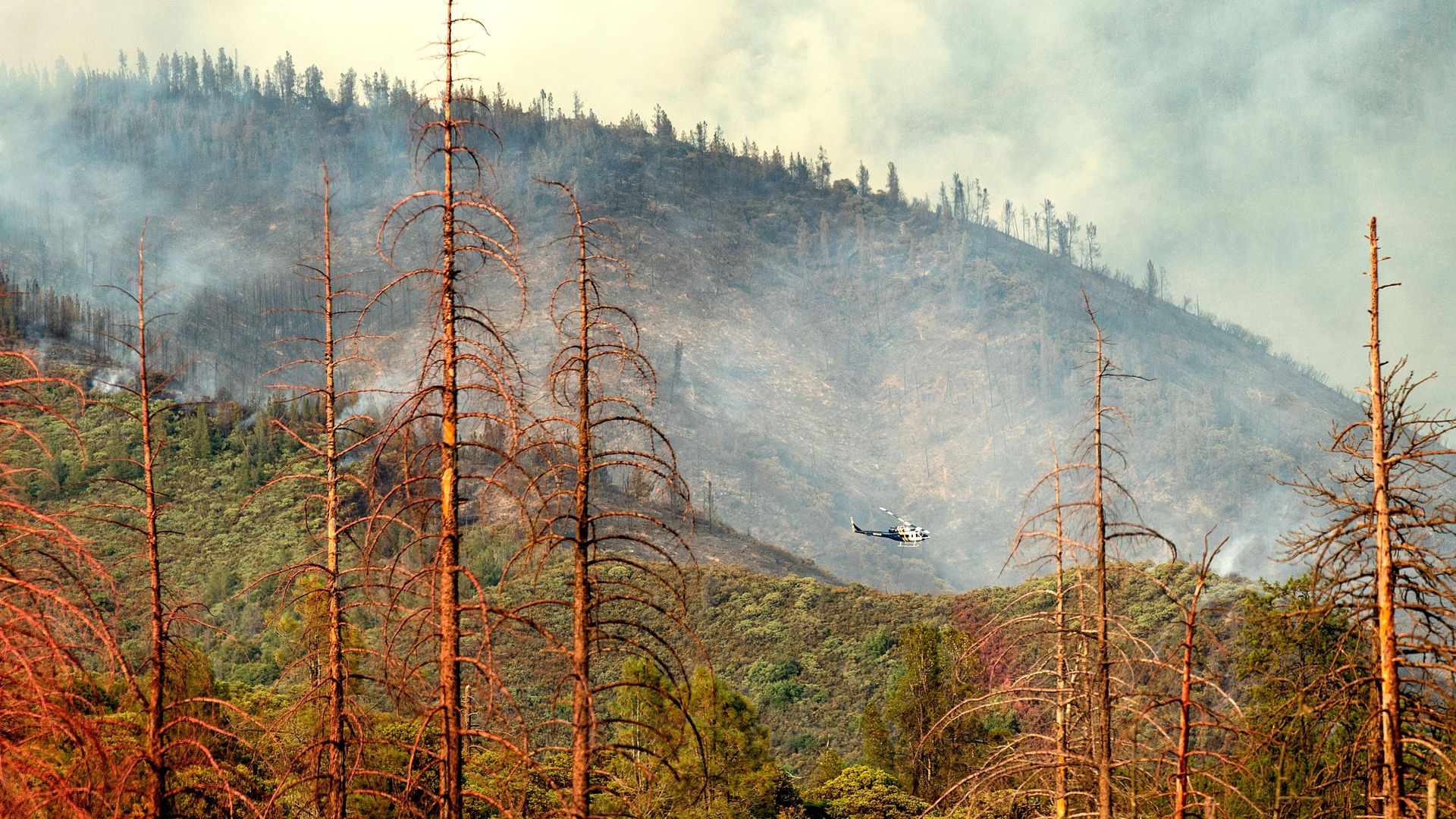 A California judge's proposal for clearing dead trees near power lines — a leading cause of the state's devastating wildfires this year — would cost billions of dollars, according to energy giant PG&E, Kaveh writes.
The big picture: In a court filing yesterday, the company claimed the work would cost as much as $150 billion dollars and require 650,000 full-time employees.
PG&E threatened that the cost would be passed on to subscribers, multiplying their rates by more than 5 times for the year.
"The work that would be required is so labor-intensive and costly that compliance is technically and operationally infeasible," the company wrote.
PG&E equipment led to at least 17 major fires in 2017, according to an ongoing state investigation, though the company was cleared of blame for the Tubbs fire today.
Go deeper: More details in the San Francisco Chronicle
4. Worthy of your time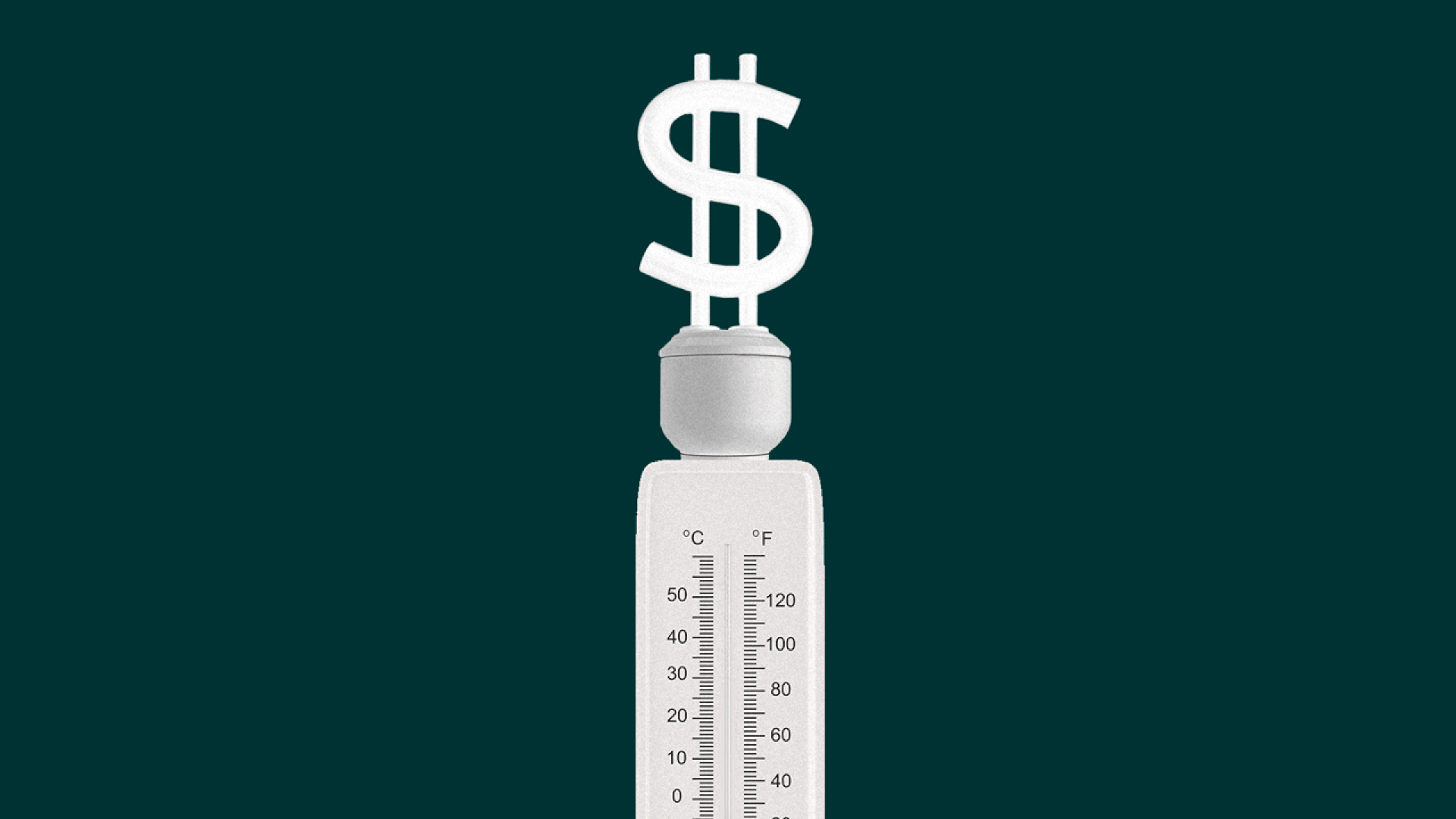 The global boom, barely begun, may be over (Greg Ip — WSJ)
Monetizing climate change (Amy Harder — Axios)
The future of journalism (Jill Lepore — New Yorker)
Layoffs and erratic schedules for retail workers (Michael Sainato — The Guardian)
Where Amazon returns go (Alexis Madrigal — The Atlantic)
5. 1 weird thing: Who watches the watchers?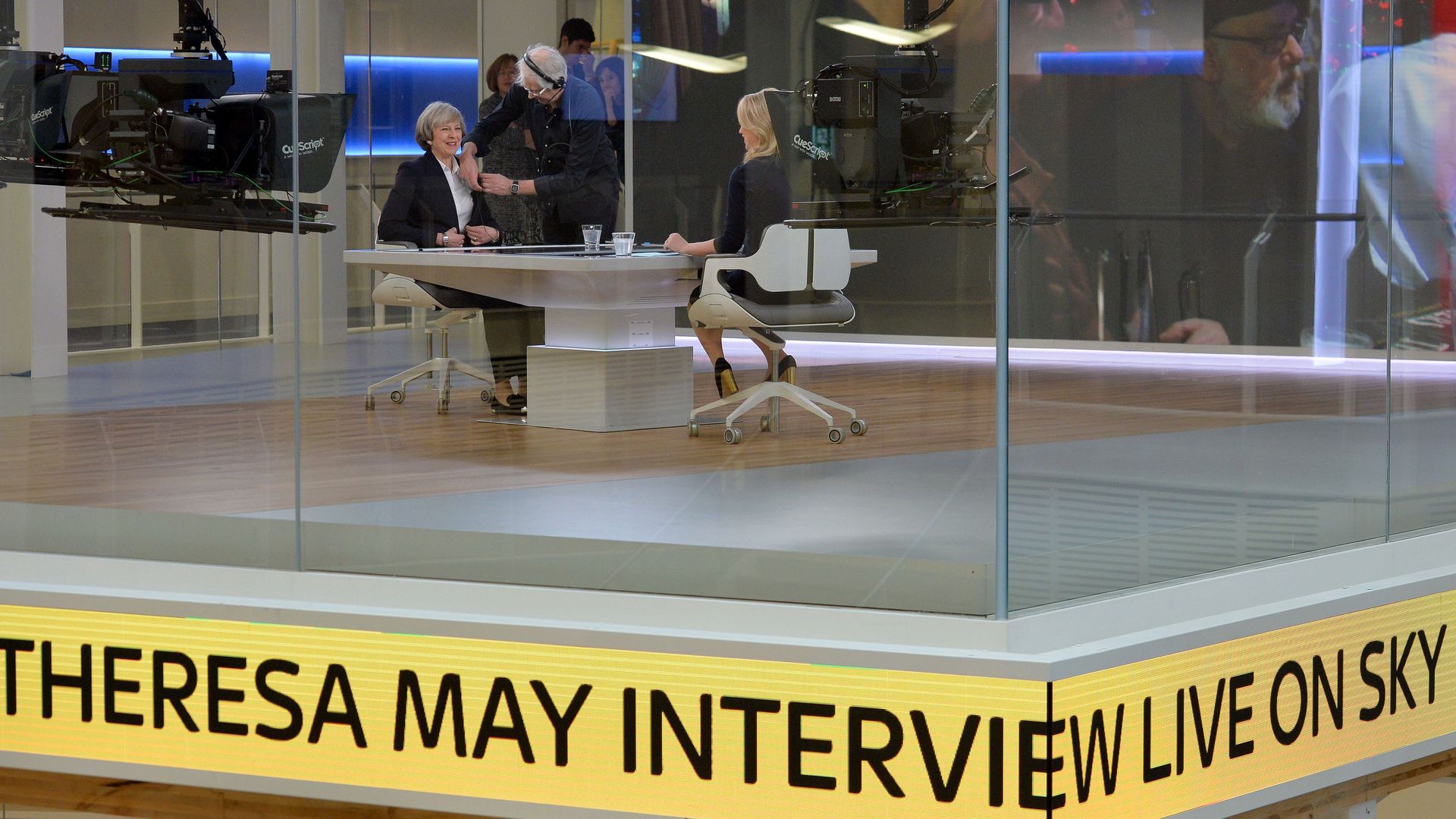 A new vision of the future of work is coming out of Sky News in the UK. It involves constant video and audio surveillance — not for security, but for others' entertainment.
Kaveh writes: For one day, an online livestream being called "Sky News Raw" will carry the sights and sounds of the Sky News newsroom between 5:30 am and 10:30 pm, BuzzFeed UK's Mark Di Stefano reported on Twitter.
The newsroom will be outfitted with 32 cameras and microphones.
Reporters can step into corporate offices for a "safe zone" away from an audience, the newsroom was told in an email.
Our thought bubble: An all-day livestream of a workplace would be fun if the cameras were trained on, say, zookeepers. An all-day livestream of a newsroom sounds profoundly boring. Journalists mostly drink coffee, call people and type.