December 10, 2018
Welcome back to Future. Thanks for subscribing.
Consider inviting your friends and colleagues to sign up. And if you have any tips or thoughts on what we can do better, just hit reply to this email or shoot me a message at [email protected]. You can reach Kaveh at [email protected] and Erica at [email protected]
Okay, let's start with ...
1 big thing: The dollar store option
As rural America gets left behind by the rise of coastal superstar cities and as the chasm between the richest and the rest widens, one entity is heavily profiting from the blight: the dollar store.
Why it matters: Economic signs point to a coming recession, and U.S. discount stores, which have boomed even in the strong recent economy, will only grow more — becoming the sole retail option for a rising share of Americans.
Axios' Erica Pandey reports that the face of retail is changing:
As the wealthy get wealthier and the middle class erodes, the retail industry is witnessing the simultaneous rise of cheap chains like Dollar General and luxury brands like Louis Vuitton.
Stores that target middle-income Americans, like J.C. Penney and Macy's, have been rapidly losing customers. And dollar stores are picking them up.
"This is a climate in which the dollar stores have been able to multiply like a virus."
—
Stacy Mitchell of the Institute for Local Self-Reliance
Today, there are more than 30,000 dollar stores in the U.S., up from around 18,000 a decade ago, according to the Institute for Local Self-Reliance.
That's more locations than the combined number of Walmart, Kroger, Costco, Home Depot, CVS and Walgreens — the country's six biggest brick-and-mortar retailers, reports Forbes.
And the big dollar chains — Dollar General and Dollar Tree, which also owns Family Dollar — say they are adding about 1,000 more locations each year.
The expected recession could mean even greater expansion: In the last economic downturn, dollar stores took market share from low-price competitors like Walmart, says Herb Kleinberger, a retail professor at NYU.
Investors love the dollar chains because, even among budget retailers, their stock prices are rising.
Over the last five years, Dollar General's share price has soared about 66%. Dollar Tree has surged 50%.
Dollar General CEO Todd Vasos told WSJ: "The economy is continuing to create more of our core customer" — struggling Americans.
Dollar joints sell more than high-end stores, too — dollar stores had sold about $24 billion worth of groceries as of the third quarter of the year, while Whole Foods had rung up $15 billion.
Among victims: Smaller retailers that are unable to compete with the dollar stores' rock-bottom prices. When they are forced out of business, local residents are left with just one choice for shopping.
The stakes: Those who rely on dollar stores for food are exposed to overwhelmingly unhealthy diets, with choices that rarely go beyond processed and packaged snacks. At a Dollar Tree in Alexandria, Virginia, this afternoon, I saw that the shelves were stocked with Cheese Nips and Fudge Stripes, and that sodas were the only items in the refrigerators.
Still, there's one irrefutable reason to go discount, Shirley Jones, a shopper at the Dollar Tree, tells me: "Save money."
Kristen Henderson, who was shopping for snacks and dish soap, says she knows certain products are 88 cents at Walmart and a dollar at the Dollar Tree, but that she goes here anyway because "Walmart isn't convenient to get to from where I am."
2. The AI crossroads
While researchers and business leaders barrel ahead to invent and apply artificial intelligence, a small, vocal minority has been sounding the alarm, urging the field to temper the technology's dangers before widely deploying it.
Driving the news: In a new Pew survey of nearly 1,000 tech experts, fewer than two-thirds expect technology to make most people better off in 2030 than today. And many express a fundamental concern that AI will specifically be harmful.
Axios' Kaveh Waddell reports: The experts say AI may make unfair decisions, displace an enormous number of human workers, and lead to geopolitical upheaval — themes we have covered in this newsletter.
"Algorithms aren't neutral; they replicate and reinforce bias and misinformation. They can be opaque. And the technology and means to use them rest in the hands of a select few organizations," says Susan Etlinger, an analyst at Altimeter Group.
"We need to address a difficult truth that few are willing to utter aloud: AI will eventually cause a large number of people to be permanently out of work," says Amy Webb, founder of the Future Today Institute.
"This will further destabilize Europe and the U.S., and I expect that, in panic, we will see AI be used in harmful ways in light of other geopolitical crises," says danah boyd, a Microsoft researcher and founder of the Data & Society research institute.
What they're saying: Some of those surveyed say people may abdicate an essential element of our humanity and start to accept whatever AI tells us. "We won't be more autonomous; we will be more automated as we follow the metaphorical GPS line through daily interactions," said Baratunde Thurston, a futurist.
These dark futures were balanced by experts saying dystopia is not inevitable.
"What worries me most is worry itself: an emerging moral panic that will cut off the benefits of this technology for fear of what could be done with it," says Jeff Jarvis, director of the Tow-Knight Center at the City University of New York.
"The right question is not 'What will happen?' but 'What will we choose to do?'" says Erik Brynjolfsson, director of the MIT Initiative on the Digital Economy.
3. Chinese provinces as dense as a country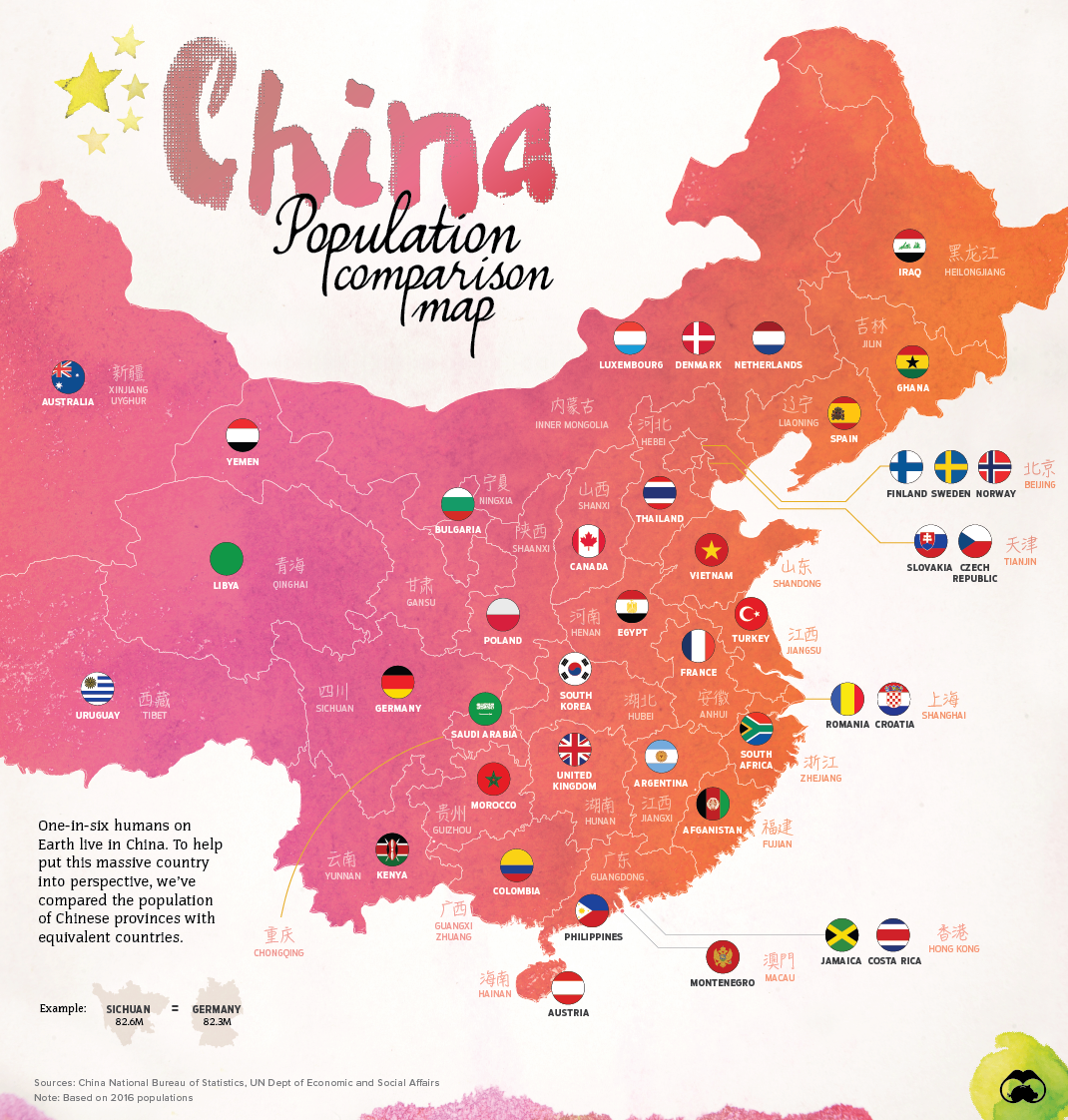 One way to get your arms around the enormity of the Chinese juggernaut is to ignore the big picture and telescope down to the regions. When you do that, you see that each of them has about the same population as a large or reasonably large country, reports Visual Capitalist.
Take a look at the map: Anhui's 62 million people, for instance, compares with France's 64.5 million. And Beijing's 21.7 million is similar to Finland, Norway and Sweden, all of which combined are about 20.7 million people.
4. Worthy of your time
One belt, one road, one mistake (Tanner Greer — Foreign Policy)
Retailers: Here today, gone tomorrow (Mike Allen — Axios)
A new world order, or none at all? (James Kynge — FT)
For-Profit Japanese Crying Sessions (Darryl Thoms — The Atlantic)
Trump's team was an inside player at the OPEC summit (Amy Jaffe — CFR)
5. 1 defiant thing: Fearless Girl's new home
The girl that stared down Wall Street's raging bull has set her sights on a new target: The New York Stock Exchange.
Fearless Girl, the statue pictured above, was first installed opposite the financial district's famous bull last March.
Many interpreted the small, defiant figure as a symbol of women's empowerment.
But the bull's sculptor, Arturo Di Modica, was unhappy, arguing that the girl changed the meaning of his work.
Now, Di Modica's bull is moving as well, but we don't yet know where, The Guardian reports. "Leave it alone," his lawyer told the newspaper.