Welcome to Future. Have your neighbors signed up?
A year ago, we expanded from a 2-day-a-week publication to 5 days a week. On Sept. 9, Future will shift back to 2 days a week, responding to readers who told us overwhelmingly that, when it comes to the future, less is more.
This is my last week at Axios. Through Friday, we will be doubling down on our big themes, writing what we hope are especially definitive accounts of the biggest trends roiling this extraordinarily turbulent period of history.
To get in touch, hit reply to this email or message me at steve@axios.com, Kaveh Waddell at kaveh@axios.com and Erica Pandey at erica@axios.com.
Today's Smart Brevity count: 996 words, <4-minutes
Okay, let's start with ...
1 big thing: The new threat to capitalism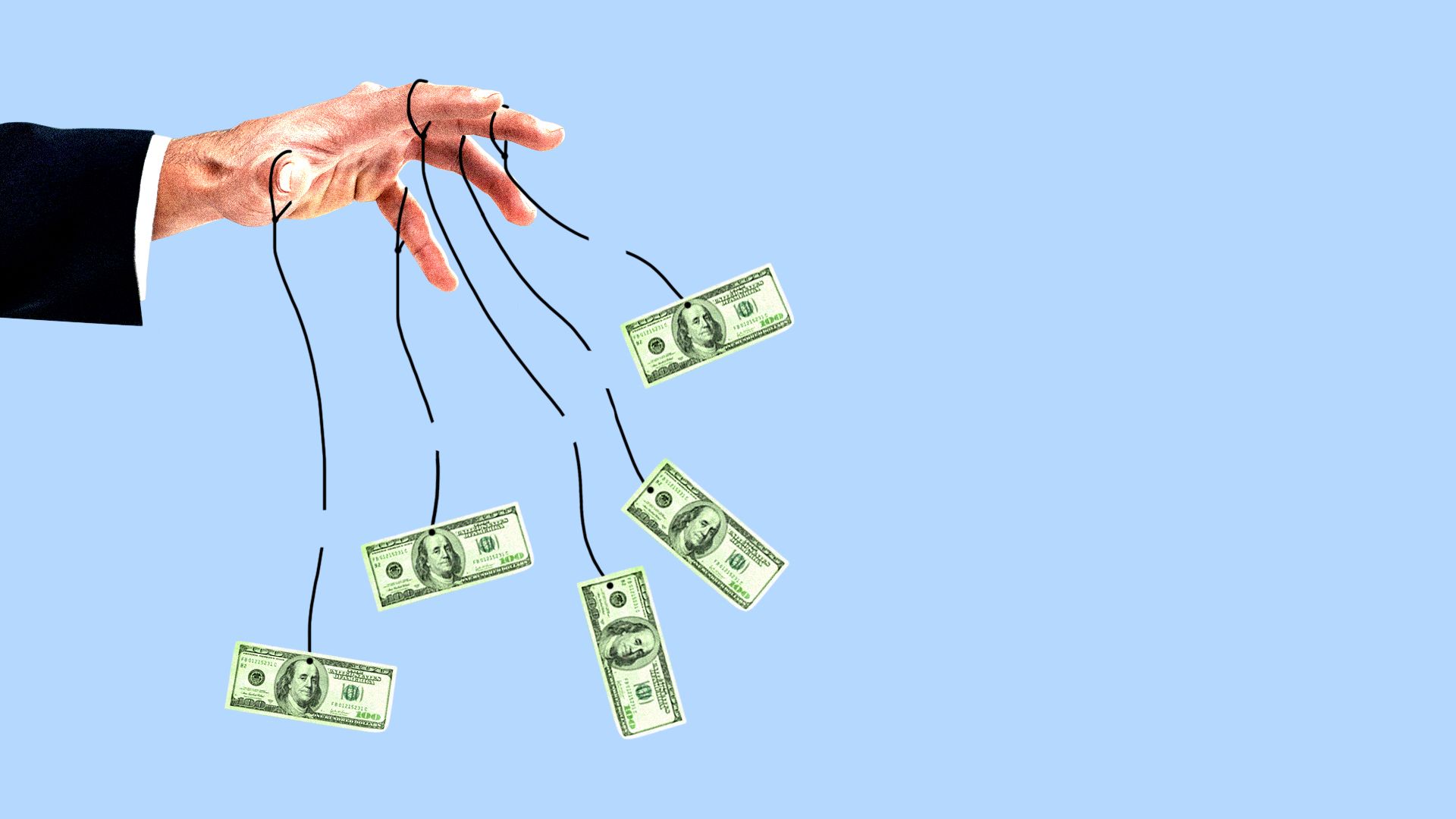 In what would have been widely dismissed as absurd even a year ago, a mainstream consensus has suddenly swept the world that the core of the global economic system has gone terribly awry, requiring a basic shakeup of capitalism.
But the problem may be far more fundamental than an excess of human ruthlessness, as many believe. Instead, experts say, capitalism is under another, more intractable assault — by inexorable long-term population trends that may kill the ability of economies to grow.
The big picture: As we have reported, a reckoning has emerged for capitalism as practiced — people across the U.S., Europe and elsewhere say something is fundamentally wrong with their living standards and the size of companies, and CEOs and politicians suddenly believe they must act.
In an announcement today, 181 of the top U.S. CEOs said they are changing their business objective — rather than solely seeking to satisfy shareholders, they will consider the desires of other constituencies such as communities and employees.
And in a report this afternoon, WSJ reports that U.S. state attorneys general plan to proceed with a probe of Big Tech companies for alleged anti-competitive behavior.
But experts suggest that such do-gooderism and investigations will be insufficient to turn the tide against an underlying, almost-unnoticed threat to the economic system that has fueled the entire industrial age.
The new threat: Most of us know that global wealth surged starting in the 19th century. What is less publicized is that the explosion was accompanied by a similar breakout in population, and economists connect the two — when population grows, GDP has tended to rise with it. (see chart)
Shrinking, aging: But now, population growth across numerous countries — especially in the West — has stalled. By 2040, demographers say, the number of countries with shrinking populations will rise almost 50% — to 67, from about 46 now. At the same time, by 2050, about a quarter of the world population will be 60 or older.
Why that hurts capitalism: Fewer people mean less buying; the elderly also buy less than younger people. Hence, economies are likely to stagnate, then shrink.
"No capitalist economic system operates on the presumption that there will be zero or negative growth. No one deploys investment capital or loans expecting less tomorrow than today," writes Zachary Karabell, president of River Twice Research, in an essay for Foreign Affairs.
What's next: Richard Jackson, president of the Global Aging Institute, says that, as long as countries do not go protectionist, companies will get around the problem for decades by exporting to still-growing populations such as sub-Saharan Africa.
Darrell Bricker, co-author of "Empty Planet" and global CEO of Ipsos, the polling company, said companies could also do better at marketing to the elderly. "When was the last time you saw an ad [targeting] a 70-year-old woman?"
The bottom line: Capitalism is unlikely to vanish. But it could end up looking a lot different.
Aiming for happiness: Ruchir Sharma, chief global strategist for Morgan Stanley Investment Management, said that, rather than growth, a better measure of public well-being amid population decline is per capita income.
"The happiest countries in the world are also the nations with the highest per capita income, from Switzerland to Norway."
"It's only a problem because people can't imagine a capitalism that does anything else [but grow]," said Richard Cincotta, former lead demographer with the National Intelligence Council, and currently a senior fellow at the Stimson Center.
2. When Chinese tourism dwindles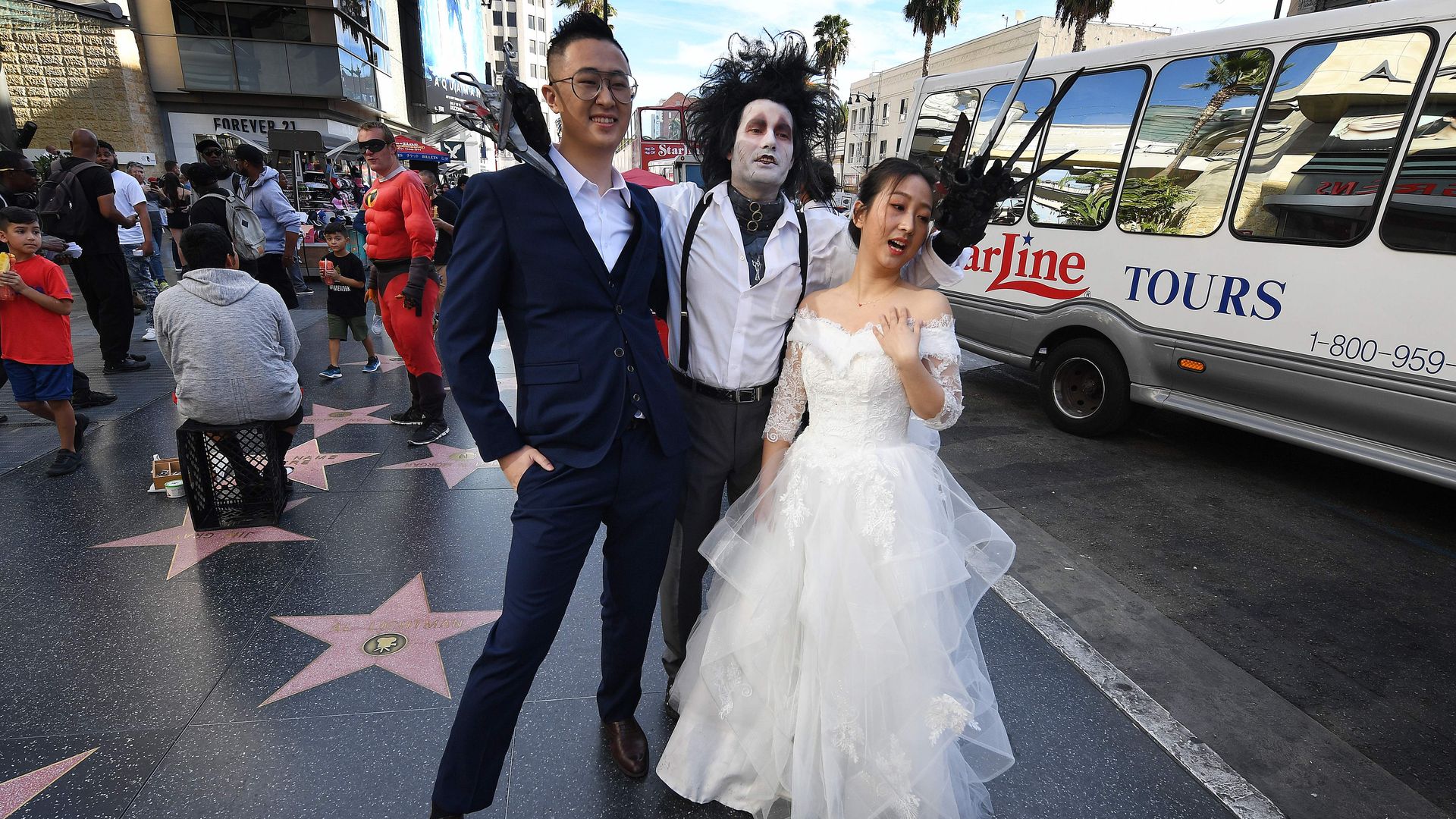 After years of double-digit growth, the number of Chinese visitors to the U.S. and the amount they spend are shrinking, inflicting a hit on the $1.6 trillion travel industry.
The inflection point was 2017, coinciding with President Trump's assumption of power and the intensification of U.S.-Chinese brinkmanship, according to data from the National Travel and Tourism Office, an industry association.
In 2012, the number of Chinese tourists rose 31.8%, and in 2016 by 16%, among an unbroken string of double-digit increases.
Their overall spending went from double digits to a 4% increase in 2017, and a 2% drop last year.
Why it matters: Chinese tourists and students are perhaps the biggest spenders of all visitors to the U.S. Last year, for instance, they spent $34.6 billion, compared with $16 billion by British tourists and $9 billion by South Koreans.
3. Surprising stat: U.K.'s charging surge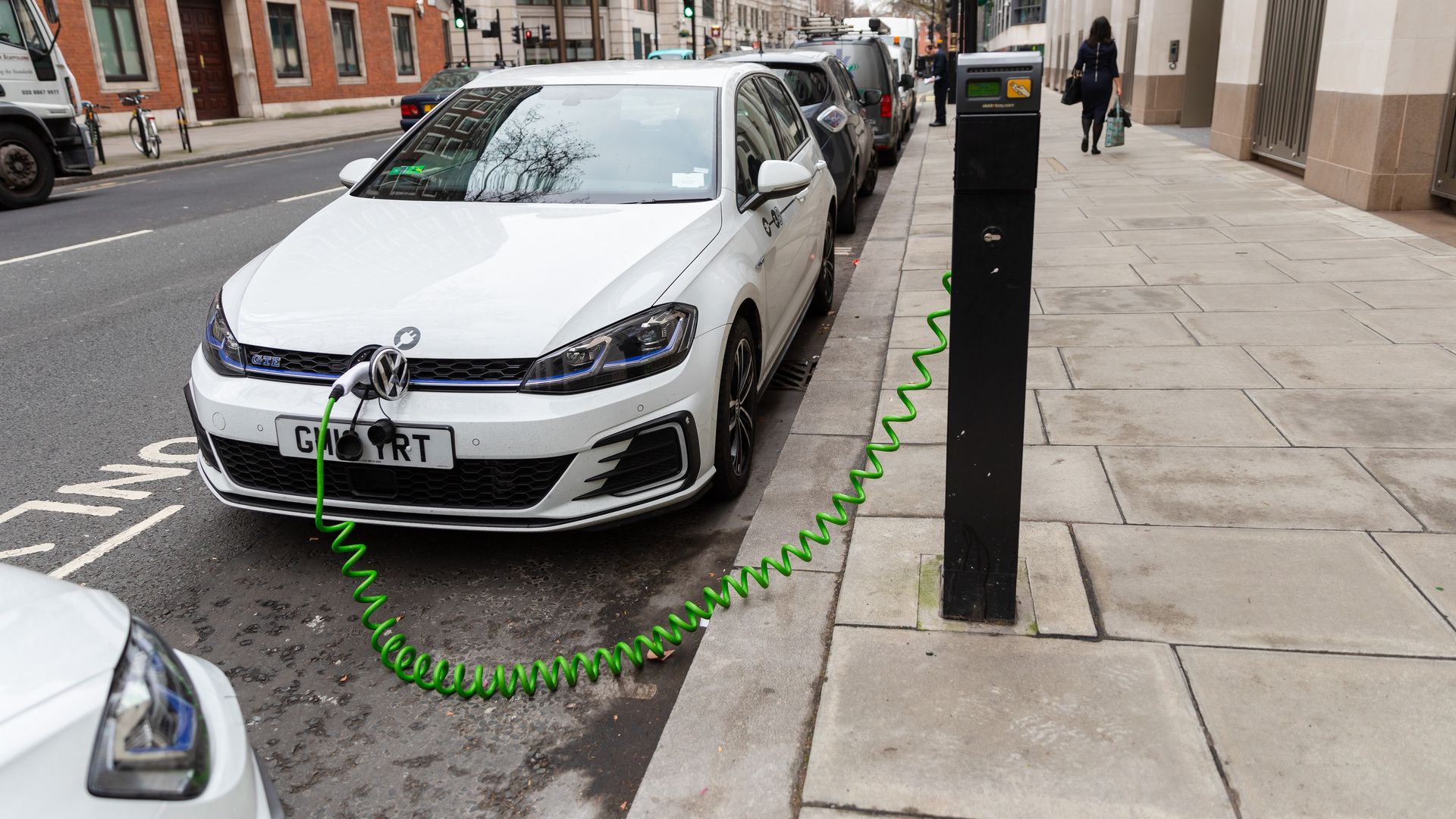 One of the primary supposed fault lines for the electric car future is the yawning shortage of charging stations: No one wants to fret over finding a place to get re-juiced.
But not in Britain, writes Bengt Halvorson at Green Car Reports, where the number of charging locations now outnumbers gas stations.
Citing Nissan UK, Halvorson reports that charging stations now number some 9,300, compared with about 8,400 gas stations. 
4. Worthy of your time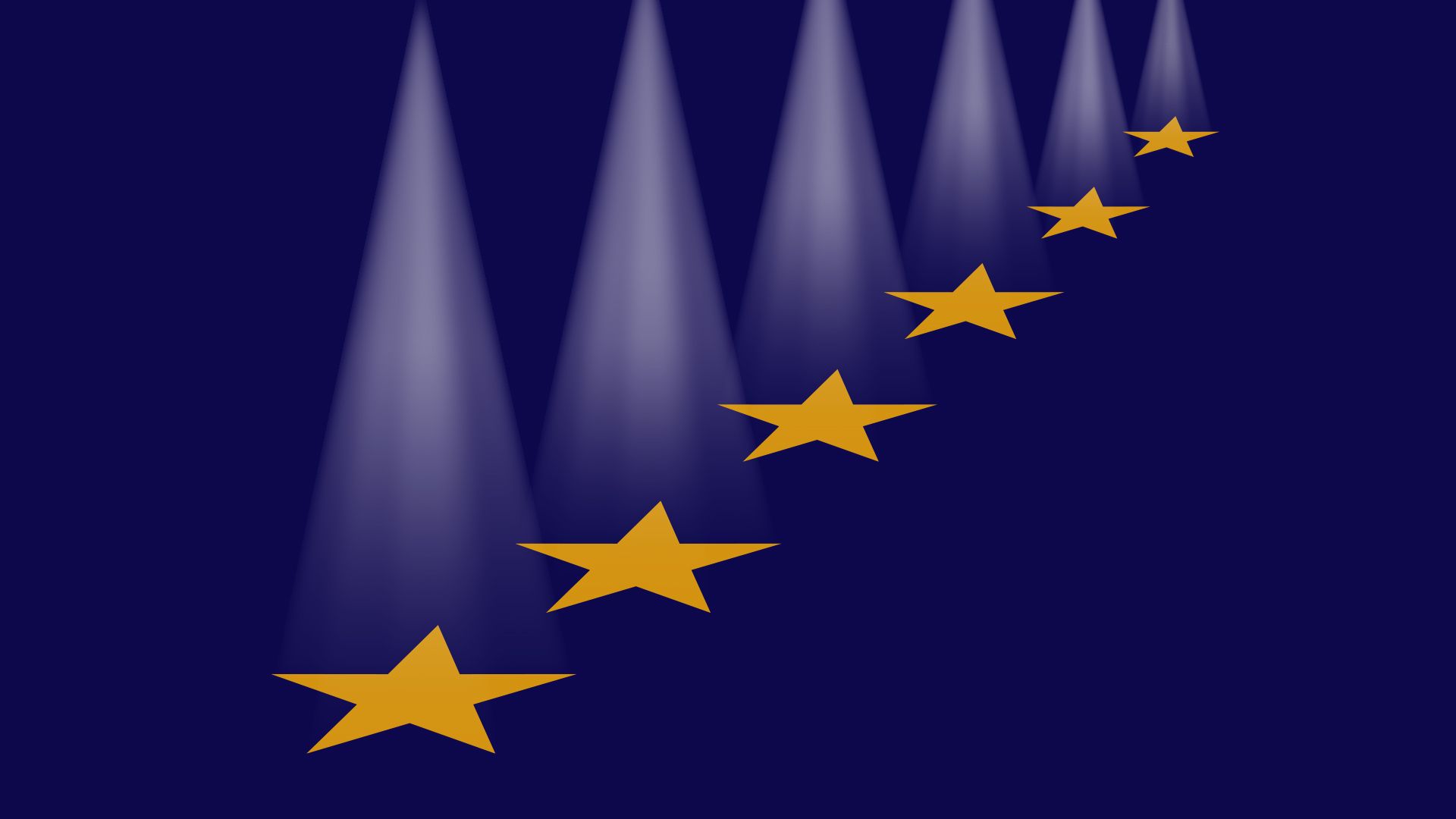 The China backlash (Yaroslav Trofimov — WSJ)
Parsing global recession (Dan Primack, Dion Rabouin — Axios) (podcast)
The science of fooling face hunters (The Economist)
Remorse of the world's top deepfake artist (Will Knight — MIT Tech Review)
Kostya and me: Ensnared in the Russia probe (Sam Patten — Wired)
5. 1 college thing: Legal beer in the stadium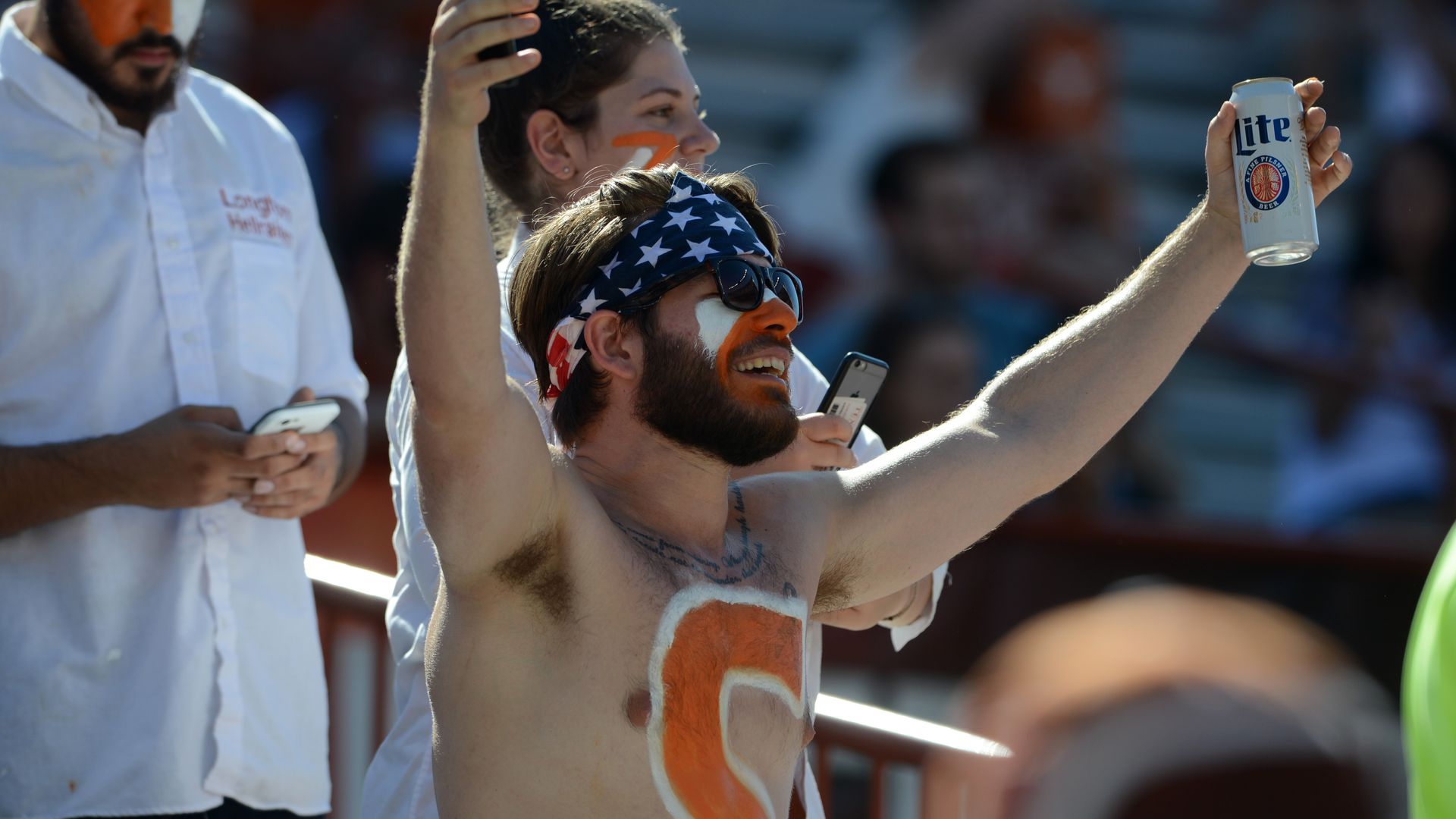 U.S. colleges have come up with a novel answer to 2 chronic problems at football games: a plunge in attendance and vomit in the stands.
The solution: legalizing stadium beer sales, reports the WSJ's Brian Costa.
Public safety and social mores are 2 reasons that colleges have eschewed alcohol sales. But with average attendance at Division I NCAA games down 11% from a decade ago, numerous colleges have loosened the restriction.
At West Virginia University, former athletic director Oliver Luck told Costa that reports of vomiting in the stands dropped by 35% after beer sales began in 2011. A reason was that the school also stopped allowing fans to leave the stadium, drink beer in their cars and return to watch the game.