Axios Future
November 12, 2018
Welcome back to Future. Thanks for subscribing.
Consider inviting your friends and colleagues to sign up. And if you have any tips or thoughts on what we can do better, just hit reply to this email or shoot me a message at [email protected].
Okay, let's start with ...
1 big thing: Into the older era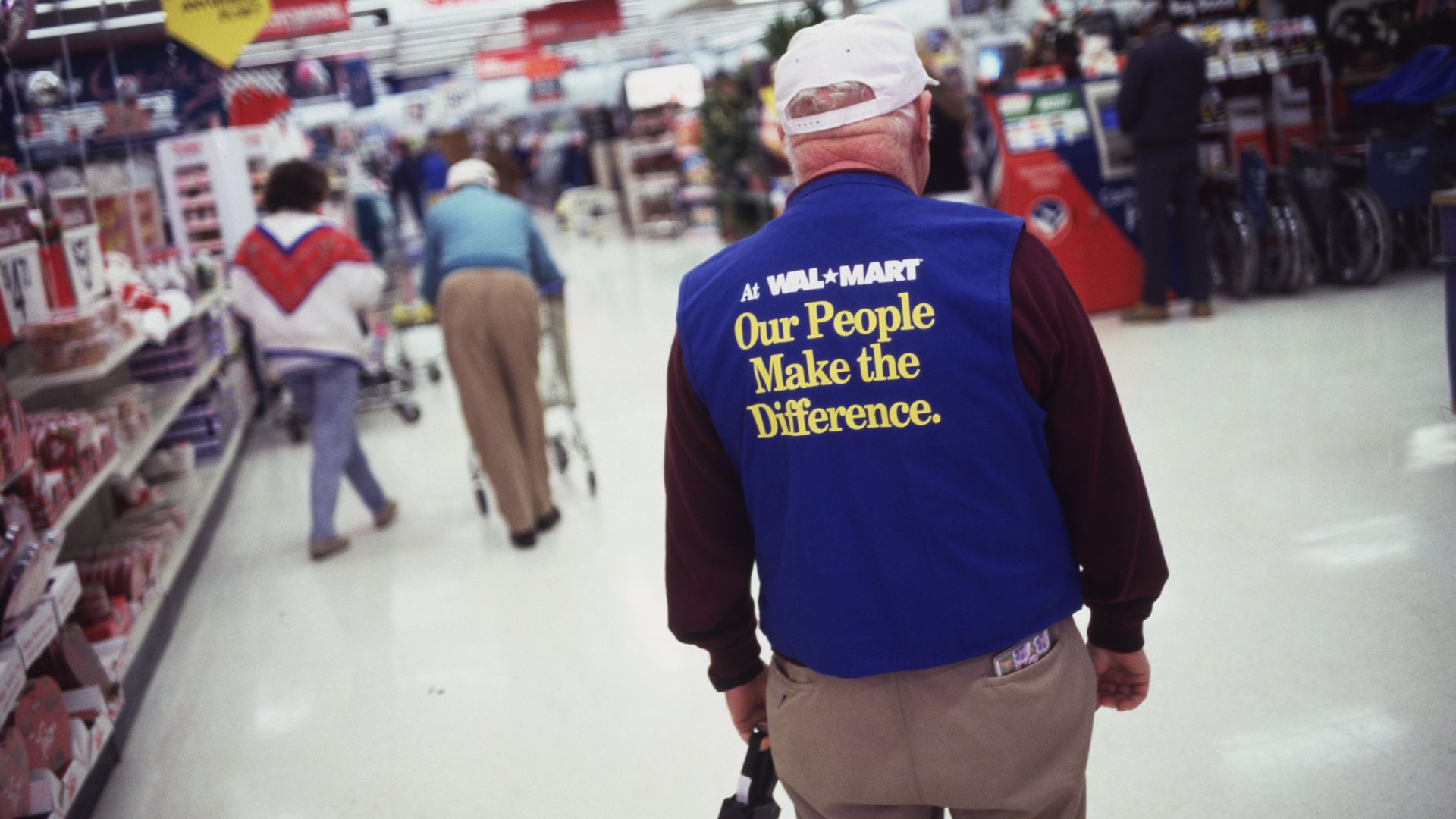 The developed world is aging — in the coming decades, the U.S., Europe and nations across Asia will have hundreds of millions more people who are 60 and older.
Much of this coming avalanche of senior citizens won't be playing pinochle at retirement homes.
Instead, if technology optimists are correct that advanced economies will continue to need massive numbers of workers despite automation, hiring will continue to be tight.
Because they have the most experience, older employees are going to be in huge demand and will work a decade and perhaps longer past 65.
Why it matters: Few companies appear to have made the mental shift to accepting that they need to retain and continue to promote older workers rather than letting them go, according to a recent survey.
Neither has public policy caught up with the aging society, which, unless adjustments are made, will swamp programs like Medicare and Social Security.
Bias runs deep: Across society and business, it's assumed that older workers are less mentally capable, less agile technologically and overall less desirable for hiring and retention than someone younger.
"Our society should be ageless," Paul Irving, chairman of the Milken Institute Center for the Future of Aging, tells Axios.
"This is one of the great challenges of the 21st century — everything will change because of this. And the society that gets it right will be the winners," he says.
Irving wrote about the situation in a new piece for the Harvard Business Review.
What's happening:
The U.S. and other advanced countries are aging: In a little over 15 years, U.S. retirees will outnumber people 18 and under — the first time this has happened in U.S. history.
And so is the workforce: In just six years, people 55 and older will be 25% of the workforce, double from 12% in 1994.
They are also shrinking: The population of most advanced countries is falling because of lower birth rates and a falloff in immigration.
These are long-range trends: The aging of American society and the workforce will not reverse after boomers are gone — Gen Xers and millennials will continue the shift once they reach 65.
One big fact: Keeping older workers on the job is a potential part of the solution to the social system crisis, as they would continue paying into the social security system.
But embracing older workers will create new problems:
In at least some cases, older workers sticking around could make it harder for young people to move up the career ladder.
2. Peak Alibaba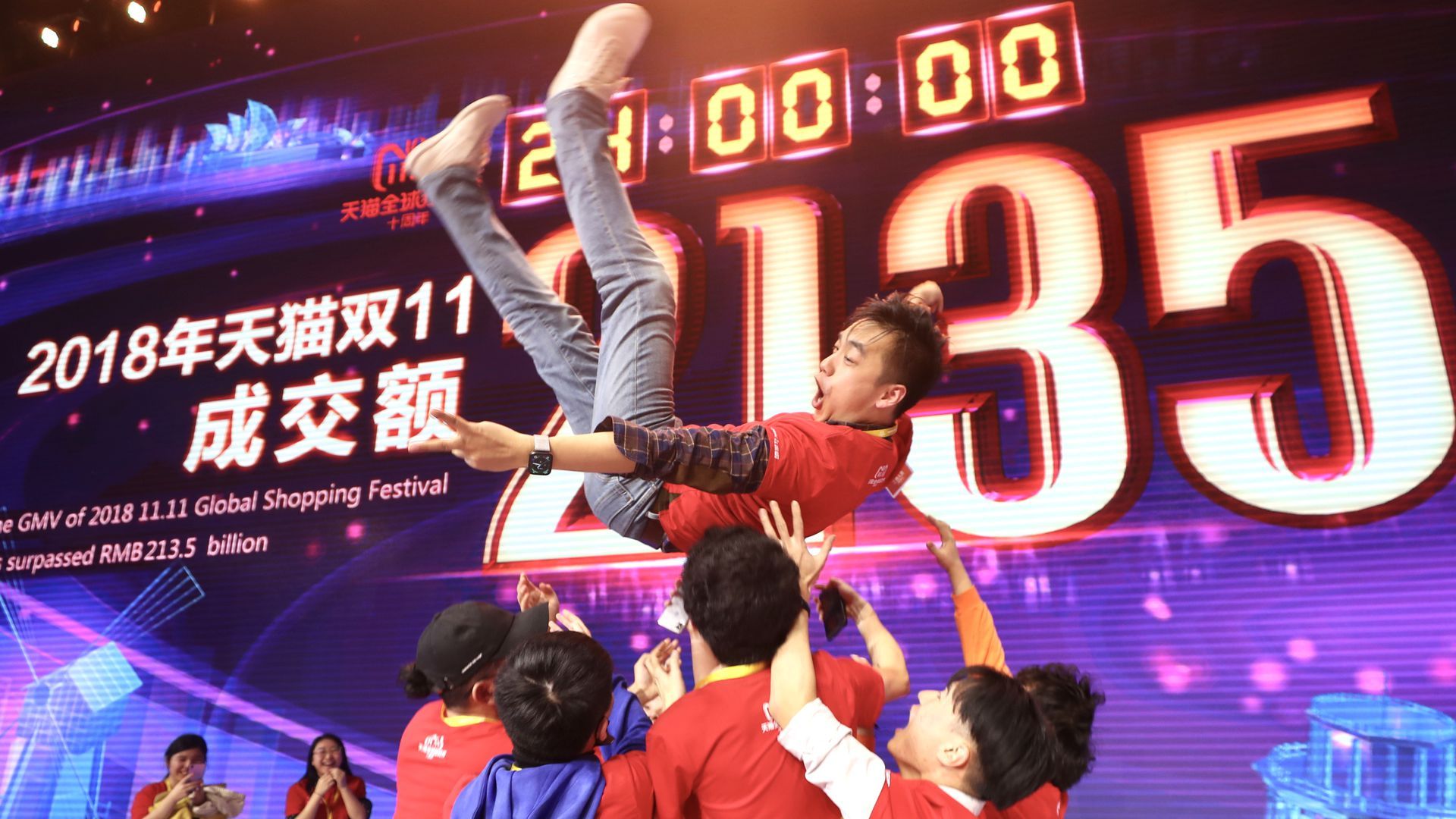 Alibaba keeps shattering its own records on Singles Day, the Chinese equivalent of Cyber Monday. This year the e-commerce titan raked in $30.8 billion in 24 hours, easily besting last year's record of $25.3 billion — and $10 billion of that was earned in the first hour of sales.
Axios' Erica Pandey writes: But the tech giant — and other Chinese e-commerce companies — may be peaking. The rate of Singles Day profits growth is slowing down as internet penetration in China races ahead and the number of brand new online shoppers logging on each year falls.
By the numbers:
Alibaba's Singles Day sales jumped 27% from 2017 to 2018. But that paled in comparison to the 39% growth from 2016 to 2017.
JD.com, Alibaba's rival, went from 50% growth to 27%.
Baozun, another e-commerce company, saw a whopping 31% leap from last year to this year. But that was nothing compared to the 60% jump between 2016 and 2017, so the company's stock fell 20% today.
But, but, but: Analysts who watch Alibaba aren't too worried. Online shopping has made it easy enough to buy holiday gifts at any time, from anywhere, so those big retail days are losing their cachet, says Humphrey Ho of Hylink Group, a Chinese digital ad agency.
"E-commerce has become such a perpetual fabric of the Chinese mentality that it's not as important to have Singles Day as the only day," says Ho.
Ho compares waning consumer interest in Singles Day to a decline of America's Black Friday and Cyber Monday traditions.
3. Mailbox: Voter suppression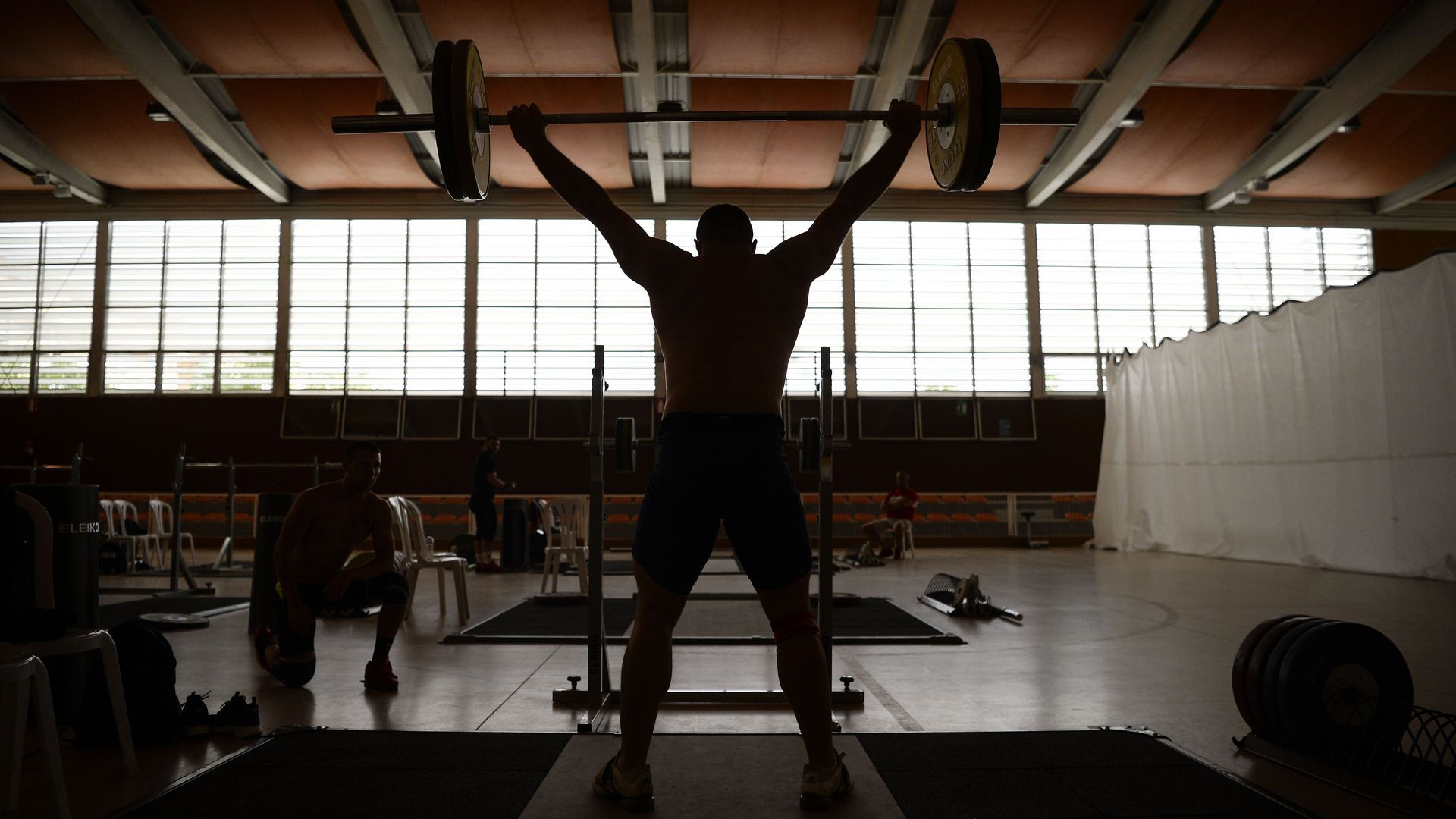 Last Friday, we ran a post dissecting the global age of strongmen. Among other things, Dan Slater, a professor at the University of Michigan, told us that voting restrictions are part of a new authoritarian bent in the U.S.
Future reader Jon Husted, secretary of state in Ohio, wrote to say that Slater is wrong. Here are Husted's excerpted remarks:
I accept that people can disagree with the policy but it is far from suppression or "anti-majoritarian." Requiring a street address is in no way an undue burden. There have been attempts in the past to sign up voters for absentee ballots and have them delivered to a single post-office box. In one case I investigated there was a campaign manager for a candidate who attempted to sign up for voters to receive absentee ballots at a P.O. box and he was going to collect them at a P.O. box personally and deliver them. There were over a hundred ballots involved. 
Voting access in America today is not perfect, but it is better than at anytime in our history. It is perfectly acceptable for people to disagree on how they should do it in their respective states.
But what frustrates me is every disagreement devolves into extremist language. Nobody is stealing elections and nobody has being suppressed. In Ohio you can vote for a month without ever leaving home and I send every voter an absentee ballot request. I'm not sure how much easier it could be.
4. Worthy of your time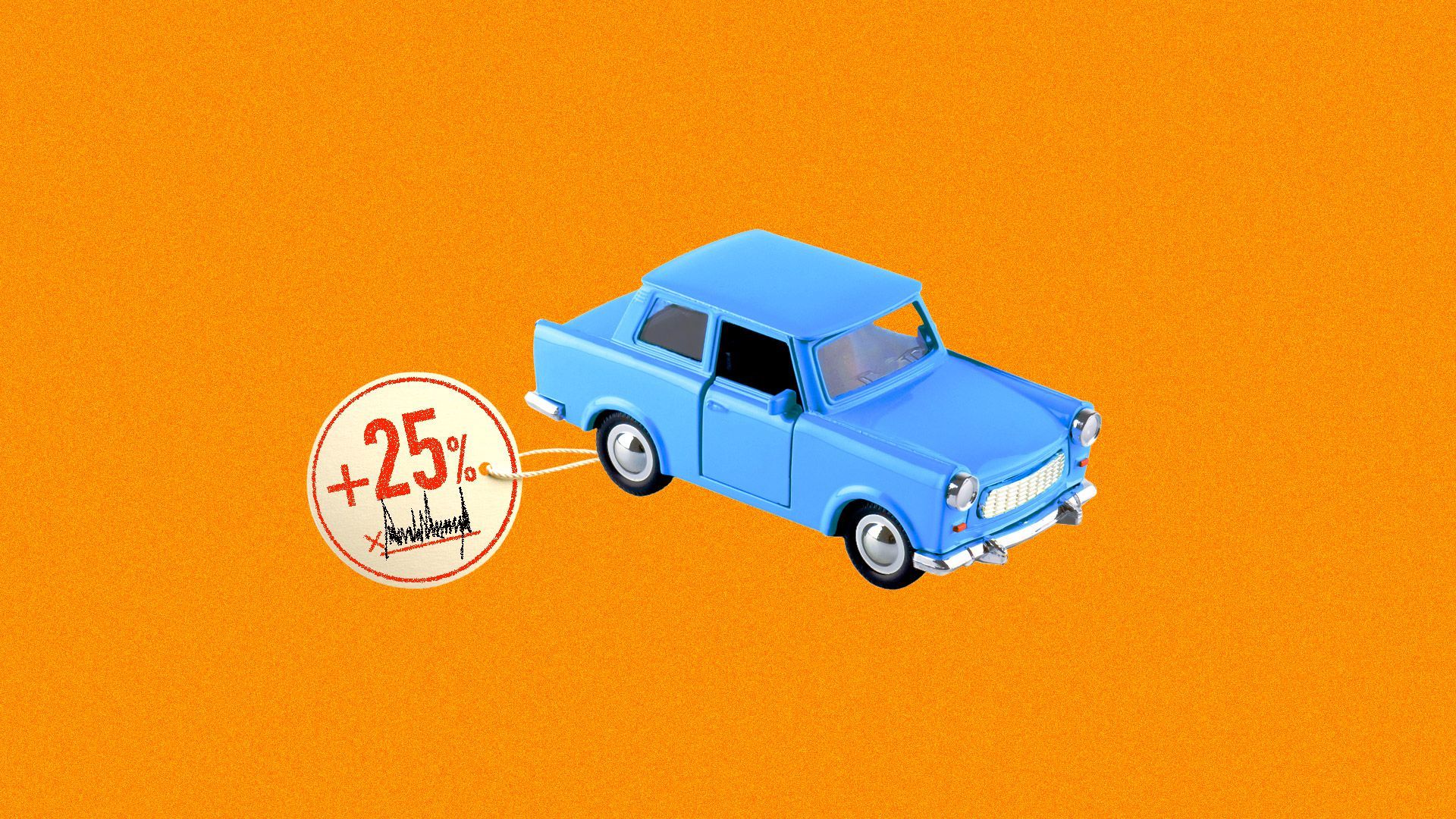 When Americans fought the Bolsheviks — and lost (Michael Phillips — WSJ)
Inside Trump's car obsession (Jonathan Swan — Axios)
German manufacturers stand up to the far right's rise (Olaf Storbeck — FT)
Solving quantum's black box (Erica Klarreich — Quanta) (h/t Shaun Assael)
The case for less speech (Jason Pontin — Wired)
5. 1 honorable thing: Remembering Pvt. Turley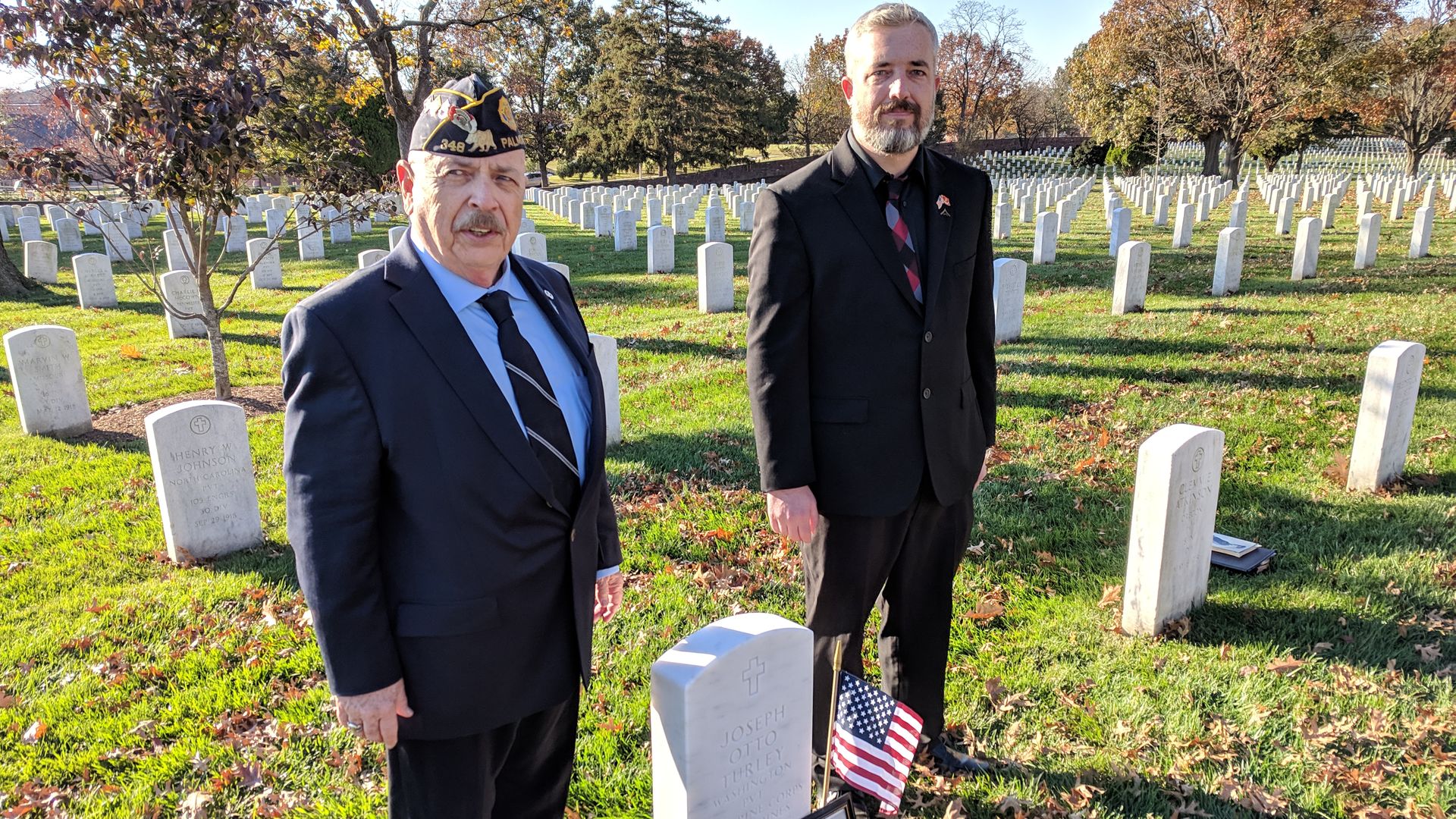 Somewhere between the evening of Nov. 10, 1918, and the next morning, Marine Pvt. Joseph Otto Turley was mortally wounded in France, in the last throes of World War I. He died Nov. 12 — 100 years ago today.
But Turley's gravestone was marked "Nov. 2." His grand-nephew Dennis Anderson and great grand-nephew Garrett thought that was wrong, according to family lore, and set out to correct the record.
In the picture above, taken yesterday at Arlington National Cemetery, they marked the placement of a new, corrected tombstone.
Both men are themselves veterans. Dennis — a college friend of mine — served as an Army paratrooper. His son fought in Iraq and Afghanistan with the Marines.
The gravestone correction, Dennis said, was the result of a father-son quest to fill in the last days of a much-beloved but mysterious relative's life.
It began when Garrett was about to plunge into what would be a hard-fought second battle for Fallujah, Iraq, in 2004. He got on the phone with his father and said, "We need to find out what happened to Otto, old man." Now, mostly, Garrett says, they know.
Go deeper: The search for Otto Turley