Axios Capital
September 26, 2019
It's only Thursday and I feel like this week is already about 10 days long. Do you remember that there was a major airline failure? Sometimes there's just too much news. (But in case you were wondering, yes, Uber is still evil.)
Situational awareness: Peloton went public yesterday at $29 per share and started trading today at $26.68. It's another black eye for lead underwriter JPMorgan, who also led Smile Direct Club's IPO at $23 per share earlier this month. That stock is now trading at just $13.59. Another JPMorgan deal, the IPO of WeWork, is now off the table entirely.
Many thanks to reader Simon Morris, who replied to last week's newsletter with a compelling argument that I placed altogether too much weight on CME data about the implied probability of a September rate cut. I'm now convinced that I was looking at a weird artifact of the money markets, rather than at the market changing its beliefs about what the Fed was going to do.
In this week's newsletter: Erratically enforced rules, Trump's tweets, New York's congestion pricing, climate commitments, and more. It's 1,388 words, which should take you less than 6 minutes to read.
1 big thing: The cost of unstable norms
The backlash was ferocious and unexpected. Adam Neumann, Kevin Burns, Boris Johnson and Donald Trump were historically rewarded for breaking the rules. Now, suddenly, the rules seem as though they might matter.
Neumann, the founder and CEO of WeWork, broke more rules even than Travis Kalanick, the former CEO of Uber. They both became billionaires by losing billions of dollars, and they both awarded themselves voting control of their boards despite holding only a minority economic position. But Neumann added in an unprecedented level of self-dealing, bizarre M&A activity, and absurd rhetoric.
Burns, the former CEO of Juul Labs, allowed his company to market its products to children and to claim without FDA permission that they were significantly safer than cigarettes. His company also led the broader adoption of vaping, which has been linked to at least 12 deaths. Burns' disregard of safety concerns helped Juul grow so fast that he managed to sell a 35% stake to Altria for $12.8 billion in cash.
Johnson, the U.K. prime minister, made his name and reputation by making up lies about the European Union and getting them printed in a respectable newspaper. Once he became PM, he tried to avoid parliamentary oversight of his government by shutting Parliament down for most of the run-up to Brexit.
Trump — well, if you don't know how Trump built his career by violating political rules and norms, Axios Edge is not the place for you to find out.
Driving the news: Neumann and Burns were both fired this week. Johnson's activity was found to be illegal in a unanimous ruling by the U.K. Supreme Court. Impeachment proceedings are beginning against Trump, who is also losing Republican support in the Senate.
Where it stands: Capitalist societies are built on a foundation of trust — trust among participants, and trust in the deep architecture that underpins financial and entrepreneurial activities. When that trust breaks down, as it did in 2008, the result is a crisis.
The bottom line: Trust cannot be enforced with threats of legal sanction; it depends instead on societal behavioral norms. Our society rewarded Neumann, Burns, Johnson and Trump for violating those norms.
Their punishment does not restore trust to the system. Instead, it reveals the degree to which trust is now absent. A world where rule-breaking and "disruption" continue to be celebrated in both the economic and political spheres is a world where a lot of energy ends up being wasted on trying to discern the status of formerly clear boundaries.
Capitalism works best when everybody is playing by the same rules. Right now we seem to be moving away from that ideal.
2. Trump is hurting the market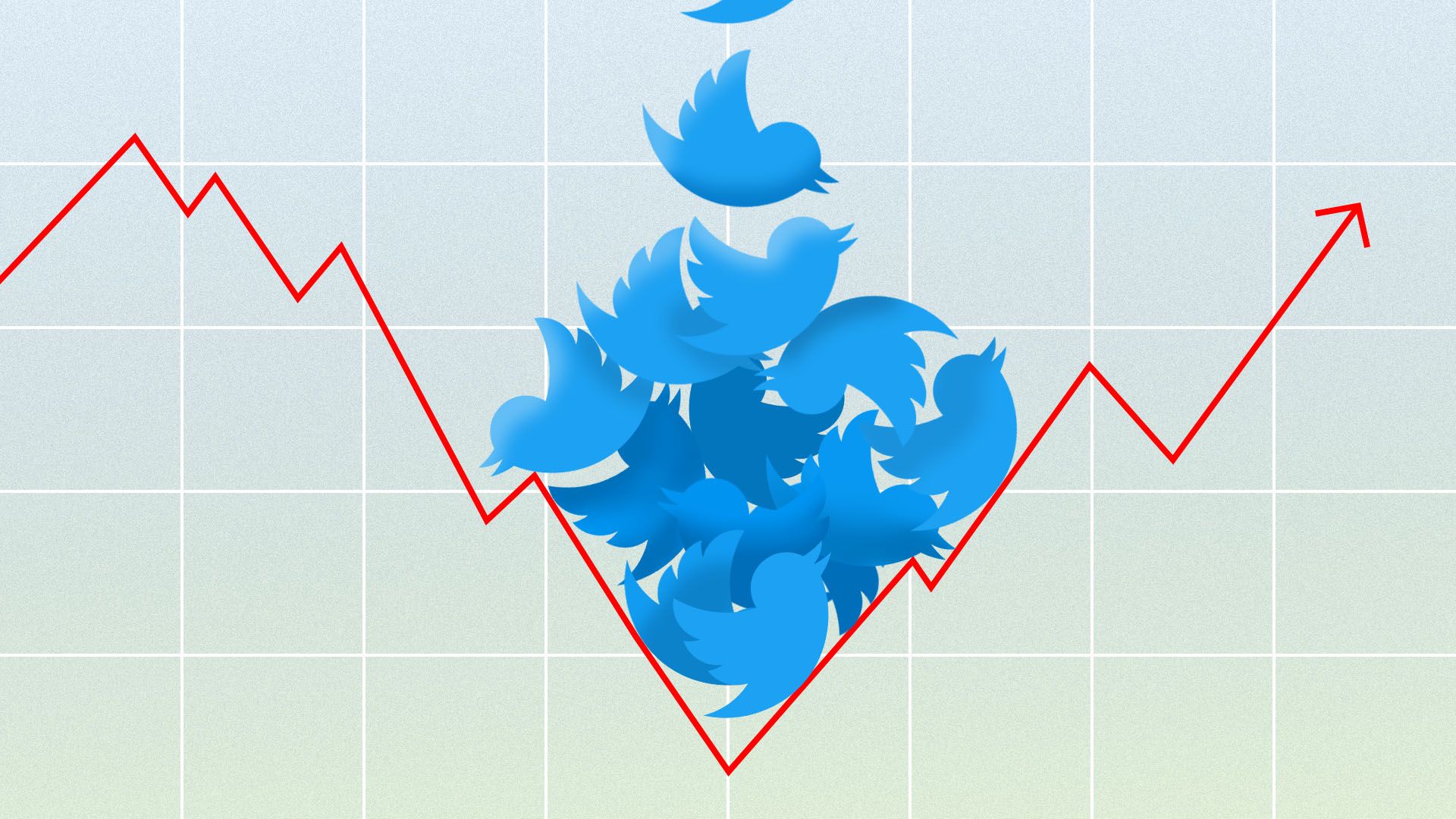 The "tweet" button on President Trump's iPhone is moving markets and has become increasingly consequential for trillions of dollars of assets around the globe.
Why it matters: The markets don't trust Trump — nor his Treasury Secretary Steven Mnuchin — to be a calming influence in times of stress.
Quite the opposite: They now expect Trump to be an unsettling influence even when things are otherwise quiet. And they're worried that even the Fed is falling under Trump's spell.
What they're saying: A new paper from the National Bureau of Economic Research finds that whenever Trump tweets about interest rates, the market prices in a little bit more of a future rate cut. Authors Francesco Bianchi, Howard Kung, and Thilo Kind write...
"Market participants believe that the Fed will succumb to the political pressure from the President."
JPMorgan's Volfefe index demonstrates that Trump's tweets have also increased volatility in the futures market more broadly.
My thought bubble: The markets normally look to the U.S. Treasury secretary for reassurance during difficult times, but as WashPost's Tory Newmyer says, Mnuchin is "Trump's most loyal surrogate." When Mnuchin defends his boss on issues like Trump's conversations with Ukrainian President Volodymyr Zelensky, that damages his credibility more broadly.
Trump's fiscal policy is also adding to market volatility. The Trump tax cuts have caused trillion-dollar deficits, which means the government has a huge and constant thirst for free cash. That in turn exacerbates liquidity shortages like the one we saw last week.
The bottom line: The stock market has done a pretty good job of shrugging off Trump's tweets, most of the time. But money markets — the places where businesses keep most of their cash — are much more important for a smooth-functioning economy than the stock market is. And they're showing increasing signs of concern.
3. The benefits of New York's congestion pricing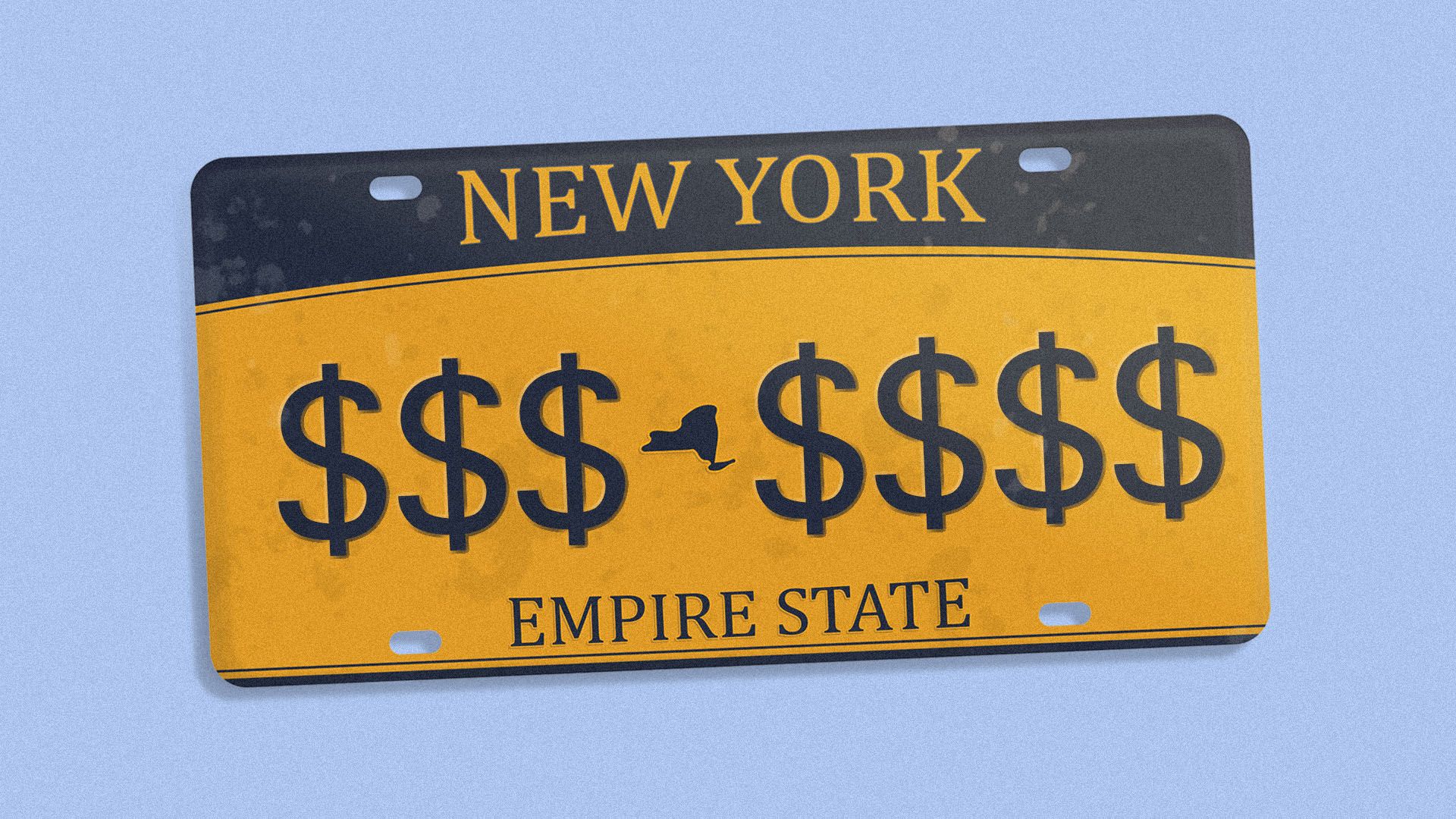 New York drivers collectively spend an extra 145 minutes sitting in traffic every time a single car drives into Manhattan during the afternoon rush hour.
Most of those delays, interestingly, occur outside Manhattan, since that car will spend much more time driving outside Manhattan than in it.
The dollar value of those 145 minutes works out to $82.32 — the negative externality imposed upon the city by just one car journey. That calculation comes from the Balanced Transportation Analyzer (BTA), the most sophisticated model in the world for how pricing affects traffic.
What we're watching: Congestion pricing will be implemented in New York in 2021. As an important new report from the Regional Plan Association says, it's crucial that it gets done right. New York will be by far the biggest congestion pricing system in the world, and will become the global benchmark by which the idea is judged.
New York's scheme will affect some 600,000 vehicles per day. Right now, the largest congestion pricing scheme in the world is London's, and that affects fewer than 100,000 vehicles per day.
The cost of sitting in traffic will go down by about one-sixth, according to Charles Komanoff, the architect of the BTA. That's based on the reasonable assumption that congestion pricing will reduce vehicle traffic into Manhattan's central business district by 80,000 cars per day.
By the numbers: Using a congestion fee of $12.24 during peak hours (and nothing off-peak), New Yorkers sitting in Manhattan traffic will save the time equivalent of $1.56 billion annually, plus another $802 million worth of time spent in non-Manhattan traffic.
That fee would also raise $940 million per year for reinvestment into public transportation, which in turn would help save commuters the $1.55 billion of time spent straphanging on the subway, per BTA.
The bottom line: New York's Triborough Bridge and Tunnel Authority is charged with implementing a fee that will raise some $1 billion per year. Forcing vehicles to cover some of the congestion costs that they cause will not only reduce congestion directly, it will also help fund much-needed improvements to alternative ways of getting around.
Go deeper: I profiled Komanoff for Wired in 2010.
4. Banks' minimalist climate commitment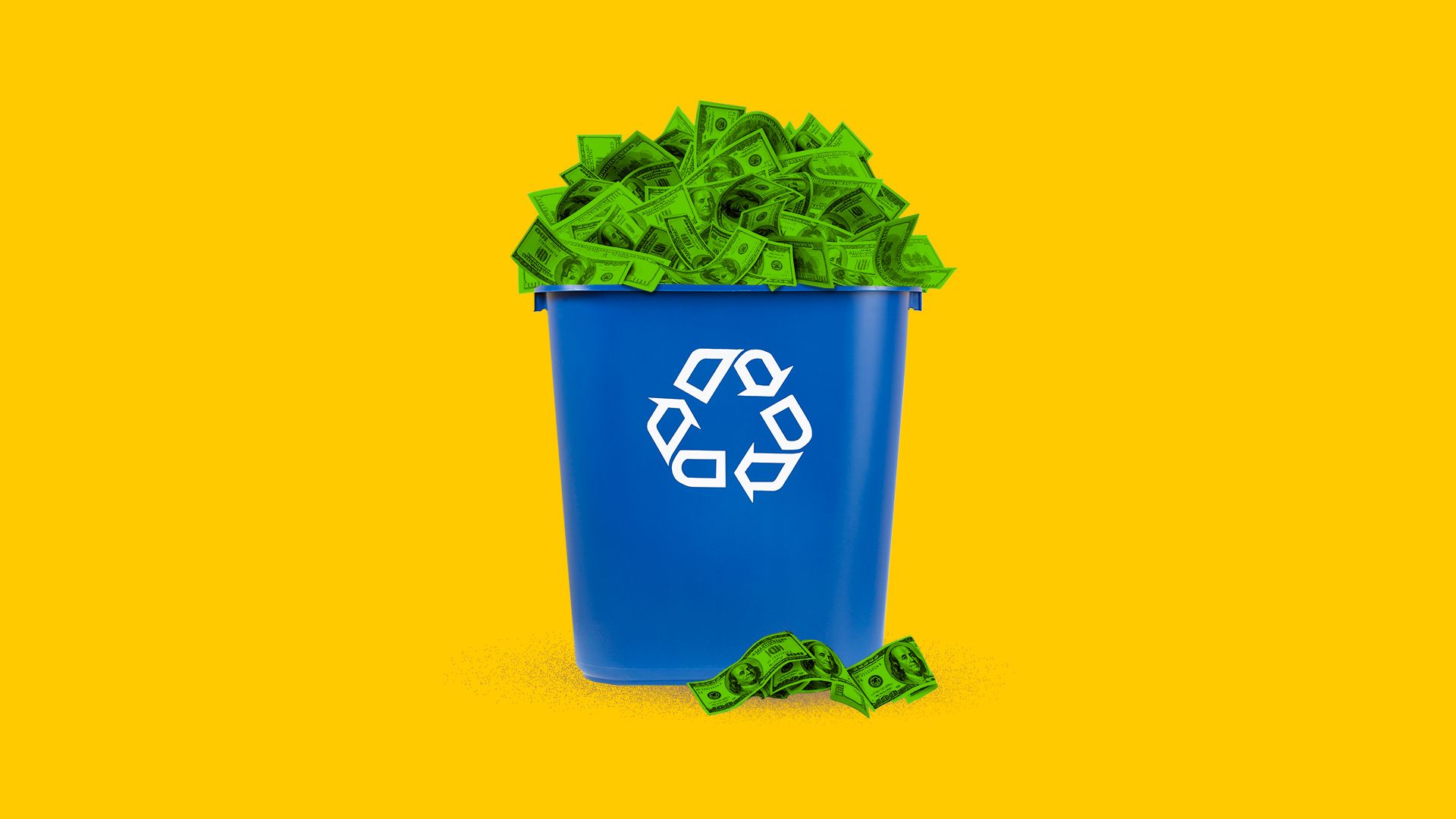 It shouldn't be hard for a big bank to sign onto the Principles for Responsible Banking. Much like the Business Roundtable's new Statement on the Purpose of a Corporation, it's a grand-sounding but ultimately toothless list of high-minded ideals surrounding things like "shared prosperity," "relevant stakeholders," and "effective governance."
Signatories commit to very little. They have 4 years to come up with a list of targets to meet, after which any given bank "can revise its targets at its own pace."
Even so, only 3 of the world's 10 biggest banks, and only 131 overall, signed the document.
The marginally more stringent Collective Commitment to Climate Action attracted a mere 30 signatories.
What they're saying: Not very much. Pressure group BankTrack has asked every signatory to provide specifics about what exactly they're committing to doing. Here are the results. So far the vast majority of signatories either haven't responded at all, or have responded only with boilerplate.
5. Coming up: China's show of strength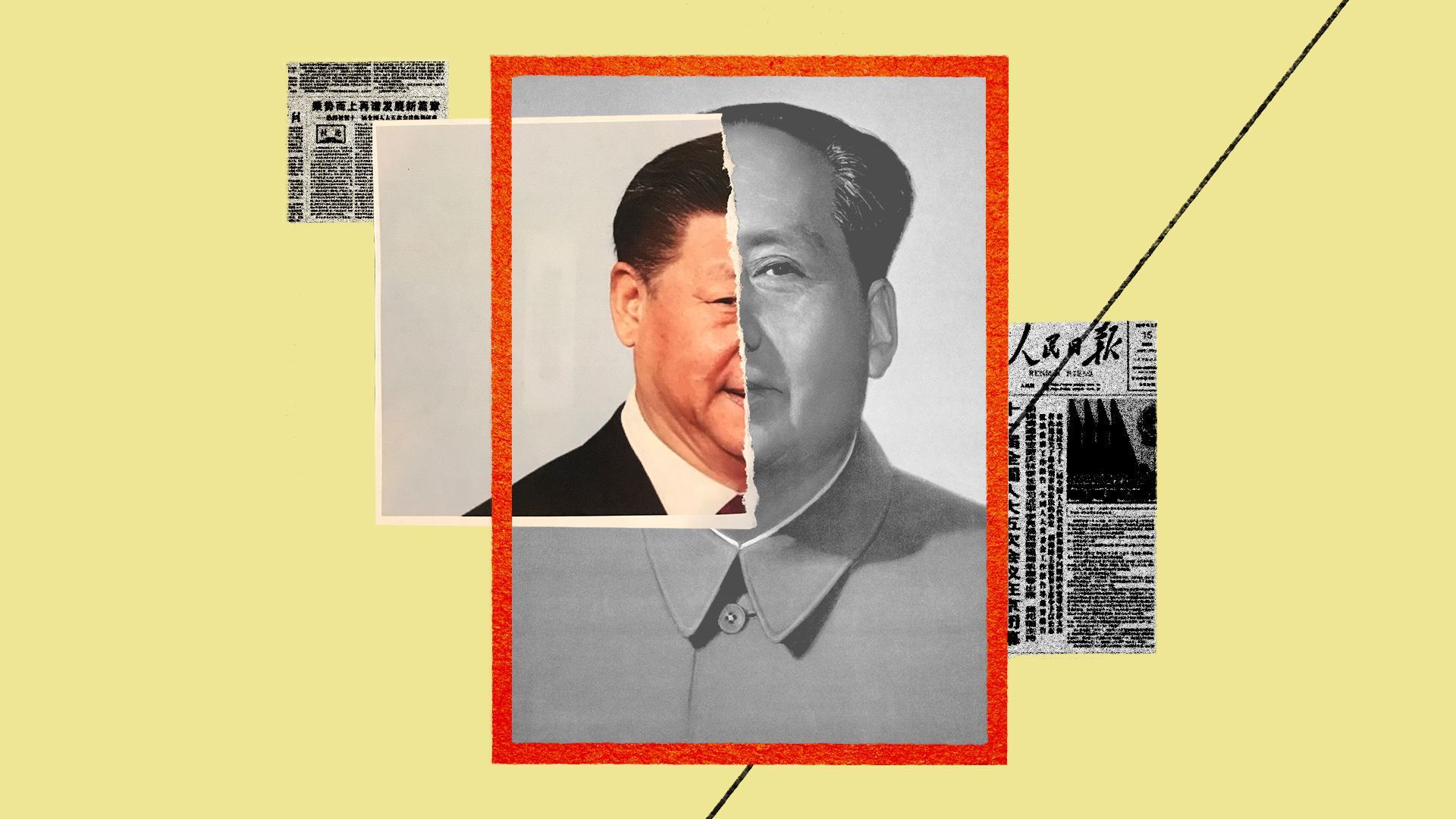 Beijing will effectively shut down on Tuesday for a huge military parade, a speech by President Xi Jinping, and other fanfare marking 70 years since the founding of the People's Republic of China.
Why it matters: It's China's "most important and high-profile event of the year," per Reuters. This year it comes against a backdrop not only of the escalated U.S.-China trade war but also continued protests in Hong Kong.
Hong Kong's stock market is closed for the day, while the Shanghai stock exchange is closed Tuesday through Friday.
6. Building of the week: V&A Dundee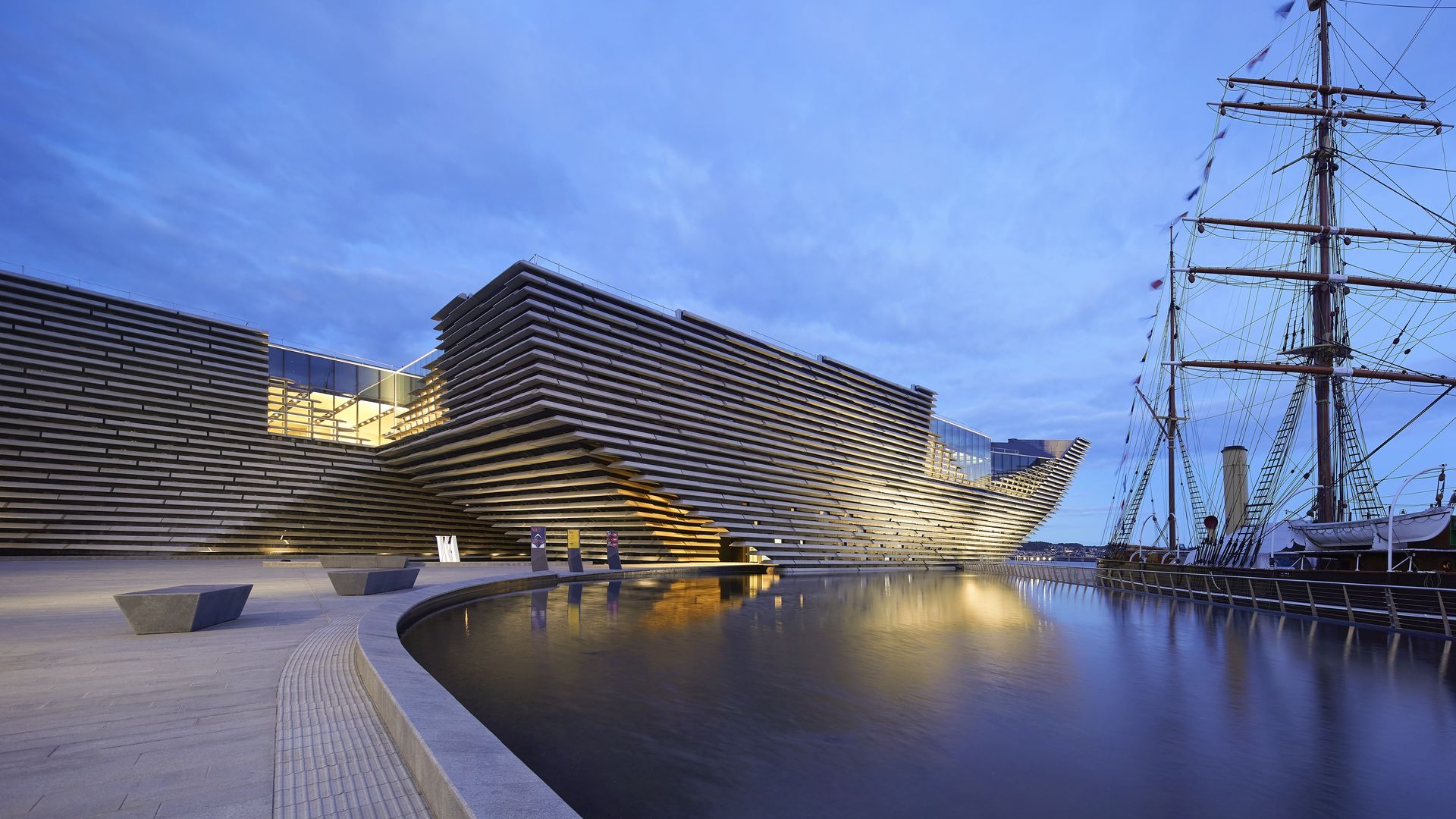 Scotland's V&A Dundee opened last year, in a striking waterfront building designed by Japanese architect Kengo Kuma. The design museum has no straight external walls; its 21 wall sections comprise 2,500 pre-cast stone panels.
V&A East, in London, is still under construction. According to The Art Newspaper, it was Boris Johnson's idea when he was mayor of London. His brief, which was of course ignored: "We don't want some stunted, Eastern Bloc, Communist state, post-Corbusian monstrosity. We want the Babylonian Palace of Tiglath-Pileser!"
No spoilers, but the V&A Dundee plays a significant role in Sunday's episode of "Succession" on HBO.
Finally, McKinsey, the management consultantcy, is opening a retail store in a shopping mall in Minneapolis. Among the products for sale: deodorant from Type:A, a company that just raised a $2.35 million seed round, per PitchBook. Hiring McKinsey to sell your product before you even do your Series A? That's innovation.