September 17, 2021
🎉 It's Friday and you made it. Time to celebrate.
Cooler temps today with a high of 77.
🍎 Situational awareness: Eight candidates filed before yesterday's deadline to run in five Des Moines Public School Board elections.
Today's Smart Brevity count is 922 words, a 3.5-minute read.
1 big thing: Why Dems support those new maps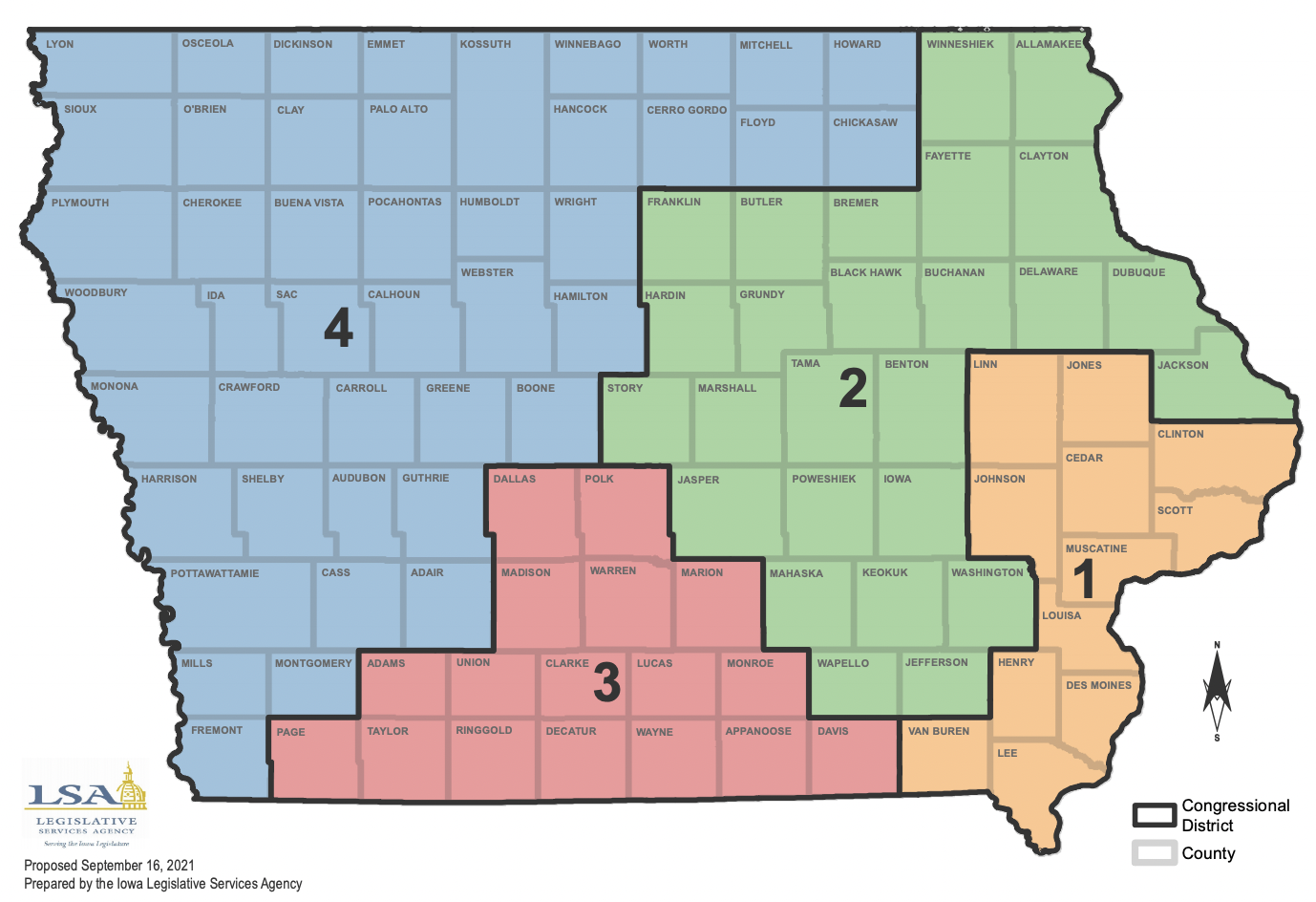 Iowa's first round of proposed redistricting maps are out, showing the possible distribution of political power at the legislative and Congressional levels for the next ten years.
State of play: Democrats are already giving the new maps — drawn by the nonpartisan Legislative Services Agency — a thumbs up.
Yes, but: Republicans are in control at the state level and get the ultimate say if this map stays or goes. Analysts say it's likely a no-go because they have little to gain, especially if Dems can pick up Hinson's seat with the new redistricting.
"It's going to be a tough sell," tweeted Dave Wasserman of Cook Political Report.
If they don't approve it, LSA has 35 days to present a new map.
Redistricting details:
IA-1 turns into a reliably blue district (38.7%-D vs. 28.6%-R), setting up Republican U.S. Rep. Ashley Hinson for a precarious election. The new lines group together largely urban Linn, Johnson and Scott counties.
IA-2 becomes marginally redder (35%-R vs. 32.8%-D).
IA-3, repped by Cindy Axne, Iowa's sole Democrat in Congress, remains competitive (36.3%-D vs. 33.9%-R).
IA-4 stays deeply red (45.2%-R vs. 24%-D).
What else to watch for: More than 50+ incumbents could suddenly be pitted against their own colleagues under this map.
For example: Democratic Sens. Sarah Trone Garriott and Claire Celsi would share a district under the new map, Polk County Democratic Chair Sean Bagniewski told the Register.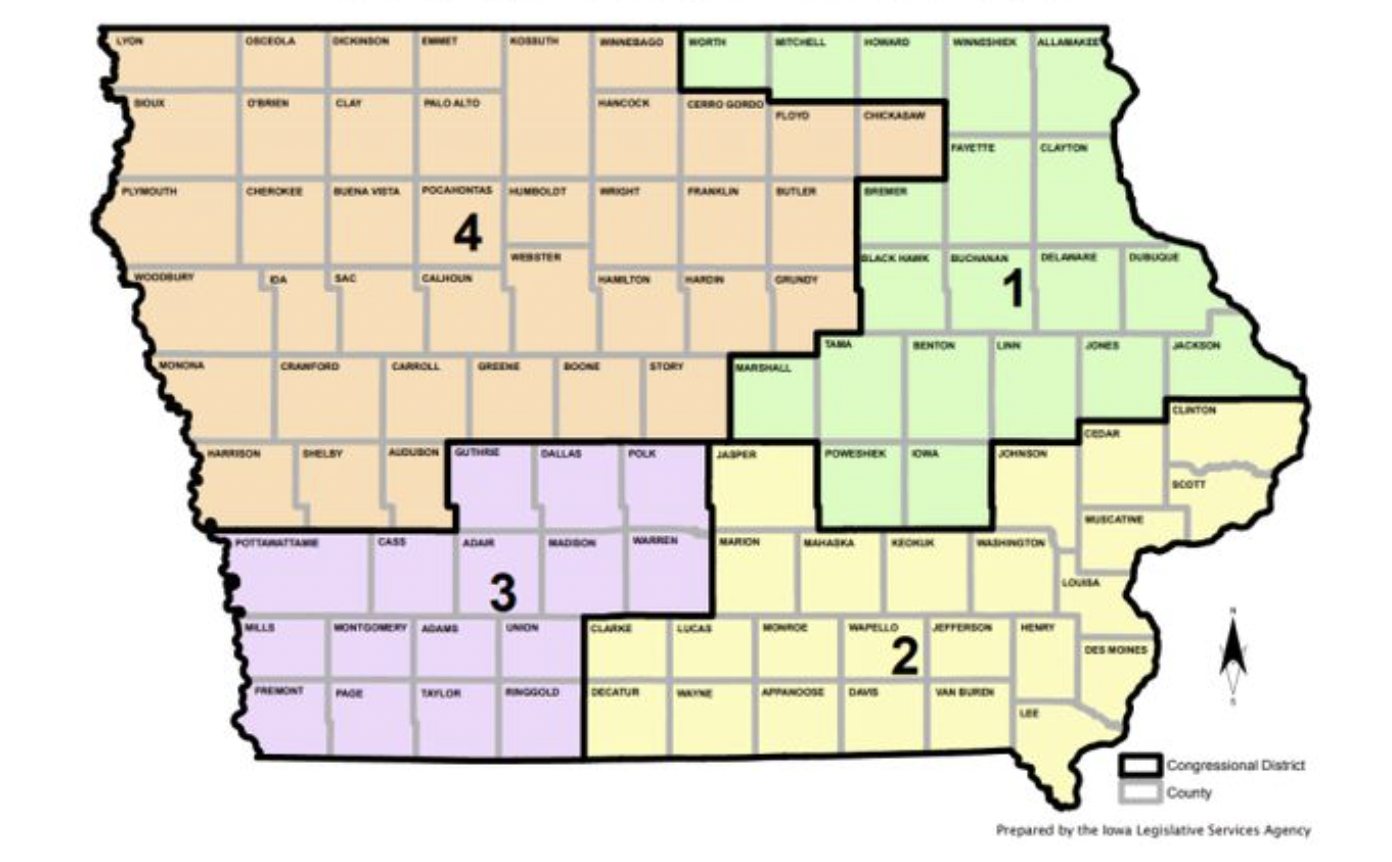 Between the lines: Iowa's redistricting process has been praised as one of the most objective in the country, but this year is unique because Republicans could have more say on how lines are drawn.
Typically, the Iowa Constitution requires lawmakers to approve one of three maps drawn by LSA by Sept. 1. But COVID delayed the release of U.S. Census data and the drawing of new maps, meaning the deadline is already passed and a new process is in place.
Republicans may now throw out all three maps and then draw their own and approve it. But leaders have so far said they plan on honoring Iowa's objective process.
What's next: The public can offer comments during virtual public hearings Sept. 20-22.
The Legislature will convene and vote on the maps during a rare, special session, starting Oct. 5.
2. Local Boy Scouts' $2.5M abuse settlement
The Mid-Iowa Council Boy Scouts will pay $2.5 million as part of what's believed to be the largest settlement of child sex abuse claims in U.S. history, its CEO Matt Hill told Axios yesterday.
Sexual abuse was alleged to have occurred under the Mid-Iowa Council's oversight, Hill said. Most of the claims took place prior to 1980, he added.
The big picture: Tens of thousands of people said they were sexually abused by scout leaders or members over decades in a lawsuit against the Boy Scouts of America that ended in an $850 million settlement this year.
Context: The BSA filed for bankruptcy protection in February 2020 due to the mounting legal costs associated with multiple sexual abuse lawsuits.
The Mid-Iowa Council is among the more than 250 scout councils that'll pay a total of $500 million in cash and properties to compensate victims and help the larger organization financially recover.
Of note: The amount that each local council contributes is based on factors including information in cases filed in the claims process, and how much each could meaningfully contribute while still serving their territory, according to Hill.
The Mid-Iowa Council is a legally separate entity from the BSA National Council.
Between the lines: Membership at the Mid-Iowa Council — which provides programs to more than 10,000 kids in 27 counties, including Polk — has dropped about 40% over the last two years. Hill said it's mostly due to the pandemic.
National membership has also experienced dramatic declines.
No adverse effects to the Mid-Iowa Council's operations are expected because of the settlement, Hill told Jason.
3. Goodbye and thank you, John
John Ruan III — a businessperson who fought world hunger and helped establish a permanent home for the World Food Prize in downtown Des Moines — died last week after a prolonged illness. He was 78.
Tributes:
The World Food Prize Foundation: "John's strength of character and powerful determination will be remembered most."
Ruan Transportation: "While he didn't enjoy the limelight, Mr. Ruan quietly demonstrated significant business and philanthropic leadership to make our community more forward-thinking and vibrant."
Mayor Frank Cownie: "Let's hope that future generations watch the example of an individual like this."
His memorial is today at the Wakonda Club, 3915 Fleur Dr., DSM.
​​4. DSM OKs food truck expansion
Food trucks are now allowed on Des Moines' streets during special events under a new rule approved by the City Council this week.
Why it matters: "Receptions on wheels" are becoming a big thing for weddings and other special gatherings.
Ordinances that limited the trucks to specific zones and parks were suppressing our party life.
State of play: The ordinance change was prompted by the Des Moines Heritage Center, a downtown events venue centered around a historic depot. It's located just outside of zones that allow food trucks and that was limiting its options, Councilperson Carl Voss told Jason this week.
Special event permits now allow food trucks to operate on public streets in commercial or mixed-use locations that are outside of the zones.
🗯 Our thought bubble: We hope this means we see Pho Wheels and Sushi a bit more frequently.
5. ✋ 1 urgent thing to go: Urinal advice
Gastro Grub & Pub in Waukee has this bit of advice taped above their urinal.
The humor appears to be working. The bathroom was spotless last Friday night, Jason reports.
👏🏼 👏🏼 Thanks for the laugh, GG&P.
We're super pumped about the return of the World Food & Music Festival this weekend.
Leave plenty of room for $1 tastes and delicious, diverse food.
Thanks for spending some time with us. Subscribe here to do it every weekday!