Axios AM Deep Dive
June 05, 2021
🌐 Welcome to the foreign policy edition of our Axios AM Deep Dive series on the new Washington. Our guide is Dave Lawler, author of our twice-weekly Axios World newsletter, joined by other top Axios specialists.
Smart Brevity™ count: 1,396 words ... 5 minutes.
Here we go:
1 big thing: "America is back" hits the road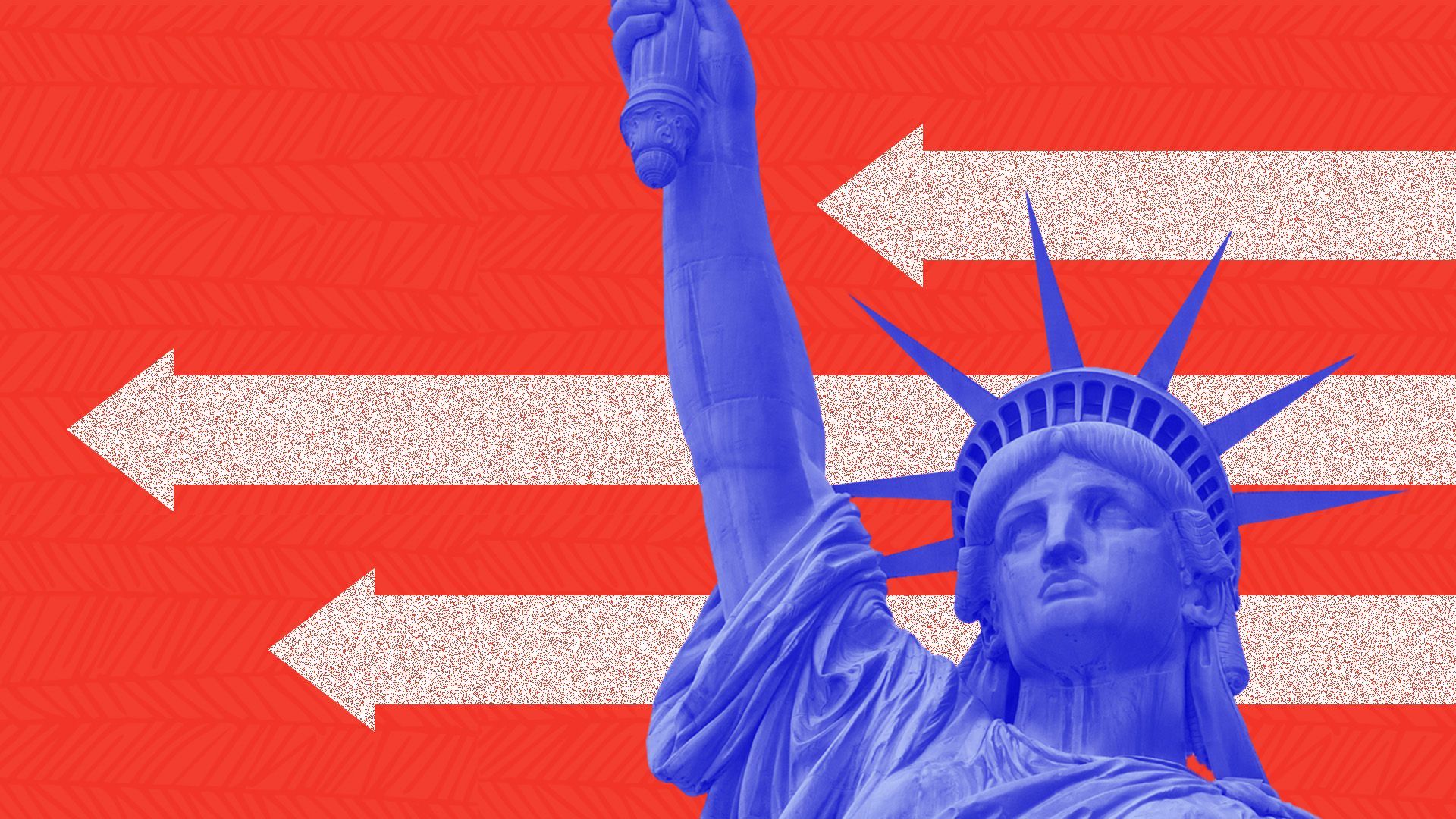 President Biden takes his "America is back" doctrine on the road this week — the biggest test yet of his belief that the U.S. can better confront adversaries by embracing allies.
Biden flies first to England, where he'll meet with Prime Minister Boris Johnson, Queen Elizabeth II and other allies at the G7 summit. He'll continue on to a NATO conclave in Brussels on June 14, before his tête-à-tête with Vladimir Putin in Geneva two days later.
Deputy Secretary of State Wendy Sherman told Axios that this "sequencing of events" lets Biden coordinate with allies before meeting Putin.
The big picture: Biden has promised to revitalize multilateralism, stand up for human rights and democracy, position the U.S. for competition with China and rally the world to fight climate change.
But those priorities have clashed in his first four months in office.
"What we try to do is fairly complex choreography that leads to an outcome that works for the American people," Sherman said.
Behold, the complexity:
Sherman spoke to Axios between stops in Cambodia and Thailand. She was meeting with governments that are trampling democracy rather than advancing it — but ones with which the U.S. wants to strengthen ties as part of its strategic competition with China.
"One has to raise it all — I don't hesitate and we don't hesitate," Sherman says. "If I go to a country in which we have a security relationship, that's important, but it doesn't stop us from raising these human rights issues."
Every administration has to balance America's interests and values. But the premium Biden has put on the latter makes it particularly striking when he prioritizes the former.
Multilateralism receded last month when the U.S. blocked efforts by France and other allies at the UN Security Council to demand a ceasefire in the Gaza Strip.
And for all Biden's talk of leveraging American leadership to help end the pandemic, the U.S. until recently was the only major vaccine producer to hoard virtually its entire supply.
Yes, but: Multilateralism has borne some early fruit. Biden coordinated with allies to sanction China and Russia and brought together "the Quad" — Australia, India, Japan and the U.S. — to increase vaccine production and align their stances toward Beijing.
The bottom line for allies Biden meets in Europe this week: He's not Donald Trump.
2. Why Biden wants to sit down with Putin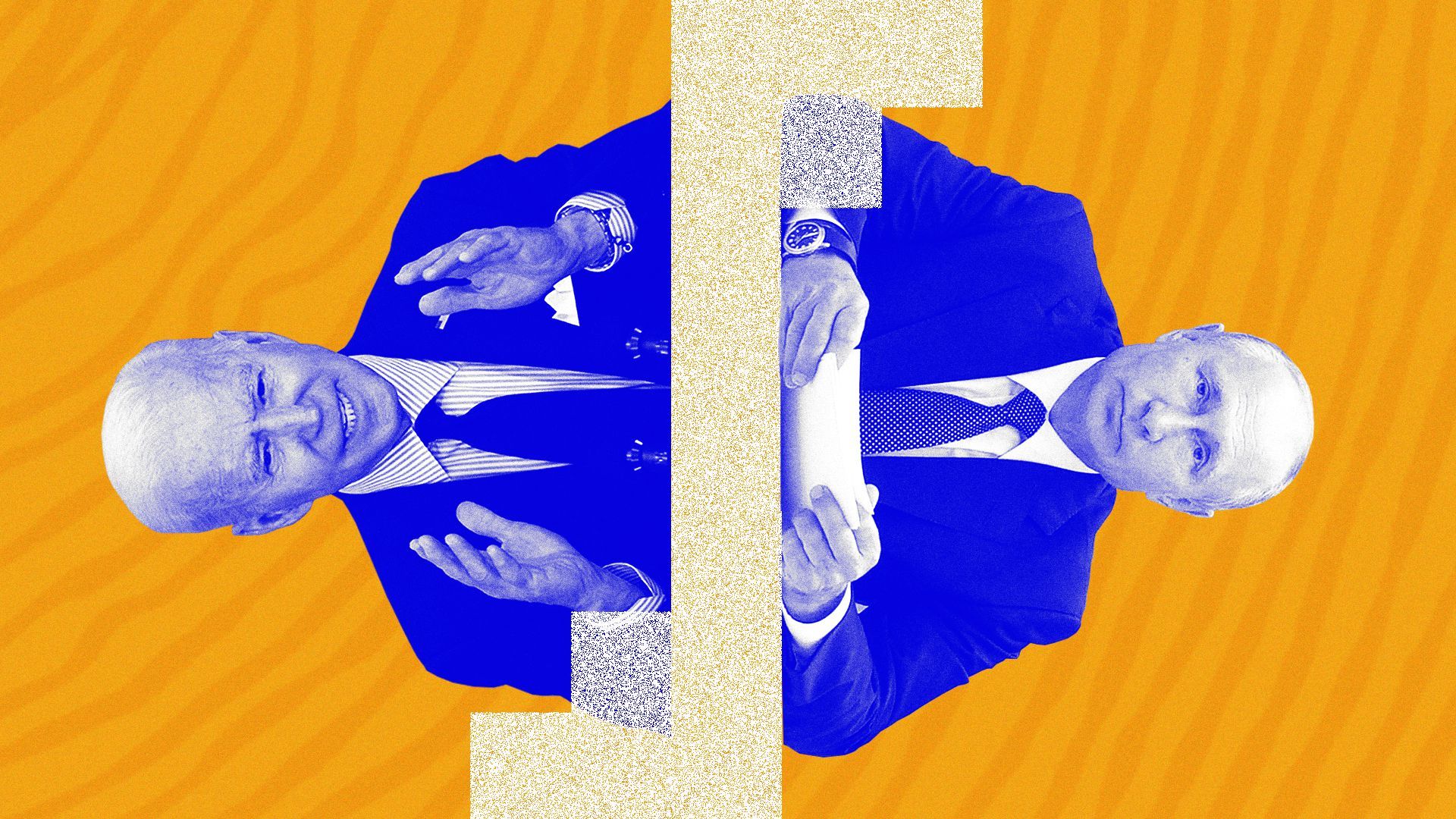 U.S.-Russia relations are at possibly their lowest point since the fall of the Soviet Union, Axios' Zachary Basu writes.
Why it matters: So it's fitting that President Biden and Vladimir Putin will sit down in Geneva, the site of Ronald Reagan's first meeting with Mikhail Gorbachev in 1985.
The White House has rejected the idea that the summit is a "reward" for Putin, noting that Biden proposed the meeting "because of our countries' differences, not in spite of them."
Those differences are considerable:
The U.S. intelligence community reported in March that Putin authorized influence operations in 2020 aimed at damaging Biden's candidacy. A day later Biden set off a mini diplomatic crisis by calling Putin a "killer."
The Biden administration has levied sanctions against Russia for the massive SolarWinds hack and the poisoning and jailing of opposition leader Alexei Navalny. And yet Putin is undeterred.
In the past two months, Russia has engaged in a menacing military buildup on Ukraine's border, launched a new wave of cyberattacks and strangled Navalny's opposition network.
But even with the latest provocations, Biden has vowed to seek to work with Russia on areas of mutual concern.
Both sides have sought to downplay expectations for the summit.
A successful outcome might be simply arresting the deterioration of relations and establishing some modicum of stability as the U.S. pivots to its top geopolitical priority: China.
3. Biden holds Trump's China line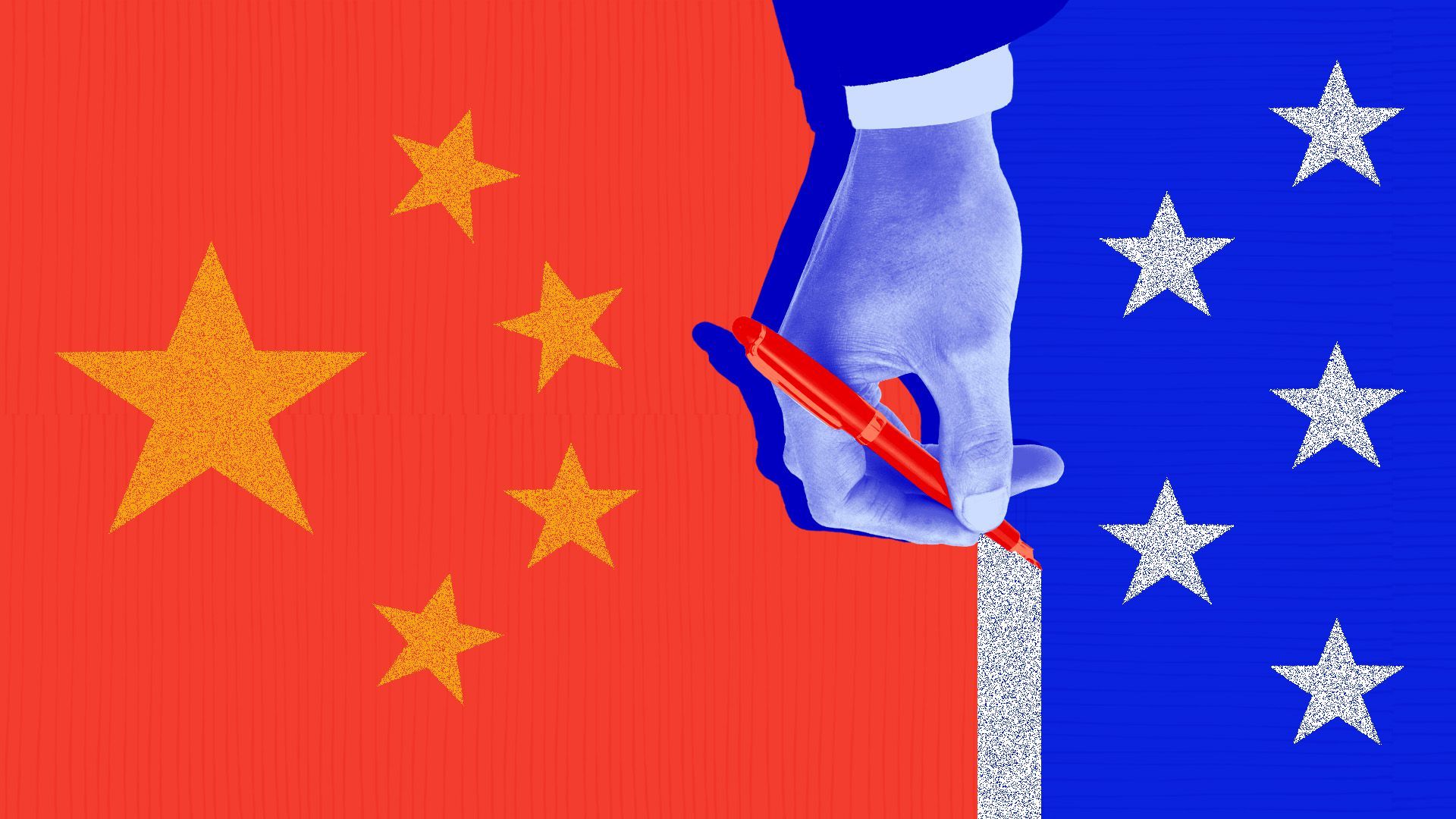 Biden has embraced several of Trump's moves on China and used them to persuade reluctant U.S. progressives and even some European leaders that a more muscular China policy is necessary, Axios China author Bethany Allen-Ebrahimian writes.
Why it matters: "Any concerns that the Biden administration might soften Trump's policies toward China have largely been laid to rest," said Lisa Curtis, who directs the Center for a New America Security's Indo-Pacific Security Program and served on Trump's National Security Council.
Biden has followed Trump's lead in recognizing that the Chinese Communist Party is committing genocide in Xinjiang and in immediately reaffirming support for Taiwan.
He has built on Trump's elevation of the Quad, hosting the grouping's first-ever leader-level summit.
Biden announced last week that he'd asked U.S. intelligence agencies to compile a report about COVID's origins, giving new life to the theory — embraced by some Trump officials — that the outbreak may have resulted from a lab accident in China.
On Thursday, Biden expanded Trump's blacklist of Chinese companies barred from receiving U.S. investment.
What's next: A major bipartisan bill aiming to curb China's global influence and strengthen America's competitive advantage is now working its way through the Senate, with strong support from leading Democrats and Biden allies like Chris Coons.
But competition isn't everything. The Biden administration wants to cooperate on issues like climate change or nonproliferation, Curtis told Axios.
"The goal appears to be to try to cushion tense relations with some shock absorbers that prevent the two countries from sliding toward conflict."
4. The Middle East sucks Biden back in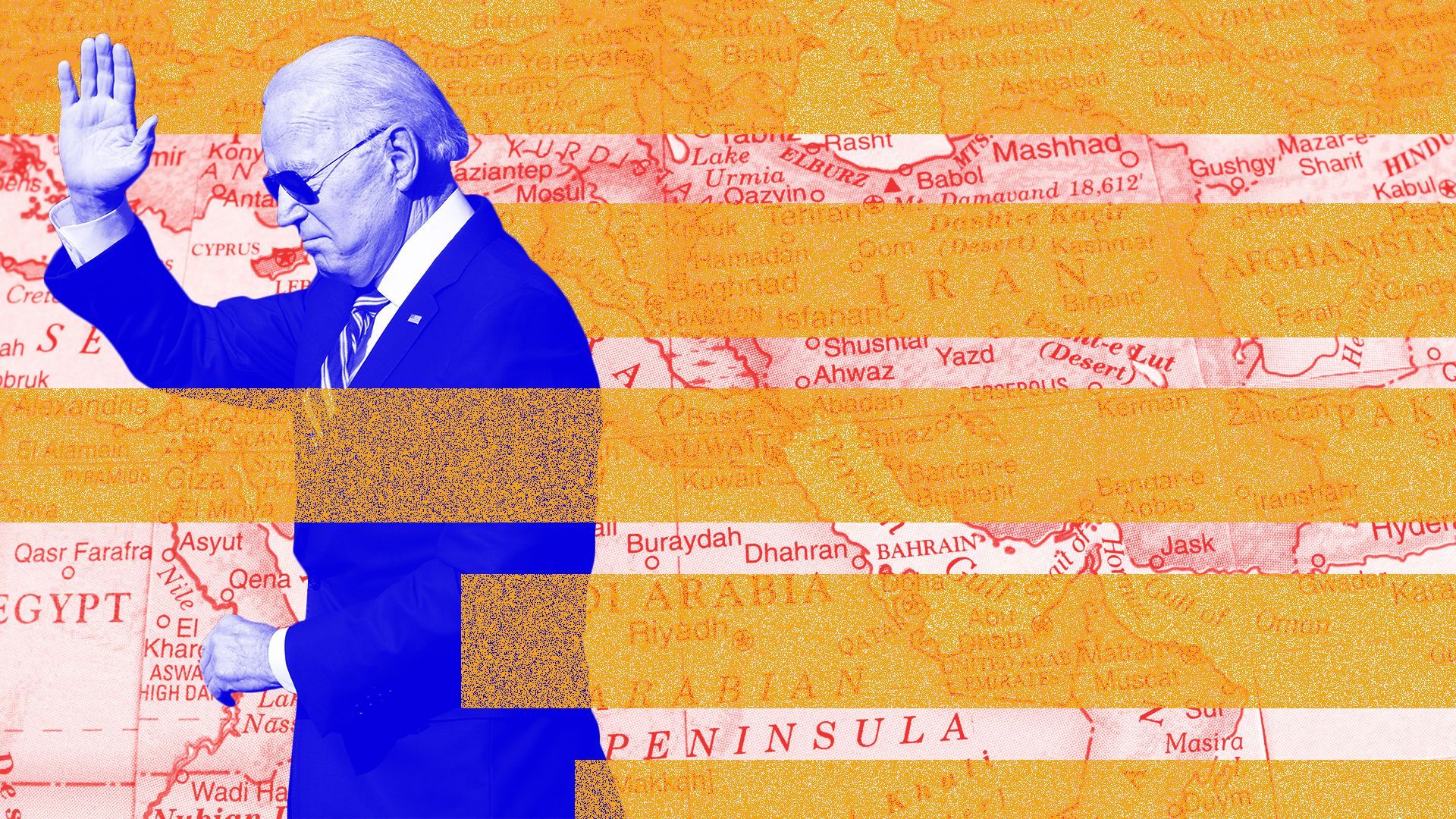 Biden intended to pivot away from the Middle East and shun its strongmen, but the regional reality has already forced him to shift course, Axios from Tel Aviv author Barak Ravid writes.
Why it matters: Biden initially saw the Israeli-Palestinian conflict as a low priority that wasn't worth much political capital. But the latest fighting in Gaza exposed how unprepared the administration was for an escalation. Since then, Biden's engagement has dramatically increased.
Biden also began by distancing himself from Egyptian President Abdel Fattah al-Sisi, who was Trump's "favorite dictator" despite a grim human rights record.
But when the Gaza crisis happened, Biden realized Sisi was the only player capable of mediating a ceasefire. After waiting four months for a call from Biden, he received two in two weeks.
Biden did cool relations with Saudi Arabia over the assassination of Jamal Khashoggi, but stopped short of punishing Crown Prince Mohammed Bin Salman directly.
And while he paused a major arms deal with another Gulf monarchy, the UAE, he ultimately let it through.
What to watch: Biden's top priority in the Middle East was putting Iran's nuclear program "back in the box." But after five rounds of indirect talks in Vienna, a deal to salvage the 2015 nuclear accord remains elusive.
5. Diplomacy is back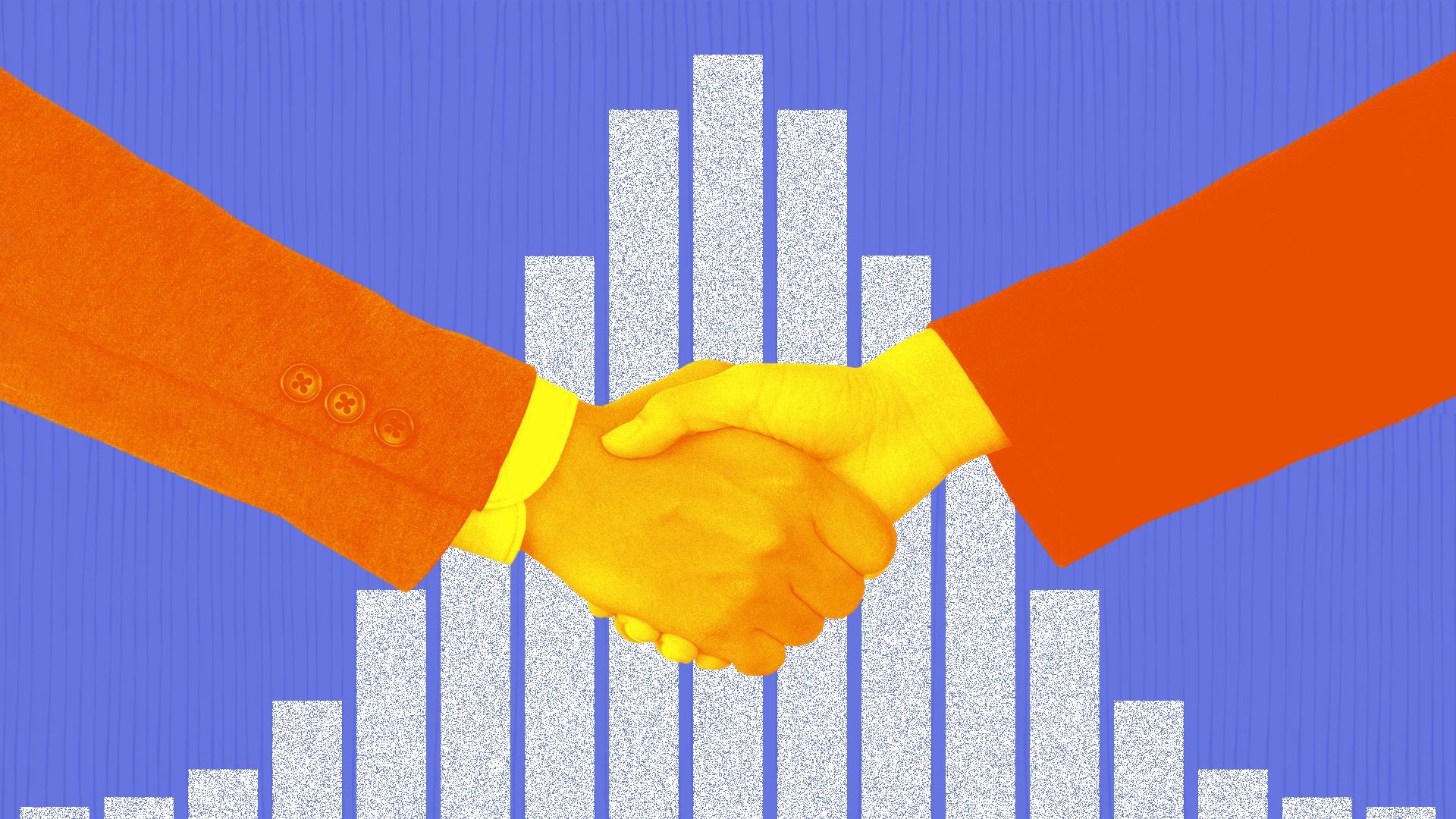 Biden has rebooted America's foreign policy apparatus, reestablished diplomatic channels and reassured allies — and adversaries — that predictability will define his approach. Now comes the hard part, Axios' Hans Nichols writes.
"They've made the necessary calls, traveled to the right places, attended the appropriate meetings," said Ivo Daalder, the president of the Chicago Council on Global Affairs and Barack Obama's first ambassador to NATO.
"But, as Biden admits, it's not enough to say America is back. He has to convince the world that we are staying."
Why it matters: After four years of diplomacy-by-tweet under Trump, allies and partners are reacclimating to a more familiar foreign policy process. The president doesn't undercut his secretary of state, diplomats are empowered and meetings tend to follow script.
"Both our foreign partners and the business community are relieved by the return of an orderly policymaking process ... based on an assessment of U.S. interests, not the ego-driven impulsiveness of its leader," said Dan Price, who was George W. Bush's summit sherpa and is now managing director of Rock Creek Global Advisors.
But Biden's most important diplomatic relationship — with China — got off to an undiplomatic start with a contentious meeting in Alaska.
And ongoing trade disputes with the EU show it won't always be easy with allies either.
The bottom line: "Next week he needs to pivot — from saying we're back to proposing an agenda to allies to meet the challenges we face," said Daalder.
6. America's global reviews
Favorable views of the U.S. increased after Biden's inauguration in nearly every country polled by Morning Consult.
7. Two big tests: Climate and vaccines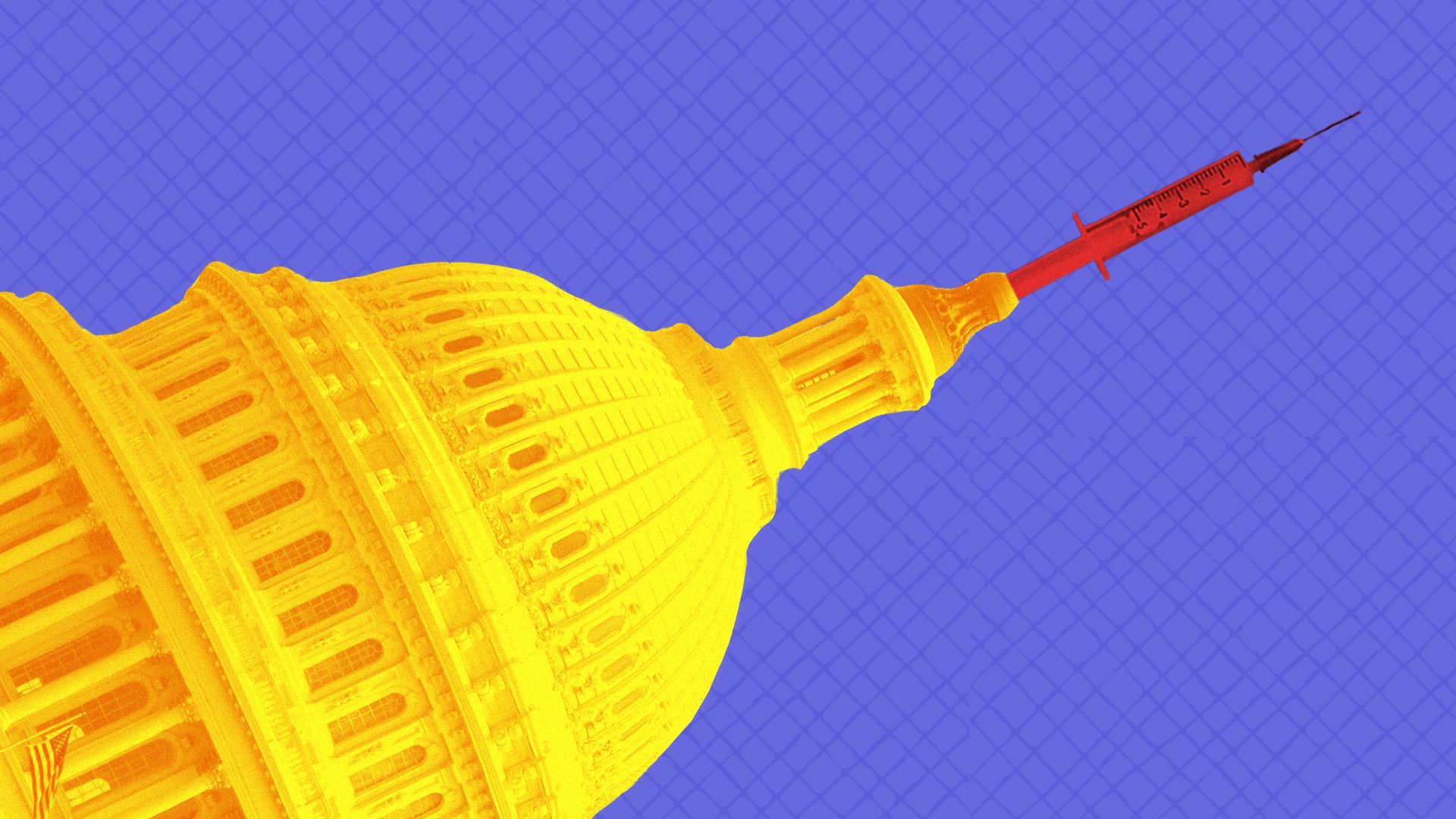 Ahead of his first foreign trip this coming week, Biden made a long-awaited announcement about how the U.S. will share its excess vaccines with the world.
The 80 million doses Biden has promised to donate before the end of this month are a fraction of the total U.S. supply — but nonetheless five times more than any other country has pledged, according to White House COVID coordinator Jeff Zients.
Why it matters: The pivot from vaccine hoarder to global supplier could be the most important foreign policy move Biden makes this year.
Climate change will also be high on the agenda at the G7 meeting — a critical opportunity to build momentum ahead of November's UN climate summit in Glasgow, notes Axios climate reporter Andrew Freedman.
After returning the U.S. to the Paris climate agreement, Biden proposed the most ambitious climate plan of any U.S. president and pushed other countries to follow suit.
What to watch: Trump frequently accused allies of free-riding off America's generosity and sacrifices. Biden is betting that by upping America's commitments, he can bring others along.
🌏 If you enjoyed our tour, please sign up here to get Dave Lawler's twice weekly Axios World.