Axios AM Deep Dive
December 15, 2018
Readers love our Deep Dives for their window into worlds that we should know more about, but that can get lost in the daily shuffle. Today, my colleagues Meg Marco, Stef Kight, Alison Snyder, Andrew Freedman and Dave Lawler tackle the global refugee wave, and why we should care.
David Miliband, president and CEO of the International Rescue Committee, told Axios: "The biggest misconception is that America is bearing a disproportionate share of the burden. The second misconception is that refugees and immigrants are the same thing. And together, that's quite a toxic cocktail."
1 big crisis: A widening world without a home
As of last year, more people have been forced by violence and conflict to flee their homes than live in the U.K. or France.
Why it matters: That's upwards of 60 million people — a global nation of refugees.
If all of these asylum-seekers, internally displaced people and refugees were a country, they'd be the 21st most populous nation in the world, according to U.N. High Commissioner for Refugees estimates.
More than half of refugees are under age 18.
It's also important to understand the difference between refugees, who have fled and found protection outside of their home nation, and migrants, who can be anyone now residing in a nation that is not their own — regardless of legality, permanence or reason.
This crisis is the worst it has been since World War II, and it's not getting better:
This population will continue to grow as violent conflicts drag on and climate change wreaks havoc.
Host countries and refugee camps could increasingly become permanent homes to tens of millions of refugees while many wealthy nations turn their backs.
The top five places people are running from:
Syria: Millions of people have been forced from their homes amid internal conflict and terrorism by ISIS.
Afghanistan: Ongoing violence has created one of the largest, longest-lasting refugee crises.
South Sudan: Millions of South Sudanese have fled to Uganda and other surrounding nations as a civil war rages.
Myanmar: The Rohingya minority has faced deadly persecution and many have fled.
Somalia: A combination of natural disasters and 25 years of conflict have produced hundreds of thousands of Somali refugees.
What's next:
Climate change is expected to — if it hasn't already — create even more internally displaced people as natural disasters become more frequent and intense.
And an anti-immigrant strain of populism has made it more difficult for international organizations and humanitarian groups to resettle and care for refugees, particularly in Europe and the U.S.
"That is the shift in the narrative," Eskinder Negash, president and CEO of U.S. Committee for Refugees and Immigrants and former director of HHS's Office of Refugee Resettlement under Obama told Axios.
The future:
This crisis of displacement will have an impact on generations.
Many who have been displaced internally will continue to suffer from poverty and persecution inflicted by governments or extremists or natural disasters.
Many young refugees face a future of limited education and job opportunity, and some will grow up with mental trauma and little memory of their home countries.
2. 1 human being: A long journey from Bhutan to Oregon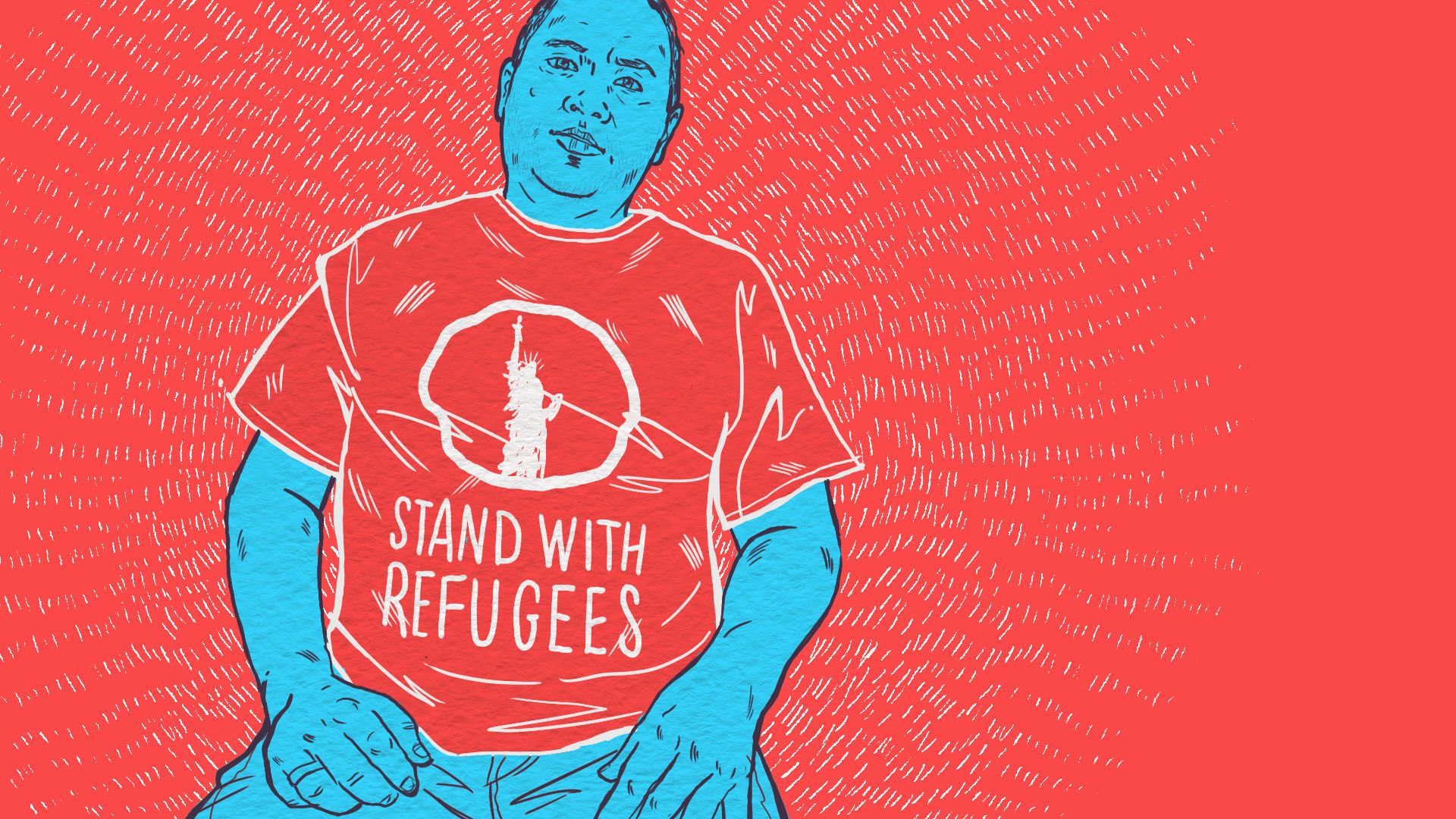 In 1991, Som Subedi fled Bhutan, a small Himalayan country that famously measures its economic output as "gross national happiness."
His family was driven out by a series of royal edicts that resulted in the expulsion of one-sixth of the country's population and sent him on an almost 20-year odyssey in a refugee camp in Nepal, reports Axios' Stef Kight.
"It was crazy," Subedi told Axios from Portland, Oregon, where he now lives.
"Not having enough to eat, just being under that leaky thatched roof. ... I still feel some of the heat coming into the hut and cold in the winter."
What life was like:
In Nepal, refugees were not permitted to work, but Subedi's parents did so illegally — his dad on a farm and his mom spinning wool for around 30 cents a day — to provide for Subedi and a younger sister who was born in the camp.
His younger sister raised chickens so that she could buy books.
Subedi's family tried to return to Bhutan. But in 2006, when the Bush administration announced the resettlement of tens of thousands of Bhutanese refugees, Subedi began the long process that would bring him to the United States: "I feel like sometimes I'm one of the most vetted persons on the planet."
The financial crisis raged as Subedi came to the U.S. and many in the refugee community couldn't face the turmoil and committed suicide, Subedi said.
How it is now:
Subedi is married with children, owns a house and a car (a "red hot Mustang"), works in local government and co-founded a sports organization for foreign-born families called Parks for New Portlanders.
On June 19th of 2008, I came to this country with almost $10 and a plastic bag. And I started my life.
— Som Subedi
3. Climate change is gasoline on the fire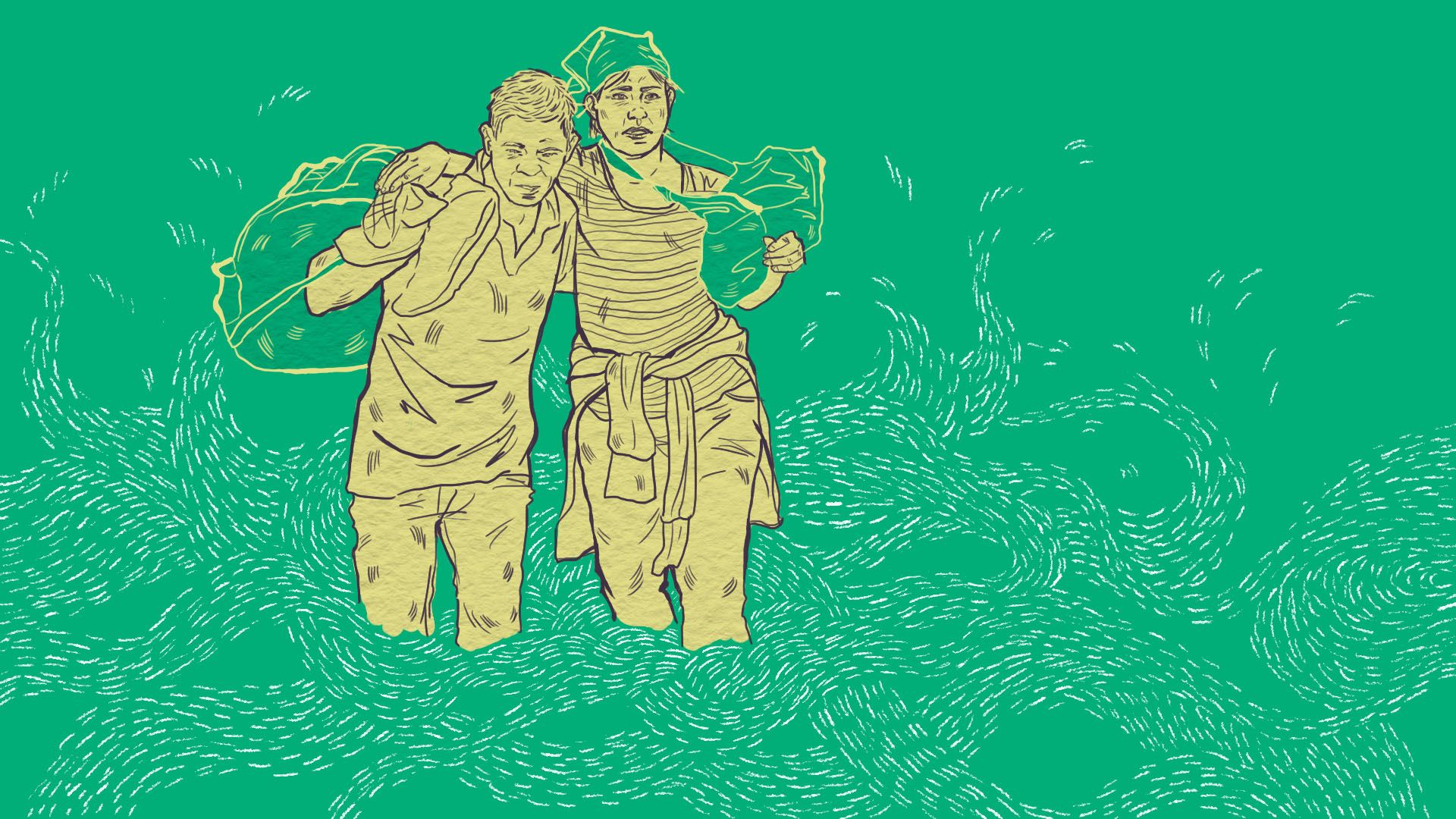 The U.S. military views climate change as a threat multiplier, one that is likely to worsen already existing weaknesses, writes Axios Science Editor Andrew Freedman. Here's how it impacts the refugee crisis:
Rising seas: Residents of small island nations like the Marshall Islands, Vanuatu and Kiribati are already fleeing rising tides and powerful storms to seek better economic opportunities in the U.S. and elsewhere.
Drought: Climate studies have tied the Syrian civil war's beginnings in part to a record drought that struck the Fertile Crescent in 2007-2010, which set in motion political events that put the country on a ruinous course.
The big picture: The locations most at risk from climate change-related stresses in the near term include heavily populated areas like India, Pakistan and Bangladesh, and parts of South America and Africa, encompassing well over a billion people.
The bottom line: No refugee crisis or migration flow is purely due to climate change. But already, global warming-related factors are playing a role in setting people into motion, both within countries and between them.
4. Developing nations are carrying the refugee load
European nations and the United States may have made the rules, but developing nations host 85% of the world's refugees, writes Axios' Stef Kight.
The top 3 host countries for refugees and asylum-seekers in 2017:
Turkey: 3.5 million refugees were in the country in 2017. Most fled the war in neighboring Syria.
Pakistan: 1.4 million people. Almost all of them fled ongoing conflict in Afghanistan.
Uganda: Millions have fled from South Sudan as a civil war continues to rage.
Why it matters: While refugee-rights groups praised nations like Jordan, Colombia and Uganda for welcoming refugees, advocates also told Axios that the sheer volume of people can strain a developing nation's resources and economy.
Go deeper:
5. Western world closes the door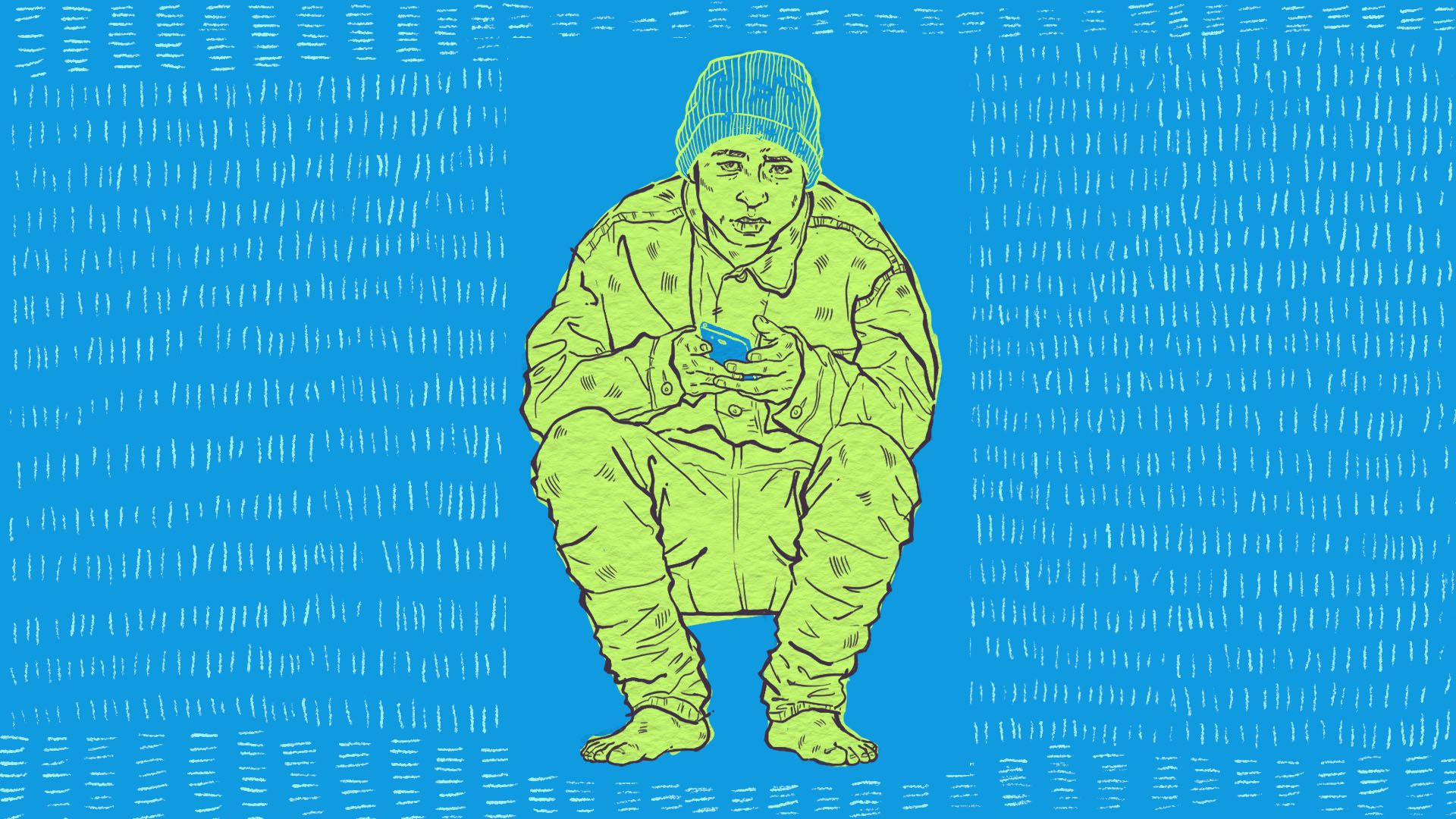 Europe and the U.S. have seen a recent rise in anti-immigrant sentiment that has fueled policies seeking to keep out refugees and migrants, reports Axios World Editor Dave Lawler.
By the numbers:
Americans are more likely to say they want fewer immigrants admitted to the U.S. than more, according to a new Pew Research survey.
But the sentiment is much more strongly seen in European countries — more than 70% of Italians, Greeks, and Hungarians said they think their nations should allow fewer immigrants in.
In the U.S., President Trump has cut the refugee cap two years in a row. Just 22,000 refugees were admitted last year — the lowest number in more than 40 years.
Migrant and refugee arrivals have also dropped significantly in Europe. This week, the last rescue ship in the Mediterranean, Aquarius — which saved more than 30,000 lives — was forced to end operations after being denied access to Italian ports. In 2017 alone, more than 3,000 people died attempting to cross the Mediterranean.
"We just can't understand why saving lives has become illegal."
— Joanne Liu , president of Doctors without Borders
6. The dangerous road to asylum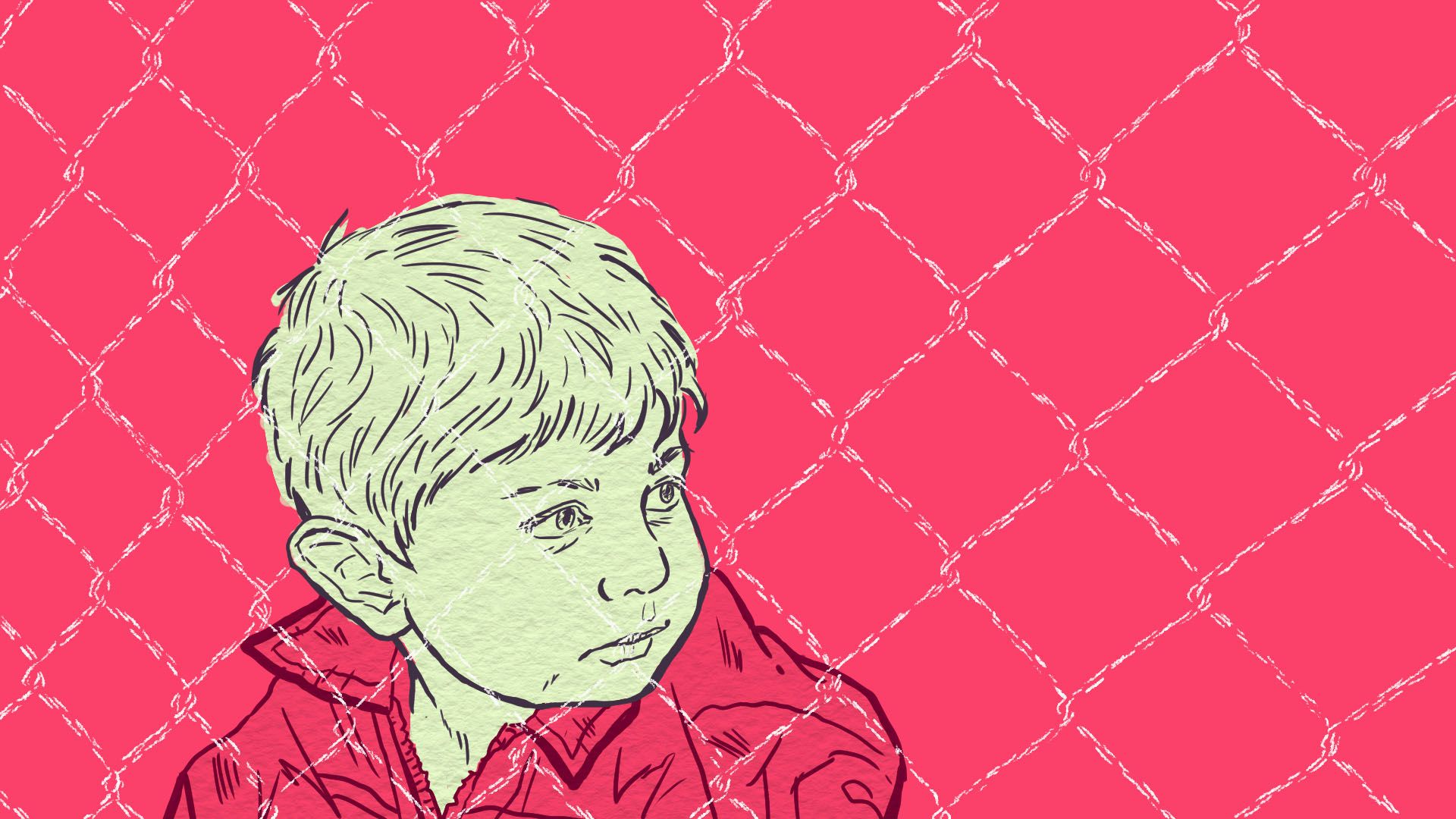 News that a 7-year-old Guatemalan girl died of "dehydration and shock" in U.S. Border Patrol custody on Dec. 6 has focused attention on the dangers migrants and asylum-seekers face while attempting to reach safety, reports Axios' Stef Kight.
E.G., a successful asylum-seeker from El Salvador, spoke to Axios via interpreter Antonia Basu and asked that her name be withheld for her safety.
E.G. left El Salvador in early September of 2015 along with her 8-year-old daughter and 15-year-old nephew.
The teenage nephew had resisted recruitment efforts by a local gang and in retaliation the gang demanded money and threatened to kill the family.
E.G. refused to pay. She decided to flee to the U.S. — eventually becoming one of more than 18,000 Salvadorans who claimed asylum in the U.S. that year.
E.G. paid for a brutal 20-day bus trip with limited access to food. "It was a lot of suffering for the children," she said.
A familiar, dangerous story:
The U.S. has long had some of the highest numbers of pending asylum requests in the world, and last year received more than any other nation largely due to an increase in Central American claims, according to UNHCR.
3,456 migrant deaths worldwide were recorded in 2018, according to the Missing Migrants Project. There were 509 deaths recorded in the Americas this year.
Go deeper: Read the rest of E.G.'s story and learn how the asylum process works.
7. A way of life for generations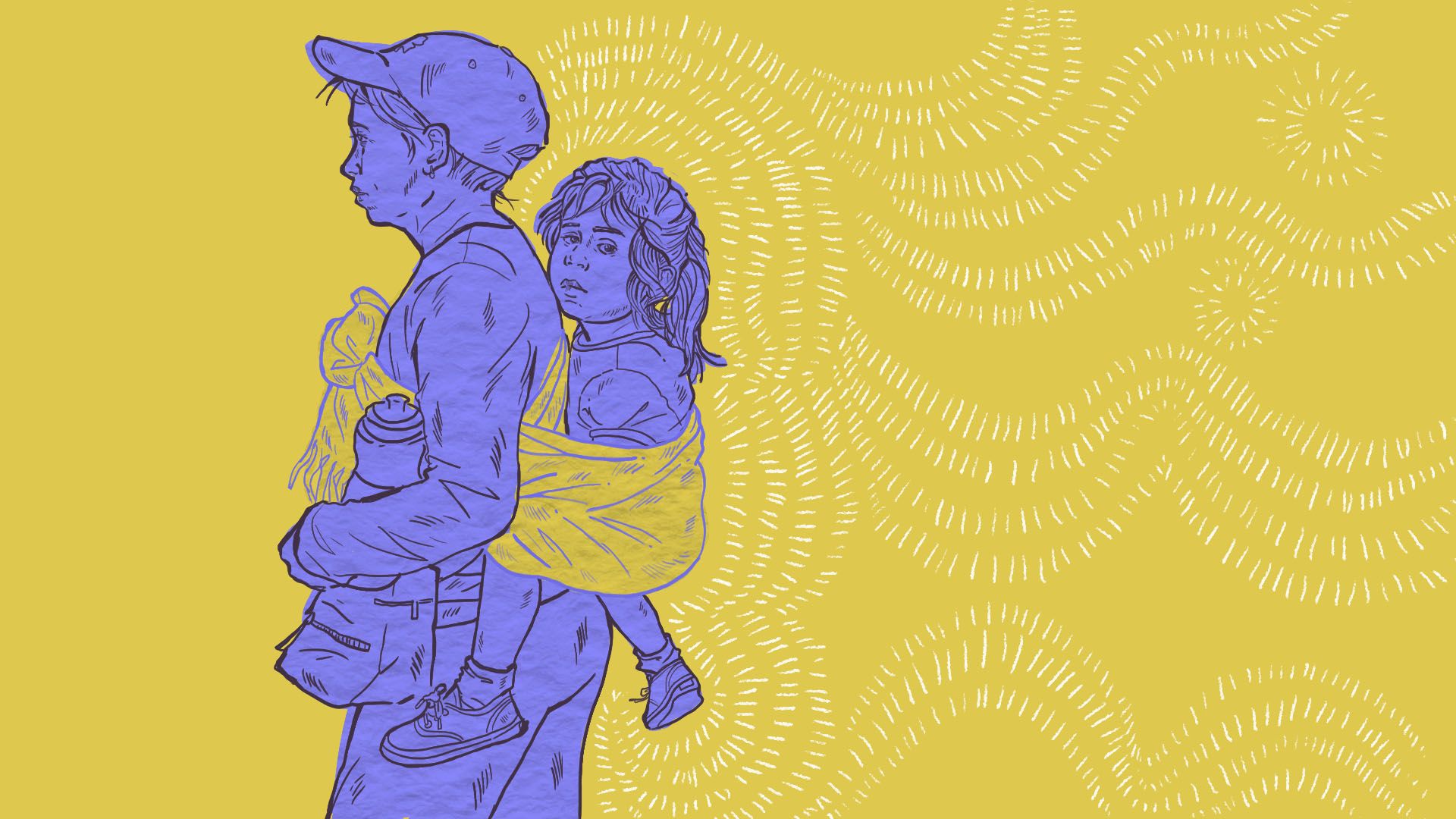 The length of time people are living as refugees is now longer than ever. Day-to-day life for families in displacement — poverty, fear, insecurity and discrimination — can put the psychological and emotional development of the youngest refugees at risk, writes Axios' Alison Snyder.
Millions of refugees have been displaced for more than a decade, according to UNHCR data.
As of 2017, half the world's refugee population was under the age of 18.
There are now second and third generations of refugees; children who have never known life outside of a camp or in their home nation.
The big picture: "There are structural problems in the system — policies around refugee residency, resettlement and employment — that directly affect the way parents can care for children and in turn their mental health," says Amanda Sim of the Center for Evidence Based Interventions at the University of Oxford.
Help for the kids: UNICEF, the Inter-Agency Network for Education in Emergencies and other NGOs offer child services and art- or play-based activities in refugee camps to give kids coping skills that help them combat stress.
In Bangladesh, there are "play labs" where Rohingya refugee children from Myanmar play for a few hours each day.
Help for the parents: Parents too are chronically stressed by the struggle of trying to provide the most basic of parenting responsibilities — safety, shelter and food.
"The problem is if you treat kids and send them back to the highly stressed families they are living in, you are undermining your own efforts," said psychologist Kenneth Miller of War Child Holland.
Go deeper: Learn how Miller and others are working with refugee parents.
Thank you for reading. For more stories on the subject — and for sharing individual stories — we have a special section on our website. Go deeper.