Axios Crypto
April 20, 2023
Moving fast and breaking things looks passé. Plus, dumb ways to die.
Today's newsletter is 1,062 words, a 4-minute read.
🛤️ 1 big thing: DeFi's real world assets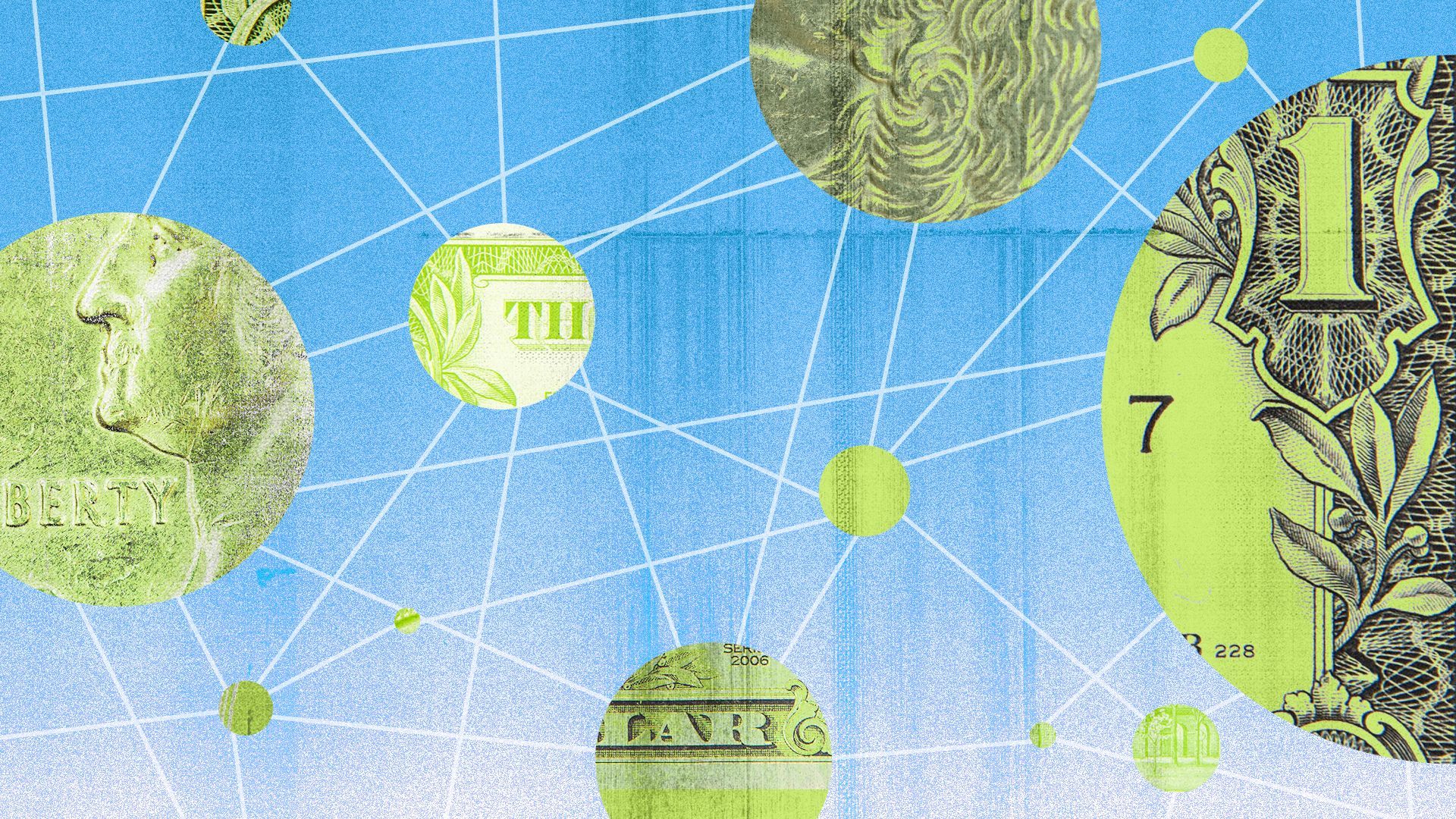 The crew laying the rails, putting real-world assets on-chain, could end the Wild West stigma in crypto, eventually retiring Wall Street's old hat and outlasting crypto's black hats, Crystal writes.
Why it matters: Goldfinch, Centrifuge, and other decentralized finance (DeFi) credit protocols are billed as the next frontiers of lending because they're figuring out how to get cash to small businesses that would otherwise go unserved.
Details: The lending protocols are making incremental developments in their corner of DeFi that deals in real-world assets (RWAs) and serves both crypto-natives and non-crypto businesses.
Between the lines: "They are essentially banks," according to Charlie You, co-founder and chief technology officer of RWA.xyz, a dashboard that aggregates and analyzes activity in the space.
"As soon as rates went up, people started to realize that this was an incredible business model — zero cost of capital, and earn the interest," he tells Axios.
State of play: The excesses of last year are shifting the ground under them.
"Unregulated offshore banks trying to sell a lending product with a high yield and circumventing the laws, claiming they're not securities — that's where things went bad," Centrifuge CEO and co-founder Lucas Vogelsang tells Axios.
Zoom in: "Neither Washington nor the skeptics want to differentiate between [the good and bad]."
"Lending protocols were loaning to market makers and traders, so their borrowing needs and returns were tied to the market," Mike Sall, co-founder and chief of Goldfinch said.
"We took a different approach, more longer term, going to borrowers who were not tied to crypto."
What others are saying: "There are institutions that will come in regardless of the regulatory front. Their eyes are on this no matter what, and their certainty is a positive," BlockTower's head of private credit, Kevin Miao, explains.
Indeed BlockTower launched one of its four planned private credit pools using Centrifuge's Tinlake, even as the firm closed its market-neutral fund due to a "lack of opportunity."
What we're watching: Aave's imminent GHO stablecoin, for which Centrifuge has been tapped.
Goldfinch recently rolled out callable loans — a kind of loan that the lender can demand to be repaid whenever, which Sall says would be difficult to do if it weren't automated by crypto.
The bottom line: On whether regulatory clampdown will change the road map, Sall says:
"No, but for now there are constrained paths to innovate."
"We're working tightly. But if there were clarity it would open up more things we could do."
🐢 2. Real world assets on-chain
This is a turtle race, Crystal writes.
What's happening: The value of active loans on lending protocols that deal in real-world assets is a shell of what it used to be, but perhaps volumes are returning, albeit slowly.
Flashback: "There was a huge run-up. Then once the credit crisis occurred, the loan volume vanished," Adam Lawrence, co-founder and CEO of RWA.xyz, tells Axios.
The big picture: The steady Eddies seeing growth are Centrifuge, Goldfinch and Credix.
Centrifuge's Vogelsang laughs, remembering how during peak active-loan volumes, the protocol looked as though it was falling behind.
Of note: Maker does have some RWAs (though, not labeled), of which RWA.xyz tracks the majority since they use Centrifuge as a conduit.
Zoom in: "Those lending to normal businesses — they weren't correlated to the crypto market," Lawrence says.
🗳 3. European Parliament votes through MiCa, travel rule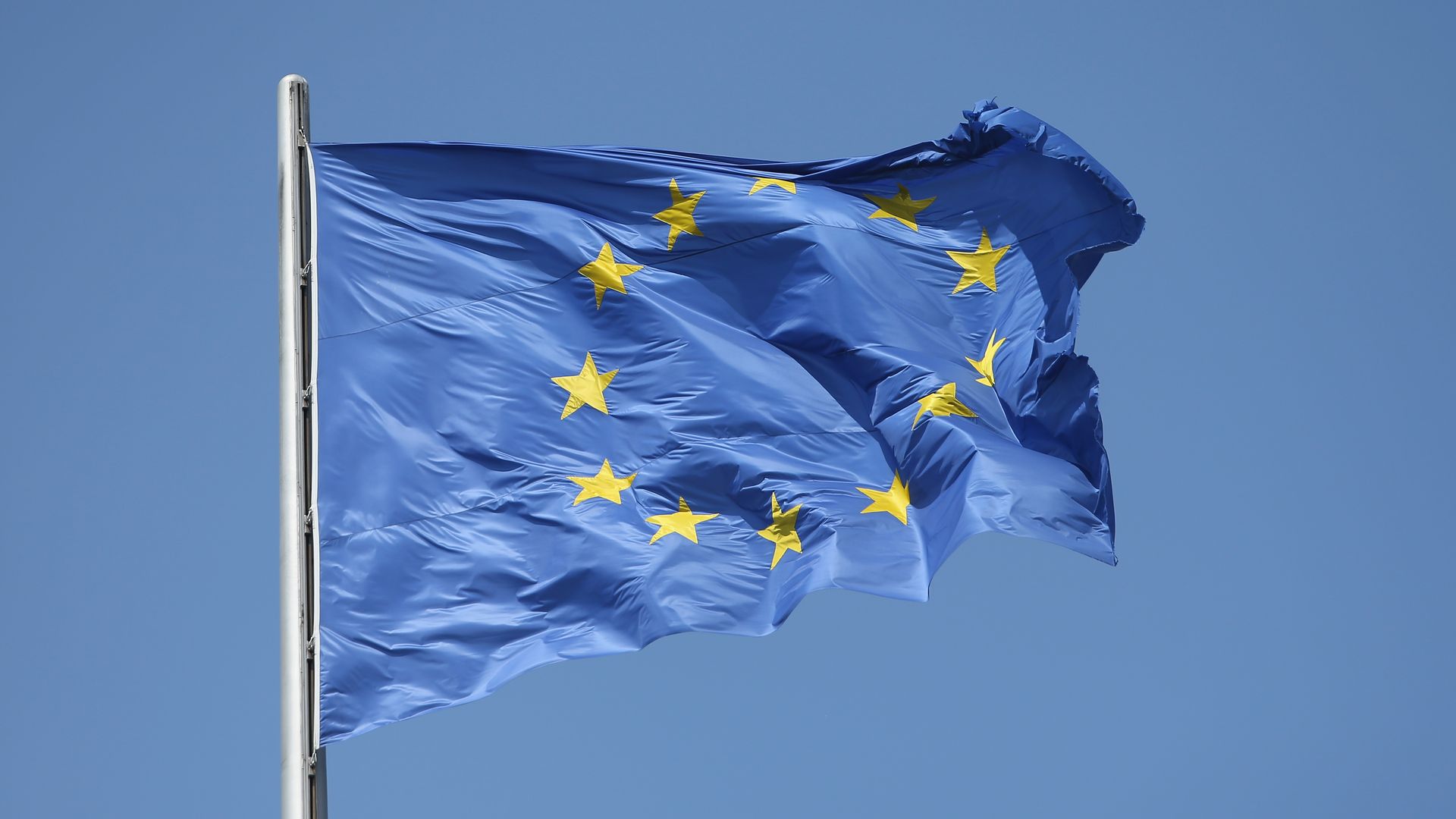 The European Parliament approved two pieces of crypto legislation today, prompting cheers from much of the industry for the continent's introduction of "clear rules of the game."
Members of European Parliament (MEPs) voted 517 to 38 to approve MiCA, or Markets in Crypto Assets. There were 18 abstentions, Axios' Pete Gannon writes.
What they're saying: "This puts the EU at the forefront of the token economy with 10,000 different crypto assets. Consumers will be protected against deception and fraud, and the sector that was damaged by the FTX collapse can regain trust," Stefan Berger, lead MEP for the MiCA regulation, said in a statement.
Details: As Crystal wrote in March, MiCA refers to exchanges, crypto trading platforms, and firms that offer crypto advice as crypto-asset service providers, or CASPs, and would effectively give them a "passport" to operate across member states.
It creates new common rules on the supervision, consumer protection and environmental safeguards of crypto-assets.
Meanwhile, MEPs also voted to approve the so-called travel rule legislation, which extends traceability requirements to transfers of crypto-assets like bitcoins and electronic money tokens.
Passing with a vote of 529 to 29 (with 14 abstentions), the rule would require information on the source of the asset and its beneficiary to "travel" with the transaction and be stored on both sides of the transfer.
What's next: Both texts will now have to be formally endorsed by the European Council, before publication in the EU Official Journal. They will enter into force 20 days later.
🐌 4. Catch up quick
🇧🇲 Coinbase secures license to operate in Bermuda. (Fortune)
🤝 Voyager struck a deal with the U.S. government, freeing it to sell assets to Binance US. (Decrypt)
🐳 A bitcoin whale address that has been dormant for nine years just transferred more than 2,000 BTC valued roughly at $60 million. (The Block)
Top coins
⛓️ 5. Culture hash: Risky accessorizing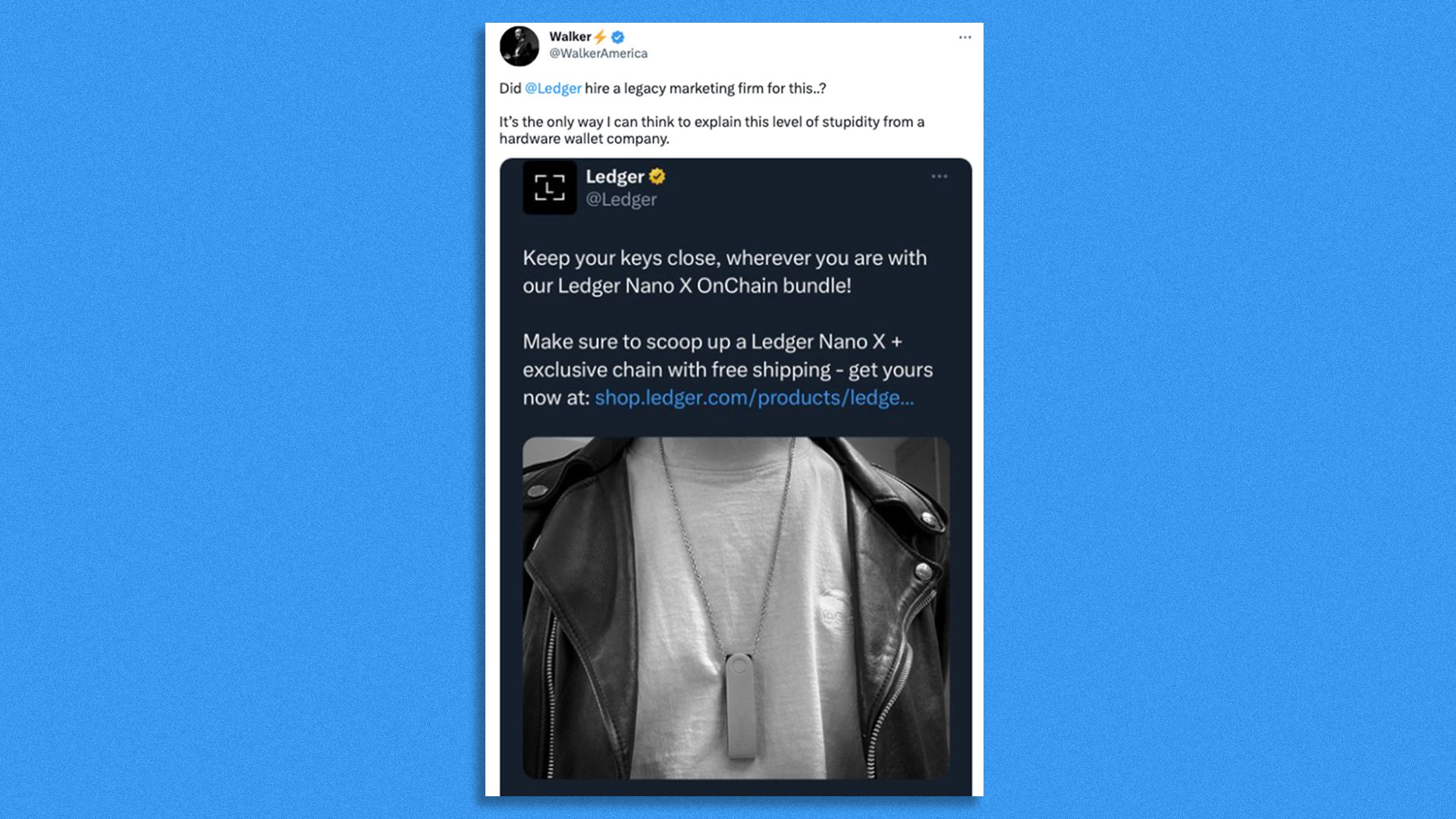 Wearing chains around one's neck is a status symbol. Wearing a hardware wallet around your neck — maybe not so much, Crystal writes.
Quick take: In the absence of bodyguards and private security, catalog this 'fit under "dumb ways to die," less flex.
In response to the Ledger ad, one Twitter user said sarcastically: "I'm going to get my private key as a face tattoo."
How it works: Hardware wallets like those from Ledger and Trezor are a secure way for folks to safekeep crypto.
Yes, but: As secure as the wallet might be, it won't protect against human error.
Be smart: Losing your hardware wallet isn't like losing your actual wallet.
Folks that have their recovery phrase can get access to their coins.
The bottom line: Just buy another wallet — maybe that's the point.
This newsletter was edited by Pete Gannon and copy edited by Carolyn DiPaolo.
Crystal will be in Austin next week for Consensus. Got questions for the biggest names in crypto? Send 'em.—B & C.