Axios Crypto
April 11, 2022
Hello, hello! Today we're locking in on Treasury Secretary Janet Yellen's remarks on crypto last week, with a bit about crypto and the workplace and crypto and energy.
🙋‍♂️ We would love a better idea about our audience, so, when you have a moment, email [email protected], and just say how much crypto background you have (and anything else). Also feel free to tag me on Twitter any time.
This email was edited by Pete Gannon. It is 1,030 words long, a 4-minute read.
1 big thing: 👩‍⚖️ Treasury Secretary Janet Yellen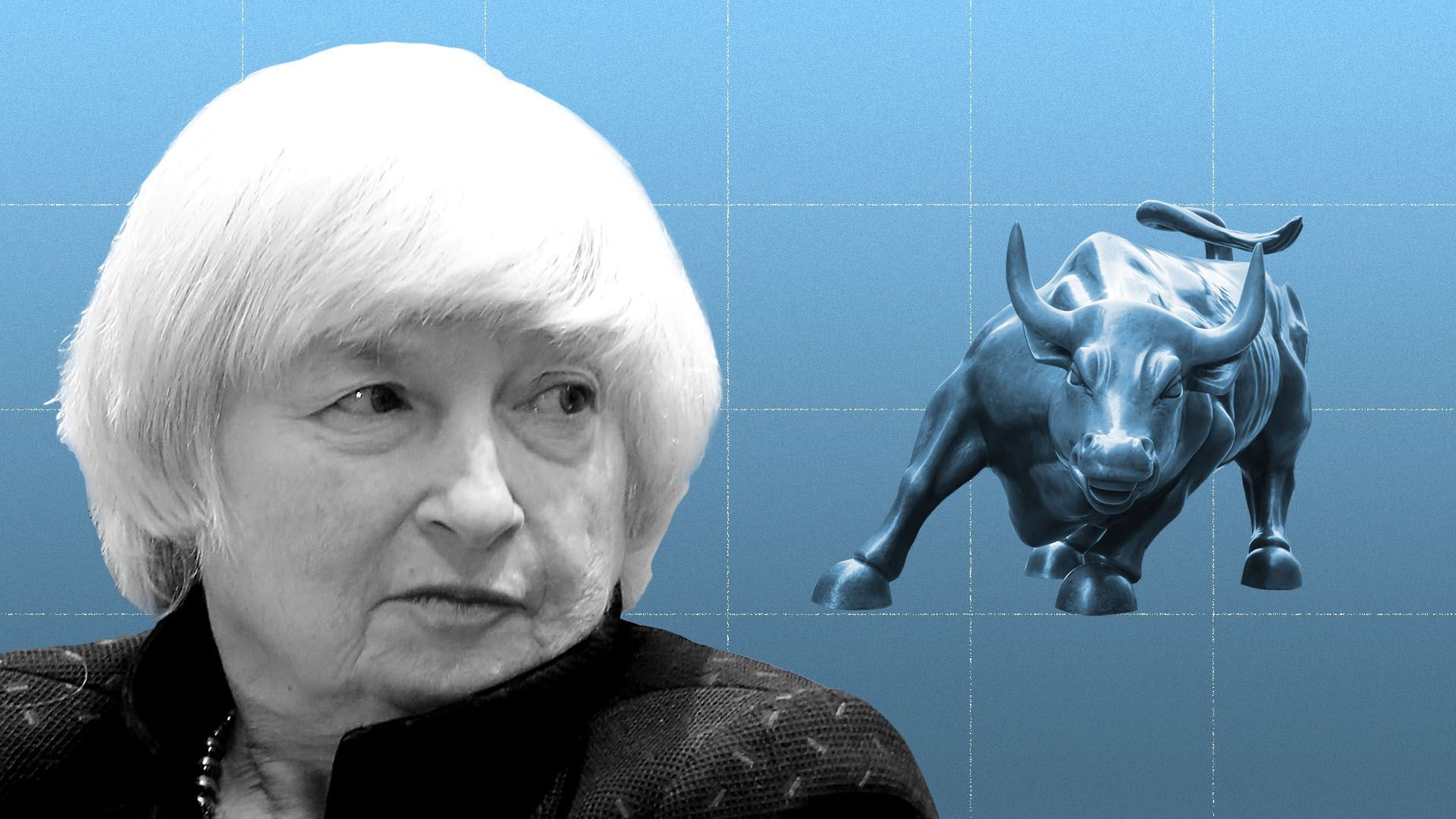 For a thoughtful prognosis for crypto in the developed world, you could do worse than to read the Secretary of the Treasury's speech on digital assets at American University last week.
Why it matters: Yellen seemed to acknowledge that cryptocurrency has put pressure on the global financial system to speed itself up and cut its costs to end users — without any suggestion, however, that the system can't fix itself.
What they're saying: "People have a wide range of views when it comes to digital assets," Yellen said in her remarks Thursday. To say the least about the most.
Details: She highlighted two key shortcomings in finance as we know it, but then she also drew a very firm line.
Settlement. "Although new technologies have made our financial system more efficient, for most Americans, many transactions still take too long to settle," she said.
We've all had those moments when we send money somewhere, the other party doesn't see it soon enough, and headaches ensue. Such delays cost the financially distressed the most, as the secretary notes.
Bitcoin can settle any amount, anywhere, in about 10 minutes. Basically every cryptocurrency invented since bitcoin can do it even faster.
Yes, but: Crypto's ascent might simply be the kick in the pants needed to speed up the existing system.
For example, the Fed will soon release a turbo boost called FedNow — a system to make traditional transfer payments almost instant, blunting one of the main appeals of cryptocurrencies.
International payments. It's pricey for money to cross national borders, and it's even pricier for people transacting with the developing world.
Blockchains impose the same transaction costs no matter what nation a user lives in, and they have no concept of national borders.
Yes, but: "Will the technology live up to that promise? I think it's too early to tell," Yellen said. "Issues like processing time, cost and technological barriers to access will need to be overcome."
Reality check: The secretary has no interest in conceding one core point to crypto.
"Sovereign money is the core of a well-functioning financial system," she said.
In other words, nation-states — not robots on the internet — are the right stewards of money.
The bottom line: "When regulation fails to keep pace with innovation, vulnerable people often suffer the greatest harm," she said.
Whether you love crypto or hate it, you can read that line differently. Any which way, you're probably not completely wrong.
2. Charted: 😎 Getting paid
More employees are taking part of their paycheck in cryptocurrency, at least based on data from one payroll company.
Details: Deel, which serves over 4,500 customers in more than 150 countries, is seeing more employees on its platform doing just that for one cryptocurrency or another.
About 2% of 100,000 hires over the past six months have opted to take at least part of their salaries in crypto (bitcoin being the most common), according to Deel.
A person could buy multiple cryptocurrencies in each paycheck, and that would be counted as multiple "withdrawals" in the chart above.
Employees on Deel who buy crypto with their paychecks don't pay fees to make the purchase.
What they're saying: "The growing interest in crypto withdrawals mirrors the broader shift toward increased flexibility for employees," Deel COO Dan Westgarth tells Axios, via a spokesperson.
3. ☀️ Solar bitcoin mining in Texas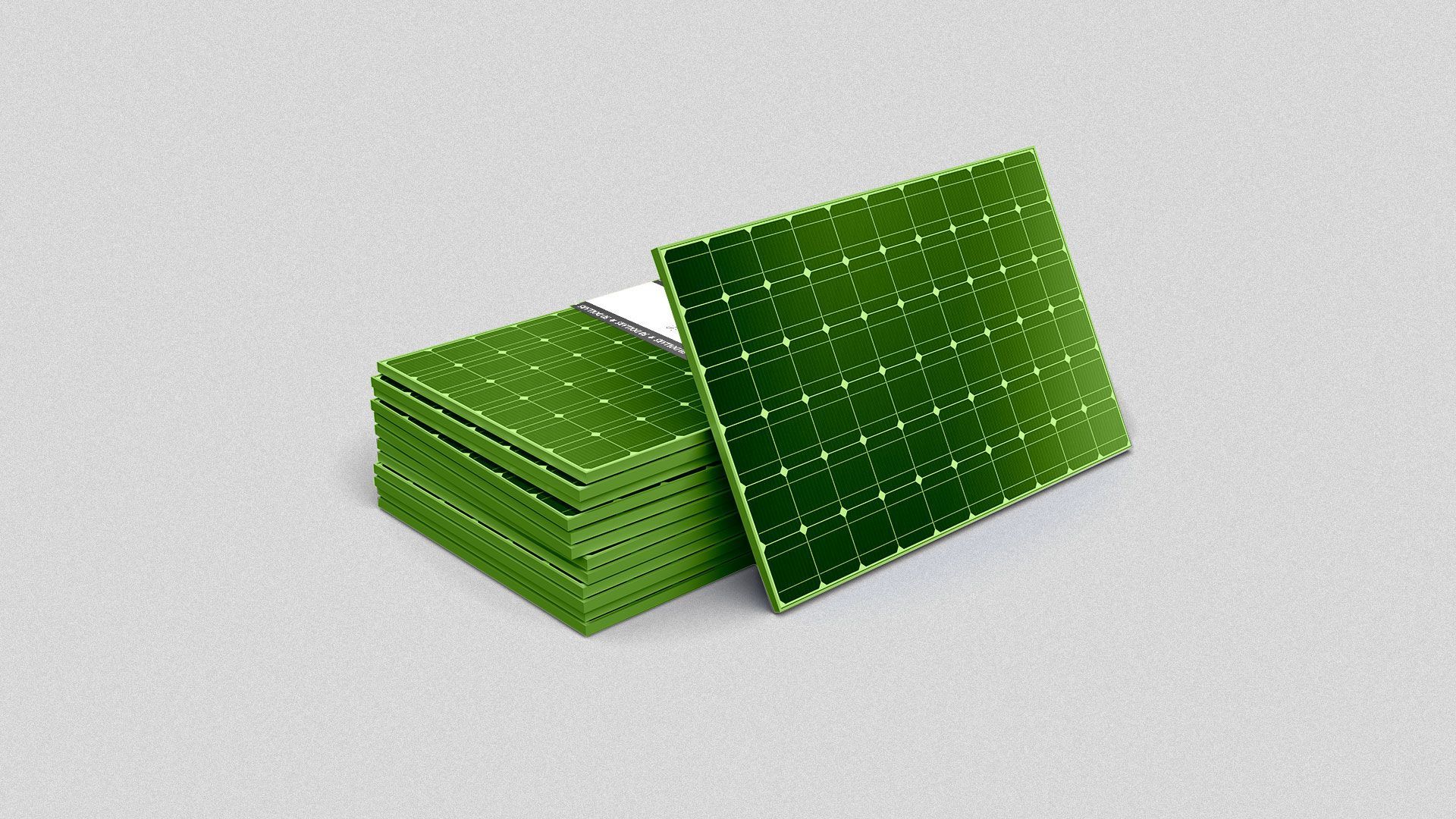 Block (formerly Square) and Blockstream (a long-time Bitcoin company) have agreed to co-finance a pilot project to mine bitcoin off the electric grid in an all-solar facility.
Why it matters: The energy overhead of Bitcoin has become hotly controversial, but some bitcoiners argue the technology can help finance further development of renewable energy.
The new facility fits into a larger trend where more mining of bitcoin is done by publicly traded companies, up now to a fifth of all such activity, according to Arcane Research.
Context: Mining refers to bitcoin's "consensus mechanism," where computers compete to solve ever more difficult puzzles to win the right to add the next set of entries to Bitcoin's ledger and earn fresh new bitcoins.
Details: According to an interview with Blockstream's Adam Back on CNBC, the new facility would be a $12 million project, built using Tesla technology.
"What we're going to do — unusually — is open source all the information about it," Back said.
A CNBC report suggests the facility would be in West Texas, a part of the state so thinly populated it's unlikely solar facilities would ever get built there otherwise, despite ample space and sunshine.
That's because "a significant part of the electricity is lost when transmitted over vast distances. That's where a bitcoin miner comes into the picture," Jaran Mellerud, an analyst at Arcane, tells Axios.
The intrigue: The value of that stranded power, once converted to bitcoin, can then be sold over the internet. As such applications increase development of solar technology, it should lower the price for all applications, in theory.
Block and Blockstream did not reply to further requests for comment from Axios.
The bottom line: "We're interested to prove out our thesis that bitcoin mining can help fund green power infrastructure," Back told CNBC. "Let's just prove it, have an open dashboard, so people can play along."
4. 🏃🏼‍♀️ Catch up quick
🧳 The U.S. crypto industry is working overtime to pass friendly legislation at the state level. (New York Times)
🇮🇳 The new tax scheme in India immediately craters crypto trading there. (CoinDesk)
🤑 The TON blockchain, built with technology developed and then abandoned by the company behind the messaging app Telegram, will have a $250 million ecosystem fund, with backing from major exchanges. (CoinDesk)
5. Culture hash: 💂 Across the pond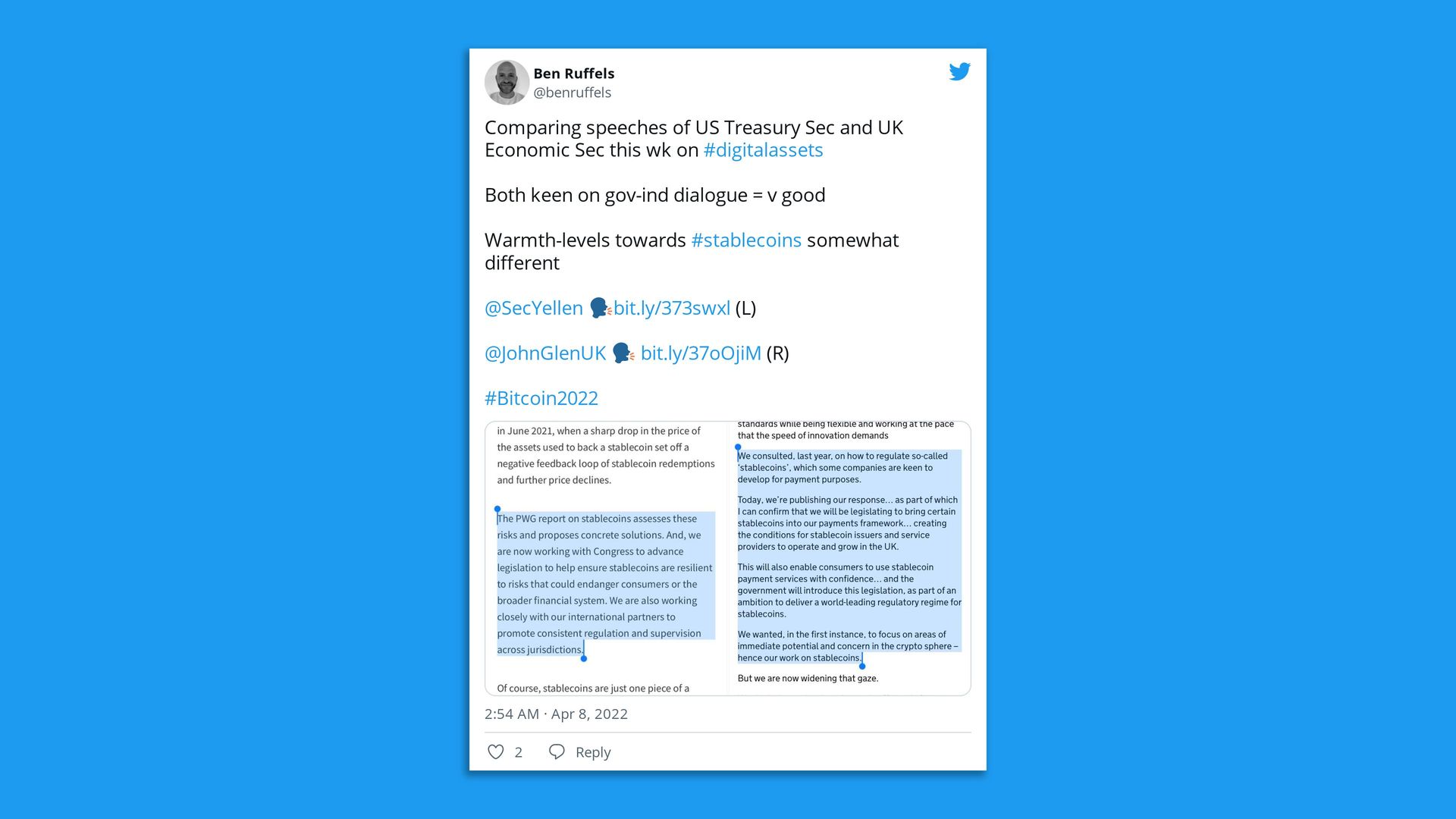 Treasury officials in the U.S. weren't the only ones thinking about cryptocurrency last week.
John Glen, economic secretary to the treasury in Britain, gave remarks as well.
One Twitter user, on the team at Checkout, a crypto payments company, noted the speeches had a similar overall tone but differed a bit on stablecoins.
Context: Stablecoins are cryptocurrencies designed to keep their value in line with some external peg, usually that of a national currency. The biggest ones track the U.S. dollar and do so primarily with deposits of actual dollars.
Be smart: The U.S. and the U.K. tend to seek alignment on the global stage.
Let's make it a great week! —Brady