Axios Communicators
August 04, 2022
Happy Thursday! Welcome back to Axios Communicators.
📭 I've been greatly enjoying your emails — keep those tips and suggestions coming!
Shout-out to Tara from N.J. for sharing these great truck toys (my son is thrilled!) and the many others who sent construction photos.
Today's newsletter is 957 words, a 3½ -minute read.
1 big thing: Taking a corporate stance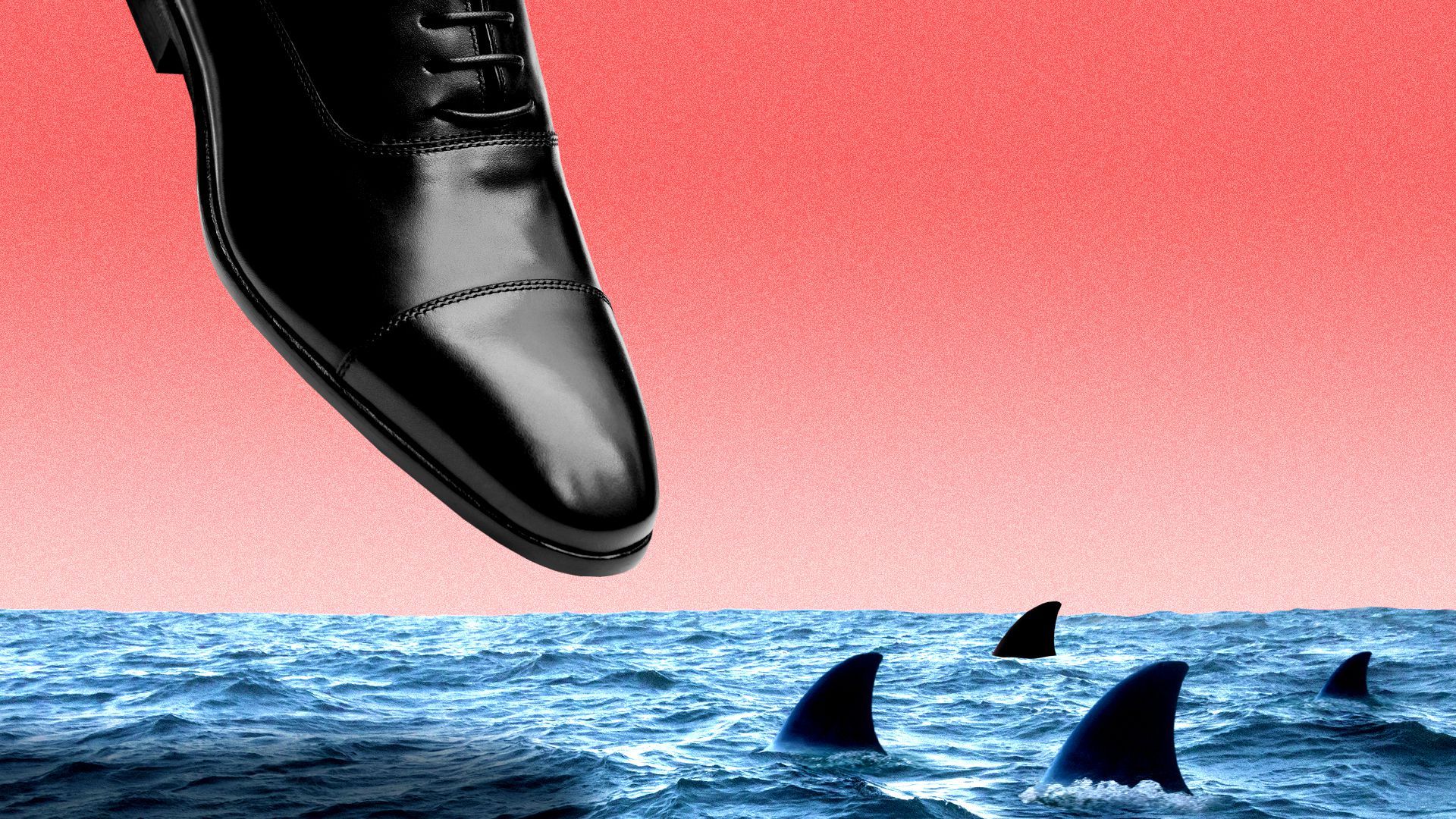 More Americans now turn to business leaders and employers for trusted information and responses to current events, so executives expect corporate communicators to get it right.
Why it matters: A botched response can lead to very real consequences — and no response at all can sometimes be even worse.
After all, 72% say they will "remember the companies that took missteps" in response to recent crises, according to ROKK Solutions data.
To avoid slip-ups, consider four key questions before taking a formal stance:
1. Does it affect employees? This was a guiding principle for Microsoft in their response to the DACA program and the overturn of Roe v. Wade, which they said impacted their employees' rights and abilities.
2. Does it align with corporate values? Bumble states it's anti-gun and has banned images of weapons from the dating app because they don't align with company values.
"We want women — and men — to feel comfortable, to feel safe and feel secure. Weapons don't send that message," CEO Whitney Wolfe Herd told TIME.
3. Does it impact business operations? Recalls or natural disasters that disrupt supply chains will always warrant a response — and the sooner, the better. A delayed response can lead to legal repercussions and will impact brand reputation.
4. Is the timing right? Matters that are gut-wrenching or timely deserve immediate, focused attention. When this happens, put all other communications on pause.
Following the murder of George Floyd, many took steps to halt their regular communications to instead vocalize support for racial justice, and even a slight delay in response was noticed.
❓What factors do you consider before weighing in on tough topics? Let me know.
2. Bonus: Response flow chart
Considering the responses above can mitigate your risk. But, regardless of your strategy, bring in communicators early to build that response.
3. Be a chief convening officer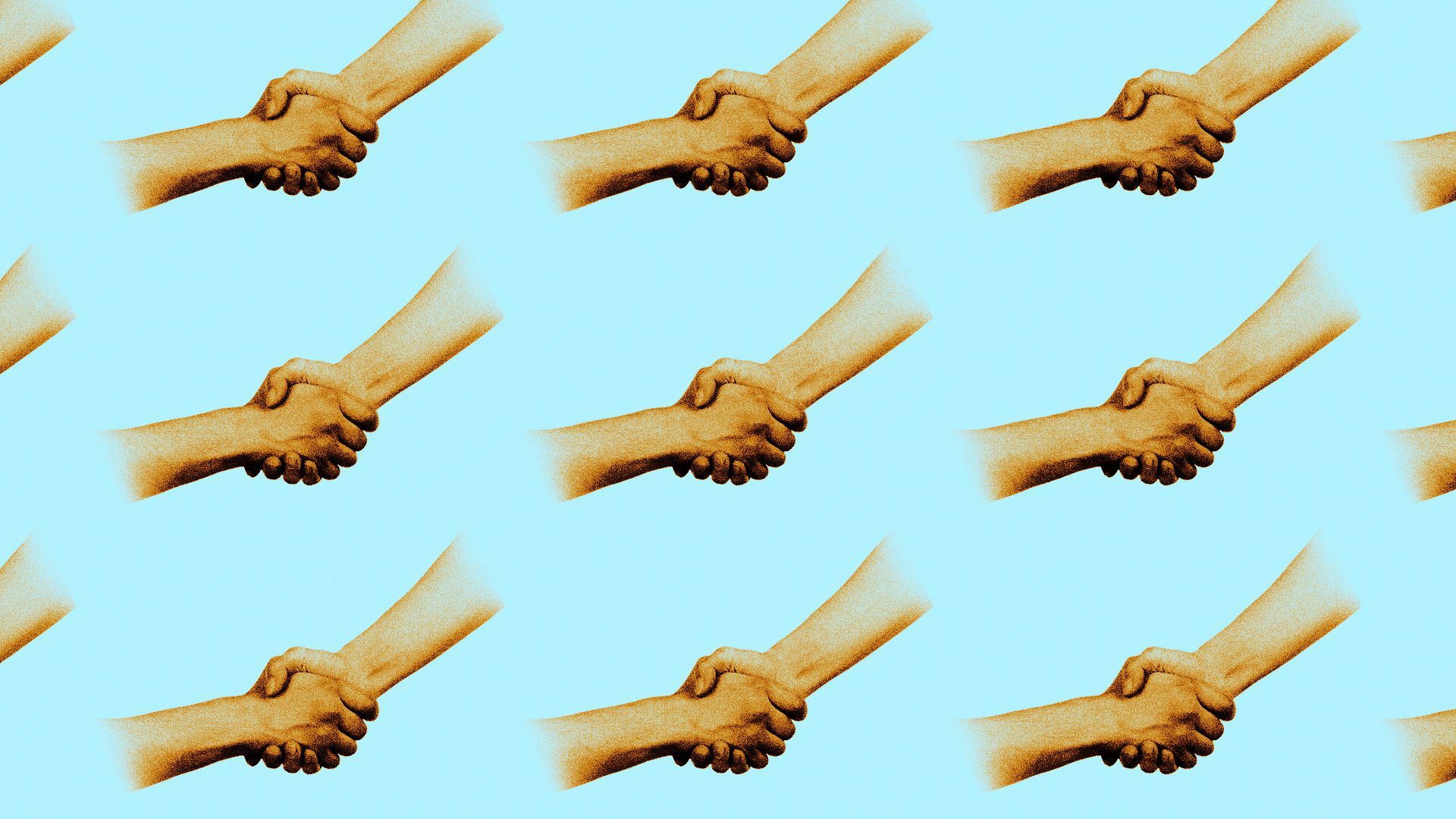 "What exactly do you do for a living?"
— Frank Shaw, Microsoft's CVP of communications, poses this question to 800 communicators at a
recent world conference
Zoom in: While the answers may change over time, communicators are responsible for speaking out, convening, and negotiating for the right outcome — in short, we're diplomats, Shaw says.
Zoom out: In order to do this job effectively, Shaw suggests communicators prioritize the "convening" part.
"It's a very powerful position to be in," he says, because "you build influence and credibility for people that actually need to be heard."
This holistic approach is bulletproof because it aligns the POVs of all internal stakeholders — like HR, legal, product, and marketing.
Plus, gathering perspectives from those with pertinent lived experiences is critical when responding to hot-button issues or national crises.
The bottom line: As conveners, there's an opportunity to influence strategic messaging that can change business outcomes and strengthen credibility.
4. Most companies silent on abortion and guns
While businesses have increasingly taken stands on social issues — particularly around race and LGBTQ rights — guns and abortion are still deemed too controversial, Axios' Emily Peck reports.
State of play: A majority of companies have been slow to take a public stance on those issues, a Conference Board study found.
Only 10% of companies have made — or plan to make — public statements on abortion, while 51% have addressed it internally with employees.
Gun regulation also appears to be too polarizing. Following the U.S. Supreme Court's Bruen ruling, 73% of companies say they will not take a public stance, and only 9% have addressed it internally.
What we're watching: If shifting societal opinions will lead to an uptick of companies taking on those issues.
This week, voters in Kansas — one of the nation's most conservative states — voted to protect reproductive rights, and a recent Morning Consult poll found that a majority of Americans support corporate moves to strengthen abortion access.
5. Case in point: Dick's Sporting Goods responds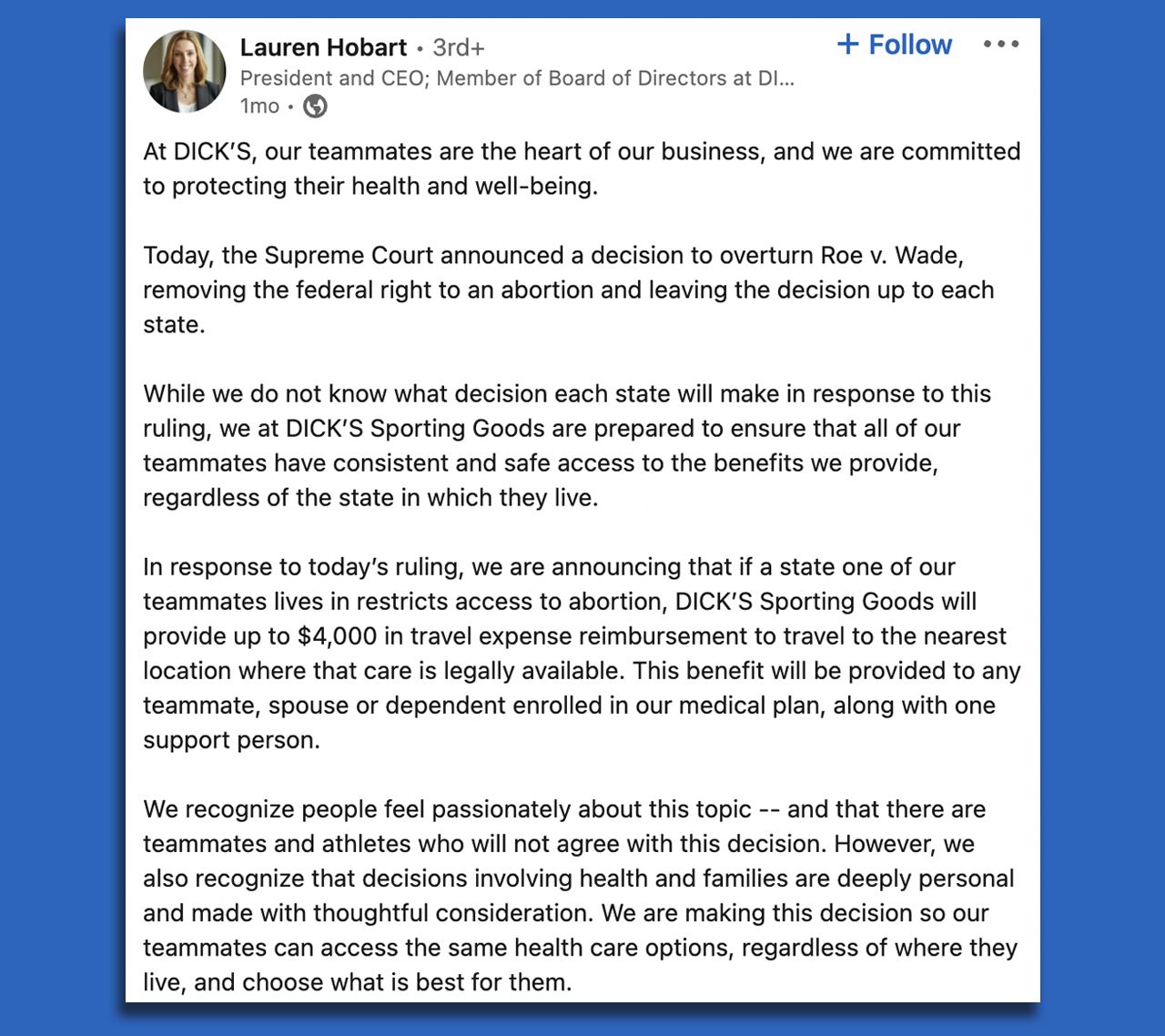 Dick's Sporting Goods is one of the few companies to make a public statement on both guns and abortion.
Why it matters: Following the overturn of Roe v. Wade, CEO Lauren Hobart took to LinkedIn with a post that initially raised eyebrows, but has since been praised for being good for business and striking the right tone.
❓Have you seen other noteworthy memos? Send them my way.
6. Why McDonald's was slow to leave Russia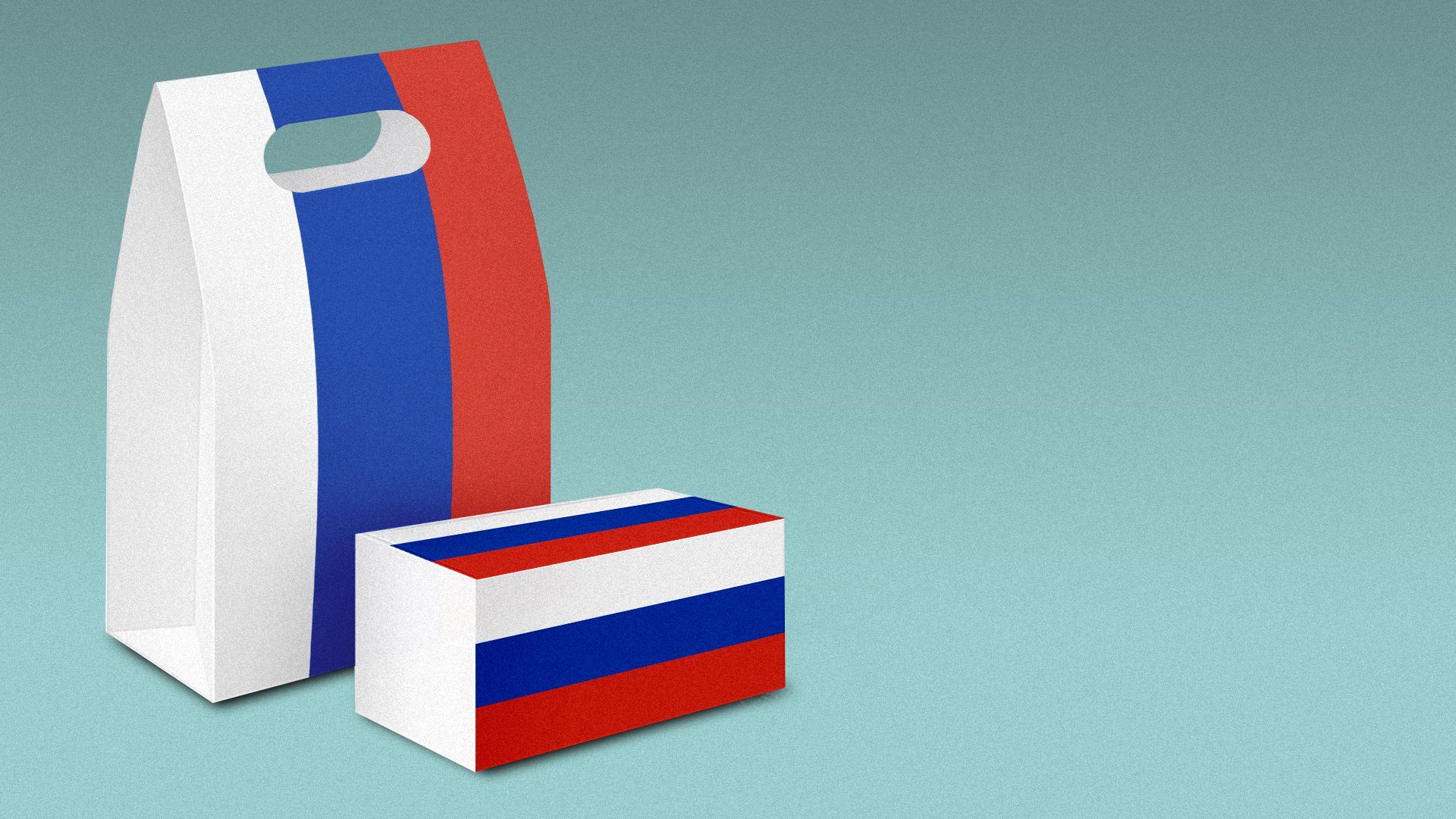 Immediately following the invasion in Ukraine, many companies — like Nike, Delta, Apple, Volkswagen and BP — announced they would stop doing business in Russia. Yet one of America's most iconic brands stayed mum: McDonald's.
Why it matters: Their delayed response impacted the brand's reputation and caused share prices to drop. CEO Chris Kempczinski felt the pressure, but said he'd rather "be a little slower than rush and get it wrong."
Driving the news: In an interview with Fortune, Kempczinski peels back the curtain to reveal what went down during the company's months-long scramble to decide the fate of their 853 stores and 62,000 employees in Russia.
What we're watching: For most companies, it's much easier to sever business ties with Russia than it would be with China — and corporate chaos could escalate if things go south in Taiwan.
Worthy of your time: Inside McDonald's months-long decision to sell all 853 stores in Russia. (Fortune, subscription)
7. 1 fun thing: Social media can give execs a leg up
Executives who consistently post on social media attract more talent and investors, plus navigate crises better, than their off-the-grid peers, the Brunswick Group's 2022 Connected Leadership report says.
Driving the news: Those who modestly — but frequently — tout their expertise on Twitter are more likely to attract higher-paying job offers, per a Texas McCombs study.
Zoom out: Executives aren't the only ones who can benefit from good social branding.
Lower-level workers can get further, faster by posting high-quality, relevant content that promotes their skills, the study found.
🥪 Thanks for reading over your lunch break (or late morning coffee, for my West Coast friends).
🥤 What are you eating or drinking today? Send recs and recipes to [email protected].
📢 Tell your friends and colleagues to subscribe.