Welcome back to Axios Cities!
Hello from San Antonio, where I will be covering the National League of Cities' annual City Summit for the next few days. Drop me a line if you are here, too.
Tell your friends to sign up here.
Today's edition is 1,874 words, a 7-minute read.
1 big thing: Staff shortages in city halls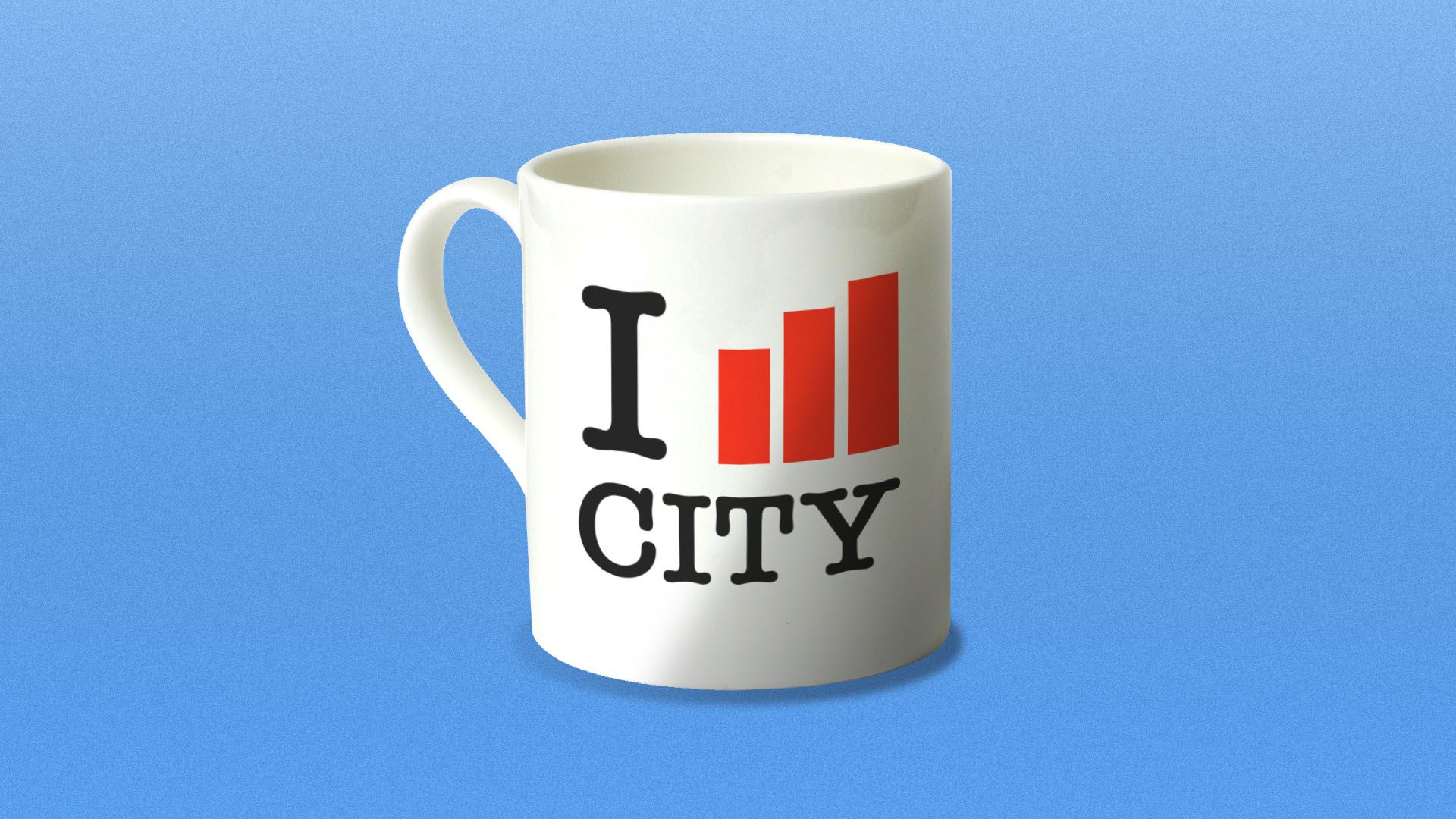 City governments are feeling a staffing squeeze as baby boomers retire in droves and the tight job market makes it harder to attract millennials into municipal gigs.
Why it matters: Vacant positions means state and local governments are less able to provide services. They're also struggling to find workers with the expertise to drive tech- or data-intensive projects.
The big picture: With a national unemployment rate of less than 4%, public sector jobs are not as enticing for experienced workers who can command higher salaries in the private sector.
State and local government employees made 3.7% to 8.2% less than their counterparts in the private sector in 2018, per the Economic Policy Institute.
Government benefits and stability typically compensate for less competitive salaries, but many cities are cutting back pension plans as they try to stem crippling retirement costs.
"Of course, we all love super-low unemployment rates. But it adds a challenge for cities looking to attract and retain talent, particularly in the public safety fields. As much as people say millennials don't understand pensions, [pensions are] still a powerful recruitment and retention tool."
— Brian Egan, legislative manager for finance, administration and intergovernmental relations at the National League of Cities
Public sector hiring has been slowing for some time and didn't bounce back as fast as private sector hiring after the Great Recession.
Today there are fewer state and local government employees on a per capita basis than at any time since the 1980s, according to data from Moody's Analytics.
The average hiring rate for public administration jobs from June 2018 to May 2019 is down 5.4% compared with the average hiring rate during the same months in 2014–2015, per a LinkedIn data analysis provided to Axios.
Meanwhile, retirements are increasing at an alarming rate.
In 2018, 44% of state and local employers said that retirements are on the rise, with some workers even accelerating retirement dates, according to the most recent workforce report by the Center for State & Local Government Excellence.
82% of employers surveyed listed recruiting and retaining qualified personnel with needed skills as the top workforce priority, followed by offering competitive compensation packages.
Zooming in: Redding, California, a town of 95,000 about 150 miles north of Sacramento, is dealing with vacancies "in virtually every department," mostly due to retirements and trouble recruiting younger professionals away from larger metros, said City Manager Barry Tippin.
The city's electric utility of 180 people has 20 open positions, and its police department of 107 officers has a constant vacancy rate of five to eight openings, Tippin said. Officers often retire when their pensions max out after 30 years on the job.
"When you're dealing with that sort of percentage of vacancies, you tend to not get all your work done," he said. "We're finding a need to prioritize on the most important and efficient work to do."
Go deeper:
2. The widening public sector job applicant gap
The gap is widening between the number of public sector job openings and the number of job candidates applying for those roles, according to a survey of jobseekers by NEOGOV, which provides public sector HR software and runs the job board GovernmentJobs.com.
The top two reasons people apply for state and local government roles are job security (61%) and benefits packages (58%) across all age groups, per the survey.
Millennials also ranked career advancement and professional training high on the list of things that would attract them to apply for jobs.
Fellowship programs can be useful for hiring recent grads or mid-career private sector employees, said Hollie Russon Gilman, fellow with New America's Political Reform Program.
Debt forgiveness programs could lure millennials saddled with student debt.
"People want opportunities for advanced learning, mentorship and clear pathways to leadership — but you don't necessarily see enough of that in the public sector," Gilman said. "The key is building leaders who don't think of themselves as leaders."
3. AI is coming for white-collar workers in big cities
While robots upend blue-collar factory work and trucking in the middle of the country, AI and machine learning are poised to hit white-collar jobs in superstar coastal cities.
Why it matters: No one is immune to the shockwave of automation in the workplace.
What's happening: A new analysis released Wednesday by Brookings overlaid the keywords in AI-related patents with job descriptions to get a more detailed understanding of which jobs are most likely to be affected by AI — and where they are.
Industries at risk: Carmakers and clothing makers are using AI for advanced manufacturing on production lines — that's far more complex than the routine, task-oriented automation that most robots power.
Digital services like software publishing and computer system design also show high exposure, along with agricultural work and professional services like purchasing.
Cities highly exposed to AI disruption are established or emerging tech hubs like San Jose, Seattle, Salt Lake City, Boulder and Huntsville.
Also, agricultural centers like Madera and Salinas in California and logistics and advanced manufacturing hubs like Greenville (South Carolina), Detroit and Louisville are at risk.
The big picture: Much of the research assessing the workforce impact of these new technologies — robotics, AI and machine learning — lumps them all together under the bucket of automation.
The dominant prediction has been that automation will most impact "routine" functions like factory-floor and cashier work.
But when looking specifically at AI — which has the ability to interpret voice commands, recognize images, and make predictions and decisions — professionals in careers such as radiology, law and marketing could find themselves with drastically diminished roles.
Between the lines: States like Michigan, Indiana, Illinois and Nebraska may be hit from both ends of the spectrum. Blue-collar workers there could be displaced by robots while white-collar workers are hit by AI and machine learning.
4. Detroit's uneven comeback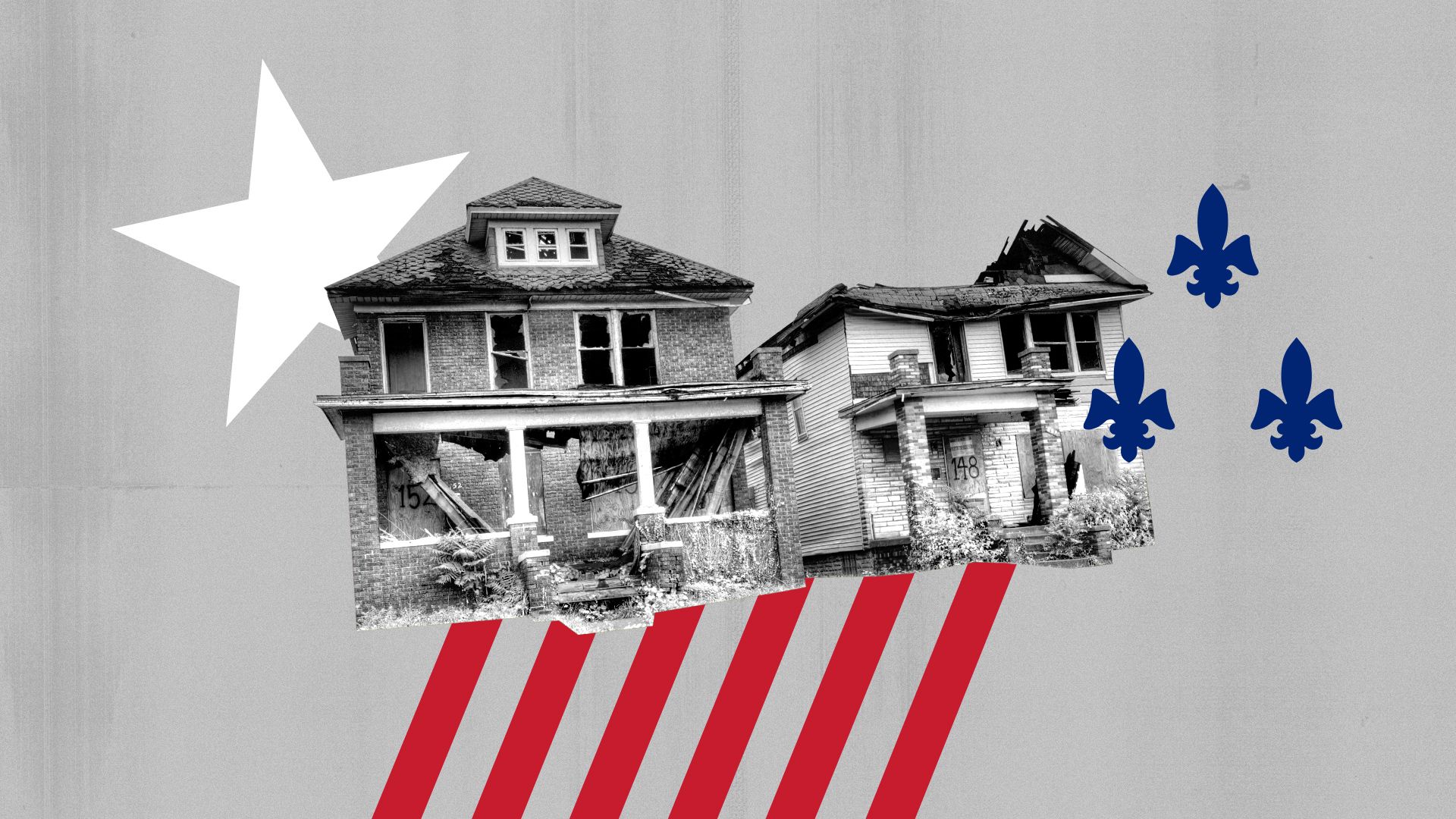 Axios' Erica Pandey spent last week in Detroit, a city that went from the fourth-largest U.S. metro in the 1950s to declaring bankruptcy in 2013.
Since then, the Motor City has made a comeback. The city has revamped its downtown, added tens of thousands of streetlights for safety, and attracted artists, musicians and restauranteurs.
But the bulk of Detroit's transformation has been limited to 7 square miles — the downtown core — according to recent research from scholars at Michigan State University and Wayne State University. For context, the city is 139 square miles.
Why it matters: This story is repeated across a slew of Rust Belt cities in the U.S.
Some struggling cities are beginning to catch up with the booming metros, but often the transformation is limited to wealthier residents living in the richest neighborhoods.
"I'm optimistic that people won't just settle for, 'Downtown's looking good, so our work's done,'" says Ned Staebler, vice president of economic development at Wayne State University, in the heart of Detroit.
The city's poverty rate is around 38%, per the census. The national rate is 12.3%.
Outside of downtown, entire streets remain empty, as a city built for 1.85 million people dwindles to under 700,000. Detroit has demolished about 20,000 blighted homes since 2014.
But, but, but: The revitalization of any place starts with downtown, and Detroit is working to re-create what's happened within those 7 square miles across the city.
For example, city and county leaders are working on a big-ticket expansion of public transit, as lack of access to transportation is one factor that's keeping many away from job opportunities.
Sign up here for the Axios Future newsletter for more reporting on Detroit in this afternoon's edition.
5. Exclusive: Starry releases roadmap for broadband investment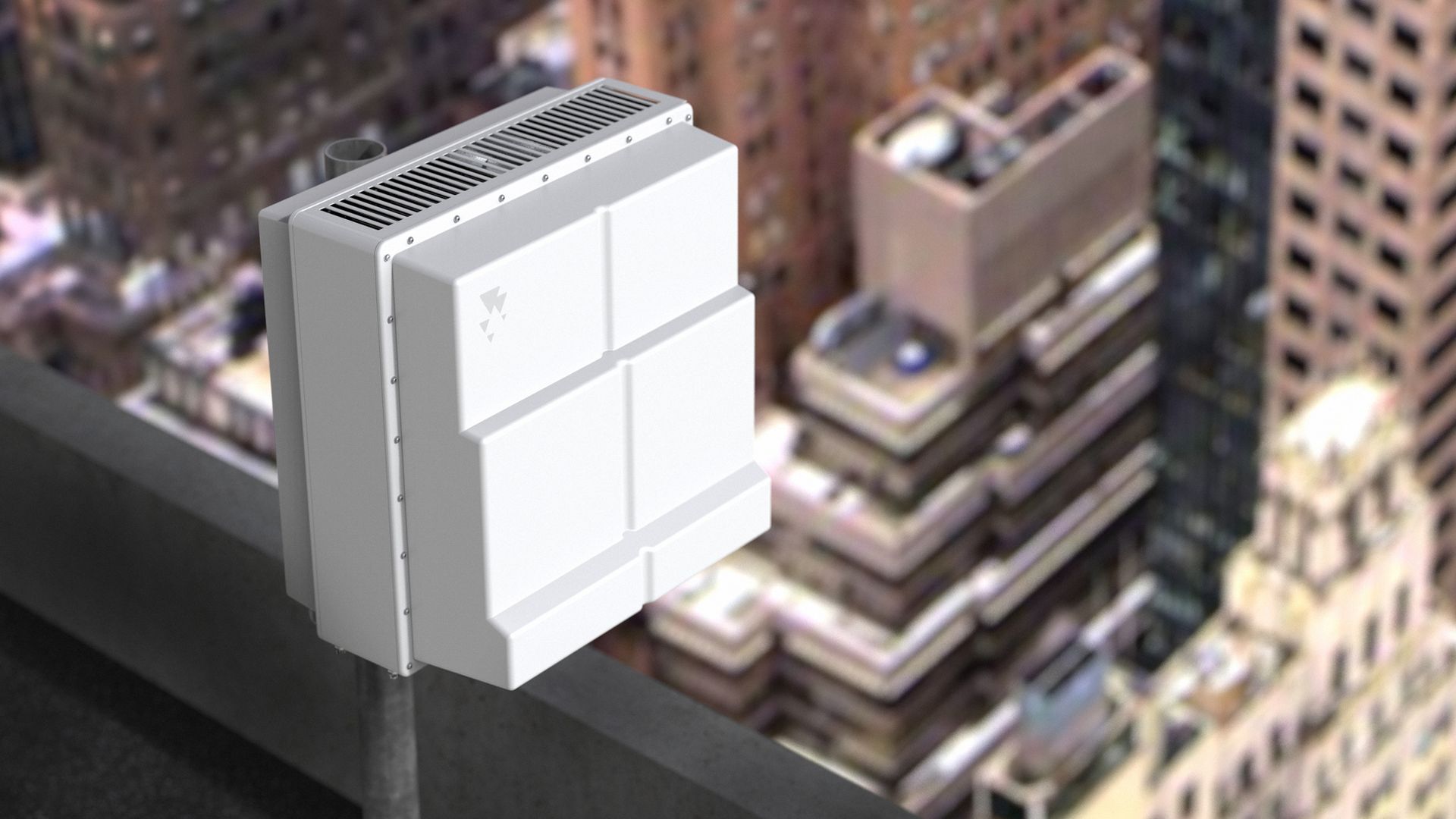 Upstart internet provider Starry is trying to help small- and medium-sized cities accelerate investment in high-speed internet.
Why it matters: When it comes to fast, reliable broadband, installing fiber in the ground is the gold standard.
But fiber is too expensive for a lot of towns. "Fixed wireless" service can be cheaper and faster to deploy.
Driving the news: At the National League of Cities' City Summit this week, Starry is releasing a "toolkit" designed to be a guide for cities looking to partner with competitive broadband providers to expand access.
How it works: Fixed wireless bases beam internet signals to receivers located in homes and offices, where the majority of traffic is consumed.
Starry and others like Windstream are using millimeter wave spectrum recently auctioned by the FCC to provide the service.
Wireless internet service providers (or WISPS) often use the technology to connect smaller communities.
Verizon is using its own fixed wireless approach to roll out 5G in some areas.
A lot of mid-sized cities have hoped that a provider will fund the build-out of broadband throughout a market.
"But the moment it doesn't work from a balance sheet perspective, it falls apart," said Starry CEO Chet Kanojia. "What we're doing is figuring out the pieces of the pie to invest and make the model work."
Fixed wireless may not be the whole solution, but it can fill last-mile gaps or unserved areas in coordination with other providers and technologies, Kanojia said.
The bottom line: Expanding broadband with wireless technology is only one piece of the puzzle, as all wireless networks including 5G need to connect to fiber infrastructure.
6. Where seniors are moving
The high cost of housing is a problem for older Americans in supply-constrained and wealth-divided cities, and for developers of senior housing facing a preference among the senior populations for "aging in place," Axios' Kia Kokalitcheva reports.
The big picture: While developers once saw the looming wave of retiring baby boomers as a gold mine, many are instead finding themselves with empty buildings thanks to the growing trend of seniors remaining in their homes, according to the Wall Street Journal.
"In a city like San Francisco where you can't afford to retire, many of our members can't afford to leave — they're in rent-controlled apartments," says Jacqueline Jones, whose nonprofit, NEXT Village, helps seniors stay in their homes.
Seniors who do move are going to less-expensive states with good weather.
By the numbers: Next year, the average Social Security monthly payment will be $1,503.
The average studio in San Jose was $2,017 in the second quarter of 2019.
A studio at Atria Senior Living in Foster City, California, costs $5,800 per month.
What to watch: The number of older renters earning 50% or less of their area's median income is projected to grow to 7.6 million, according to a 2016 report from the Joint Center for Housing Studies of Harvard University.
Go deeper: Axios Special Report: Retirement becomes more myth than reality
7. Urban files
The U.S. cities that are thriving under the radar☝️(Axios)
17% of San Francisco millennials say they'll never buy a home (Curbed)
114,000 NYC students are homeless (NYT)
New Arizona development bans residents from bringing cars (WSJ)
These are America's new top tech hubs (Bloomberg)
Restaurants remove dining rooms to speed off-site food frenzy (Reuters)
8. 1 skyscraper thing: Landmark towers become luxury apartments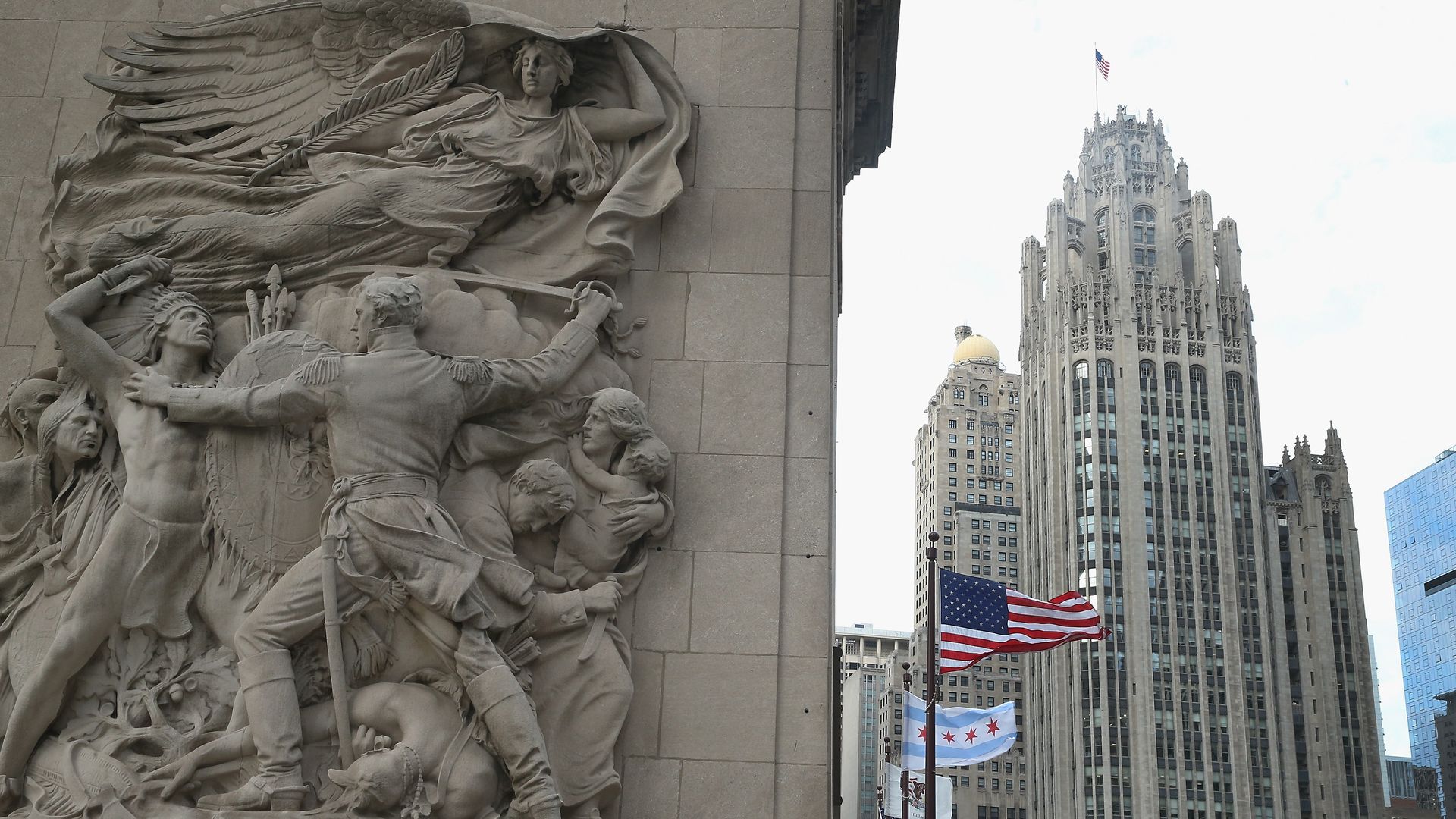 Two iconic towers — The Woolworth Building in New York and the Tribune Tower in Chicago — are being reinvented as luxury residences, per the Financial Times.
The Woolworth's luxury apartment development is topped by the "Pinnacle Penthouse" on the market for $79 million.
The Tribune's project will have more residential units and a penthouse going for $7.6 million.
They aren't the only landmark office buildings to be turned into condos for the rich — a sign of the times, perhaps.
"It is not quite gentrification — the poor are not being displaced. It is more like luxurification, the commodification of the tracery and architectural motifs applied so liberally to these commercial landmarks into a screed of branding, like the logos on a designer handbag."
— FT architecture critic Edwin Heathcote
As always, thanks for reading! See you next week.