Axios Cities
September 11, 2019
Hello from the Smart City Expo in Atlanta, where I'll be moderating a discussion about 5G in a few hours. Drop me a line if you're here, too!
Was this email forwarded to you? Sign up here!
Today's word count: 1,736 words, a 6 minute read.
1 big thing: America's sweeping tide of diversity
America is more racially diverse than at any point in history, and racial minorities are becoming more geographically dispersed than ever before.
Why it matters: Even before the 2020 Census gets underway, recent population data makes it quite clear that rapidly expanding diversity will be the overarching theme of this century's demographic shift.
What's happening: Nationally, Hispanics and Asian Americans are the fastest-growing racial minority groups, increasing by 18.6% and 27.4%, respectively, between 2010 and 2018, according to an analysis by the Brookings Institution demographer Bill Frey, whose 2018 book "Diversity Explosion" outlined the country's majority-minority future.
They're moving beyond the large metro areas that have historically been popular with immigrants (New York, Los Angeles and San Francisco) to smaller cities across the country, including the Midwest and Northeast.
Black Americans are returning to the South, with Atlanta, Charlotte, Orlando and Dallas seeing big gains since 2010. Phoenix, Las Vegas and Seattle also registered substantial growth in their black populations.
Meanwhile: The nation's white population has grown only 0.1% since 2010 and is projected to decline over the next decade.
The map above appears to have large "white" areas where racial minorities are not highly represented. But these are small, less-populated areas where the white population is stagnating, per Frey's analysis.
Since 2010, 96% of all U.S. counties saw declines in shares of white population — and those declines aren't likely to be offset by white immigration from other countries or increased U.S. birth rates going forward.
"In the next 5–6 years, we're going to see an actual decline in white population," Frey told Axios, noting the shrinking share of the white population since 2000 among children under the age of 18. "In the next 10 years or so, the 20-something population will become minority white. It's happening from the bottom up of the age structure."
Between the lines: The white population's declining slice of the population pie is widely blamed for the rise of white nationalist extremism and anti-immigrant sentiment. But the demographics also show that diversity and immigration are key to future U.S. economic growth.
The bottom line: The country's rapidly changing racial makeup is exposing a growing cultural gap between generations.
"Baby boomers grew up in an era where America was mostly white, and the biggest racial minority was African Americans who were still mostly segregated," Frey noted. "Millennials and post-millennials are much more open to diversity and integration."
Go deeper: Six maps that reveal America's expanding diversity (Brookings Institution)
2. Immigrants are driving growth in U.S. cities
Immigration is a significant driver of population growth in the country's most successful cities, according to an analysis released today by the Economic Innovation Group.
Why it matters: "Without the contribution of immigrants, metro areas like Miami, San Jose, and New York would have lost population from 2017 to 2018 at a rate double that of metro areas such as Pittsburgh and Cleveland and triple that of metro areas such as Milwaukee and St. Louis," per EIG's report.
If international migration was more evenly distributed throughout the country, declining areas such as Detroit and Buffalo would be able to offset domestic population losses.
With slightly more immigration, Cleveland's population growth last year would have been on par with Washington, D.C., and Seattle.
EIG has proposed "heartland visas" to create more avenues for immigrants to settle in areas that are otherwise shrinking.
Minorities and immigrants alike are already moving away from the typical "melting pot" metro areas and into smaller (often struggling) cities to take advantage of lower costs of living and open jobs.
This is particularly true of Hispanic citizens and immigrants — who are taking the place of declining white populations. Scranton, Pennsylvania, for example, saw a particularly high growth rate among Hispanics in 2018, per Brookings' Frey.
American schools systems have been the first to experience the demographic change: White students are now the minority in U.S. public schools.
What it means for cities: Increasing diversity means city leaders will have to prioritize "deep and meaningful community engagement as part of the public policy process," said Christina Stacy, senior research associate at the Urban Institute.
"You want the city council to actually look like the people you're representing," she said. "The most inclusive cities don't just deal with diversity and immigration, they celebrate it."
Go deeper: Why is San Jose growing while Cleveland shrinks? (Economic Innovation Group)
3. Mayors are stepping up to curb gun violence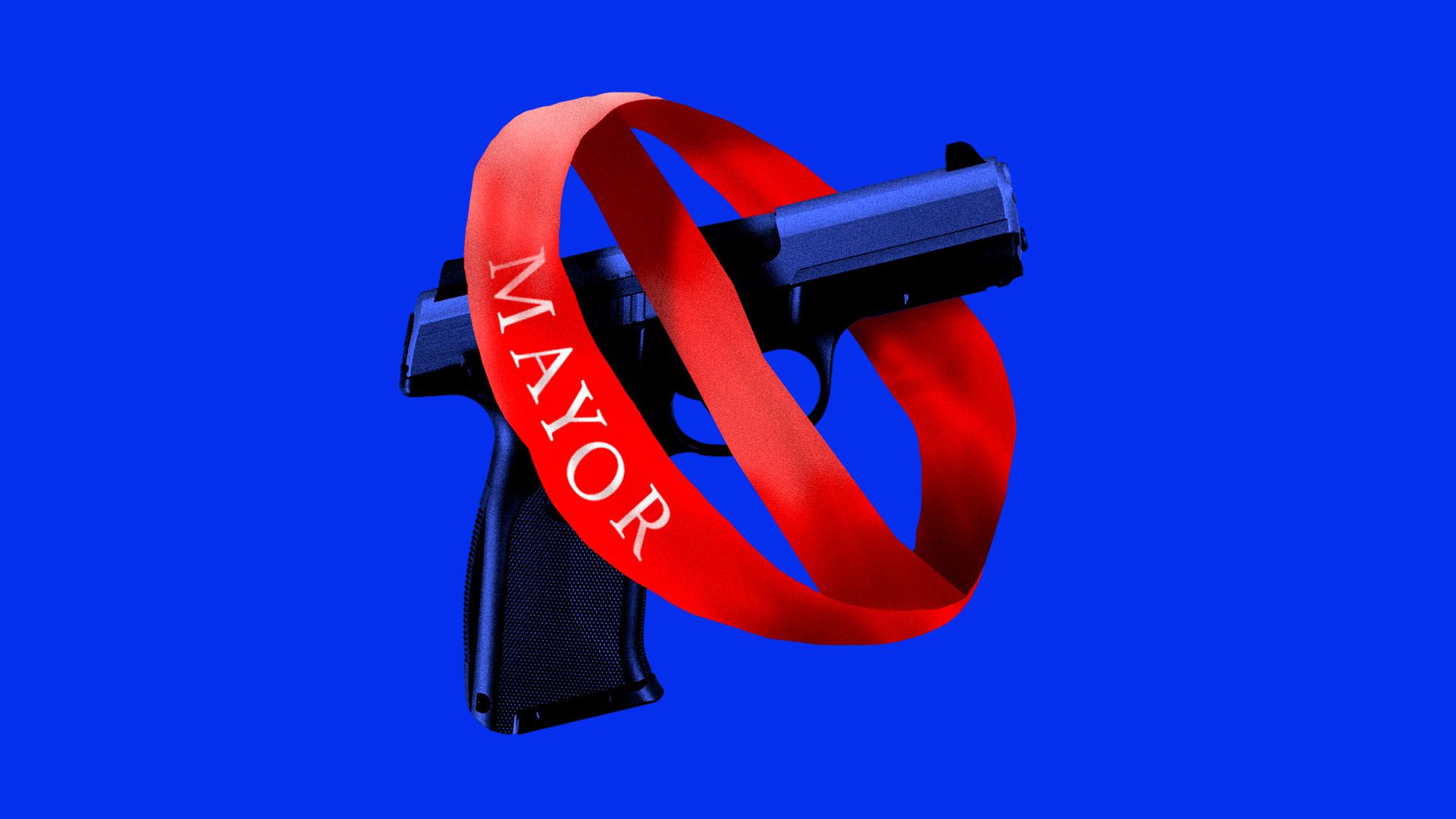 Mayors from across the country aren't waiting on Washington to take action to rein in gun violence.
Driving the news: This week, a dozen mayors from both parties met with White House officials and senate leaders to urge action on background check legislation.
President Trump has not publicly voiced support for a plan, despite mounting pressure.
The lingering uncertainty hasn't stopped mayors and city councils from moving forward with their own initiatives.
Kansas City, Missouri: Last week the city council approved 2 gun ordinances introduced by new Mayor Quinton Lucas to help combat violent crime.
"There are enough mayors like myself, particularly those who live in Midwestern and Southern states, who've said we're tired of asking of state governors and legislatures to do something, because they won't," Lucas told Axios. "So we're asking ourselves, 'What is the most creative thing we can do to start saving lives now?'"
Pittsburgh, Pennsylvania: Mayor Bill Peduto and the city council recently passed a set of ordinances, such as banning high-capacity magazines. The NRA quickly sued to block them.
Columbia, South Carolina: Mayor Steve Benjamin and the city council became the first in the country to pass an ordinance banning the use of bump stocks and trigger cranks.
Toledo, Ohio: Mayor Wade Kapszukiewicz outlined in an op-ed that Toledo will be adopting a policy to only purchase guns and ammunition for law enforcement from responsible manufacturers.
San Jose, California: Mayor Sam Liccardo has proposed liability insurance for gun owners, but it has not yet been passed by the city council.
Cincinnati, Ohio: A law banning bump stocks was overturned by the courts for violating state law, which prevents local jurisdictions from enacting their own ordinances, as explained by Cincinnati Mayor John Cranley in an op-ed.
The bottom line: Despite increased skepticism and distrust of Washington and statehouses, most Americans have a higher level of trust in their local leaders.
"I really think we're the last bastion of bipartisanship," said Bryan Barnett, mayor of Rochester Hills, Michigan, and president of the U.S. Conference of Mayors, who led the delegation of mayors to D.C. this week. "That gives us the ability to be heard a bit differently."
4. Smart-city testing ground opens near Atlanta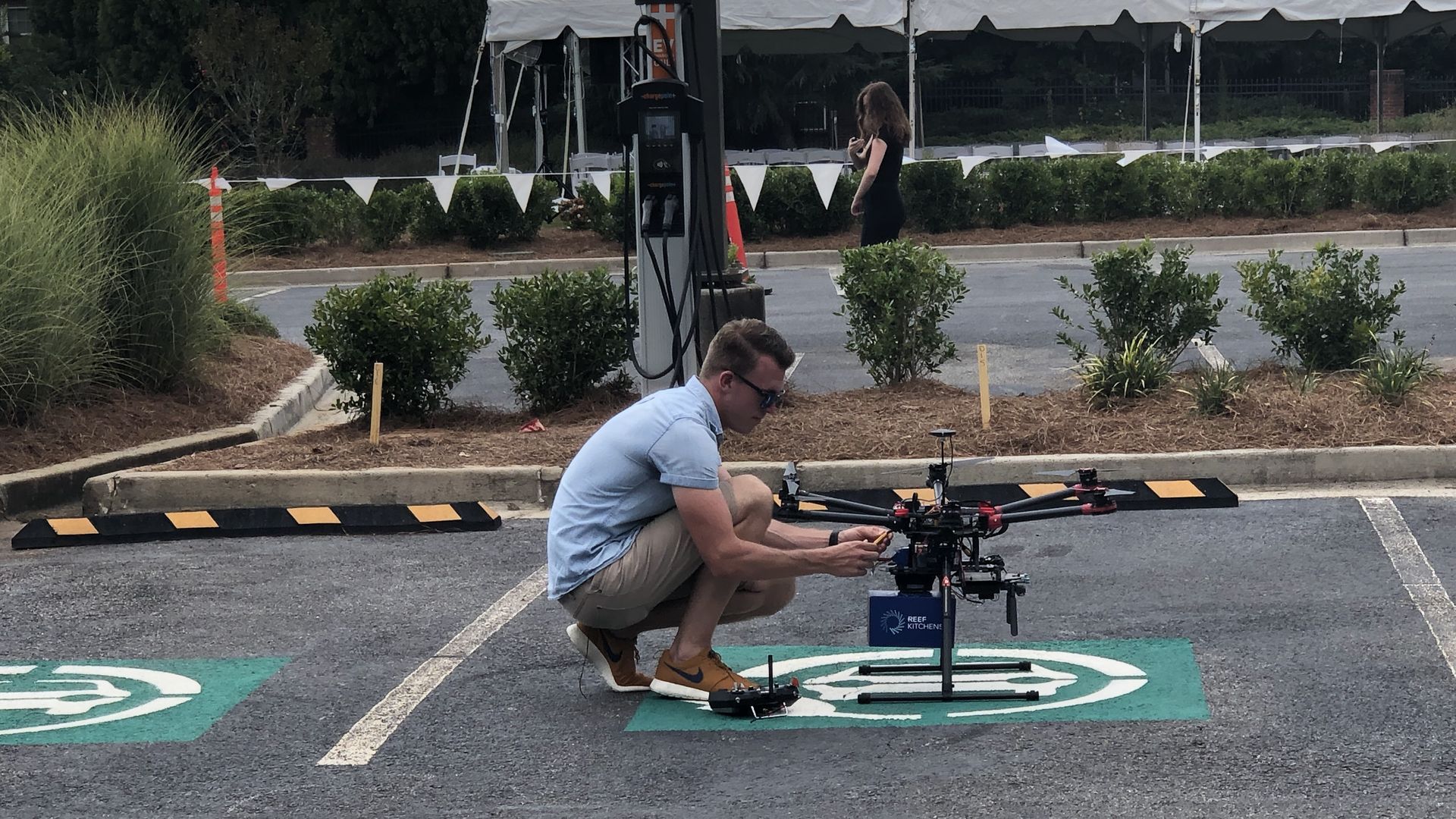 PEACHTREE CORNERS, Ga. — In a town about 20 miles northeast of Atlanta, high school students direct 2 tiny drones, each holding opposite ends of a red ribbon, to hover above the start of an autonomous vehicle test track.
Driving the news: The cutting of that ribbon on Wednesday marked the grand opening of Curiosity Lab, a publicly funded "living lab" designed to provide a testing ground for smart-city, mobility and "internet of things" technologies in a real-world environment.
Why it matters: It's all paid for by Peachtree Corners, a 7-year-old city that's home to about 45,000 people, as an economic development initiative. Curiosity Lab is an independent nonprofit that sits at the center of the city's 500-acre tech park.
The goal is to make 5G, fiber, DSRC units, smart poles, surveillance cameras and the autonomous driving test track available for companies and startups to test their technologies in a real city setting.
In return, the hope is that innovators, from wireless companies to robot makers, will rent space in the nearby incubator, stay at local hotels while they're testing their technologies, and maybe even someday move to town.
Details: Sprint has installed wireless 5G service along the 1.5-mile test track. Georgia Power installed a light pole equipped with a video surveillance camera. Autonodyne installed a "mailbox" landing pad for drone deliveries.
The big picture: Peachtree Corners' biggest advantage, according to city manager Brian Johnson, is that it owns all the infrastructure. That means companies wanting access to it doesn't have to deal with multiple jurisdictions and red tape to test prototypes.
"We want to be a city that moves at the pace of a startup," said Curiosity Lab executive director Betsy Plattenburg.
5. The racial biases of surveillance technologies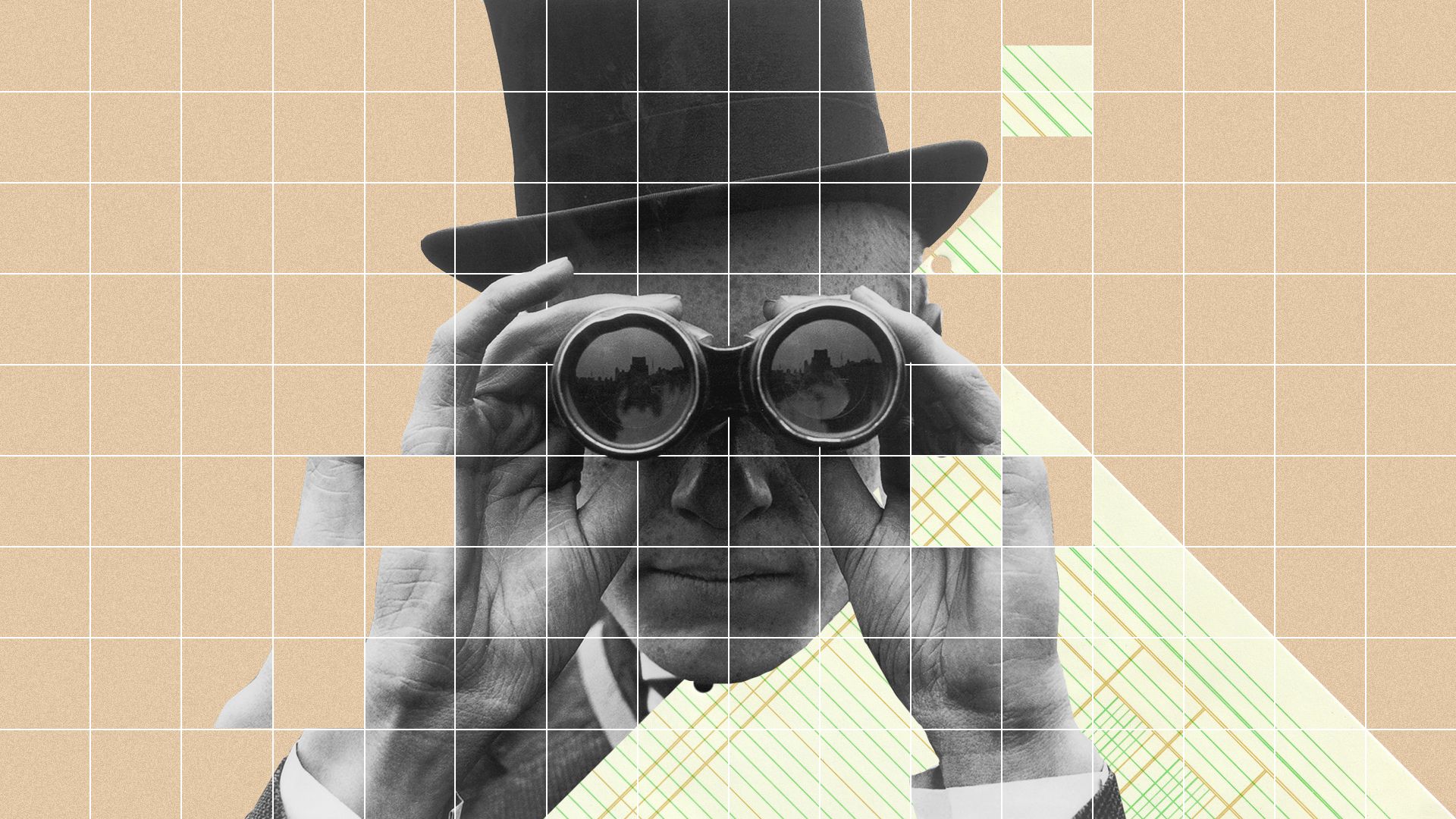 People of color — especially black Americans — are more likely to distrust facial recognition technology used for policing, according to a new Pew Research poll, Axios' Orion Rummler reports.
Pew found that 61% of white Americans trust police to use the technology responsibly versus 56% of Hispanic Americans and 43% of black Americans.
Several surveys have shown that people of color are concerned about facial recognition. That's because they're most likely to come into contact with it due to over-policing, says Clare Garvie, a privacy expert at Georgetown Law.
The big picture: Accuracy problems arise when a facial recognition system is trained on a dataset of mostly white and male faces. And they're amplified by mugshot databases where people of color are disproportionately represented, making for more possible mismatches.
What to watch: The National Institute of Standards and Technology's report on demographic dependencies in facial recognition will be out this fall.
Go deeper:
6. Urban files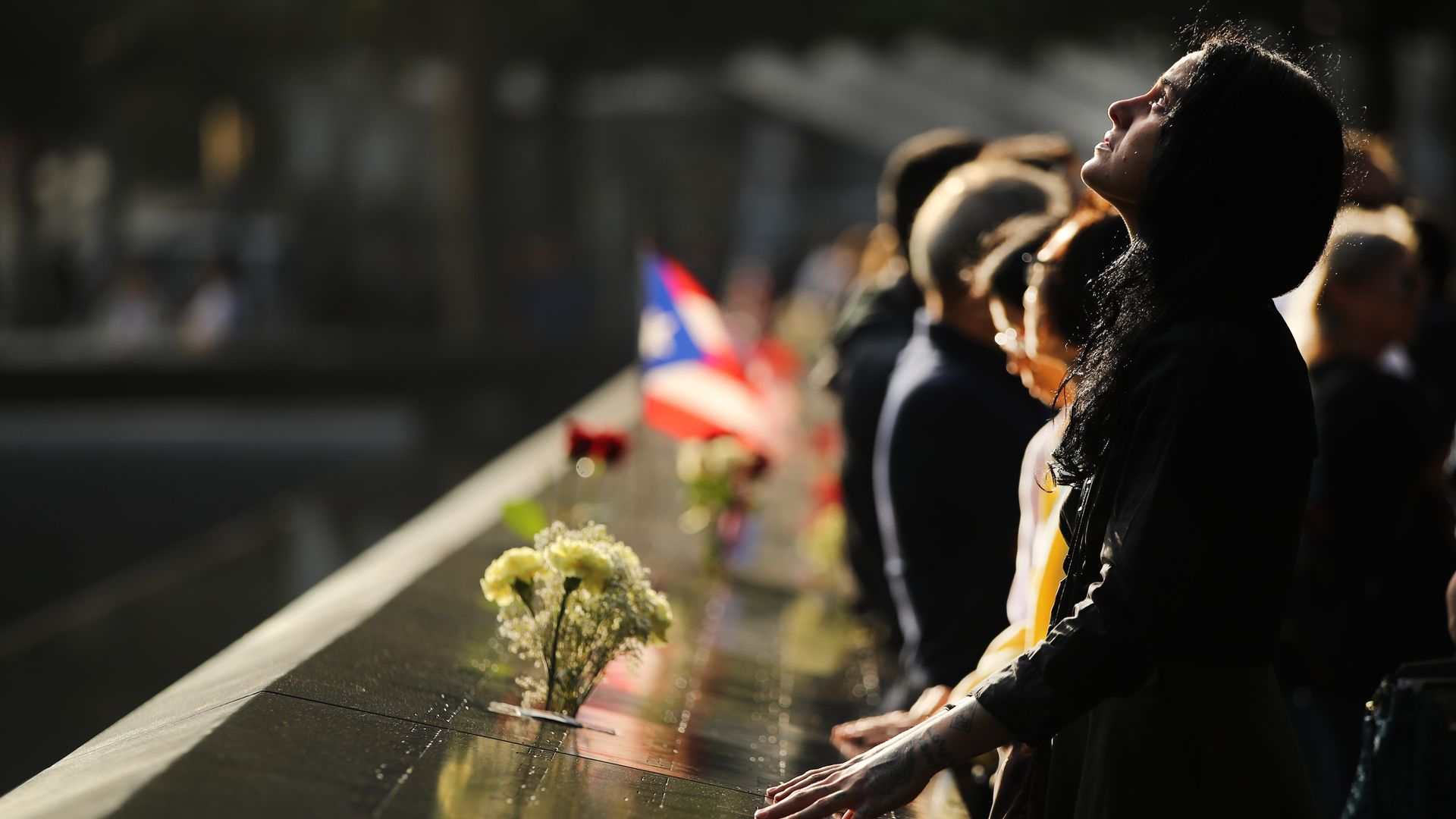 U.S. transit use continues to decline. Not so in France. (Yonah Freemark — The Transport Politic)
The cities where job growth is outpacing new homes (Sarah Holder — CityLab)
This radical plan would see the U.S. build 12 million new units of social housing (Jessica Klein — Fast Company)
Local newspapers are suffering, but they're still (by far) the most significant journalism producers in their communities (Philip Napoli & Jessica Mahone — NiemanLab)
Last-minute AB5 amendment empowers city attorney to sue Uber for labor violations (Joe Fitzgerald Rodriguez — San Francisco Examiner)
Uber has troves of data on how people navigate cities. Will urban planners ever get it? (Grace Dobush — Marker)
7. 1 street thing: Pothole vigilantes and DIY stop signs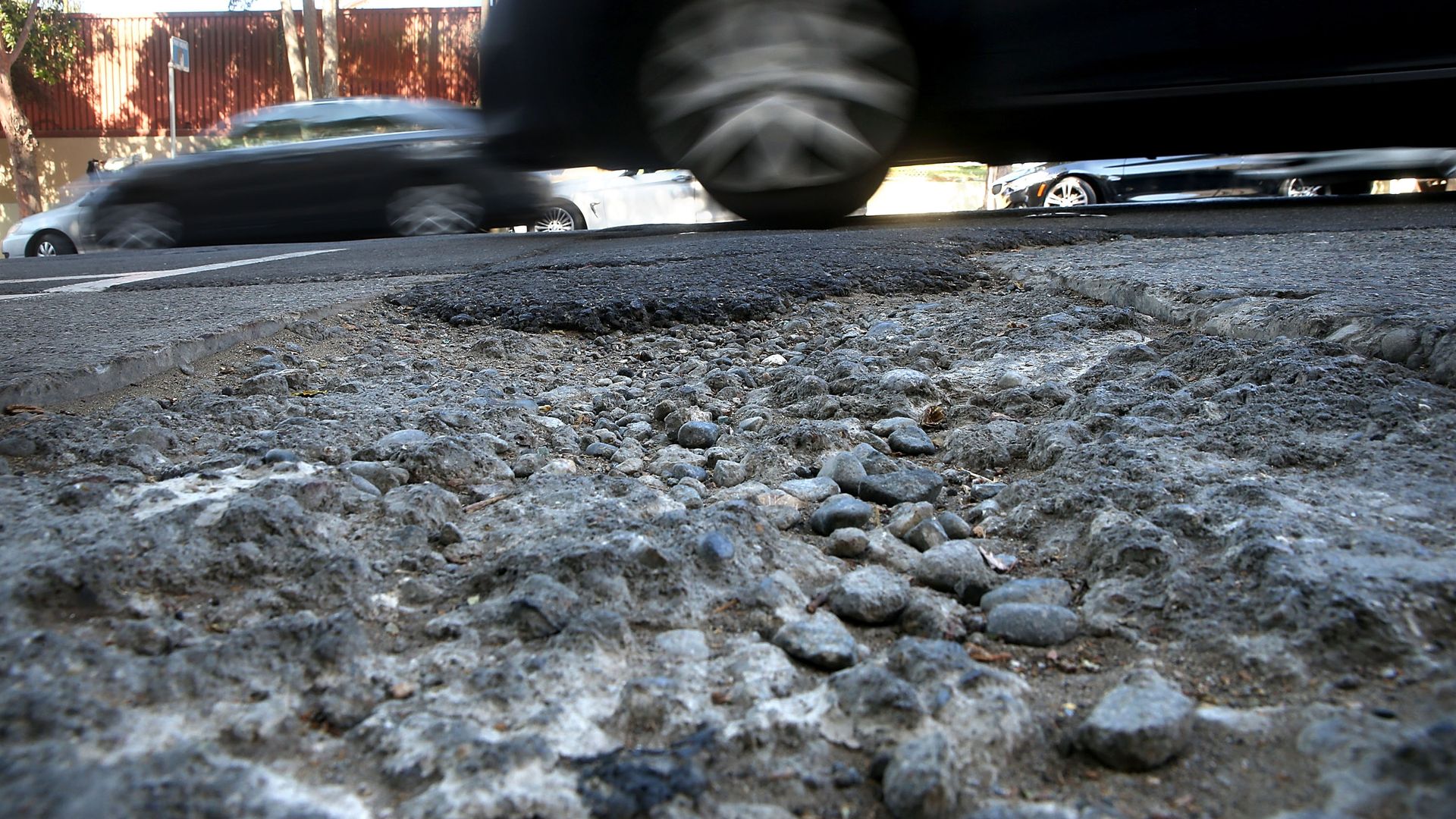 Frustrated that their local governments aren't reliably maintaining streets, fixing potholes and policing traffic violations, residents are taking matters into their own hands.
Police and public works departments frown on DIY solutions to road issues — and it's often illegal without a permit. But vigilante acts do get the attention of local authorities and usually end up prompting action to fix the problem.