July 06, 2018
Welcome to Day 1 of the U.S.-China trade war. No off-ramp is in sight, but at least so far today the U.S. stock market does not seem to care.
Since many of you are enjoying an extended holiday, today's issue is a bit shorter than usual. Thanks for reading, and if you want a daily and deeper look at China, please check out my daily Sinocism China Newsletter and follow me on Twitter @niubi.
1 big thing: The tariffs of July are here
As of 12:01am today, the U.S.-China trade war is on. There are few signs either side will back down, and in fact President Trump again threatened tariffs on basically the entirety of PRC exports to the U.S., per Bloomberg's Jennifer Jacobs: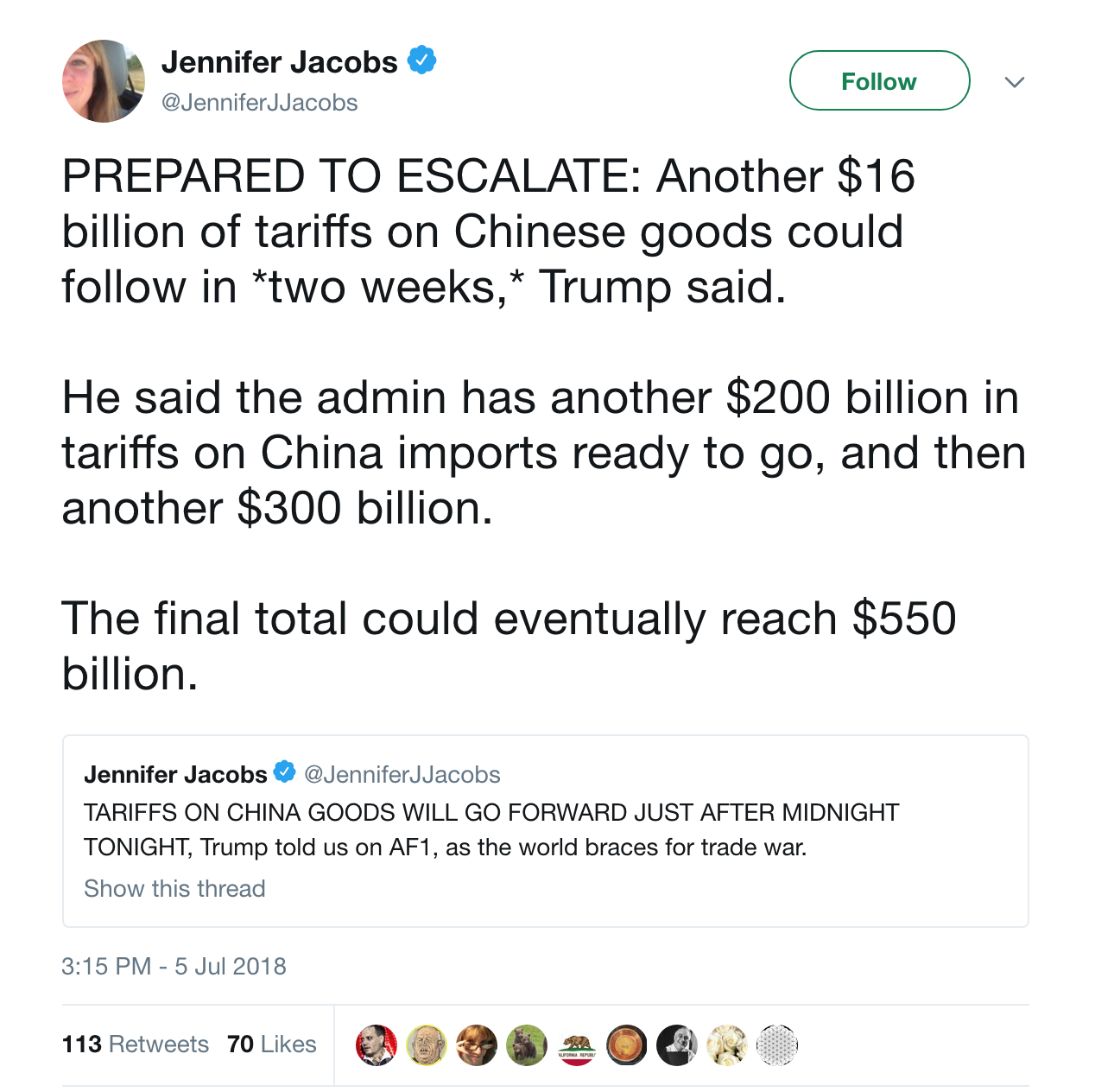 My thought bubble: This is not like previous trade spats with Japan or Europe. China is a strategic competitor with the U.S. across almost every domain, and this start of the trade war is another key step in the reframing of the U.S.-China relationship as one of competition if not eventual outright conflict.
Even if there is a negotiated settlement to the trade issues, the underlying structural problems in the relationship driving the two countries towards competition and conflict will remain.
Intrigue: Secretary of State Mike Pompeo is in Pyongyang today. It would be surprising if North Korean leader Kim Jong-un and Chinese President Xi Jinping have not been talking about ways to leverage the U.S.-DPRK talks to pressure Trump to modify his approach to U.S.- China trade issues.
What to watch for: So far Chinese media coverage has been relatively restrained in its criticism of Trump and the U.S. Signs that things are about to get worse may include much more explicit fanning of anti-U.S. sentiment and official calls, or at least tolerance of "grassroot" calls, for boycotts of U.S. goods.
Go deeper: Read the Washington Post's piece on Trump's business ties to China and Bloomberg's story on how this may threaten Christmas for retailers.
Get nervous: The Financial Times offers 3 reasons why this could escalate into a $1 trillion global trade war.
2. Tsinghua's AI lab may give Google heartburn
The U.S.-China competition over technology took an interesting twist in late June at the Tsinghua-Google AI Symposium in Beijing — Tsinghua University announced a new Institute for Artificial Intelligence, which will work with some U.S. companies.
What's happening, per a report on the announcement:
The Institute for AI will focus on fundamental theoretical study aimed at strengthening interdisciplinary collaboration and advancing the industrialization of AI. It will cooperate with other Tsinghua departments while working with tech companies such as Google, Tencent, Sogou, and Horizontal Robotics on core algorithms, new types of AI hardware, and more...
Also announced at today's event was the hiring of Google's AI Chief Jeff Dean as a member of the Tsinghua University Advisory Committee on Computer Science.
CNAS fellow Elsa Kania translated a June 8 article by You Zheng, vice president of Tsinghua University, titled "The Road of Military-Civil Fusion for Artificial Intelligence Development":
Tsinghua University will closely integrate the national strategy of military-civilian integration and the AI superpower strategy. Tsinghua University was entrusted by the CMC [Central Military Commission] Science and Technology Commission to take responsibility to construct the High-End Laboratory for Military Intelligence (军事智能高端实验室). With regard to basic theories and core technologies, military intelligence and general AI possess commonalities. Therefore, Tsinghua University regards the construction of the High-End Laboratory for Military Intelligence as the core starting point for serving the AI superpower strategy...
Tsinghua University insists on basic research as a support in applied technology research in AI talent training and scientific research innovation, with military requirements as a guide, promoting the development of basic AI research.
Why it matters: This looks to be another example of the increasingly fraught U.S.-China technology relationship, and one that is already coming under Twitter attack from at least one U.S. politician, Sen. Marco Rubio:
Go deeper: Check out FT's The AI arms race: the tech fear behind Donald Trump's trade war with China.
3. How Trump's threats fuel China's plans
CSIS' Jonathan Hillman writes for Axios' Expert Voices ... Xi 's Belt and Road Initiative (BRI) — his vision for putting Beijing at the center of the global economy through $1 trillion in new infrastructure, trade deals and other connections — has encountered trouble in recent months, creating a backlash among both participating and prospective countries.
Yes, but: Just when the BRI is struggling, U.S. trade policy, especially Trump's tariffs and reported threats to withdraw from the World Trade Organization, might unwittingly give it a boost.
Go deeper:
4. Alibaba opens first automated fashion store
Axios' Steve LeVine writes ... Everything is automated and powered by artificial intelligence — or soon will be — in a new fashion shop opening tomorrow in Hong Kong. From the time you enter, using an app to open an electronically locked sliding glass door, to the time you leave, you may never see another human apart from other shoppers.
The big picture: Last month, I toured a model of the store on Alibaba's Hangzhou campus. Steven Keyang Shi, who leads the Alibaba tech team creating the store, told me that the objective is to merge e-commerce and brick-and-mortar retail — to make shoppers see them as one organism.
The details: The shop, the first of its kind, features fashions marketed by Guess. It was devised in a collaboration between a tech team at China's Alibaba and students at Hong Kong Polytechnic University, where the pop-up store will be open through Saturday.
How it works: In this first iteration of what Alibaba calls "FashionAI," you are given a gold token that recognizes you. Within the store, you browse L-shaped displays with racks of clothing on the left and a full-length mirror on the right.
Watch this video for more and read Steve's full story here.
5. 1 fun summer TV show: "Secret City"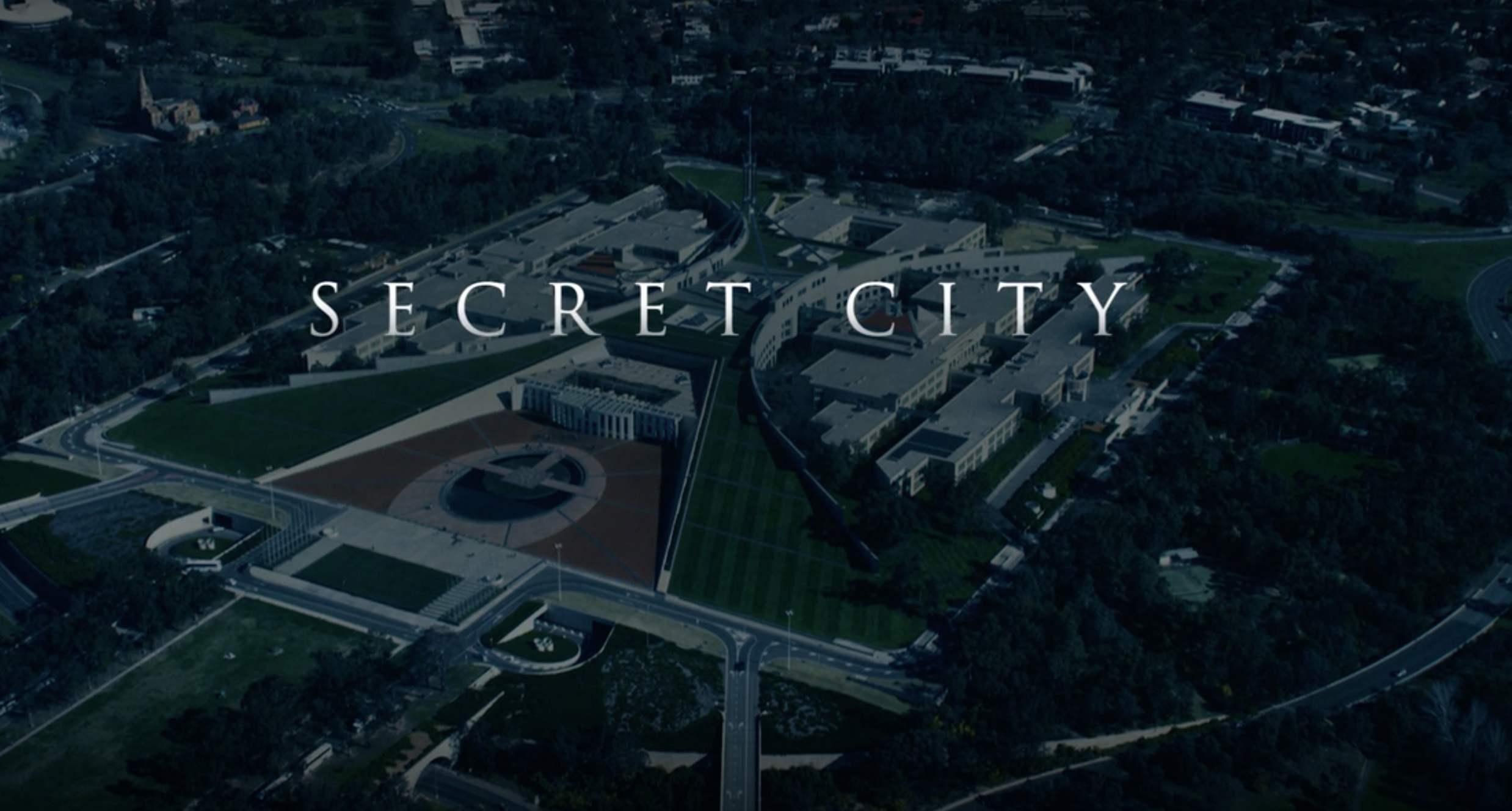 Netflix is now showing the Australian miniseries "Secret City."
What it's about: A relentless investigative journalist, played by the excellent Anna Torv (and Rupert Murdoch's niece), stumbles upon a murder and follows the threads into dark conspiracies involving dirty Australian politicians, China and the U.S.
The series is loosely based on the novels "The Marmalade Files" and "The Mandarin Code" by journalists Chris Uhlmann and Steve Lewis.
Season 1 has 6 episodes and I binge-watched them all earlier this week.
My thought bubble: It's not perfect — the opening scene that claims to be in Beijing is obviously not Beijing — but if you want some fun summer TV with a China twist then I highly recommend it.
Watch more: The official Netflix trailer is here.
6. 1 fun summer book: "City of Devils"
Paul French, author of the gripping true crime bestseller "Midnight in Peking," is back with a new book about two foreign gangsters in Shanghai in the 1930s.
City of Devils should make for a fun summer read for anyone interested in China.
7. Worthy of your time
Caixin — Central Bank Adviser Joins Chorus for Easing Up on Debt Reduction
The Globe and Mail — 'It is about Xi as the leader of the world': Former detainees recount abuse in Chinese re-education centres in Xinjiang
CNBC — China is quietly conducting electronic warfare tests in the South China Sea
Yiqin Fu — Growth Rates with Chinese Characteristics? The Curious Case of China's Industrial Profit Statistics
YouTube — New music video for the Communist Party oath
The New York Times — The Art of Drawing 'The Art of War'
Business Recorder — Asia's New Geopolitics: an interview with Andrew Small, author of "The China-Pakistan Axis"
Bloomberg — Xiaomi IPO Draws Bids at 11% Discount in Gray Market
Quartz — Xiaomi IPO: CEO Lei Jun's China tech empire goes way beyond smartphones
9News — 'Economic espionage': Chinese hackers [allegedly] crack into ANU in national security breach
Caixin Global - Film Applauded for Frank Portrayal of Generic-Drug Smuggling Case
Foreign Policy — The End of History Is the Birth of Tragedy
This week's issues of my Sinocism China Newsletter