Happy Friday the 13th, I hope it's a lucky day for you.
Situational awareness: It's interesting reading much of the commentary claiming that China President Xi Jinping has blinked in the face of U.S. pressure over trade. I may be obtuse, but I didn't see any softening of the Chinese position in Xi's speech at the Boao Forum for Asia earlier this week.
Thanks for reading, and remember, if you want a daily and deeper look at China please check out my daily Sinocism China Newsletter and follow me on Twitter @niubi.
https://www.axios.com/newsletters/axios-china-a844a833-9989-4553-b929-86899f76ac61.html?chunk=0#story0
1 big thing: U.S. steps up its trade war on China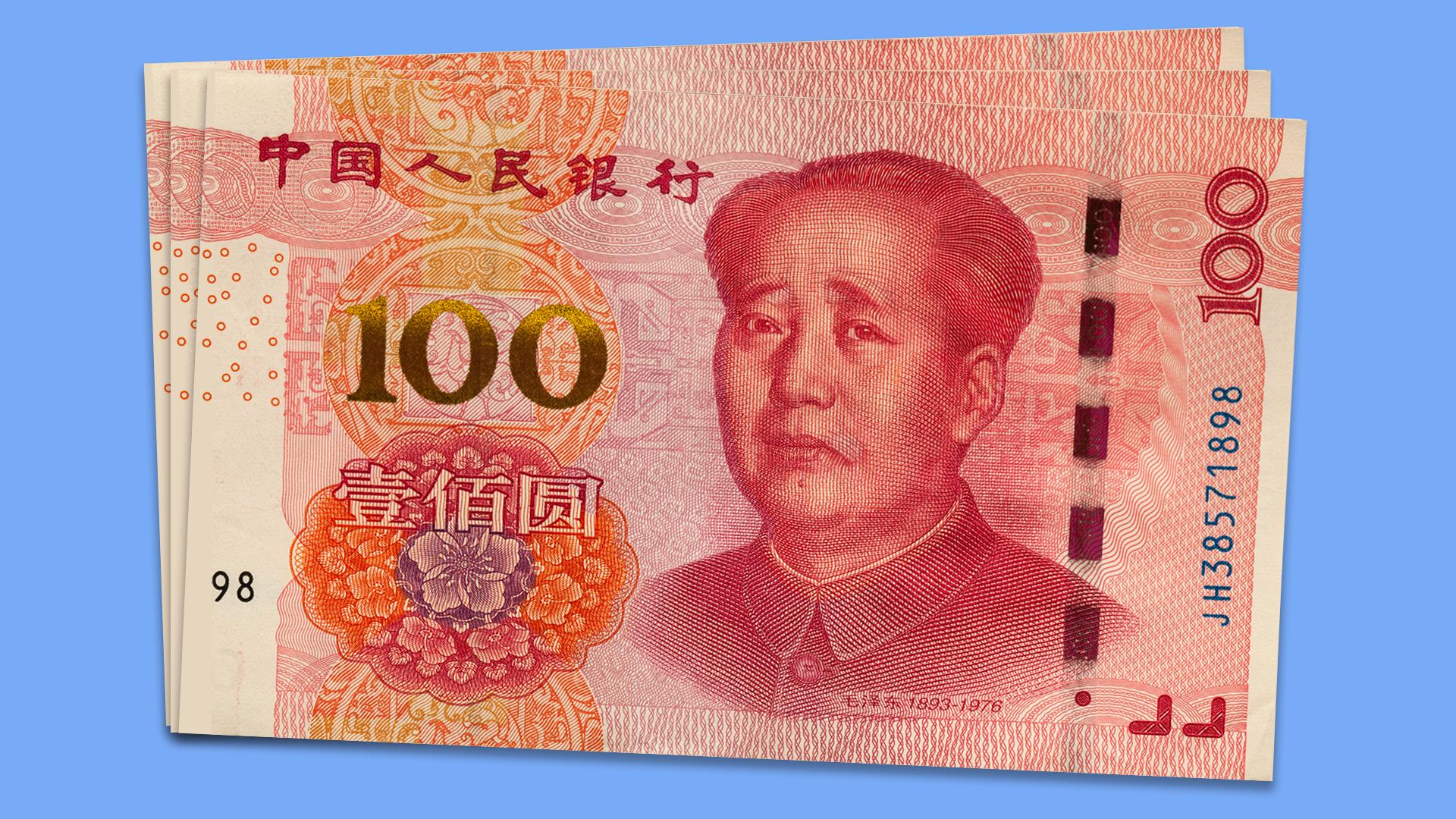 The U.S. Trade Representative may soon release the list of Chinese products subject to the $100 billion in threatened tariffs, according to a scoop Thursday night by Bob Davis and Lingling Wei of the Wall Street Journal. Per WSJ:
"Administration officials familiar with the U.S. strategy say that the U.S. trade representative, as early as next week, will detail which products are on the list of $100 billion in Chinese goods subject to 25% import tariffs. The initial hit list of $50 billion in Chinese imports didn't include some consumer staples such as clothing, mobile phones or shoes, to minimize consumer impact and limit domestic criticism. But trade experts say the sheer size of the expansion of the hit list makes the inclusion of consumer goods inevitable."
My thought bubble: President Trump appears to believe the Chinese are softening. The reaction to the list of goods on the $100 billion tariff list will be very interesting, as China's exports are not enough to match the tariffs dollar for dollar. If Beijing insists on reciprocity in value then the PRC operations of large U.S. firms may be in the crosshairs.
A credible U.S. effort to rejoin TPP would be far more threatening to Beijing, but so far it looks like the U.S. is a very long way away from actually finding a way back in.
Go deeper: Read an Expert Voices piece by Jonathan Hillman on the message U.S. would send China by rejoining TPP, a New York Times piece on China's leaders trying to see how serious Trump is, and a Defense One article examining a Pentagon paper that explains why the administration is reining in China tech trade.
https://www.axios.com/newsletters/axios-china-a844a833-9989-4553-b929-86899f76ac61.html?chunk=1#story1
2. Winners and losers in a U.S.–China trade war
Axios' Erica Pandey writes: A trade war between the world's two biggest economies would have repercussions across the world.
The bottom line: President Trump's tariffs are meant to be a blow to Beijing, but their secondary effects will hit the countries involved in the production chains of goods that come out of both the U.S. and China — and that list, depicted above, includes nearly every economy in the world.
The big picture: Every country that exports to China could be hurt if U.S. tariffs are aggressive enough to slow Beijing's economic growth and force it to buy a smaller volume of imports.
https://www.axios.com/newsletters/axios-china-a844a833-9989-4553-b929-86899f76ac61.html?chunk=2#story2
3. U.S. blinks over Chinese bank sanctions
The Trump administration last year seriously considered blacklisting Agricultural Bank of China (ABC) and China Construction Bank (CCB), two of China's four largest banks, over their business dealings with North Korean entities, Bloomberg reports. Per Bloomberg:
"But the idea of a U.S. ban was soon shelved, primarily because of fears that punishing lenders of that size might send shock waves through the global financial system, the people said. After conducting an economic impact analysis, officials worried about potential systemic damage and retaliatory measures from China, they explained."
Why it matters: My sources tell me that the U.S. also threatened sanctions against major state-owned oil firms for dealing with North Korea but backed off. One takeaway that Xi could have from the U.S. withdrawal from these threats, is that when China pushes back hard, the Trump administration will back down.
Separately, Reuters is out with a 5-part series that gives a peek at life on the China-North Korea border: "The Cold Frontier: A Journey Along North Korea's Edge".
https://www.axios.com/newsletters/axios-china-a844a833-9989-4553-b929-86899f76ac61.html?chunk=3#story3
4. Xi holds largest naval review ever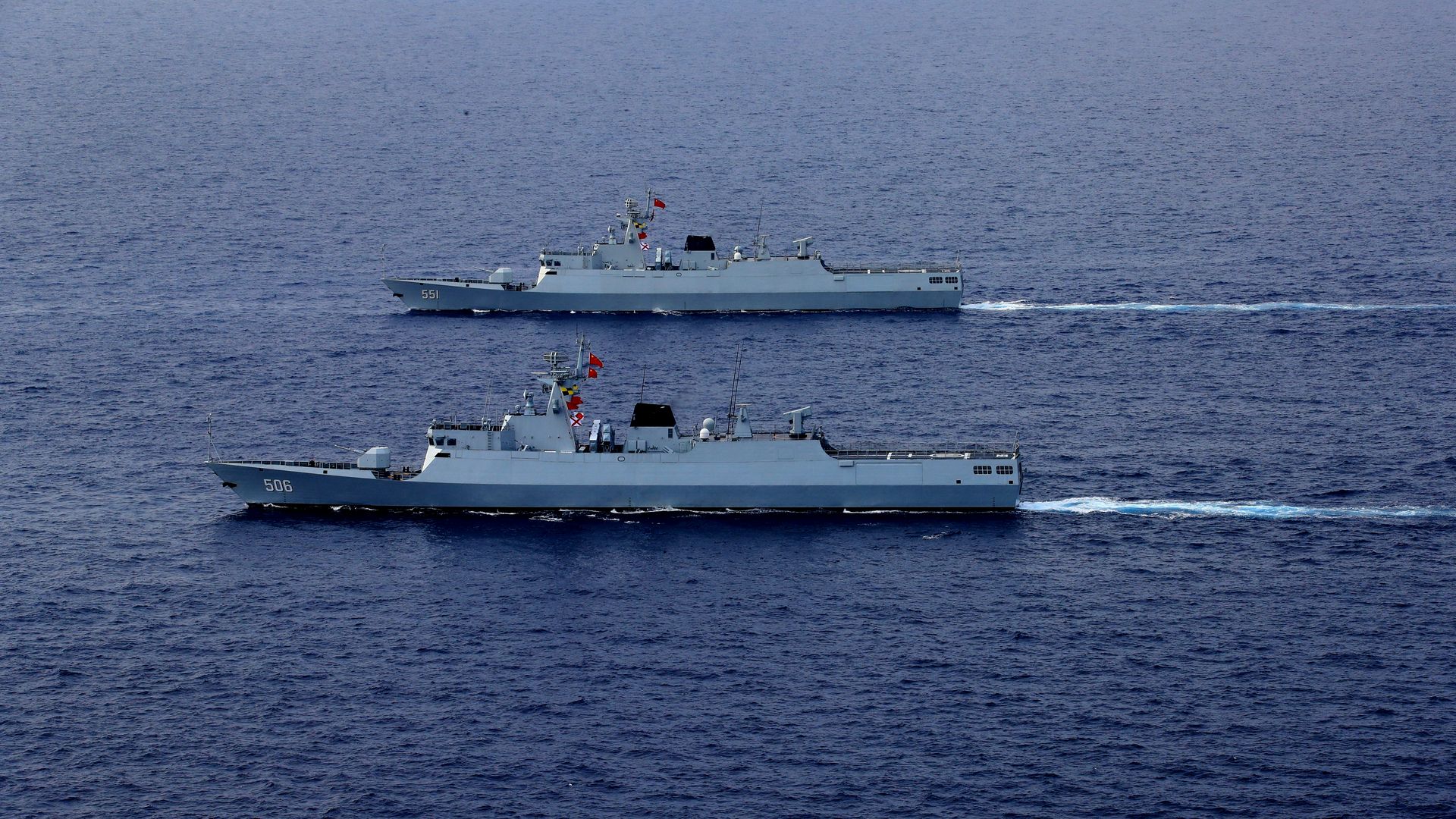 Xi went from the Boao Forum for Asia, where he voiced his message of inclusion and openness, to a destroyer in the South China Sea, where he oversaw the largest review of the People's Liberation Army (PLA) Navy in the history of the PRC.
What we're hearing:
According to Xinhua: Xi "called for efforts to build a first-class navy in the world." And, after the review, he said the need for this "has never been more urgent than today."
The Global Times has more details on China's largest maritime military parade of its aircraft carrier battle group: 
"Forty-eight warships, 76 aircraft and more than 10,000 sailors and soldiers took part in the parade which was hailed as 'the biggest maritime military parade since the foundation of the new China and a heroic display of the PLA Navy in the new era,' the PLA Daily reported on Thursday."
The South China Morning Post (SCMP) quotes a Beijing-based naval expert, Li Jie, as saying this is a show of strength to the U.S.. Per SCMP, Li said:
"Hainan is the starting point for China's 'Belt and Road Initiative', while the South China Sea has the most important strategic sea waters for China to project its maritime presence and influence."
"Beijing wants to tell Washington that the Chinese navy is capable of defending the waters relating to its core national interests."
Meanwhile, AP reports that China announced it will hold live-fire drills in the Taiwan Strait.
The big picture: China's goal of becoming a maritime power predates Xi and now the country has both a stronger and more assertive leader and much greater military capabilities. The Trump administration has done little to change the ineffective Obama administration policies that didn't prevent China's remaking of the strategic landscape in the South China Sea. The PLA Navy is only getting bigger, stronger, and more lethal under Xi.
More: Xi's naval review was the 22:35 long, top story on the Thursday CCTV Evening News, 习近平在出席南海海域海上阅兵时强调 深入贯彻新时代党的强军思想 把人民海军全面建成世界一流海军.
https://www.axios.com/newsletters/axios-china-a844a833-9989-4553-b929-86899f76ac61.html?chunk=4#story4
5. Hainan province to become a free trade zone
Xi turned his trip to Boao into a review of the PLA Navy and inspection tour of Hainan Province as well. As had been rumored in the last couple of weeks, Xinhua reports that Xi has just announced that the entire island province will become a "pilot free trade zone":
"The Communist Party of China Central Committee has decided to support Hainan in building the whole island into a pilot free trade zone, gradually exploring and steadily promoting the establishment of a free trade port with Chinese characteristics, and promulgating policies and institutional systems for the free trade port step by step and in stages, Xi said at a gathering celebrating the 30th anniversary of the founding of Hainan Province and the Hainan Special Economic Zone."
"Xi urged the province to give priority to opening up, implement a more proactive opening-up strategy, speed up the establishment of a new system for open economy, and promote the formation of a new pattern of opening up in an all-round way."
The bottom line: Such a large free trade area could help push deeper economic reforms throughout China, but that will be a gradual, drawn out process. Plus, the fact that Hainan is an island will mean that at least in the near-term, the rest of China may be insulated from the effects. Expect real estate on the "Hawaii of China" to soar even more.
Bask in the propaganda: Via Xinhua, "Under Xi's watch, China's sunshine island basks in warmth of opening up".
https://www.axios.com/newsletters/axios-china-a844a833-9989-4553-b929-86899f76ac61.html?chunk=5#story5
6. Communist censors whack a tech unicorn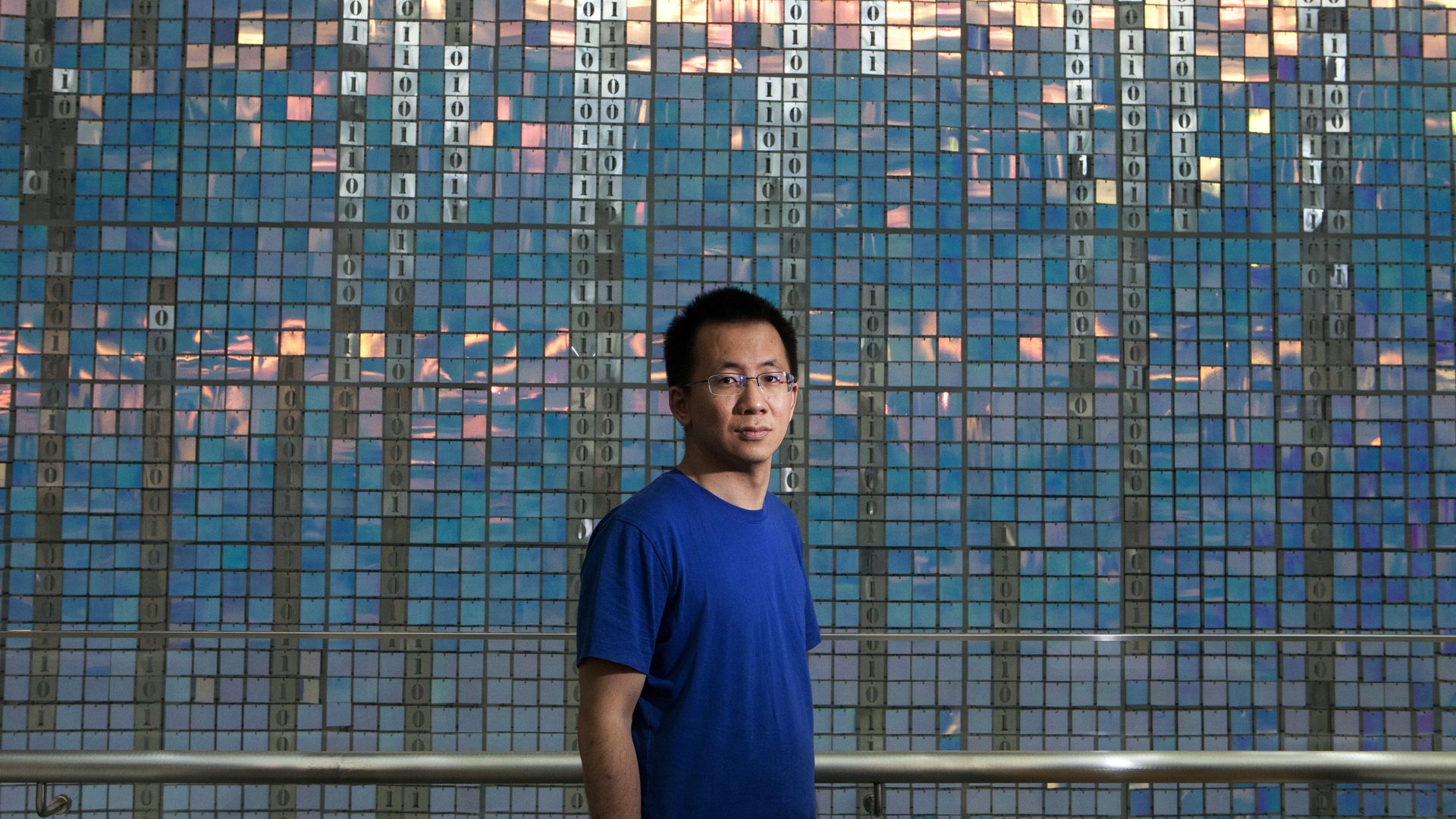 The Chinese internet is in the midst of one of the toughest content purification campaigns in years.
What's happening: The concept of "Core Socialist Values" — prosperity, democracy, civility, harmony, freedom, equality, justice, rule of law, patriotism, dedication, integrity and friendship — is now written into the Constitution, and examples are being made of internet firms that are not promoting them to the censors' liking.
The latest target is Bytedance, a private firm worth more than $30 billion that is best known for its news, video and humor apps. The company also owns musical.ly, a music video mashup app hugely popular in the U.S. The firm has been penalized before, but clearly CEO Zhang Yiming had not properly processed the message.
Bytedance was ordered to shut its massively popular humor app Neihan Duanzi 内涵段子, according to various news sources. In addition to the lack of adherence to "Core Socialist Values" was another, potentially bigger problem for the Communist Party — the network of groups "段友会" of users of the app that had sprung up all over the country, which held offline meetings.
Be smart: The party fears nothing more than a cross-geography, cross-social-strata organizing capability outside of party control and direction.
In response, Zhang's ritual, abject groveling apology reads like something out of an earlier era:
"As a start-up company ... we profoundly understand that our rapid development was an opportunity afforded us by this great era. I thank this era. I thank the historic opportunity of economic reform and opening; and I thank the support the government has given for the development of the technology industry."
"I profoundly reflect on the fact that a deep-level cause of the recent problems in my company is: a weak [understanding and implementation of] the 'four consciousnesses' [of Xi Jinping]; deficiencies in education on the socialist core values; and deviation from public opinion guidance. All along, we have placed excessive emphasis on the role of technology, and we have not acknowledged that technology must be led by the socialist core value system, broadcasting positive energy, suiting the demands of the era, and respecting common convention."
Go deeper: Read China Media Project's Tech Shame in the "New Era" and NYT's "Horns Honk, and Censors in China Get a Headache".
https://www.axios.com/newsletters/axios-china-a844a833-9989-4553-b929-86899f76ac61.html?chunk=6#story6
7. China takes the lead in pioneering retail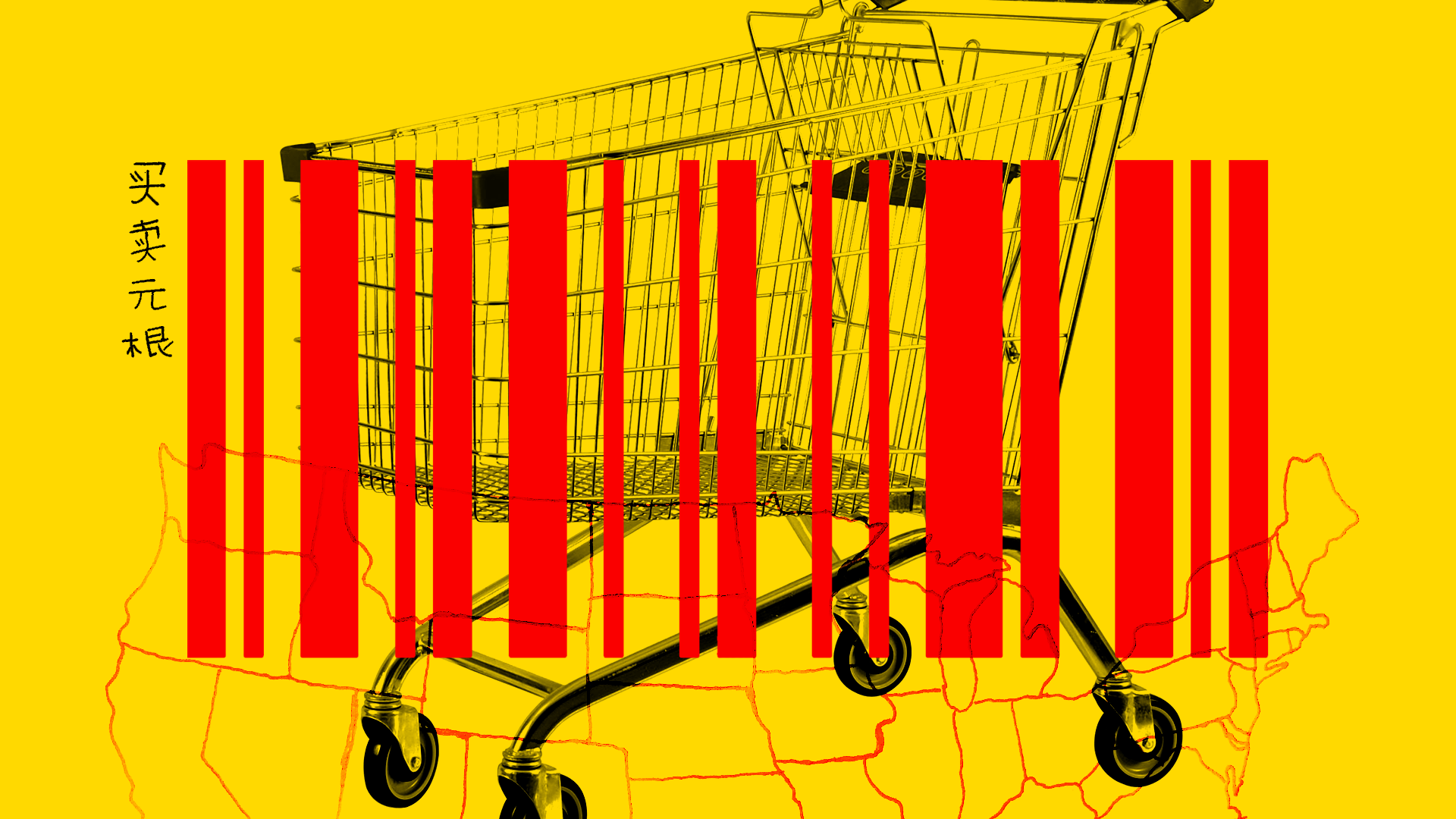 Axios' Steve LeVine writes: In January, Amazon attracted intense attention when it opened Go, its cashless convenience store in Seattle. And it's poised to open six more of them on the U.S. west coast, according to Recode. But that still leaves the e-commerce giant far behind its Chinese rivals, which are already staking out new ground in retail.
Why it matters: The future of retail in the world's leading economies is increasingly expected to be not online shopping, but a melding of e-commerce and physical stores. And Chinese Big Tech appears to be in the vanguard of how to pull this off. The research firm Sanford Bernstein calls it the "digitization of retail."
https://www.axios.com/newsletters/axios-china-a844a833-9989-4553-b929-86899f76ac61.html?chunk=7#story7
8. Worthy of your time
Council on Foreign Relations — Brad Setser writes: When Did the China Shock End?
Bloomberg Markets — An interview of the head of AAIB, who wants green, clean Asian infrastructure
AFP — Race for Mexico's 'cocaine of the sea' pushes 2 species toward extinction
Caixin Global — Beijing Residency System No Longer 'Pointless'
What's on Weibo — Chinese Real Estate Shenanigans - Bizarre Divorce & Remarry Scheme to Avoid Taxes Goes Trending
South China Morning Post — A peek into how Tencent has 500 million Chinese mobile game players hooked 
Quartz — Didi vs. Meituan vs. Ele.me: China's food-delivery-app battle means basically free meals for users
The Little Red Podcast — How To Make Friends And Influence People: Inside the Magic Weapon of the United Front
Sinica Podcast — On cons, swindles, scams in  the Book of Swindles: Selections from a Late Ming Collection
RSDL Monitor — New report offers backstage pass to China's forced TV confessions
The Beijinger — Spies Like Us: National Security Hotline Receives 5,000 Tips in Fight Against Espionage
Inkstone — Eating Peking duck: are you doing it wrong?
Recent issues of my Sinocism China Newsletter