January 20, 2022
Happy Thursday! On this day in 1985, it was -27 degrees. It still stands as the coldest day ever recorded in Chicago.
Today's weather: Not that bad, but still cold. Sunny with a high of 18.
Today's newsletter is 940 words — a 3.5-minute read.
1 big thing: Sizing up Lightfoot's re-election chances
Now that it's been a week (only one week?) since CPS and the CTU agreed on safety measures to resume classes, we turn our attention to the political implications of the lockout for Mayor Lori Lightfoot.
Why it matters: The mayoral election is just over a year away, in February 2023.
The big question: We recently asked readers if the school situation made them more or less likely to vote for Lightfoot in the 2023 election.
This is not scientific: Our poll was only for subscribers, and readers who responded may not be eligible to vote.
144 people responded to our poll. The results:
79.9% said less likely.
20.1% said more likely.
What they're saying: Axios reader Dan H: "I think she handled the issue with the CTU just fine, but her handling of issues like crime, policing, and the way in which she endorsed many unscientifically based protocols early in the pandemic makes it hard to vote for her again."
Big picture: It's never too early to start thinking about the Chicago mayoral election. After all, it's the best game in town.
👍 Who's in:
🤔 Dipping toes:
Arne Duncan: The former Secretary of Education and CPS CEO now works with violence prevention but recently hinted at the possibility of running.
Paul Vallas: The former CPS chief is very critical of Lightfoot on issues like violence, schools and budget. He was recently suspended from Facebook for critical posts about the CTU.
Ja'Mal Green: The activist has butted heads with Lightfoot during her term, including getting arrested protesting outside city hall in September.
👎 Who's out: Cook County Board president Toni Preckwinkle has ruled out running again.
2. Latest on WBEZ, Sun-Times deal
The board of WBEZ's parent company (CPM) voted to acquire the Chicago Sun-Times Tuesday night.
Why it matters: The move comes after rumblings last fall and could create one of the largest nonprofit news organizations in the nation.
It also mirrors a trend happening in other large metro newspapers across the country.
The latest: We wrote about the broad outlines of the deal yesterday but have since learned more. CPM spokesperson Betsy Berger tells us:
The Sun-Times will continue producing a daily print edition for the near and mid-term.
The ailing Sun-Times will have new funding avenues by becoming a "nonprofit news organization that is supported by individuals and organizations who value local news in Chicago."
The deal does not require government regulatory approval.
WBEZ will have no paywall: "Our journalism will continue to rely on audience support through donations and contributions."
CPM has no plans to reassign reporters who cover the same beat. "Both newsrooms will operate separately."
💭 Justin's thought bubble: I love this. The positive is that a public media company is better than a hedge fund that would have likely gutted the Sun-Times. I wanted to see bigger and bolder plans on how to make these two entities work together and not separately, but here's hoping that will happen in due time.
💭 Monica's thought bubble: As someone who started working at the Sun-Times in 1985 — when the paper was full of ads, staffers and money — I never thought I'd see the day when it was sold for nothing. I wish the venture all the luck in the world.
What's next: CPM says it expects to close the transaction by Jan. 31.
Disclosure: Both Monica and Justin worked at WBEZ for several years.
3. Tips and hot links
😷 The city says we are past the Omicron peak. But it's not actually over. (ABC 7 Chicago)
👮‍♀️ CPD leaders are reportedly backing away from embattled chief David Brown. (Sun-Times)
🌃 Allstate is buying a Wacker Drive building after selling its headquarters in Northbrook. (Chicago Tribune)
♻ The hearing on issuing a permit to Southside Recycling has been delayed … again. (Block Club Chicago)
💊 Chicago rapper Vic Mensa was arrested at Dulles airport for allegedly having LSD and psilocybin in his luggage. (CBS 2 Chicago)
Now hiring: New job openings
4. Chart of the day
5. Beach artifacts become beautifully arranged art
Artist John Soss takes "junk" from Chicago beaches and turns it into compositions that move, delight and tell you a lot about our city.
His "On The Beach" show is finishing up a run at The Dime in Wicker Park at the end of the month.
The inspiration: Soss says it started 10 years ago when sent pictures of neat beach glass to his sister, who Soss says, "took me on my first beachcombing walk back in the 80s."
"I said, 'Hey, look what I just found!' and never looked back."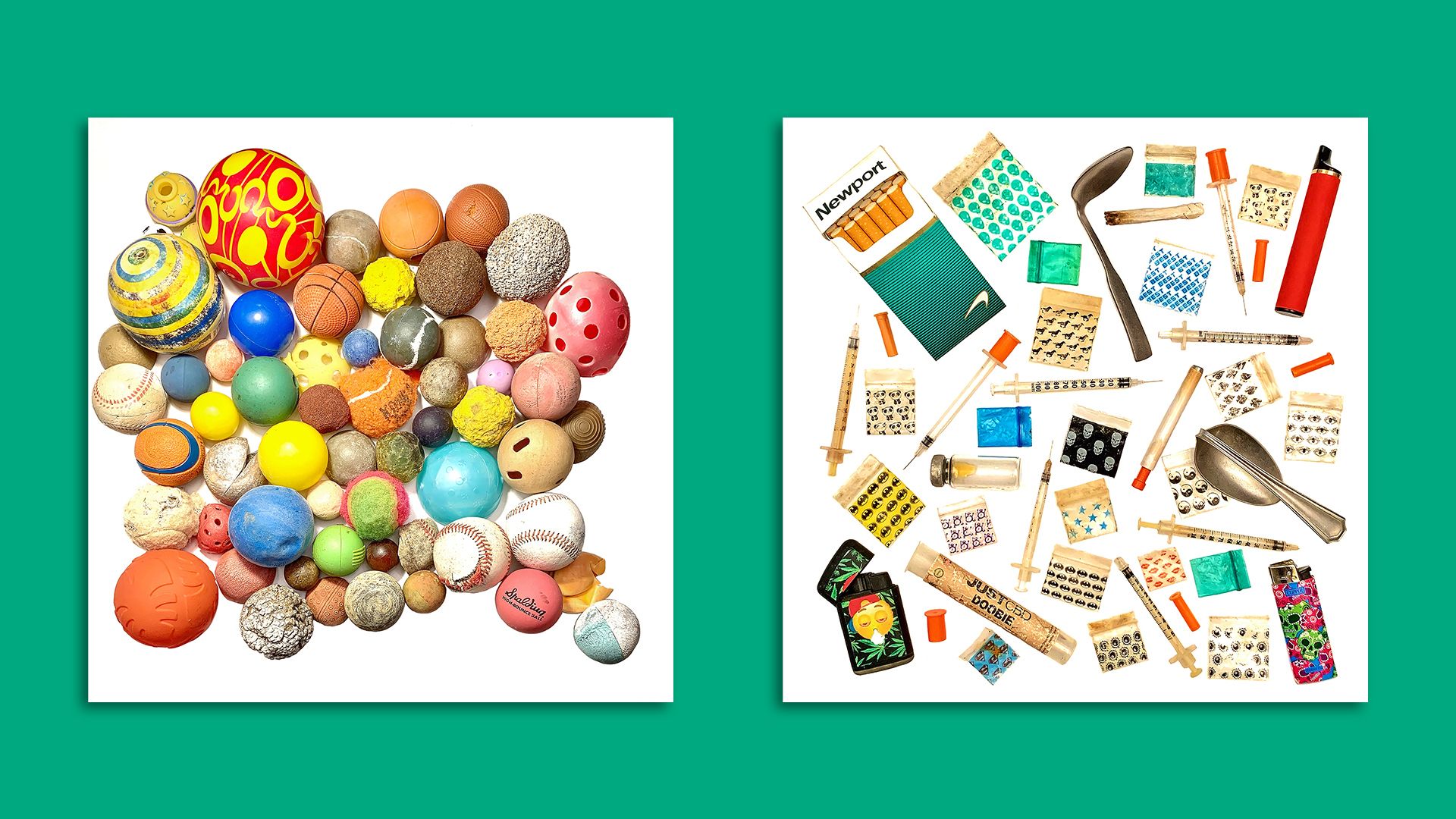 The art: Selections include artfully arranged drug paraphernalia, shotgun shells from years of skeet shooting along the lake, firecrackers, doll parts and, of course, smooth soothing sea glass.
The aim: "It's gratifying when I see [visitors] smile or laugh or get otherwise engaged with the images. I know I've succeeded if I can make them feel something."
If you go: The show is open Saturdays from noon to 5pm, or Sunday by email appointment.
Speaking of The Dime gallery: It's owned by artist Tony Fitzpatrick, whose final museum show, "Jesus of Western Avenue," closes Jan. 31 at the Cleve Carney Museum of Art in Glen Ellyn.
Our picks:
💸 Monica is half-terrified, half-thrilled that Ozark Season 4 starts up again tomorrow. She finds the trials of the Byrde family super stressful to watch.
🦸 Justin is excited for the new episode of Peacemaker on HBO Max. The John Cena superhero series is probably too dirty for kids, but the intro alone is worth the watch.